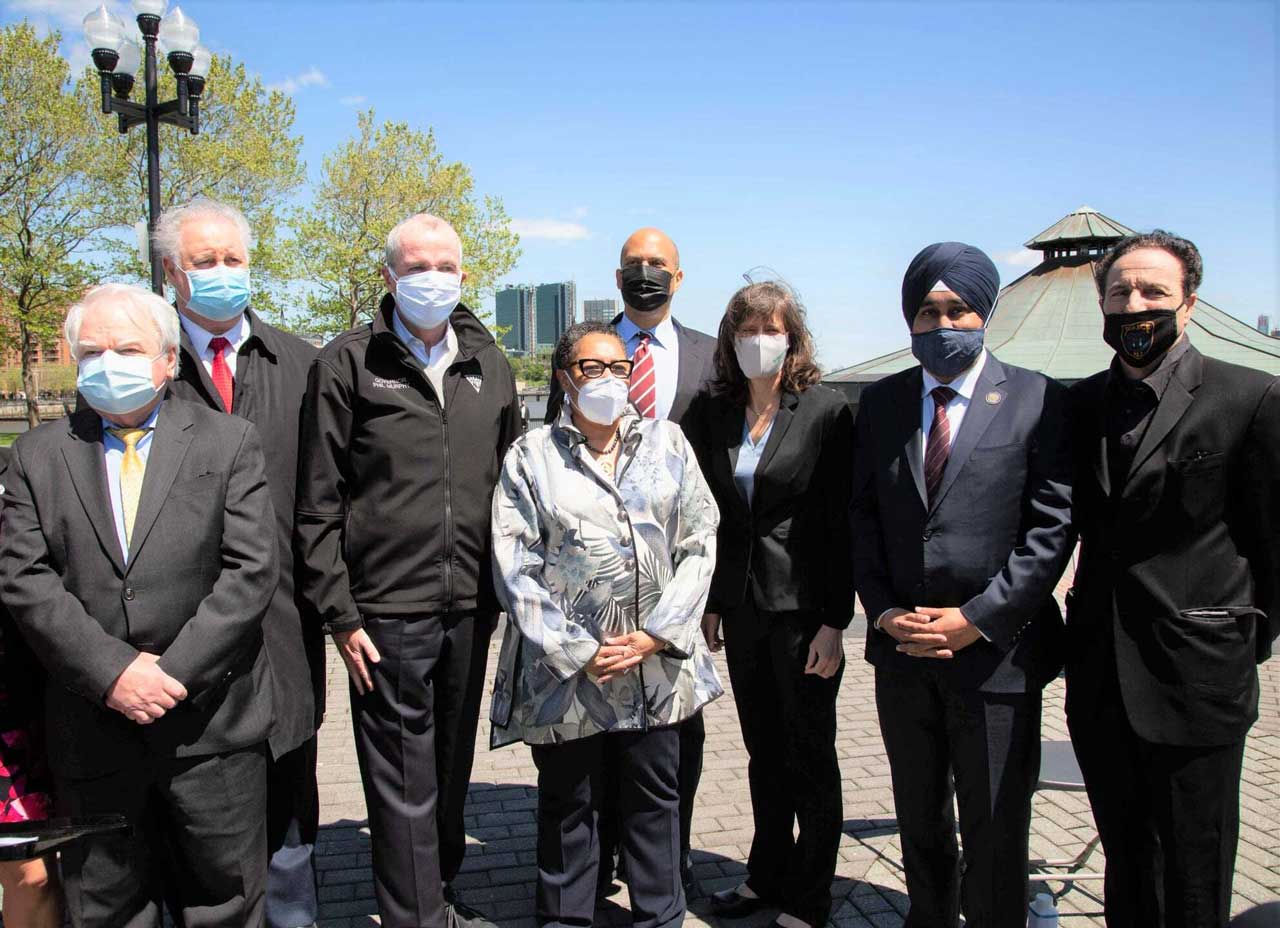 One of the largest infrastructure ventures in the history of New Jersey has finally kicked off after years of planning and further work to provide flooding relief in Hoboken, Weehawken, and Jersey City is scheduled to ramp up later this year.
Late last week, Governor Phil Murphy was the master of ceremonies at a press conference to officially announce the beginning of construction on the Rebuild by Design project. Held at Hoboken's Pier A Park, Murphy was joined by Secretary of Housing and Urban Development's Marcia Fudge and other dignitaries including Senator Cory Booker, Congressman Albio Sires, Acting Commissioner of the New Jersey Department of Environmental Protection (DEP) Shawn LaTourette, Hoboken Mayor Ravi Bhalla, and Weehawken Mayor Richard Turner.
The resilient infrastructure project, made possible by over $230 million in federal funding from Superstorm Sandy recovery, aims to protect communities along the Hudson River from storm surge flooding and rising sea-level threats posed by climate change. Hoboken was awarded the funds after winning a design competition back in 2014.
The first phase of the project is already underway and involves converting portions of the area's combined sewer system into separate sanitary and stormwater lines for better stormwater management. The initial $5.26 million of construction will take place along the border of Hoboken and Jersey City, with the work expected to run through October 2021.
"Our partnership with both the federal and local government to build a stronger and more resilient future for New Jersey's waterfront communities is transformational," said Governor Murphy during the groundbreaking. "The comprehensive and innovative Rebuild by Design infrastructure project will mitigate the range of weaknesses along the Hudson River exposed by Superstorm Sandy and provide a suite of innovative solutions to address sea-level rise."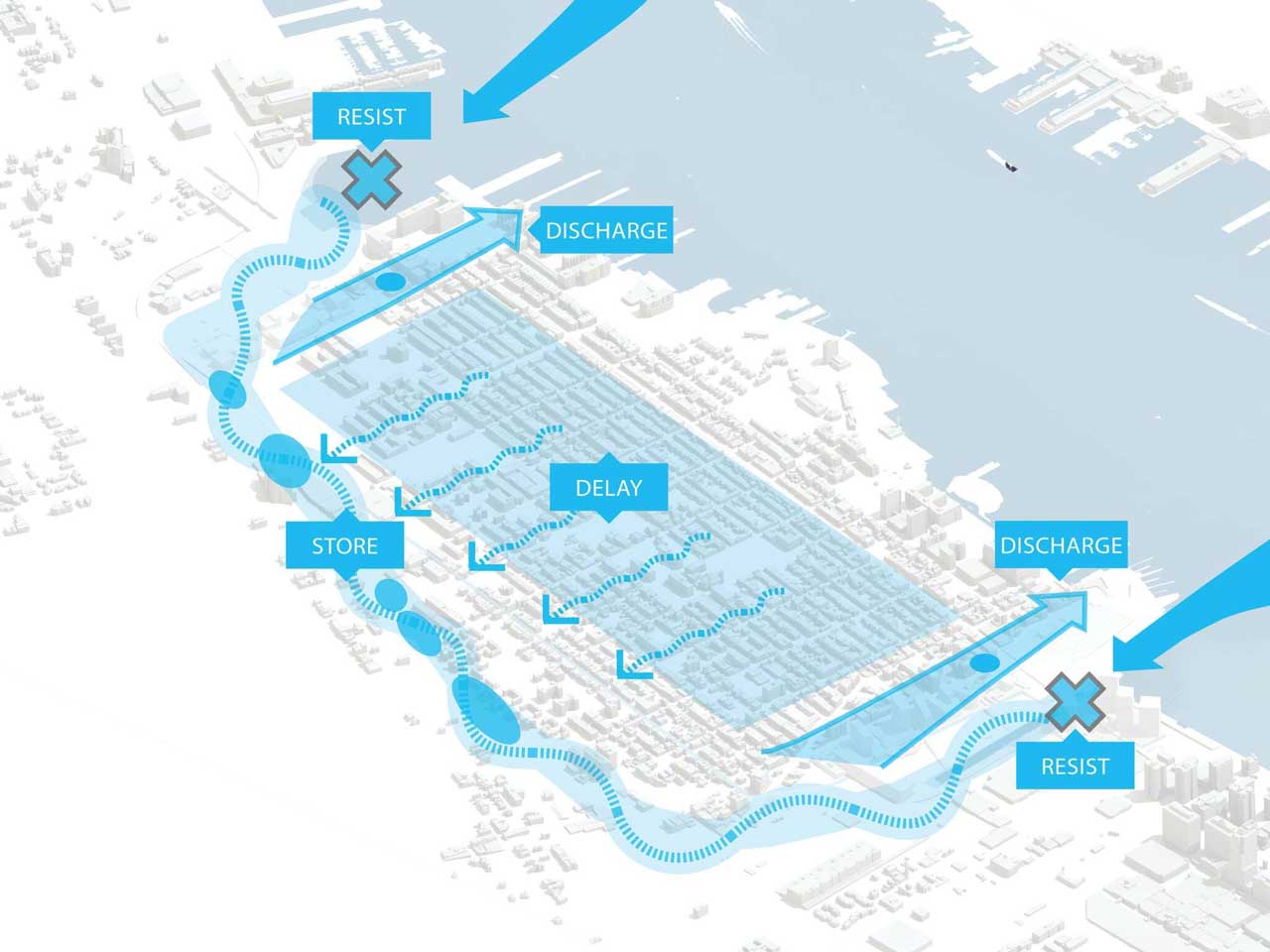 Rebuild by Design features several components, including ones designed to protect Hoboken's northern border with Weehawken. A large vacant lot fronting the Hudson River is slated to host a new park designed to guard against future storm surges while providing amenities for residents that include a dog run, a waterfront deck area, an amphitheater, gardens, and both an active use section and a children's play area.
Per our reporting from last year, Hoboken settled on a "meadow" design concept for the park and subsurface utility exploration work is slated to begin on the project in the coming months. The DEP says they hope to award a contract to begin construction of the park by the end of the year.
Another major component of Rebuild by Design involves a wall-like structure that is to be built along the existing NJ Transit rail yards just north of Jersey City's Newport neighborhood. That portion, dubbed "resist" in the plans, will consist of an 8,846-foot series of flood walls, barriers, roller gates, and other measures, aiming to provide flood risk reduction within the project area's 100-year floodplain.
"This project will now serve as a model for the rest of the country, integrating proven resiliency features with community amenities and a park that will help prevent storm surge from breaching our community, like it did during Superstorm Sandy," said Ravi Bhalla during the ceremony.
Residents should get used to seeing work on Rebuild by Design, as the entire effort is expected to take at least four years to implement. The DEP estimates the project will be completed during 2025.