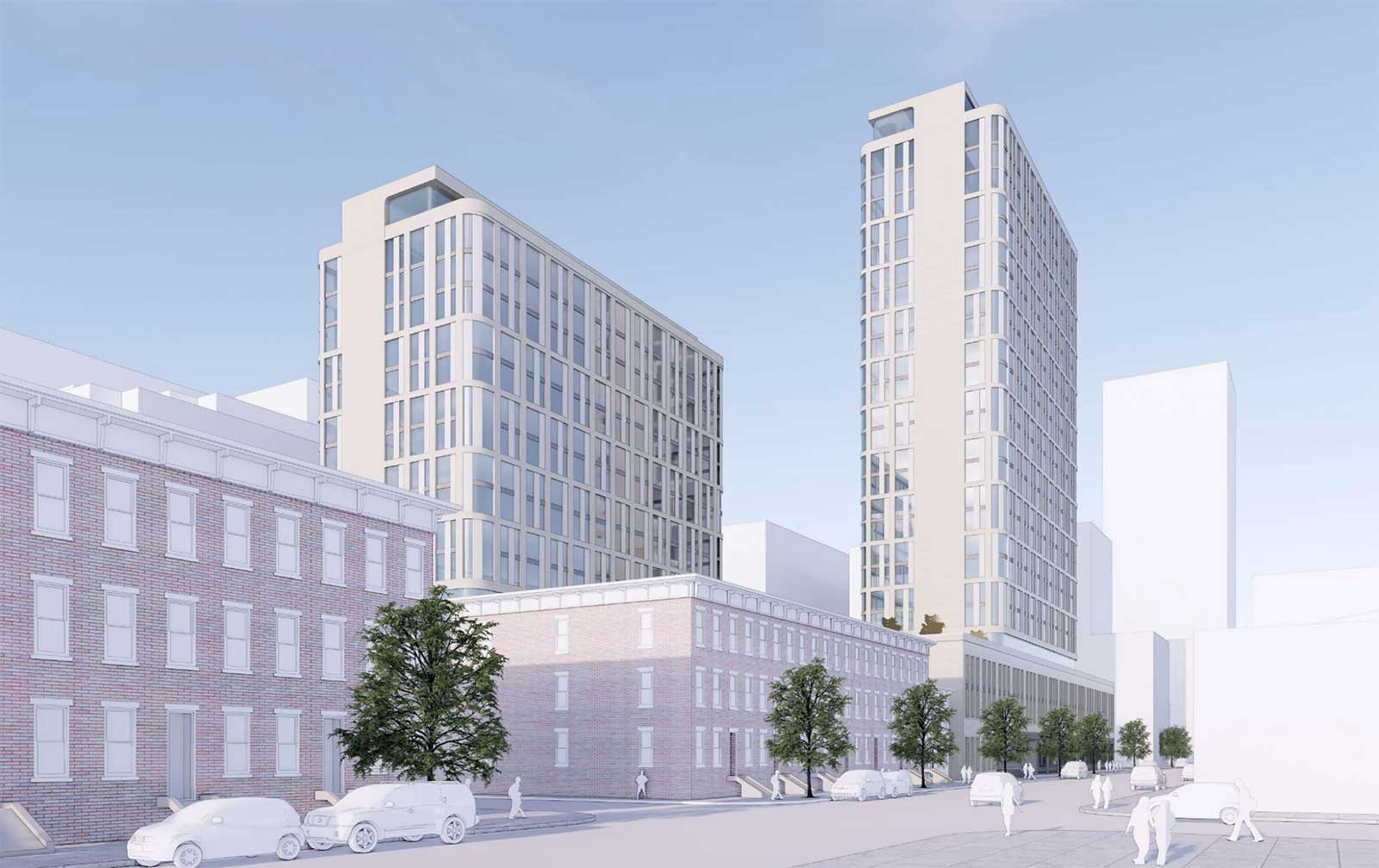 A legendary but shuttered dive bar space currently owned by a local developer has a plan in place that could bring a 401-unit development with affordable housing plus a school to the land.
Just about three years ago, Jersey City's Golden Cicada stopped serving their famous baijiu shots after a run that spanned almost four decades. Silverman moved quickly to acquire the 195 Grand Street lot, which welcomed the Golden Cicada Baja Biergarten late last year.
The company, under the subsidiary of Sussex Street Associates LLC, is now seeking to have amendments enacted to the Tidewater Basin Redevelopment Plan that governs the area. The changes are being sought to facilitate a development that would include two towers connected by a four-story base, creating a transition zone between Paulus Hook's brownstones and Liberty Harbor's high-rises.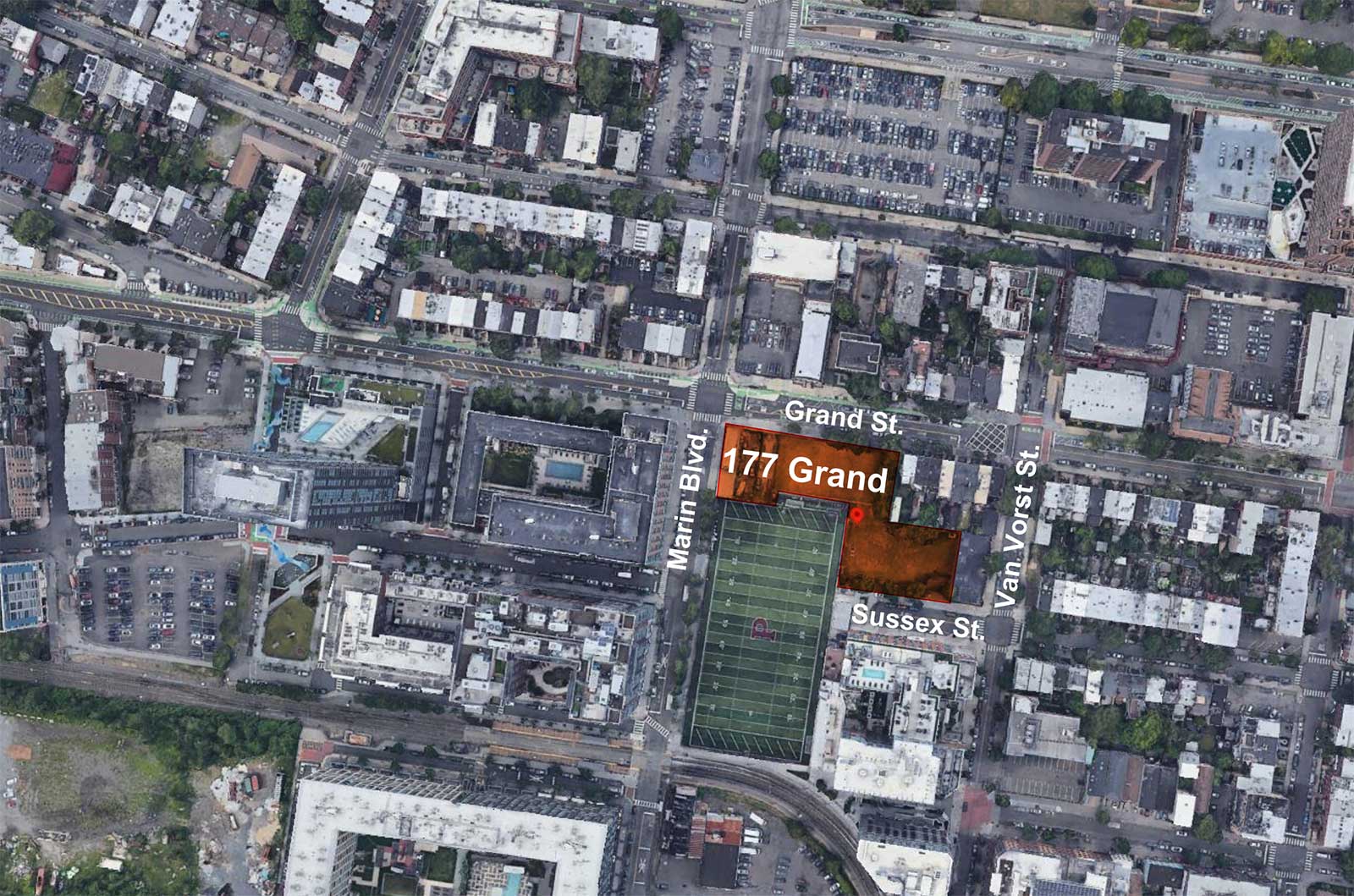 The modifications would add additional "permitted uses" within the Tidewater Basin plan to include offices, retail, and cafes while also allowing mid-rise apartment buildings on lots of 2,800 square feet or more to include a maximum density of 55 dwelling units per acre.
The requested changes max out building height at 300 feet for any building fronting Grand Street and 190 feet for any structure along Sussex Street. The revisions add parking requirements of 0.5 spaces for every residential unit and also create new rules related to building setbacks, tower setbacks, lot coverage, and landscaping requirements.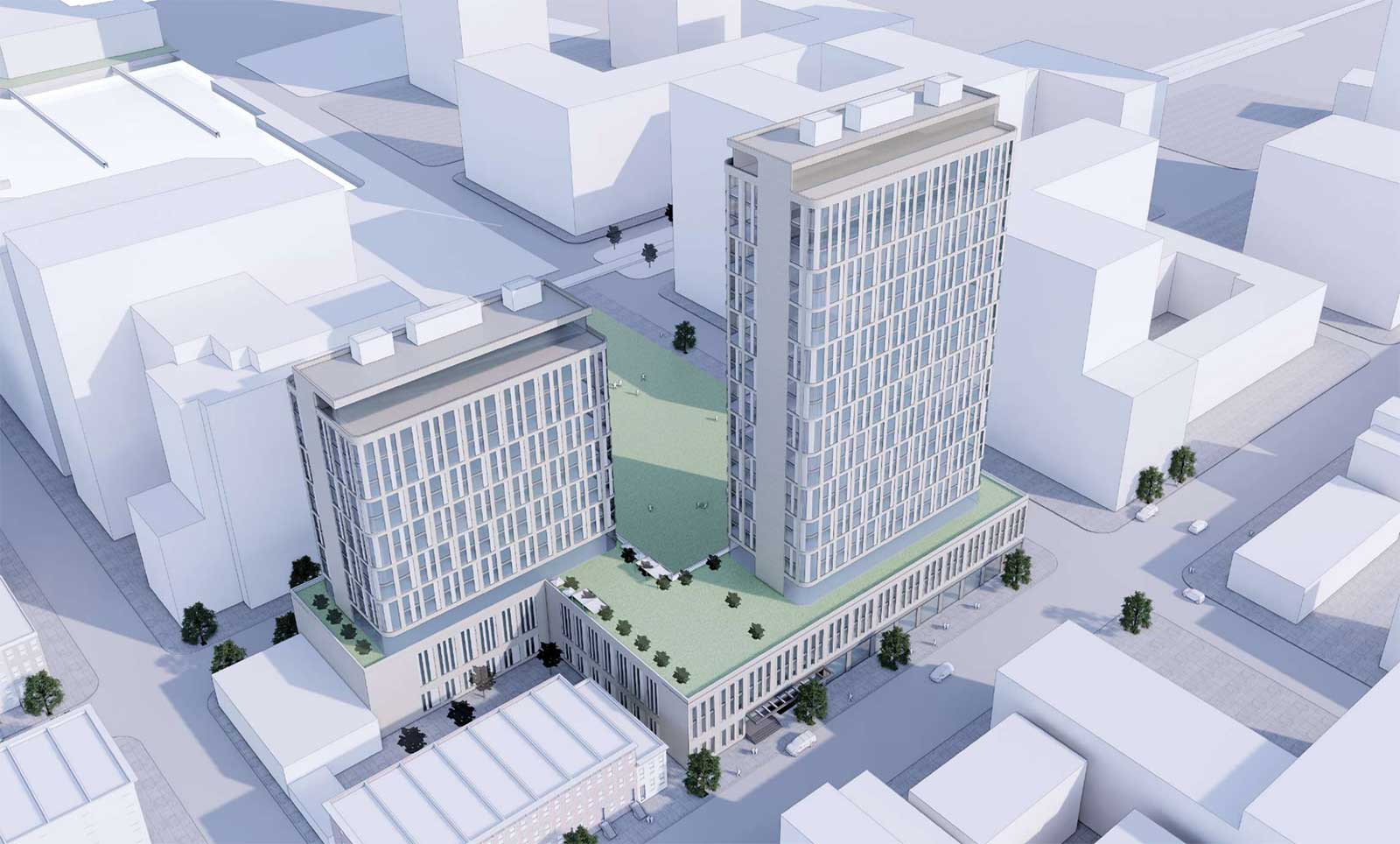 In addition, the altercations would create an "inclusionary housing overlay district" to permit Silverman to construct a mixed-income, mixed-use building at the site. The language in the changes dictates that the proposed project would "result in the creation of affordable housing no less than 15% of the total units of a project."
401 total units and 204 parking spaces are proposed between Silverman's two towers, meaning about 60 affordable housing units would be created under the plan. The endeavor, designed by architecture firm Fogarty Finger, consists of a 26-story tower along Grand Street that tops out at 275 complemented by a 16-story structure that would rise 178 feet along Sussex Street.
The two towers would be connected by a four-story base that would include a landscaped rooftop amenity area. The plan for the ground floor includes two 3,000+ square foot retail spaces along Grand Street and a 7,050-square foot space that is listed as a "school" under Silverman's proposal.
Redevelopment at the Grand Street properties has long been sought. Silverman and Fields Development teamed up on a proposal that Jersey Digs exclusively reported on almost half a decade ago, but that two-tower venture never came to fruition.
That plan would have been built around the Golden Cicada property, but the latest version includes the parcel home to the iconic bar and would be demolished under the current proposal.
Jersey City's planning board is slated to discuss the requested zoning changes during their June 14 meeting, which is being held virtually on Zoom at begins at 5:30 p.m. Those interested in attending the public session can join at this link or by using the webinar ID 841 9591 5845.
Editor's note: During their June 14 session, the planning board carried discussion of the proposed redevelopment plan amendments. They are now scheduled to be reviewed during the board's June 28 meeting.