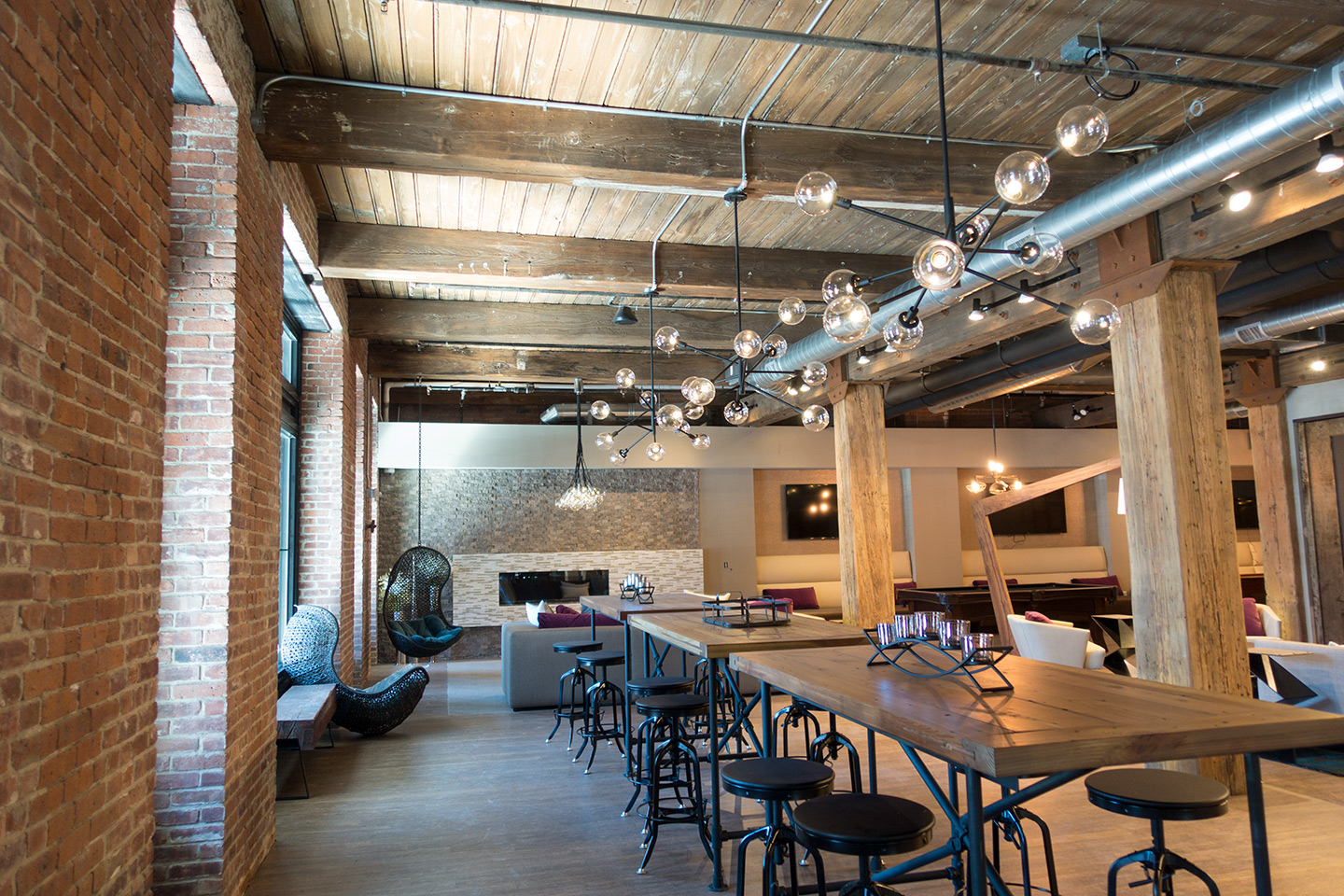 When we first toured Modera Lofts it was at the height of construction. Now that the building is complete, we had to get back in to see the finished product. Ever since our first tour, we've had a soft spot for this project. Back then we were impressed with the level of respect Mill Creek had for incorporating the building's history into the new reuse.
As we walked through the recently finished building a few weeks ago, it was clear that Mill Creek didn't just restore the building. Instead, they took it a step further, preserving many of the items found from its days as a distribution hub for Butler Bros. In an effort to connect its past with its future, these items have been restored and are used decoratively throughout the building.
Century old fire doors were stripped of layers of paint and placed around the building's common spaces. Brass elevator gears with 100 years of dirt and grime were cleaned and now grace the second-floor lounge. Several old documents including receipts and letters were framed and hang in the cavernous first-floor common space.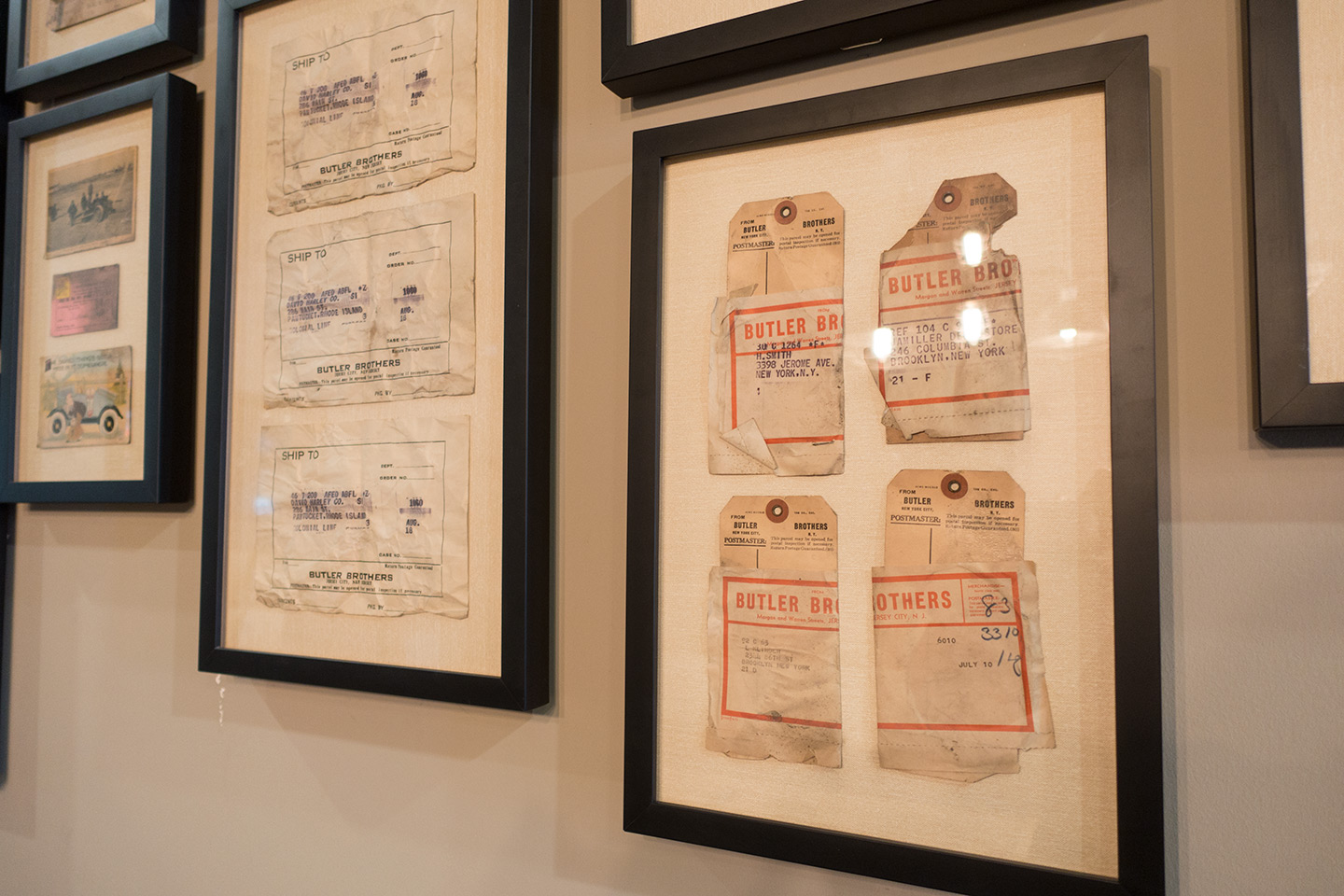 Whereas most developers would send it all to the dumpster, Mill Creek recognized these remnant's value and sought out an expert to help them sift through their findings. They called in Ferrous Research and Design, a restoration specialist with extensive experience in restoring such items.
After they visited the site and saw the number of industrial pieces salvaged, Ferrous immediately knew they needed to set up a workshop onsite. Due to the bulkiness of many items, off-site restoration just wasn't practical. Mill Creek obliged, providing them a dedicated spot in the building to work their magic.
In an interview, Joshua Knoblick, owner of Ferrous, highlighted how great it was great working with a "client that gets it" referring to Mill Creek. As someone who makes his living unearthing history he noted that "objects are a great way to connect with the history of a place". This holds true throughout Modera Lofts – it's one thing to honor the integrity of the building, but it takes it to another level when residents can walk through their home and see relics of its past life.
Ferrous sees themselves as archeologists of sorts. During the restoration process, they were able to uncover details about the building and business it once housed. Hinges on doors they restored showed a patent date of 1902. A set of double doors had three marked lines at different heights which led to the conclusion that three different height carts passed through the doors daily. On the elevator gears, once they stripped the grease back they found traces of the original marking paint from when it was first molded. It's with these little details that we see a clearer picture of life a century ago.
Sure, the building's new incarnation as Modera Lofts offers a luxury lifestyle comparable or better than most of its competitors. With its vast array of amenities, its provides all the modern convenience you expect. But where it really stands out is in its ability to couple its previous life with its new one. Considering a previous developer wanted to demolish the structure, it's great to see Mill Creek step up and preserve one of the last remaining beacons of the Powerhouse Arts District's industrial heritage.
Modera Lofts recently welcomed their first residents into the building. Currently, units are available ranging from studios to three-bedrooms. Rents start at $2,225 for a studio and go up to $5,185 for a three-bedroom, two-bathroom home.
[gmap height="250px"]350 Warren St, Jersey City, NJ 07302[/gmap]
Modera Lofts – 350 Warren St, Jersey City, NJ 07302