The One Reviewed
The apartments that began leasing in June at The One have set a new standard for high end amenities, usually only found in more expensive condominium buildings. Jersey Digs toured the building last week, and we were quite impressed with both the finishes in the rental units and the extensive amenities available to residents.
Developed by a joint-venture partnership of BLDG, Ares Management, L.P. and Urban Development Partners, The One is home to 439 studio, one- and two-bedroom apartments (and three three-bedrooms). Behind the red brick exterior at 110 First St are an expansive array of lifestyle amenities. "Today's population of luxury renters seeks to lease not just a residence, but a full lifestyle," said Lloyd Goldman, BLDG Principal. "As a result, there is strong demand for high-end amenities and common spaces that go beyond appliances and finishes. With this in mind, we've created a lifestyle experience unlike anything else in Jersey City." From a virtual golf room, to a pool with private cabanas, The One left no stone unturned committing to their belief that amenity spaces should be an extension of home for their residents.
First there are the media options. Like many other buildings, The One offers a theater inspired screening room with large comfortable seating and a projector. But why stop there? They also have a xBox video gaming room and a virtual golf simulator. Being a little inexperienced with the golf simulator we were told, "Hit the ball as hard as you can at the screen". A few swings later and we discovered a rather productive way to relieve some aggression!
The outdoor areas also stood out to us. Maybe it was the perfect summer weather but it felt like we were at a resort. Clear skies, blue water, comfortable lounge chairs, cabanas, grills, alongside the pool and hot tub. It felt more like Miami, until you looked up to see the unmistakable Manhattan skyline. Speaking of skyline, the views don't stop at the pool. The One also has a "Sky Lounge" on the top floor, with indoor and outdoor entertaining spaces. With 360 degree views, you can catch the sunset over New Jersey or the arguably more beautiful sunset reflection on Manhattan. Not limited to the summer months, the sky lounge also features a fire pit to compliment those crisp Autumn nights.
Eventually you have to head home, but when you do, don't worry because the luxury finishes continue into the apartments. Kitchens come complete with high gloss white/wood cabinetry, quartz countertops and stainless steel appliances. But those are all pretty standard these days, why not take it to the next level with a gas range (very rare in high-rise rental buildings) and USB outlets in the kitchen – forget those pesky adapters.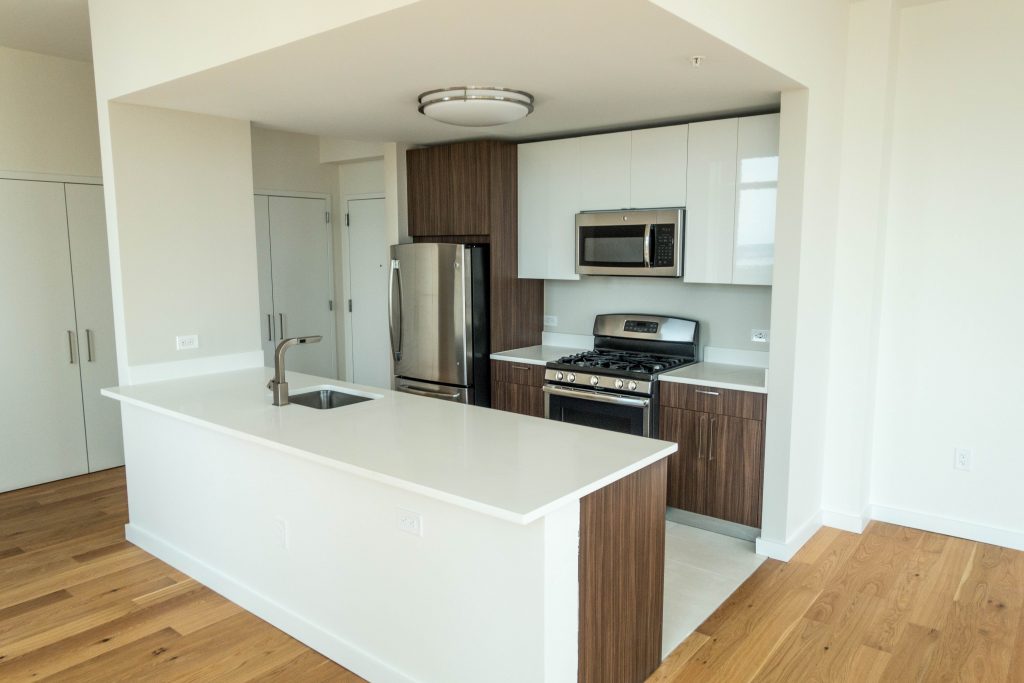 Vying for Manhattanites making the move to Jersey City, BLDG used their experience developing in NYC to create a building and lifestyle that will entice the Manhattan crowd. The high end amenity living available at The One helps to convince those considering moving to take the plunge, since similar style luxury living is almost twice as much in Manhattan. These same amenities help foster a sense of community once new residents arrive.
—
The One Prices
The One is currently offering one month free on a 13 month lease.
Studios start at $2455, one bedrooms at $2700, and two bedrooms at $3700
—
The One Photos
[Best_Wordpress_Gallery id="76″ gal_title="The One"]