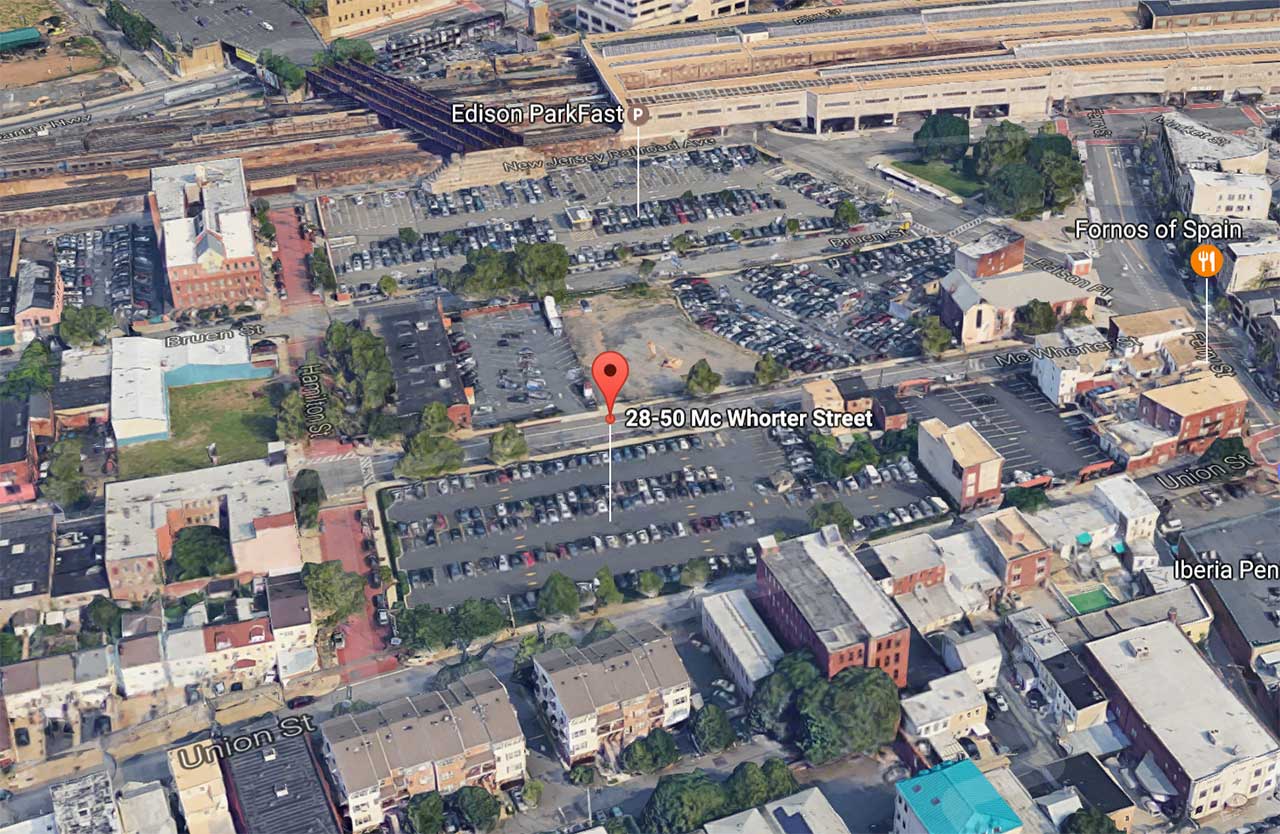 A high-rise development proposal in Newark's Ironbound neighborhood that has been at the heart of a dispute over a new kind of zoning in the community is back for the third time.
The plan by Roseland-based 28 McWhorter St., LLC to construct a 12-story building at 28-50 McWhorter Street, 51-57 Union Street, and 108 Hamilton Street in the East Ward is now expected to go before the Newark Central Planning Board once again during the board's meeting today, May 6, at 6:30 p.m. at City Hall.
The developer filed an application for Preliminary and Final Site Plan approval with multiple variances with the board on March 15, according to a legal notice. The proposal calls for the development, which has been referred to previously as 55 Union, to include 403 residential units, 3,078 square feet of retail space, and 190 parking spaces.
If this plan sounds familiar, it is likely because this is the same project that Jersey Digs has been following since 2017. Almost exactly two years ago, the developer applied to the Newark Zoning Board of Adjustment for approvals as part of their plan to construct a 12-story building, but at the time, the structure was expected to include 384 units. Back then, high-rise multi-family dwellings were not a permitted use in this district, though that would soon change.
In June 2017, an official proposal suddenly surfaced to create a Mixed-Use 3 Residential and Commercial Zone on several properties in the Ironbound neighborhood, including 28-50 McWhorter Street, 51-57 Union Street, and 108 Hamilton Street. The new zoning district, commonly known as MX-3, was implemented not long after, permitting high-rise buildings and other previously banned uses in this part of the East Ward.
However, despite widespread support by Newark's elected officials such as Mayor Ras Baraka, there was plenty of opposition by some community members along with organizations such as the Ironbound Community Corporation and PLANewark. One flyer called "Is This What We Want in Ironbound?" stated in part that "this type of development can lead to the displacement of those who make our community great, while ushering those who can afford to live in the 'new' Newark."
After MX-3 went into effect, this development proposal resurfaced in May 2018 as a plan for a 403-unit building. The project was approved by the Newark Central Planning Board, but just a few months later, PLANewark sued the board, the Newark Municipal Council, and the City Clerk in an effort to overturn MX-3. A Superior Court judge ended up striking down the ordinance that initiated the new zoning along with the approvals that were granted under MX-3 that would have allowed this project to move forward at the time.
The saga involving MX-3 zoning ended up being far from over. At the beginning of this year, the Newark Municipal Council unanimously passed an ordinance that caused a new version of MX-3 to be placed on the books for the same district in the Ironbound. Now that this zoning allowing taller buildings is back, this development proposal has been reactivated yet again.
The property, which is located close to Ferry Street and Newark Penn Station, has been at the center of controversy for some time, even before this proposal to construct a mixed-use development was revealed. The gated and currently vacant site contained a private J&L parking lot in recent years that was owned by the developer, but PLANewark members argued that such a use should never have been approved for the premises in the first place.
The planned 12-story building is one of two major projects to be proposed under MX-3 zoning thus far. Last month, plans were revealed for two nearby tracts that call for constructing an 11-story mixed-use development with 133 units.
Note to readers: The dates that applications are scheduled to be heard by the Newark Central Planning Board and other commissions are subject to change.
Related: