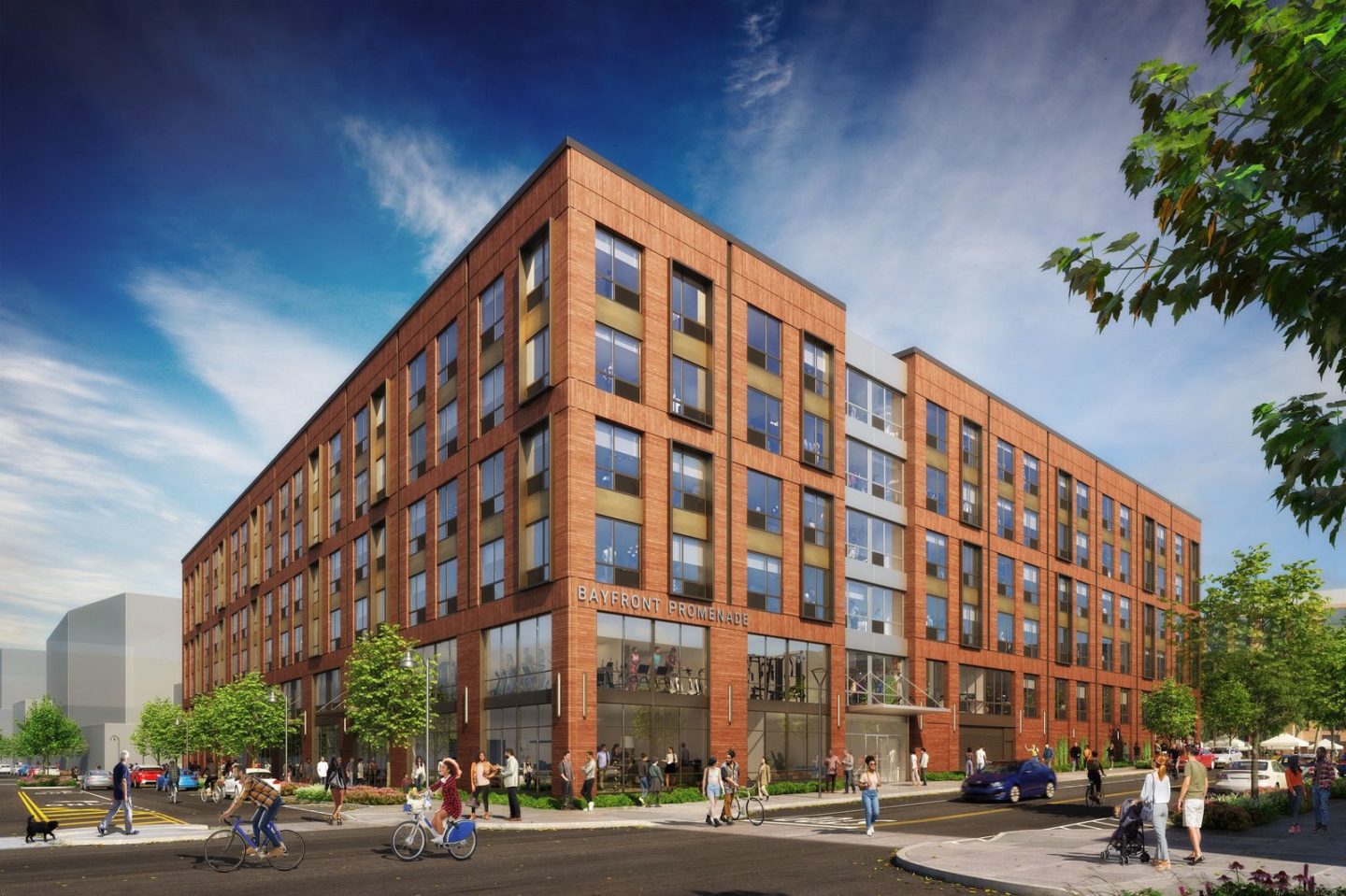 One of the largest revitalization efforts in the Garden State has its first approvals in place as a joint venture has been given the green light to move forward at Jersey City's massive Bayfront property.
During their July 19 meeting, Jersey City Redevelopment Agency's Board of Commissioners voted 6-0 to approve the first redevelopment agreement with Bayfront Development Partners LLC. The company is a joint venture between developers Pennrose and Omni America and they will be bringing a six-story project called Bayfront Promenade to a portion of the 95-acre parcel.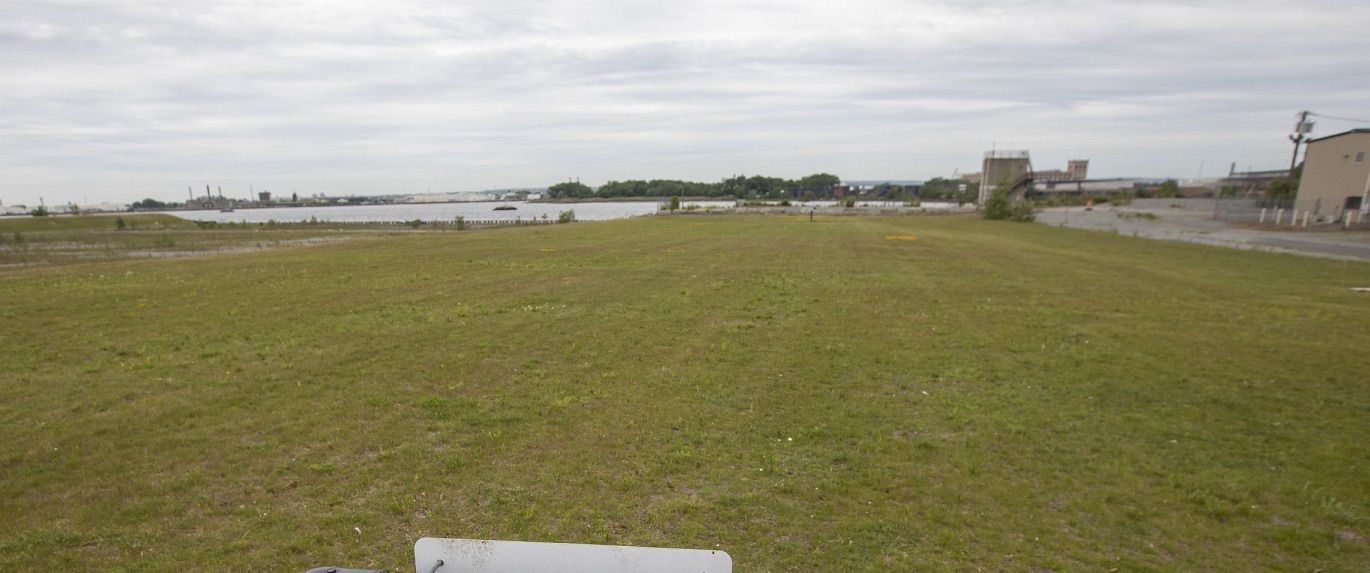 Jersey City acquired the Bayfront property from Honeywell Corporation in 2018 and moved forward on a plan three years later to transform the vacant land. The redevelopment plan requires future projects include a minimum of 35% affordable units throughout, ranking Bayfront's affordable component as one of the highest of any private mixed-income community in the country.
"This marks a major milestone as we successfully move forward with the Bayfront redevelopment project, which has already triggered interest, investment, and revitalization within the City's Greenville and West Side neighborhoods," said Mayor Fulop. "The transformation of the formerly contaminated site into the largest mixed-income community in the region serves as a model for sustainable and affordable mixed-income development."
The initial Bayfront Promenade will include a total of 209 units with 35% designated for households at 60% of the Area Median Income and below. Multifunctional retail space will be incorporated into the development, as well as an expansive outdoor terrace with grilling stations, a community lounge with a kitchen, a co-working lounge/media room, a fitness center, yoga room, dog wash, and bike storage.
The approved development will also add nearly 10,000 square feet of community facility space and feature green infrastructure, LEED measures, flood mitigation, and other community-driven amenities along the Hackensack River Waterfront.
"Omni is delighted to move forward with Pennrose and our local and state partners on this transformational mixed-use, a mixed-income project that will serve as a model for future public-private partnerships in New Jersey and beyond," said David Fleming, Executive Director of Development at Omni America. "We look forward to making Bayfront Promenade a vibrant, community-oriented development that enhances quality of life for all."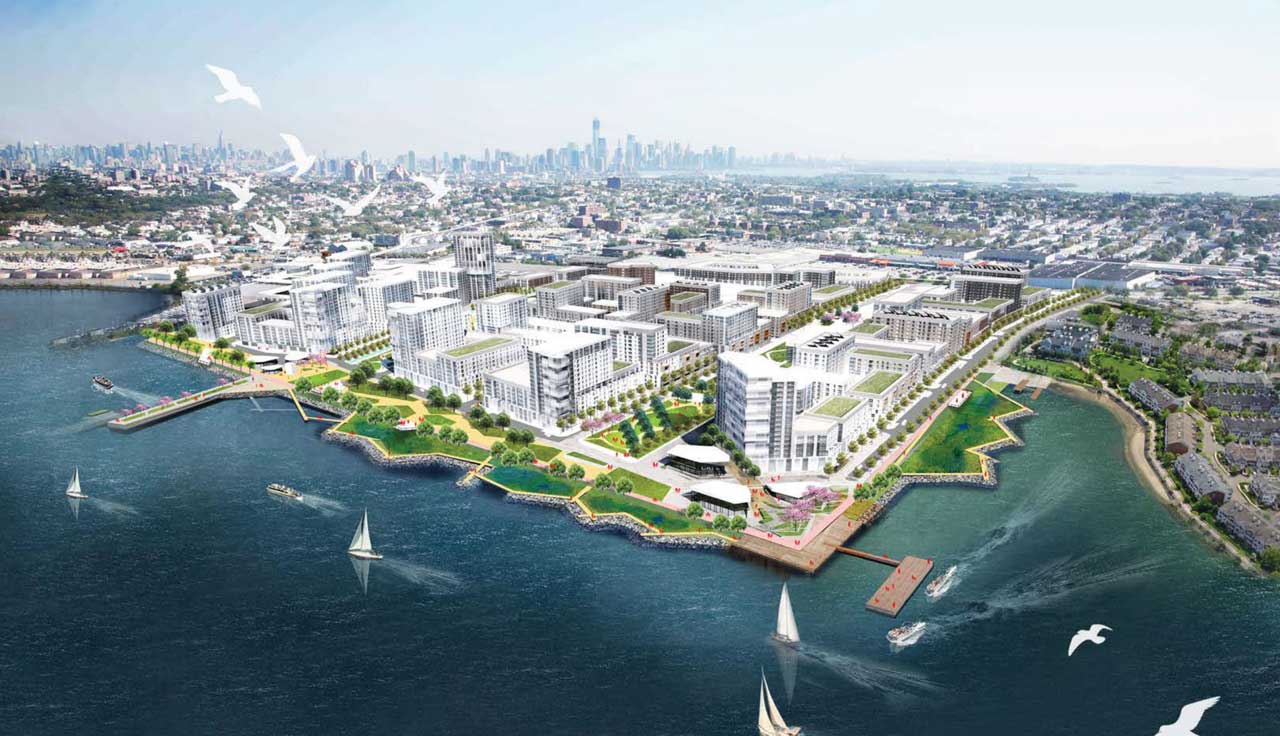 The entirety of Bayfront could end up including about 8,000 residential units alongside 23 acres of open space, with the master plan also calling for a future Bayfront Light Rail station to be located at the extreme northern point of the property. Other facilities called for in the Bayfront plan include a new 110,000-square-foot K-8 school and a fire station for the community along a parcel that abuts Route 440.
"I am happy to be part of such a transformative project," said Ward A Councilwoman and Bayfront Community Advisory Committee member Denise Ridley. "The work done over the last few years by the advisory board, JCRA, and the City is finally starting to take shape. This is an important project for Greenville residents who remember what the site once was, watched it through remediation, and will now see a mixed-income development here."
Despite the approvals for the first round of development, a construction start date for Bayfront's initial complex has not been announced.