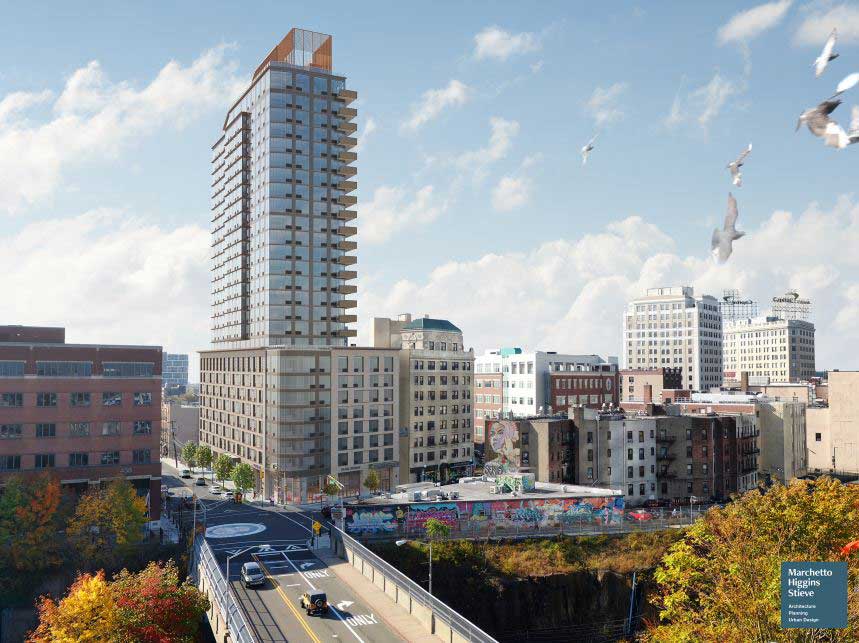 The Journal Square, Jersey City building boom is starting to round into shape as one of the neighborhood's notable projects has reached its highest point.
Developers Spitzer Enterprises and Arden Group recently celebrated the topping out of their high-rise project at 425 Summit Avenue. Construction on the $150 million development began in 2021 just months after being approved and the joint venture's new 26-story rental residential tower recently poured its last concrete slab.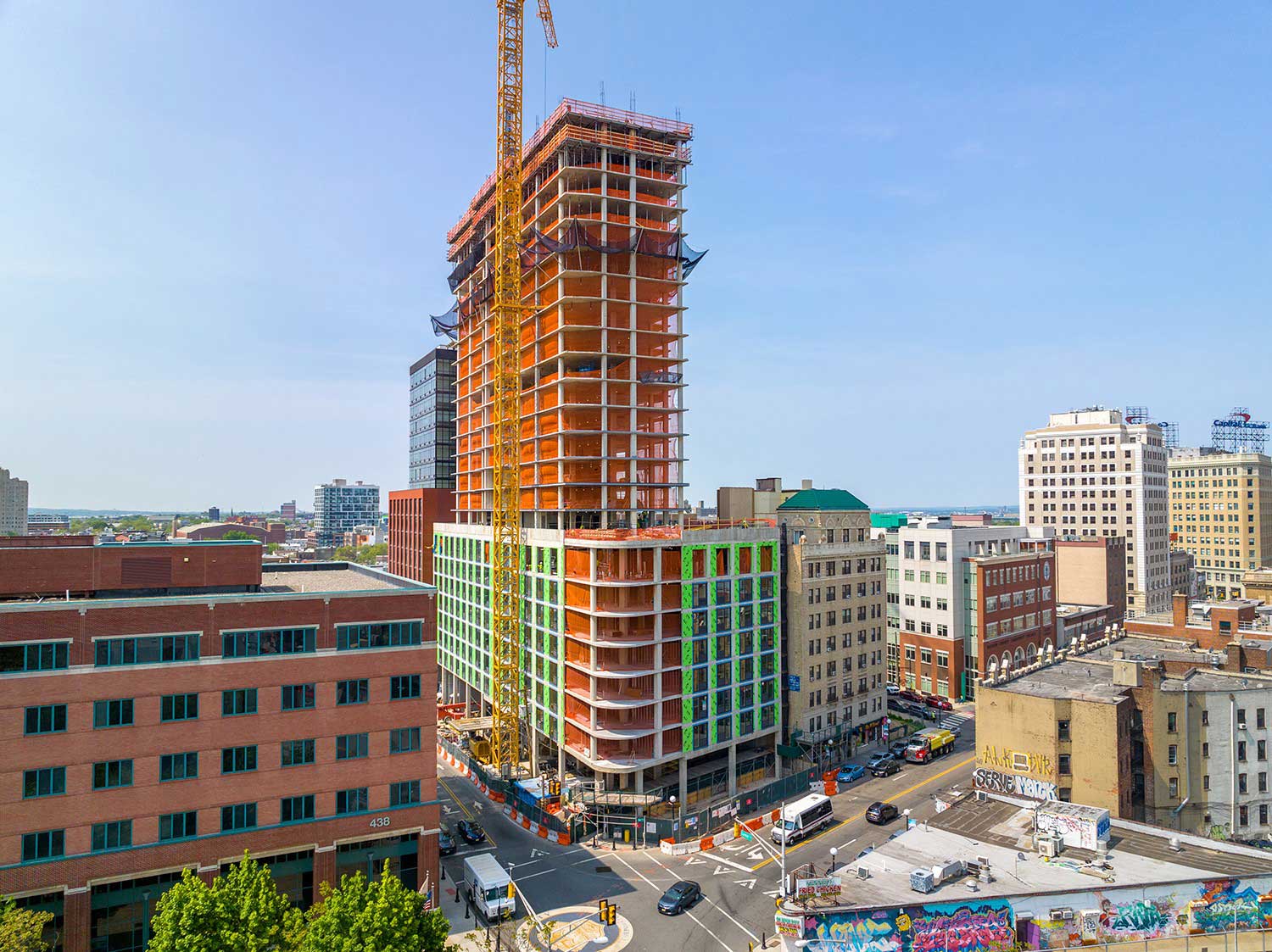 "Arden is thrilled to celebrate this critical development milestone at 425 Summit Avenue with our partner Spitzer, as well as our numerous collaborators on the project," said Craig A. Spencer, Chairman and CEO of Arden Group. "We look forward to sharing this beautiful new development with the Jersey City community, which will offer a new residential option for tenants seeking competitively priced luxury living with easy access to Manhattan."
Designed by MHS Architects, the building occupies more than half an acre across the street from the Journal Square PATH station. Supported by an eight-story base, the project now rises 275 feet and will comprise 390 rental units and will feature large windows with an exterior that utilizes cream-colored brick, cement, and stone components.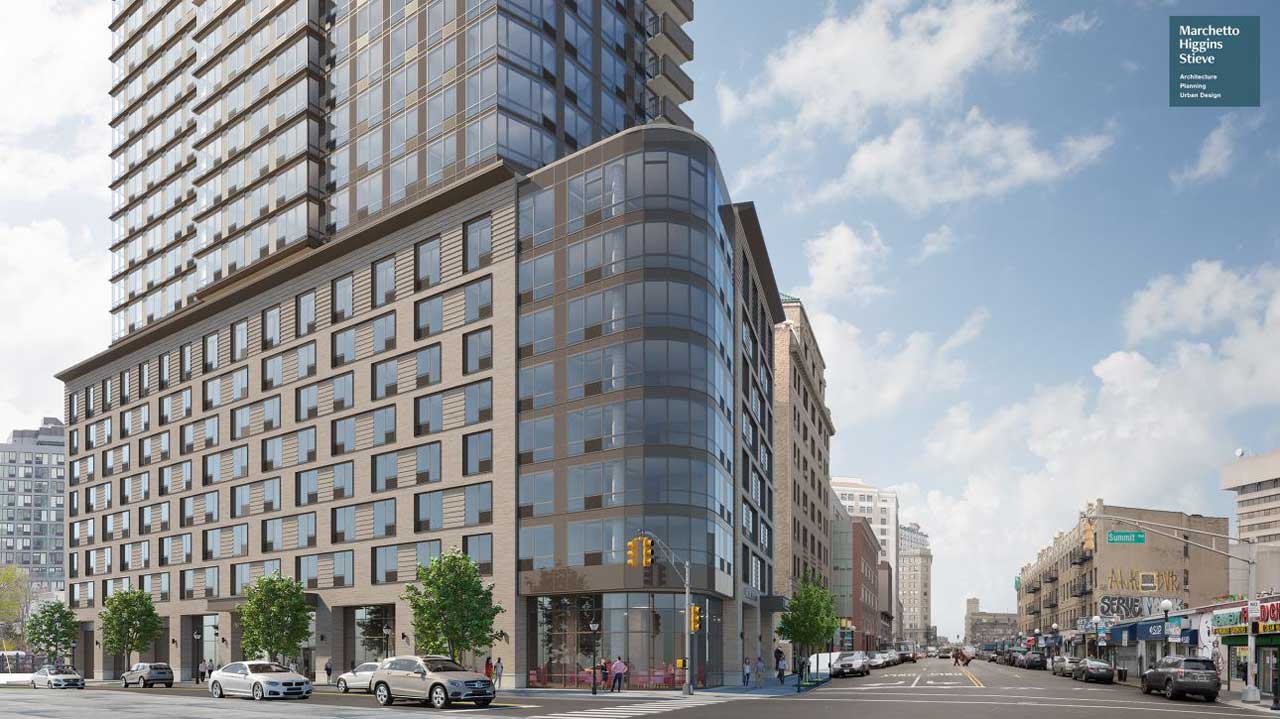 The ground floor of 425 Summit Avenue will include two storefronts; the first will run 3,663 square feet at the corner of Summit and Sip avenues and a separate 771-square-foot retail spot will occupy space along Summit Avenue.
The building will feature premium amenities that include a golf simulator, fitness center, and resident lounge with sweeping views of Jersey City and New York City. The project is expected to be completed in 2024.
425 Summit Avenue falls within a busy area in terms of construction. Kushner's One Journal Square has begun to rise across the street just steps from the final tower of KRE's Journal Squared development. Work on the 19-story 413 Summit Avenue complex next door is slated to wrap later this year.
Other notable projects in the direct vicinity include a $72 million renovation of the Loew's Theater that is currently underway and the planned Pompidou Museum across the street from 425 Summit Avenue.