Weekend Walks is our weekend column where we explore the photographic beauty of various neighborhoods through the lenses of history, architecture, and commerce.
When Hoboken was drawing college graduates and young families with new development in the 1980s and 1990s, the industrial areas on the west side of town, away from the waterfront, lagged behind. When the riverfront neighborhoods began filling up, and the light rail train was built on the west side in 2004, some factory properties were converted to condos and parks were carved out. Still, that part of town retained some of its most iconic businesses and long-time families.
"I'll never leave," said Michael Aligo, 52, who was serving up egg sandwiches at a relatively new coffee shop at the corner of Second and Monroe streets last week. (A prime spot for people-watching downtown, Cafe Sophia is only two blocks south of the birthplace of Frank Sinatra.) Aligo has lived in various homes near First Street and is an entertaining presence at the spacious cafe, which replaced a pizzeria and candy store before it.
"I don't like the scooters or the traffic," he said. "But the customers here are great. I try to make everybody happy. Life's too short."
The eatery where he works, owned by a local Italian family, has made an impact with two popular sandwiches reflecting neighborhood pride: The Sinatra (egg, prosciutto, mozzarella, arugula, sundried tomato spread) and The Monroe (egg, cheddar, bacon, avocado, Sriracha mayo), both for $8.
Aligo said the west side has changed for the better, noting that the crime rate has come down (a fact supported by decades of police statistics). "I've been here all my life," he said. "Hoboken was old school. I like the old school, but I like the new school too."
The most literal translation of "old school" applies to that corner, as the cafe is across from the 111-year-old Connors Elementary School, which holds approximately 250 students. On a recent visit, two teachers were chatting over coffee in the shop.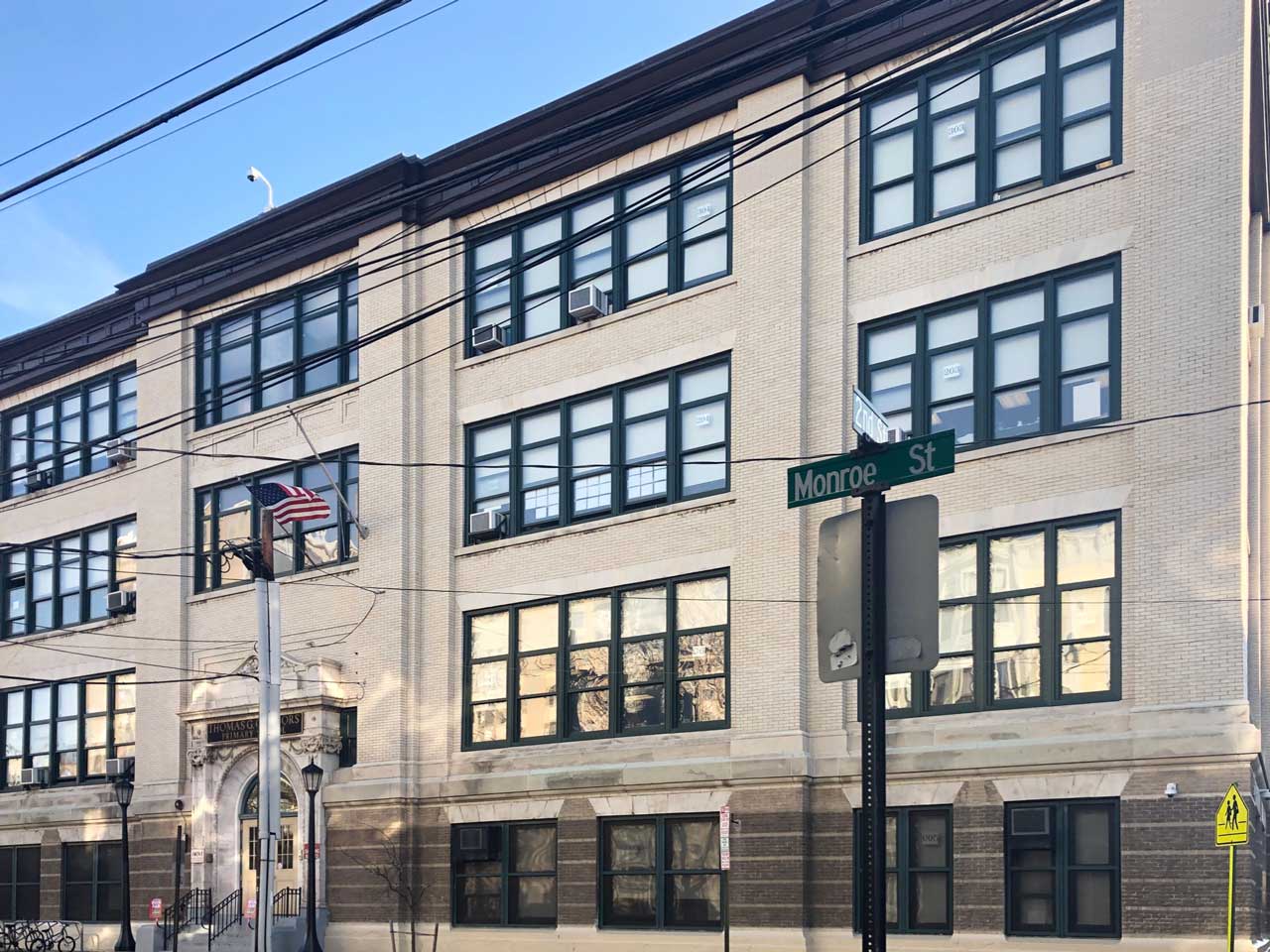 Hoboken has attracted more young families to town, with its new parks and school programs. On a recent morning, John, a father of two, was at the Monroe Center for the Arts, at 720 Monroe Street, with his young child. He said he lives on Adams Street and is happy with the west side of town.
"I like it. It's a bit quieter [than the waterfront side]," John said. "You get more space for your money. We have a yard."
He noted that he works in Manhattan and enjoys the easy commute. "I get to come home and see them [his two kids] every night," he said, "as opposed to the suburbs when I'd be home later."
He and his wife moved to town six years ago from Manhattan. He was initially skittish about the Mile-Square City when a co-worker of his wife's suggested it.
"I grew up on Staten Island and knew it as more of a party city," he said. "It's amazing what's happened. It's a great family community. There's so much for kids to do."
He said he'll stay as long as they can remain in a two-bedroom apartment.
The Monroe Center is five stories of quirky new businesses, classes, and art studios. But the west side is full of older, iconic small businesses, too.
At Second and Grand, Leo's Grandevous has, for 80 years, served up pasta, mussels, and bar pies alongside a famous "Frank Sinatra jukebox."
Fiore's Deli at Fourth and Adams draws lines down the block on weekends and is known for its mozzarella and roast beef sandwich.
Losurdo's Deli and Bakery on Second Street may get less publicity, but it displays some of its mouthwatering bread in the window.
Among the quieter businesses is Hair I Am on Fifth Street. Owner Pasquale Camporeale came to Hoboken in 1971 from the southeast coast of Italy. "I have old-time customers and new customers," he said. His barbershop is decorated with the usual tools of the trade and some photos of Camporeale with celebrities he's met at fundraisers.
One of the photos is of a famous client. Camporeale once cut the hair of Hoboken native Joe Pantoliano. A woman who worked in the shop lured Joe in when he was passing by.
When asked about hair trends, Camporeale said, "Everything is short now. There is a classic cut. It's low maintenance."
This wasn't the case in the shaggy '70s when he started. Pasquale stopped offering shaves seven or eight years ago, he said. Customers often wanted adjustments afterward, particularly with beards, and other customers complained about the time it takes. "People are in more of a hurry now," he said.
The west side also has much evidence of how insular a community it once was. There are various ornately designed "ghost storefronts" on side streets, with empty display windows, from a time when people bought everything locally and couldn't run to ShopRite or the Jersey City Target.
Some of these have become garden apartments; others sit vacant.
The neighborhoods are also marked by private political and Italian social clubs hinting at the populations who immigrated here years ago, as well as small churches and a few painted signs for factories.
Between them, new buildings rise. At the place where Frank Sinatra's family lived when he was born — 415 Monroe Street — developer Chairman of the Board Corp. is constructing seven luxury condos. So if you plan to visit, you may want to wait until the cranes leave.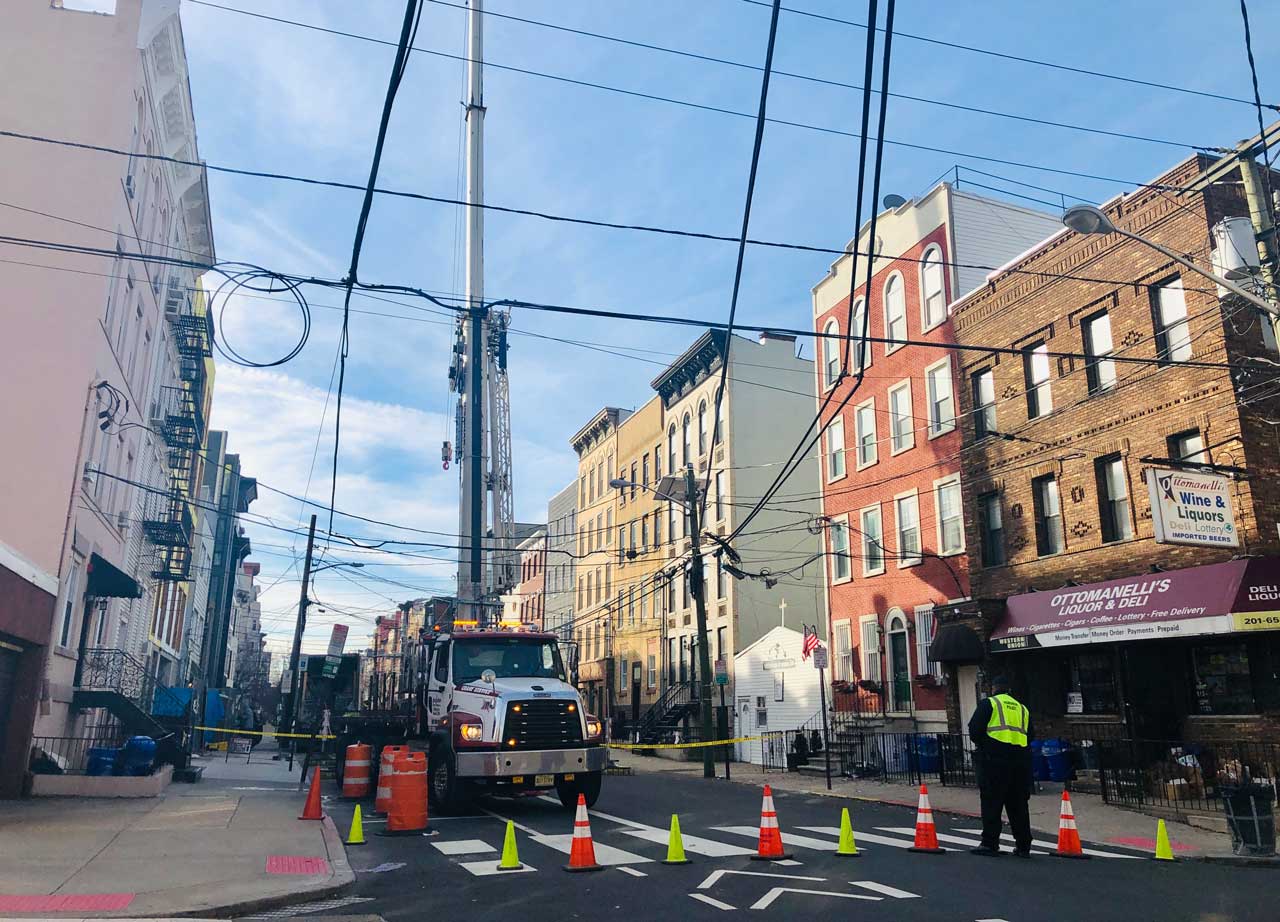 Between the Second Street and Ninth Street light rail stations (and the Ninth Street elevator up the hill to Jersey City Heights and Union City), several massive luxury buildings have been constructed, with developers adding countless amenities and community amenities as well, such as playgrounds. Bijou Properties and Intercontinental Real Estate Corp., who built 7 Seventy House, finished a playground in the area and are working on a community plaza and gym.
Two older condo conversations still have signs above their doors for "boys" and girls" entrances — a reminder of a time when the Mile-Square City contained 70,000 people (1910 estimate) and built new schools to educate the children of recent immigrants. Today, the population is closer to 53,000.
The closings of schools in the area are a sign of the times. Aligo said he attended St. Francis Catholic School in Hoboken, then St. Joe's in West New York, but both are now closed.
Related: