Perched on The Palisades, seemingly at the edge of the world, with only river and skyline as far as the eye can see, 8 Hamilton Avenue is a stunning home and available, uniquely, to rent. The property, offered by Rami Rosen of Compass and referred to as the Castle in the Sky, does not disappoint with over 7,000 square feet of luxurious living across three bedrooms, four full baths, and two half-baths along New Jersey's Gold Coast.
8 Hamilton Avenue is available for rent furnished or unfurnished, but either way, the custom home's spectacular interior speaks for itself. The eastern exposure is a panoramic expanse from the tallest towers along 57th Street to One World Trade Center with the Empire State Building and every other monolithic landmark in between, on view from every room. It is a film set kind of view with nothing but the mighty Hudson River between you and New York City.
The house is awash in natural light and French doors fronted by delicately patterned wrought iron can be flung open for great air. Elegant herringbone wood floors reminiscent of European museum galleries, contemporary lighting, and intricate millwork as well as coffered ceilings are throughout.
The main space is a split-level with nearly floor-to-ceiling glass wrapping all sides and framing every awe-inspiring angle. The only challenge presented by this magnificent space is where to look first (but the living room telescope can help with that).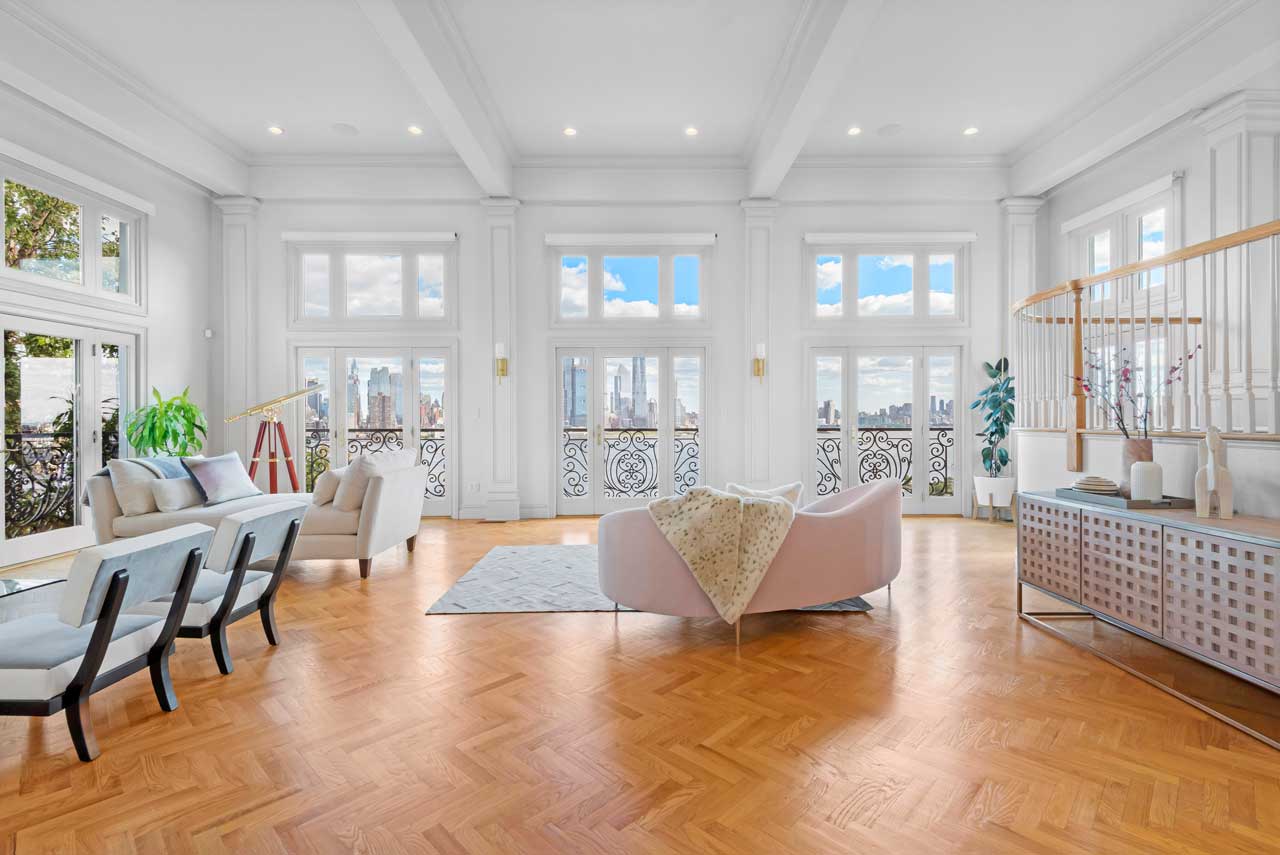 A staircase ascends to the elevated dining area which will no doubt play host to some seriously glamorous dinner gatherings. Just beyond is the massive kitchen, complete with ample handsome wood cabinetry, granite countertops, state-of-the-art appliances, and access to the outdoor patio.
A separate library provides a wood-paneled respite and all three bedrooms feature en-suite baths, while the oversized primary suite also boasts two walk-in closets and a cozy fireplace.
The lower level of the home offers plenty of recreational space with a family room, playroom, and personal yoga studio with direct access to the manicured grounds and outdoor patio. Also outside, against the twinkling backdrop of New York City, the private Jacuzzi adds an extra luxuriant touch to Gold Coast living with a view.
8 Hamilton Avenue in Weehawken, New Jersey, is convenient to shopping, dining, parks, and schools, as well as public transportation to Manhattan. The home also has an attached multi-car garage.
8 Hamilton Avenue is asking a monthly rent of $29,000 (furnished).
While this home is unique to the Gold Coast rental market, Rami Rosen of Compass is no stranger to the singular real estate offerings along New Jersey's riverfront. An industry veteran with 20 years of experience, Mr. Rosen specializes in the Hudson River waterfront areas of Jersey City, Hoboken, and Weehawken. And with $35 million in sales this year alone, he is the broker for the job.
Rami Rosen is fluent in English, Hebrew, and French and runs his business with his core ethics always front of mind — "Honesty, integrity, and transparency. I treat every transaction as if it's mine." Mr. Rosen is certain of the New Jersey Gold Coast's appeal and concedes demand still significantly outpaces supply, making his expertise as a buyer's agent, listing agent, relocation specialist, real estate consultant, and property management professional invaluable in today's market.
For more information about 8 Hamilton Avenue and/or Rami Rosen's listings, please contact him at 646-465-1580 (cell), 201-455-6404 (office), or [email protected].
Listing: 8 Hamilton Avenue, Weehawken
Asking: $29,000 per month (furnished)
Agent/Brokerage: Rami Rosen/Compass