Editor's Note: This is part four of an ongoing interview series with Jersey City's nine city councilpeople. Jersey Digs has invited all city council members to participate in the Q&A about their outlooks on topics ranging from development and crime to transportation and the tax revaluation for their respective wards. The interviews have been edited and condensed for clarity and length.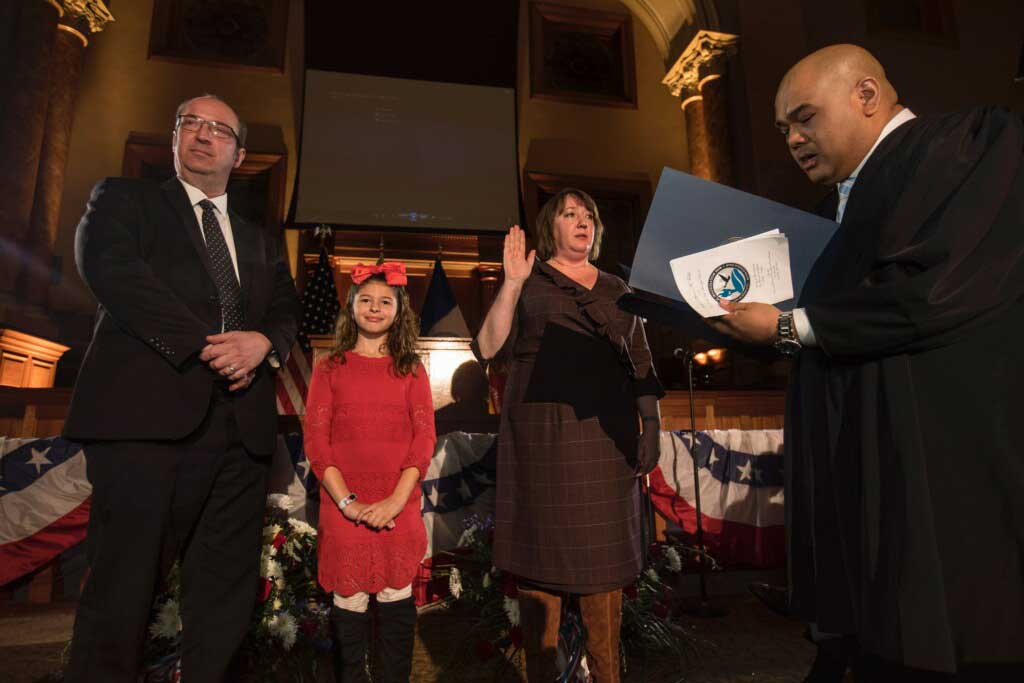 The West Side in Jersey City is known for its diversity, proximity to Lincoln Park — Hudson County's oldest and largest park — and historic neighborhoods. Along with the surrounding areas in Greenville and Bergen-Lafayette, the West Side is sometimes framed as one of the forgotten areas of Jersey City, existing in the shadows of the development of Downtown and Journal Square.
Still, as Jersey City's development boom extends beyond Downtown and the property tax revaluation begins to remake the city, changes are anticipated for the West Side. The West Bergen-East Lincoln Park Historic District — the first designated historic district beyond Downtown — formed amid criticism in 2015. The creation of a restaurant overlay zone on West Side Avenue followed in 2016. New Jersey City University's West Campus expansion continues. Major development is planned for the Hackensack Waterfront, including the eventual realization of the Bayfront site and expansion of the Light Rail.
Mira Prinz-Arey, who ran for office as a member of Team Fulop, is one of Jersey City's three newest city council members. After winning a hotly contested runoff on December 5, Prinz-Arey began her first term in January and she is the seventh councilperson to represent Ward B since 2009.
Prinz-Arey comes from a community activist background, having served as trustee for the West Side Community Alliance and co-created West Side Arts and Music. "I'm used to being on the other side of the table," says Prinz-Arey on her transition from activist to councilperson and the challenge of keeping residents informed of Ward B's anticipated development. "I'm wrapping my head around how I can take those skills [as a community activist] and best utilize them as a councilperson to make sure information is out in a timely fashion to residents. Because a lot of times [residents] don't even know what development is coming our way because we don't have the same kinds of neighborhood organizations like they have downtown or even in The Heights."
Jersey Digs: What are your priorities? Have they changed since the campaign?
Mira Prinz-Arey: A few things have changed because they needed immediate attention. So still for the West Side, I still want to work on the economic development of our commercial corridors and working with businesses to talk about some sort of merchant's association or special improvement district for the West Side.
And then also, as development is coming our way, taking a look at what that's going to look like. Where my borders meet like with Ward A, for example, with the NJCU West Campus expansion, what that's going to look like with the Bayfront development. I'll be working with [Ward A Councilperson] Denise Ridley, in particular, on that since we share some of those borders.
Then it's the day-to-day issues around things like trash. That's actually taken a little bit more immediacy, and also some smaller things too like package theft, which is turning into a very big issue. Also realizing what crime is like on the west and south side of the city, and how the two different police precincts and districts have to work with that and the residents. Those are the issues I campaigned on and around. They're still the primary focus, but they have to shift.
JD: Now that we are seeing preliminary results for the reval, how does it look like the West Side will be impacted?
MPA: Compared to other areas, the West Side from preliminary numbers, we're going to be flat and some property taxes are going to go down. So for the most part, we're not going to have the same shock they're having in The Heights and Downtown. Those are going to be the areas that are hit the hardest. But that's what happens when you wait 30 years to have a reval. For me, personally, I would like to see something put in place where [a reval] maybe happens every 8 years. That allows for fluctuations in the market. Then it won't feel like residents are bearing the burden of certain sides of the city. Because that's very real too. You have people paying property taxes that are no longer in line with evaluation of homes.
JD: Affordability is an issue citywide going forward. What steps are you taking to keep the West Side affordable for residents?
MPA: With affordability, there's home prices and then there's also renters prices. So I think that when you're talking about that, you have to have that holistic conversation.
When it comes from a renters perspective — I've had a very different relationship to homeownership. I'd been a renter my whole life [before moving to Jersey City] — so making sure people understand tenants rights, making sure that when things like the reval happen, people know their rights around whether or not a landlord can increase the rent based on the new evaluation. We actually have very good and strong tenants rights [in Jersey City] but people just don't have that information.
Then when it comes to homeownership, that's when it becomes a little bit more challenging because that's also the market. So when we have new developments coming up online, making sure that there is affordable housing components put into that. If developers are asking for any sort of abatement or break, making sure that the number fits but also looking at what affordable means when you take it from the state level, when you take it from the federal level, and plugging in not only low income and middle income but also workforce housing.
This is also challenging too because Downtown's basically developed for the most part. People are coming to the other end of the city and unintentionally creating affordable housing on the south side and on the west side. So making sure that [housing is] equitable throughout the city, not just on the west side.
JD: So you would support inclusionary zoning?
MPA: Inclusionary zoning is something most cities across the United States have to look at. It seems like no city has come up with a way to solve this problem but it has to be addressed because rents can't keep going up. And for a first-time homeowner, you have to be able to get that equity.  
With inclusionary zoning, I think having community input to address it is also going to be a very important part of it because there are things about it people don't quite understand. So I am in support of inclusionary zoning but we have to be really thoughtful about how we do it and that people understand what it all encompasses.
JD: And what's the status on Bayfront?
MPA: The mayor is having the conversation about making Bayfront 50 percent affordable. So there are going to have to be some amendments to the redevelopment plan and they're going to have to have a different conversation with the developers involved with the project. And they're going to have to open that back up to the community because there's some concern that putting in 50 percent affordable is going to keep [home] prices flat.
I think that if they do affordable housing and do the project the right way, it will benefit everyone. Because you can have a conversation around workforce housing. You can have a conversation around low and medium income housing. I think that projects like that are great but things need to be modified to make it a reality. I think it's a great opportunity.
JD: The other thing we're discussing with everyone is transportation. What changes do you want to see for the West Side?
MPA: Transportation is tricky because of the infrastructure that we have or the infrastructure that we don't have. I think that rapid transit buses are going to be much more important going forward. The trick about that though, especially on the south and west side of the city where people have their cars and use their cars to get to work — how do we connect to other major arteries outside of Jersey City and how do we get people comfortable with the fact that that's going to mean parking spots are going to go away?
Working with New Jersey Transit to extend the Light Rail is going to be important especially as they start to develop along the [Hackensack] waterfront, and just making it easier for people to get to the public transportation. That's the issue with public transportation, getting people comfortable to use it but also making sure that it's running when they need it.
Looking at a "Complete Streets" model, and understanding that along West Side Avenue, it's not really a good street for bike lanes or alternate transportation. But Mallory Avenue is. The Boulevard is. When you're going down to 440, understand that that's meant for trucks but how you also make it safer for pedestrians and building public transportation access there.
On the West Side, we are directly impacted by the work done on the Pulaski more than other parts of the city because that's where all the other cars come off, and that intersection of Communipaw and West Side Avenue is awful. It's very dangerous. But in two years, when they finally finish, hopefully, we're going to have a whole new set of traffic patterns because of all the development. So you can study it now and make improvements now but also know that in two years, three years, four years, it's going to shift again.
JD: What would you like to see in terms of ensuring safe streets?
MPA: Enforcement has to be a big part of the equation because that's where you hit people, in their wallet. But you also have to be mindful of how it's being enforced. People have to see officers pulling people over. Traffic has gotten more dangerous [on the West Side] in part because of all of the problems we've had because of the Pulaski Skyway and the 139 project getting done. People are frustrated and they're impatient.
I want to see daylighting more on the west side of the city. It is coming our way but I think we can do things to implement it a little bit faster. You're taking away parking spots but you're making the turns coming off those streets a lot safer.