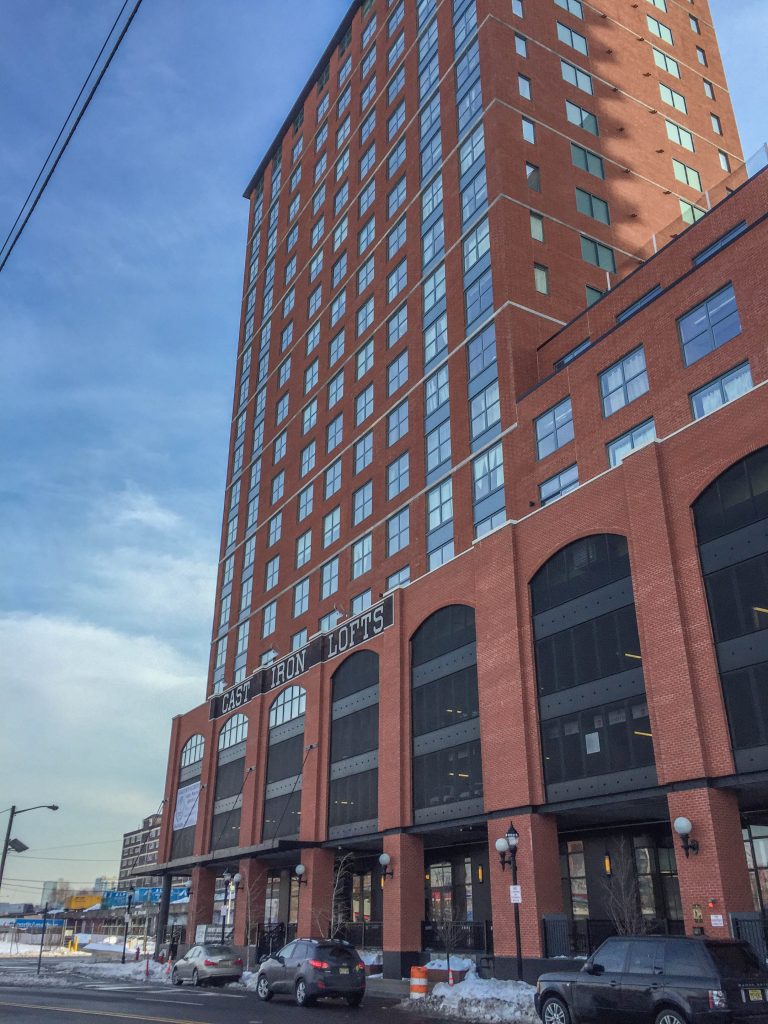 What's in a name? When it comes to a neighborhood and its brand, it can mean quite a bit. Just ask SoHo or Tribeca, two now-trendy Manhattan neighborhoods downtown near the Holland Tunnel that were formerly filled with underutilized buildings and vacant lots before they were rebranded and revitalized.
Jersey City appears to boast a neighborhood that is poised for a similar rebirth in an area of the city located, perhaps appropriately, in its downtown near the Holland Tunnel. SoHo West, as in south of Hoboken and west of Manhattan, is about to get a large influx of new residents.
Hoboken-based Manhattan Building Company, locally famous for its renovation of The Sugar House in Paulus Hook, is about to open Cast Iron Lofts II, a 26-story residential building with 232 rental apartments. Located at 837 Jersey Avenue right next to the first Cast Iron Lofts building that opened in 2013, the new industrial-inspired building is wrapping up construction and has started leasing to tenants, with its first occupants anticipated to move in by early March.
Rates for apartments in the Cast Iron Lofts range from $2,725 a month for a one-bedroom unit to $5,450 a month for a three-bedroom plus den space that tops out at over 1,800 square feet.
It's the company's second, but not last, project in the area that will consist of buildings that all boast amenities that include pools, fitness centers, club rooms and barbecue areas, along with complimentary shuttle service to the Hoboken PATH station.
SoHo West, which is bounded by Hoboken to the north, Newport to the east and Hamilton Park to the south, currently doesn't have many shopping options, but there will be 20,000 square feet of retail space in the new Cast Iron building. The developer says they are inking deals with 8 Springs Studio, a Pilates and Yoga studio, and Brewshot, a coffee shop that has several other locations in Jersey City and NYC. The new businesses will join Viaquenti Academy, a bilingual pre-school which currently occupies space in the first Cast Iron Lofts building.
While the area is seeing significant residential construction, there are also older warehousing and storage facilities nearby, along with a few empty lots. However, the company feels so positively about the neighborhood that they have already broken ground a block away on a new mixed-use project called SoHo House, a 377 unit, two-tower rental project that it hopes to have completed next year.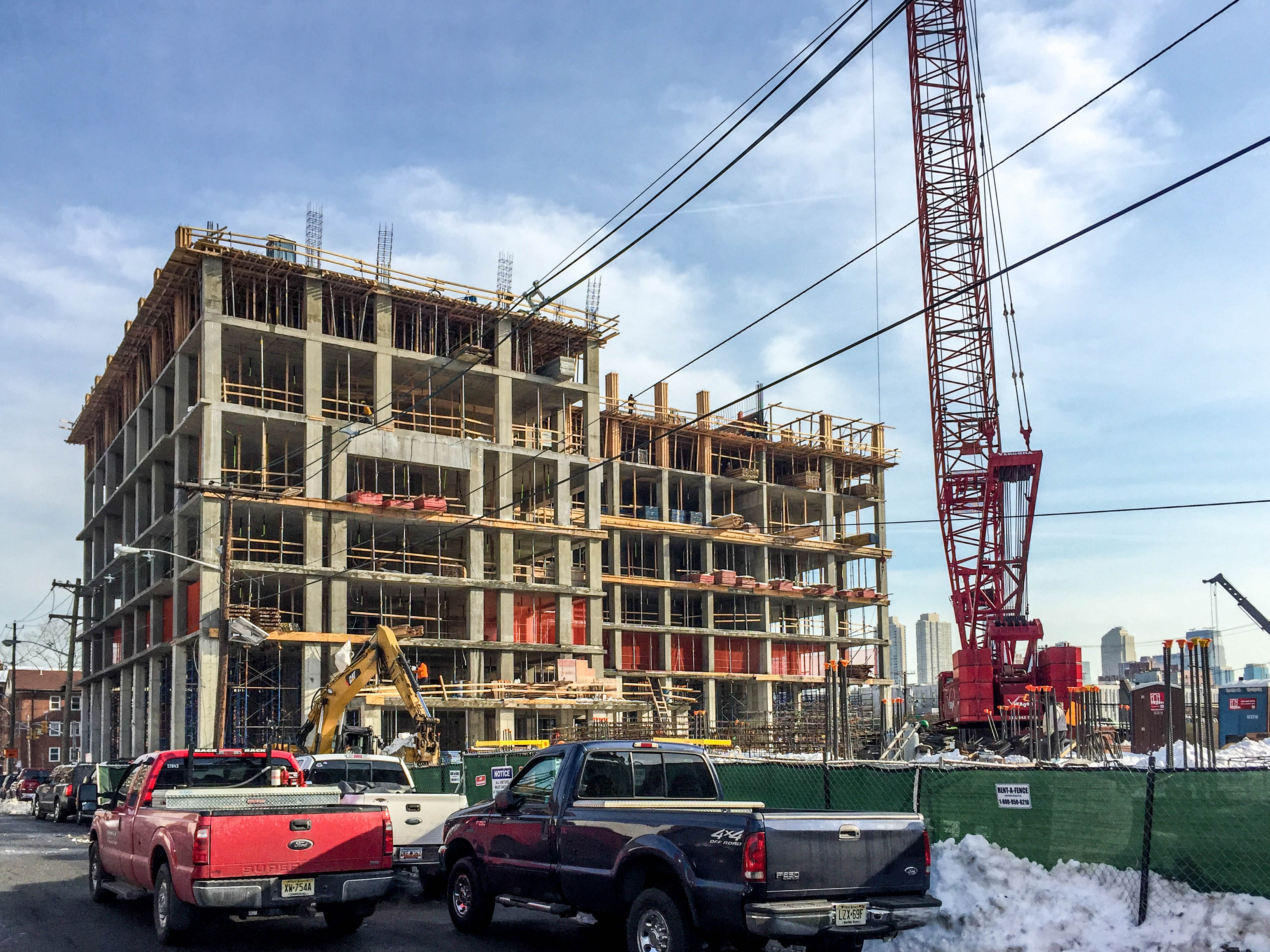 Lou Mont, COO of Manhattan Building Company, told Jersey Digs that the company is currently working with the City to create an SAD (or Special Assessment District), which will raise the streets in the area out of the flood plain while installing new storm and sanity sewer lines.
Mont also says that as part of the SAD, the neighborhood would also get new street lights, public wi-fi, sidewalks and landscaped areas and added "we see this neighborhood as bridging the gap between Hoboken and Jersey City."
Other developers seem to be getting on board with the optimism. Hoboken Brownstone Company will finally start work on its long-delayed Van Leer Place project, which would be located across the street from the Cast Iron buildings at 110 Hoboken Avenue. A "green" building that promotes the use of geothermal and solar energy and is named after a chocolate factory that used to occupy the lot, the complex will boast 438 residential units, 7,500 square feet of retail space and a rooftop garden.
The company says remediation of the site is scheduled to begin in approximately six months, with construction of the building to commence in the 2nd quarter of 2017.
While perhaps the newly-named district is currently overshadowed by some of its more well-established neighbors, SoHo West certainly seems to be making a name for itself.