Home
Tags
McGinley Square
The Jersey City Zoning Board of Adjustment is now scheduled to hear the plans for the site on Montgomery Street during its meeting on Thursday.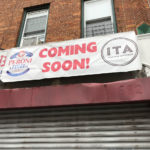 A corner storefront on Bergen Avenue that's been under construction for almost a year looks like it will finally be open for business soon.
Plans to construct a six-story development on two adjacent properties in Jersey City's McGinley Square could be approved this week.
Although the Saint Peter's Tower at McGinley Square project in Jersey City has yet to come to fruition, the university has begun planning another student housing complex in the neighborhood. The ZBA is scheduled to hear the matter June 27.
Ohlala French Kitchen at 688 Bergen Avenue in McGinley Square is open six days a week, serving a full menu of authentic French staples and more.
Jersey City's Zoning Board will hear a proposal for a new project that's requesting variances for use and height.
A new vegan café serving breakfast and lunch at an Academy Street storefront should be up and running for the summer months.
The dessert company has started work at their first brick and mortar outpost in Jersey City's West Side neighborhood.
An 18-unit development that would create two new storefronts along Bergen Avenue appears to still be somewhere in the company's plans.
The proposed six-story building would replace a warehouse near McGinley Square.