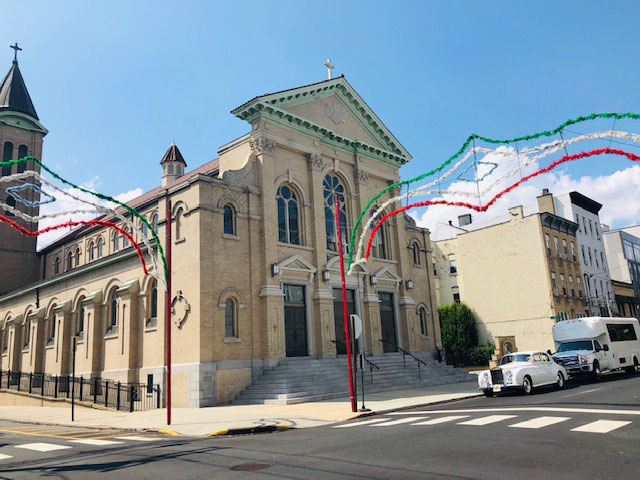 Hoboken's popular St. Ann's Festival, otherwise known as "The Feast of St. Ann," kicks off this Wednesday evening with a Bruce Springsteen cover band, The B Street Band.
The 109-year-old feast includes five nights of concerts, rides, games, food (including the popular zeppole fried desserts), and a daytime procession through the street in which parishioners carry a 600-pound statue of St. Ann. St. Ann is the patron saint of mothers, unmarried women, grandparents, the childless, and more.
The event takes place Wednesday, July 24, through Sunday, July 28, in the area of St. Ann's Church at Seventh and Jefferson.
The feast has grown in popularity over the years, attracting visitors from far beyond Hudson County. Pres. Ronald Reagan and Hoboken native Frank Sinatra visited in 1984, during Reagan's re-election bid. In fact, Friday will be the 35th anniversary of Reagan giving this speech at the festival praising the church and its parishioners.
The concerts will include Italian classics for several nights, a country and classic rock band on Thursday, and two nights of '60s music from The Supremes to Earth, Wind and Fire.
Each year, volunteers from the St. Ann's Guild fry up their sugary, powdered zeppoles, a fried doughy dessert that draws long lines.
The event celebrates the Novena (nine days of prayer and worship) for St. Ann, the Mother of Mary and grandmother of Jesus. The church holds services to bless the various groups.
Immigrants to Hoboken from San Giacomo, Italy founded the St. Ann's Society around the turn of the last century. They completed their church in 1906 and first held the festival in 1910.
The event runs from 6 p.m. to 11 p.m. on Wednesday and Thursday and then 1 p.m. to 11 p.m. from Friday through Sunday.
For more details, click here.
Related: