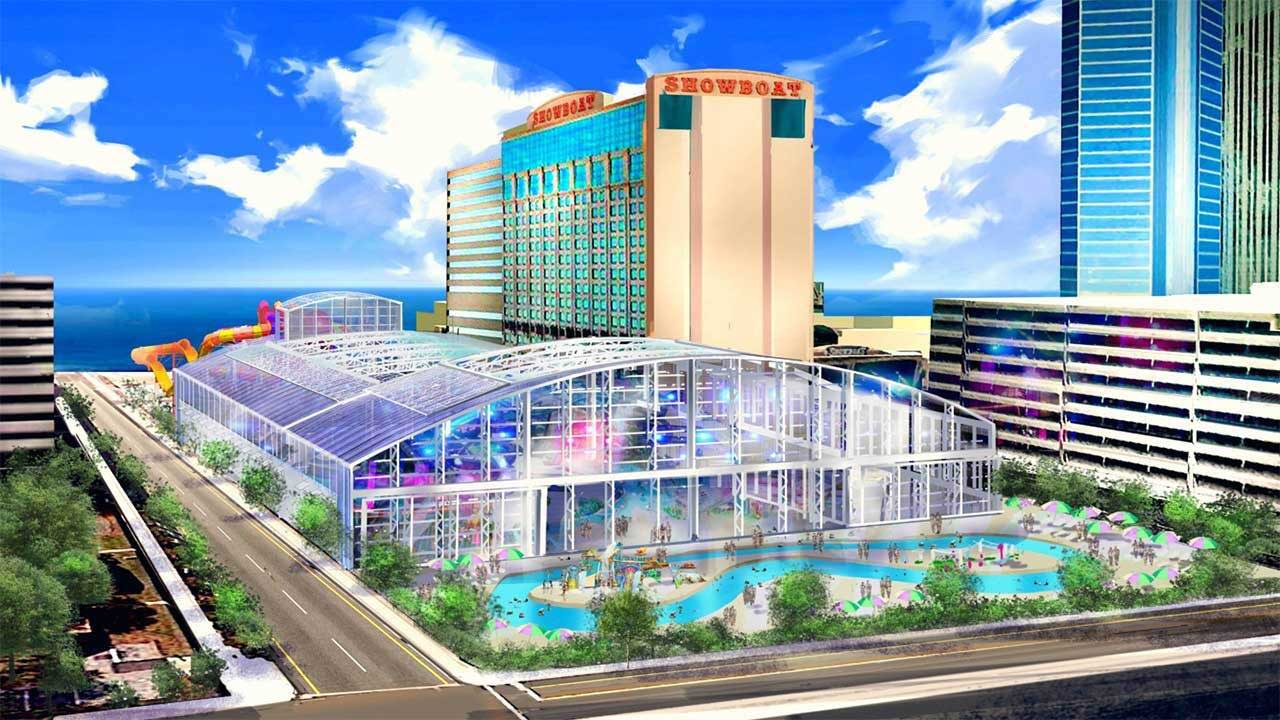 An ambitious plan to revitalize a parking lot fronting one of America's most iconic boardwalks looks like it will come together next year following a key vote in support of the family-friendly development.
During their December 15 meeting, the Casino Reinvestment Development's Authority's (CRDA) Board of Directors granted final site approval regarding a project along New Jersey Avenue next to the Showboat complex. The property is owned by Philadelphia-based developer Bart Blatstein, who acquired the non-casino hotel from Stockton University in 2016 for $23 million.
An indoor waterpark proposal emerged during the summer months and Jersey Digs was the first news outlet to reveal the look of the $100 million facility back in June. Designed by Atlantic City-based SOSH Architects with interior work from Martin Aquatic Design & Engineering of Orlando, it is set to feature a transparent, retractable roof and approximately 100,000-square feet of amusement rides.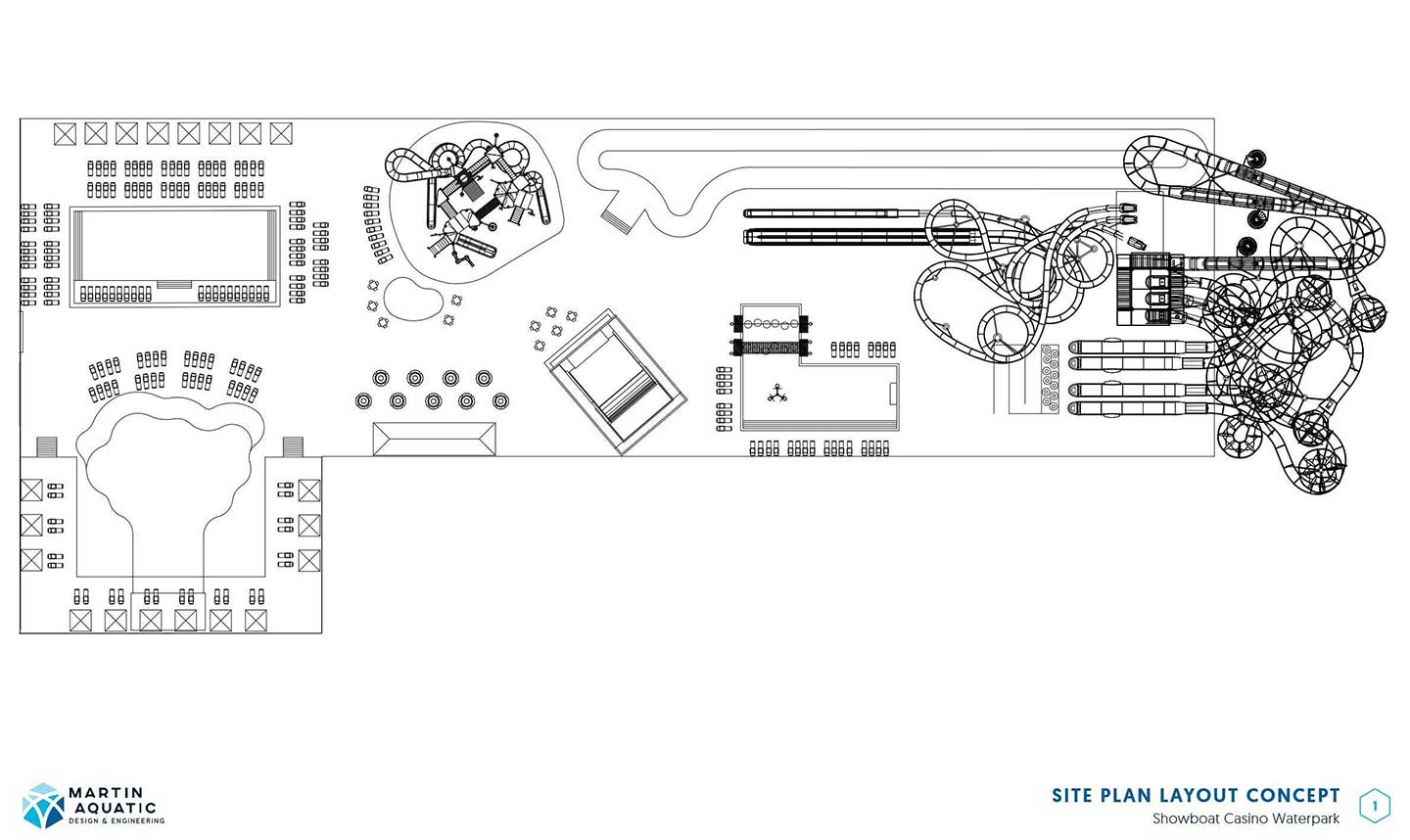 The indoor portion will feature water slides, pools, and lazy rivers to go along with amenities like food and beverage outlets, party rooms, locker rooms, retail stands, and lounge areas. An outdoor lazy river will run just west of the indoor portion, while the eastern section of the property looks to feature outdoor volleyball courts, an enclosed water slide, and a bar facility facing the Atlantic Ocean.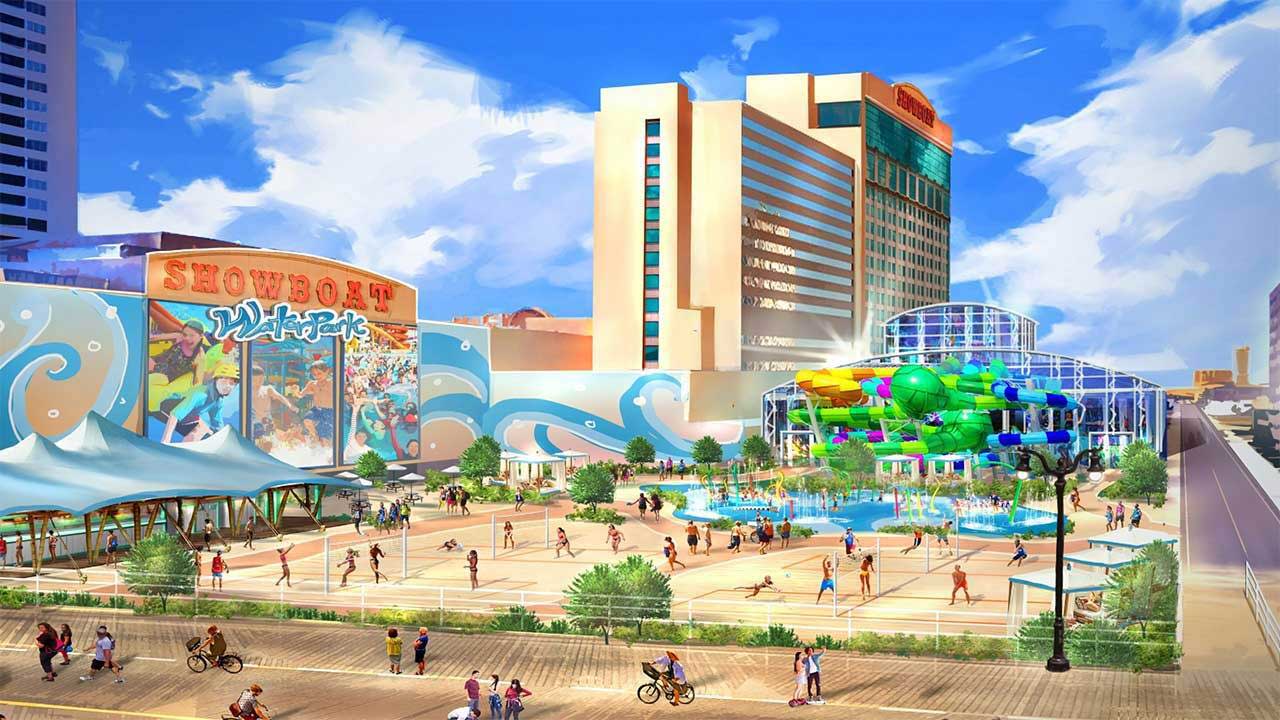 The as-yet-unnamed waterpark will be connected to the Showboat's Premier Lite tower, which is slated to undergo a complete renovation as part of the project. A Family Entertainment Center featuring an arcade and other games is to be built within the existing Showboat facility to support the project.
While Showboat is spearheading the endeavor, Erie, P.A.-based American Resort Management will be overseeing all aspects of the project's development. The company operates various hospitality facilities around the country including Epic Waters Indoor Waterpark in Grand Prairie, Texas and Parrot Island Waterpark in Fort Smith, Arkansas.
"This is a significant development for Atlantic City and the Showboat property, and we are beyond thrilled to play a role in helping to transform it into a world-class destination," said Richard Coleman, American Resort Management CEO. "Our goal is to create the most unique indoor waterpark in the world."
Representatives from Showboat previously presented preliminary plans to CRDA's Land Use Regulation and Enforcement Division on June 18 and held a press conference afterward where Blatstein indicated his high hopes for the project.
"This will be the best, pound for pound, indoor water park in the country," Blatstein said at the time. "We've spent many, many hours designing something that's going to be completely unique, so that when you arrive here at Showboat, you'll know that you're somewhere different."
Blatstein will be seeking an entertainment retail district designation for the project, which would make it eligible for tax incentives worth up to $2.5 million annually for up to 20 years. The CRDA will be considering that request during their meeting later tonight.
Site plan approval was the last regulatory hurdle Showboat's waterpark development faced and Blatstein says construction of the water park is expected to begin next year.