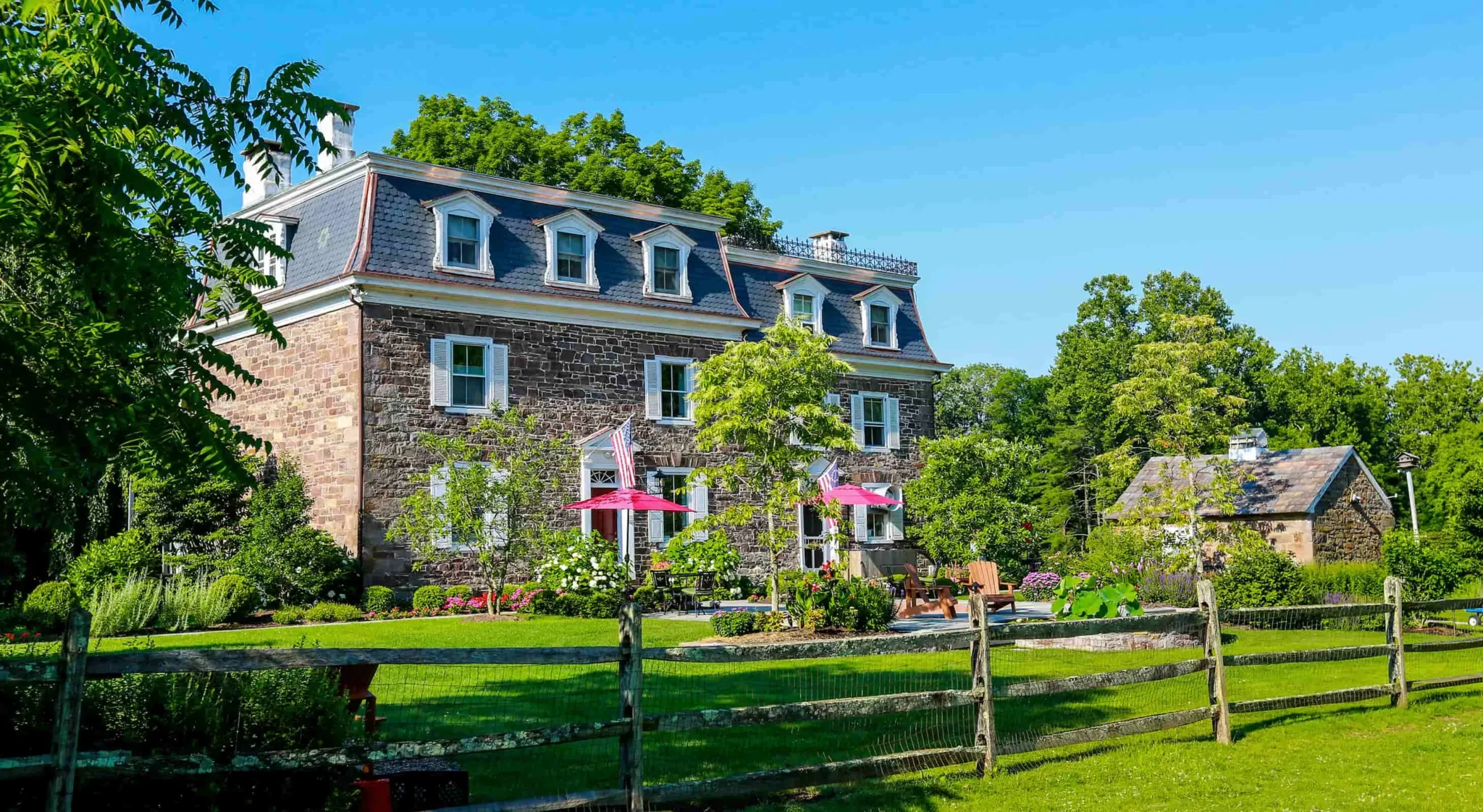 Are you a New Yorker looking for a romantic escape? Or a Garden State couple that wants a weekend change of scenery? You're in luck — romantic getaways in NJ aren't hard to find.
Romance is different for everyone. Some love a mountain retreat, while other couples find peace on the Atlantic Ocean. Still others prefer historic sites, hiking trails or a charming bed and breakfast.
No matter your love language, there's no shortage of romantic things to do in New Jersey.
Find your romantic weekend getaway in one of these three categories:
Jersey Shore Romantic Getaway
Western New Jersey Romantic Getaway
Weekend Getaways Near New York City
Let's get started with some of the best weekend retreats on the East Coast featuring romantic getaways in NJ.
Jersey Shore Romantic Getaways
Long Beach Island (Ocean County)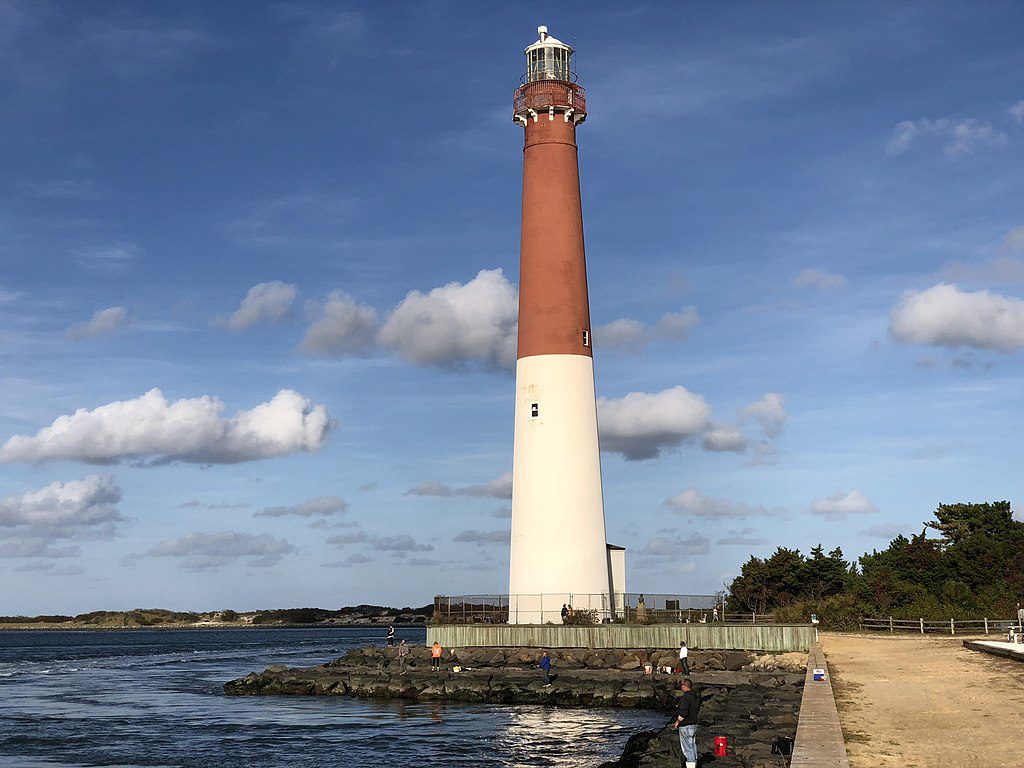 LBI isn't a secret to anyone — but this is one popular Jersey shore town that earns its reputation. It's a barrier island that features six towns with lovely beaches, romantic accommodations and good food.
Start your LBI romantic getaway at Barnegat Lighthouse State Park. It's a coastal NJ state park with unique features — check out the trail through one of NJ's last maritime forest areas. The historic lighthouse "Old Barney" is a cute place to birdwatch, fish or picnic.
Travel south from Barnegat and visit one of NJ's most beautiful miniature golf courses. Adventure Golf in Beach Haven isn't your typical "putt-putt course" — its 2 courses feature beautiful landscaping, caves and waterfalls. You'll play through caves and cross a swinging bridge while you play. It's a golf course adults can certainly enjoy on a date.
After you enjoy LBI's 18 miles of beaches and bay attractions, you need to relax. There's plenty of B&B, hotel and house rental options available around the island. Windward at the Beach is a boutique hotel in Beach Haven with eclectic accommodations and features.
Just down the block from Windward is Williams Cottage Inn, a highly-rated bed and breakfast. This charming sea green B&B features eight guest rooms, and your stay includes a two-course gourmet breakfast.
Weekend Stay in Cape May (Cape May County)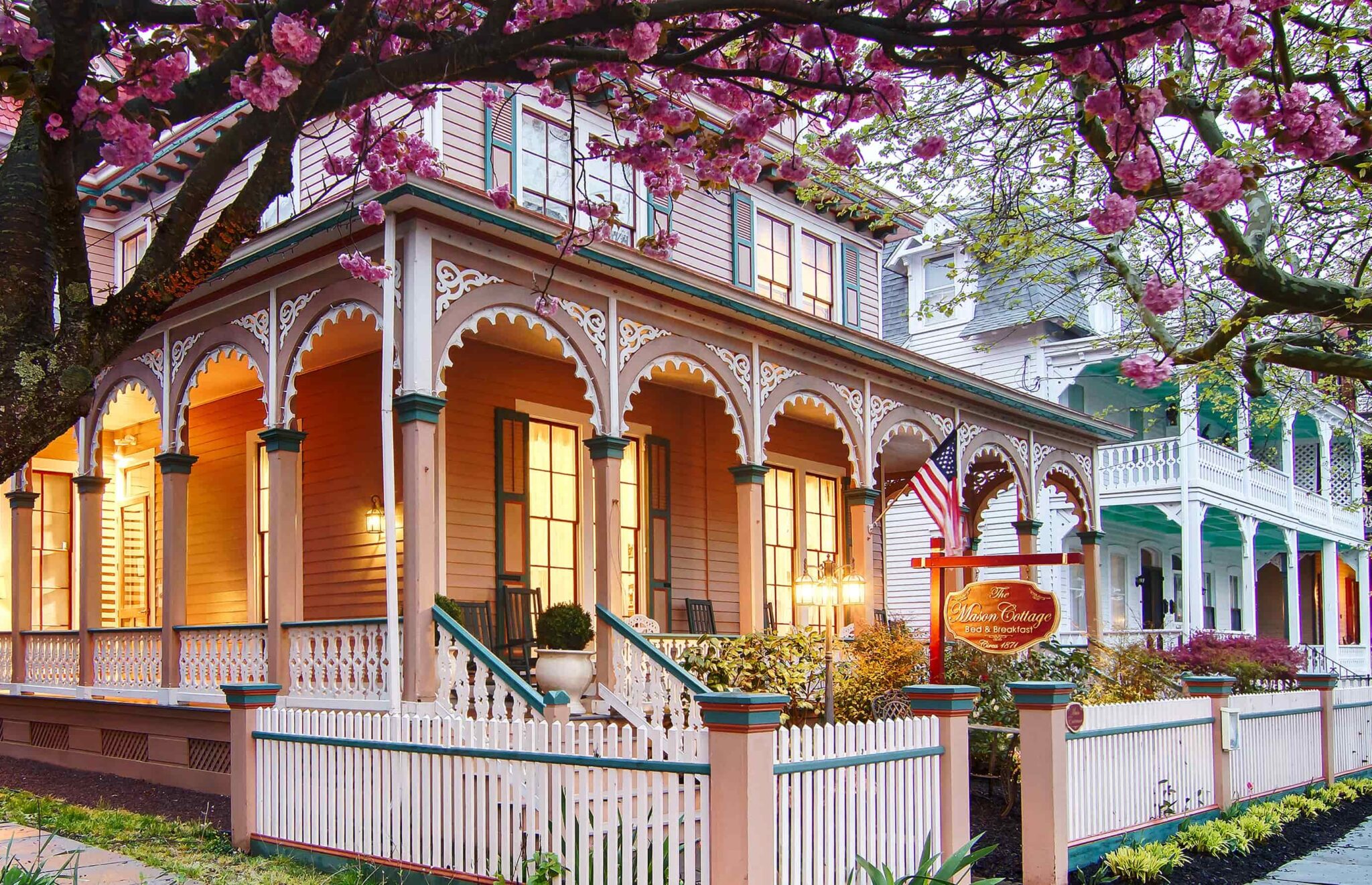 A weekend stay in Cape May is less about "doing things" and more about enjoying the view. Widely considered one of the East Coast's best shore points, Cape May blends historic charm, deluxe hotels and enjoyable beaches.
Many couples plan their trip around the town's seasonal events. Visit the official Cape May event calendar for a list of upcoming events. There's plenty of shopping near the beaches — take advantage of reasonable metered parking and see Washington Street Mall and the independent shops that surround it.
The Mason Cottage is a lovely place for couples to stay on a Cape May weekend retreat. This Victorian bed and breakfast blends vintage aesthetics with modern amenities. Book a romantic hotel suite and wake up to a two-course gourmet breakfast. Then, take advantage of the Mason Cottage's inn concierge to plan your day.
If you want a luxury hotel at the Jersey Shore, stay at Lokal Hotel. This micro beach resort features 12 ultra-private rooms with full kitchens, bar seating and private outdoor areas. Lokal offers a private outdoor cooking area and heated saltwater pool, as well as personal beach concierge service.
Ocean Grove and Asbury Park (Monmouth County)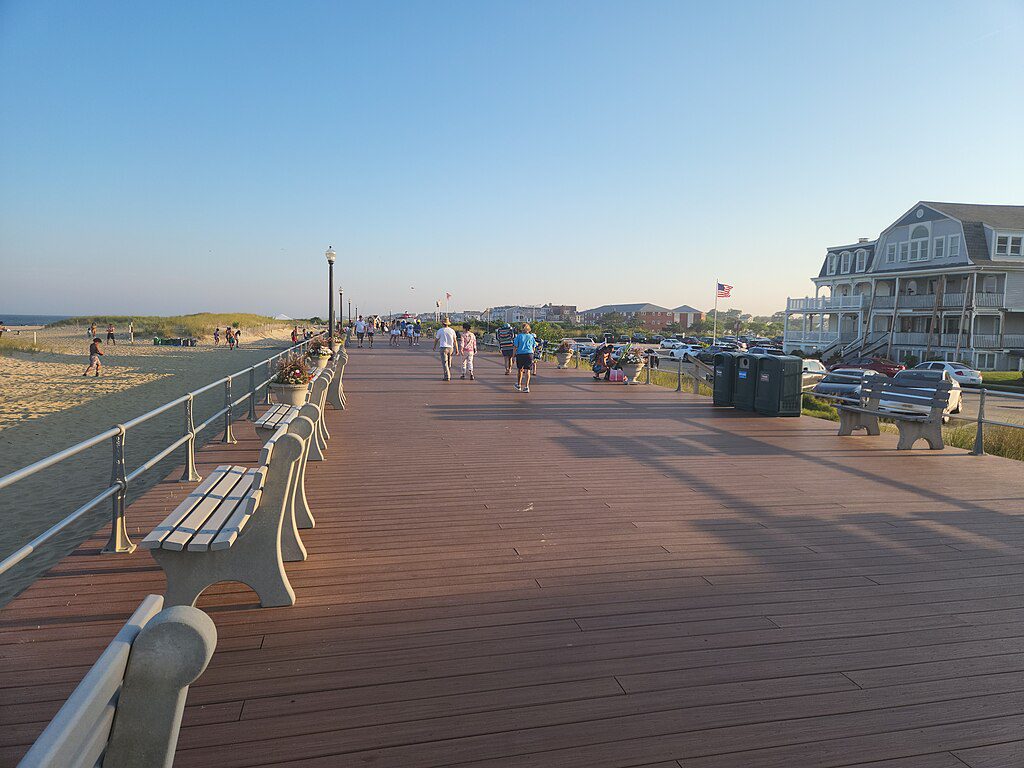 Couples who crave a little culture with their Jersey Shore experience, take note. The adjacent towns of Ocean Grove and Asbury Park pack a combination of romance and unique date spots that are hard to find elsewhere.
Asbury Park's revitalized downtown is a hub of great restaurants, shops and music venues. This isn't your parents' Asbury — gastropubs, coffee shops and upscale bars line the streets. There's a series of great art galleries like Exhibit No. 9 and La Salle Gallery.
Music lovers take in great local shows at the legendary Stone Pony and the House of Independents. Both venues offer a combination of notable acts and up-and-coming artists.
The Asbury Ocean Club Hotel is a jaw-dropping Jersey Shore luxury hotel with a garden pool terrace, exquisite drawing room, and spacious lofts and suites.
If you desire a quieter stay, book your room in Ocean Grove. It's a lovely escape from downtown Asbury Park, with charming houses and a lovely beach. The Ocean Plaza Hotel is popular among couples who want a cozy retreat.
Spring Lake Bed & Breakfast Inns (Monmouth County)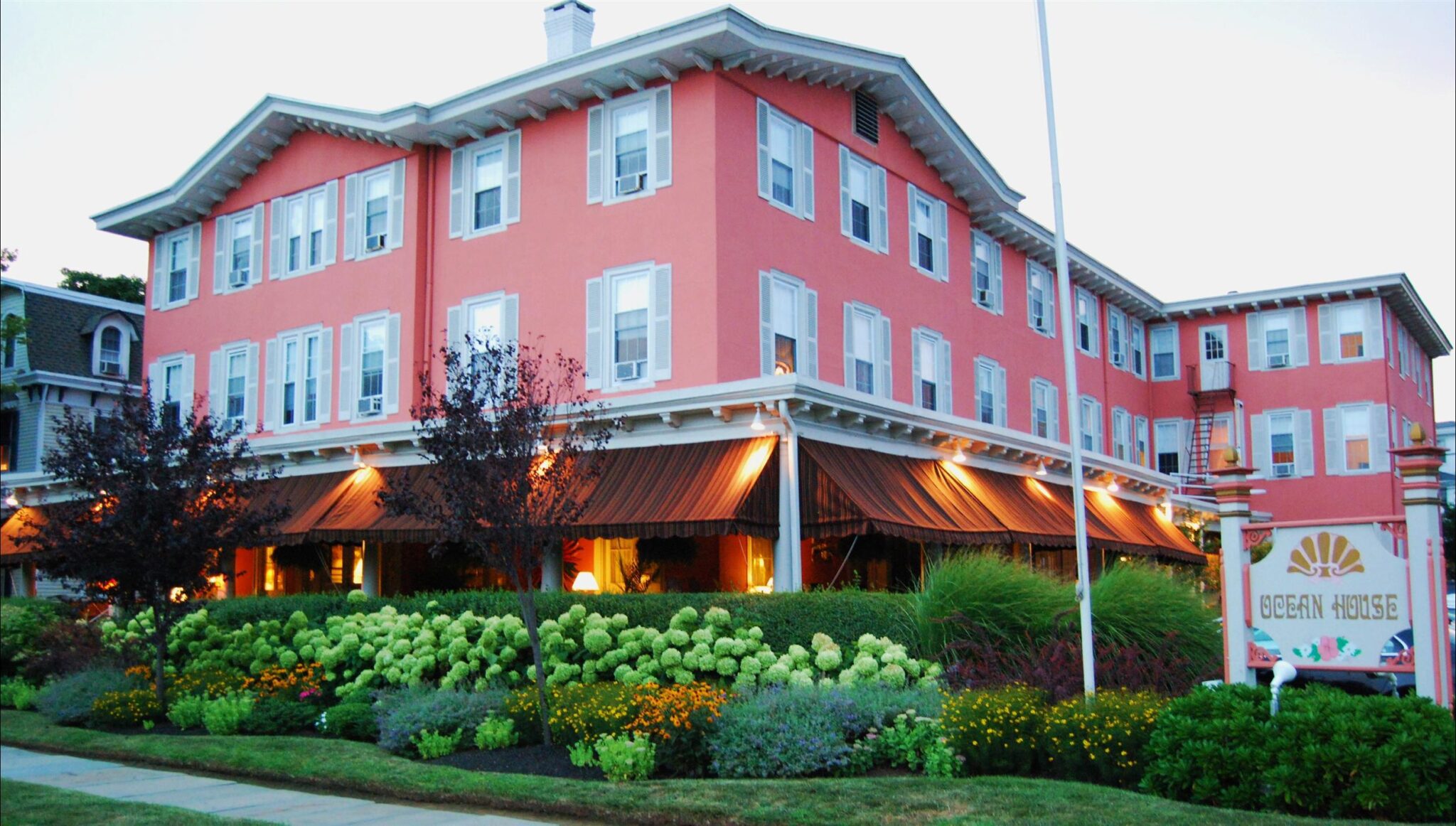 Spring Lake is one of NJ's most picturesque towns. The streets are lined with small shops and quaint eateries, and couples can enjoy a stroll on the beach or around the fountain on Spring Lake itself.
But the true standout of this quiet shore town is the assortment of bed and breakfast inns.
Each of Spring Lake's B&Bs offers different amenities and aesthetic features. The Ocean House sits one block from the beach and offers breakfast service, coffee bar, and a special early riser bakery.
The Chateau Inn and Suites offers 36 guest rooms and one-bedroom suites. Their Vienne lounge provides complimentary gourmet coffee and a variety of teas to guests. Couples can relax on the Johnson House's wraparound porch just 1⁄2 block from the Spring Lake boardwalk.
Western New Jersey Weekend Getaways
Crystal Springs Resort (Sussex County)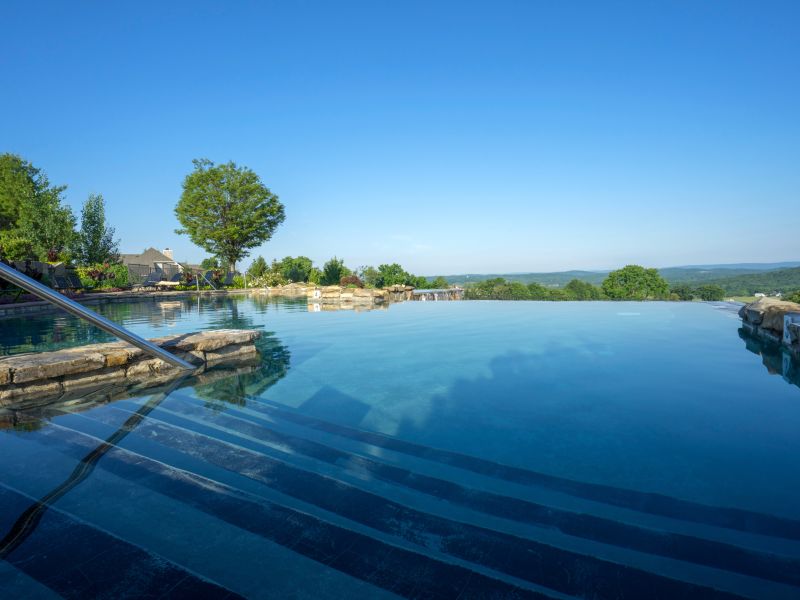 Crystal Springs Resort is a full vacation unto itself. Escape to this five-star luxury resort on the Appalachian Mountain Trail for 6 golf courses, spa treatments, swimming, 9 on-site dining options and day trip excursions.
Choose from two property hotels — Grand Cascades Lodge and Mineral Hotel. Experience a four-star meal at Restaurant Latour, then retreat to Crystal Springs' world-renowned wine cellar for an after-dinner drink.
Be sure to book time at Reflections Spa, one of the top luxury spas in New Jersey. Couples can literally soak in the romance with offerings like the Crushed Cabernet Scrub. Book a Chardonnay and Nectar Couples Bliss treatment for a 100-minute side-by-side massage.
Crystal Springs Resort is located roughly an hour from New York City — a reasonable drive for a luxurious couples' weekend.
Lambertville Shop & Stay Weekend (Hunterdon County)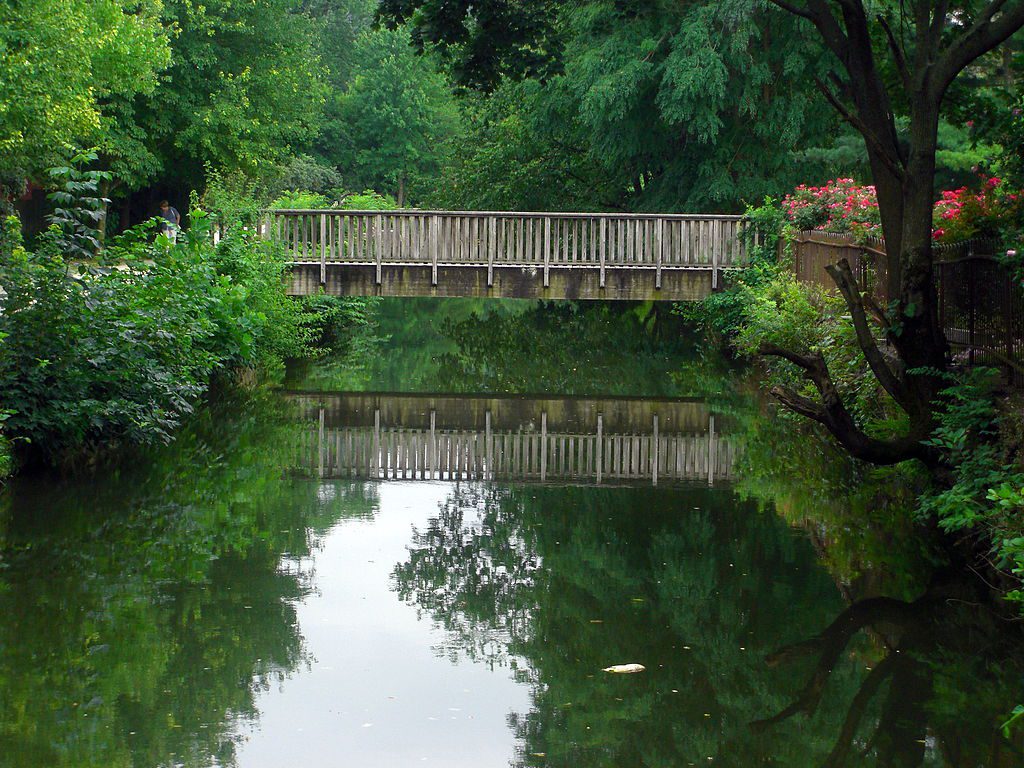 Lambertville sits across the Delaware River from its more famous "sister town", New Hope. Lambertville has plenty of charm of its own — and it's a great chance to visit two riverside towns for the price of one.
Start your romantic weekend with a short trip to the Howell Living History Farm in Hopewell. You'll be transported back to the year 1900 and get a hands-on farm experience. You can help plant crops, shear sheep, or try your hand at maple sugaring!
Lambertville is a must-visit town for vintage and antique lovers. The "Antiques Capital of NJ" offers an assortment of intriguing shops. Check out The People's Store, a collective of 40 dealers in a three-story building. The Golden Nugget Flea Market is open three days a week.
A quick walk over the Lambertville-New Hope Bridge reveals a ton of great shopping and culture in New Hope. Watch a show at Bucks County Playhouse, then browse the street-side shops for arts and crafts. The best restaurant in town may be Zoubi, which offers al fresco dining and an outdoor bar.
The Woolverton Inn in Stockton is an 8-minute drive from Lambertville. It's an elegant country bed and breakfast with 14 unique cottages and guest rooms. It's well worth the short drive out of town to stay at a bed & breakfast rated one of America's 10 best.
Princeton University and Palmer Square (Mercer County)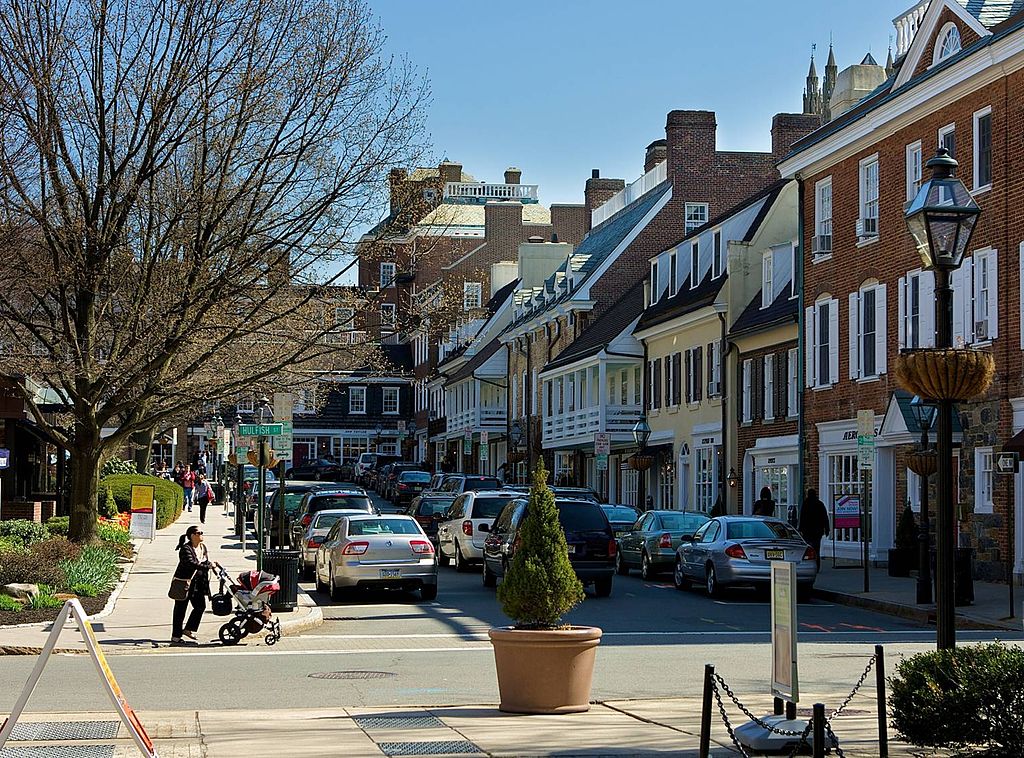 Princeton is more than its historic university. The town itself is an idyllic blend of colonial architecture and modern shopping and dining. The best place to discover Princeton's charm is Palmer Square.
Palmer Square sits opposite Princeton University's main entrance off Nassau Street. Shop at trendy clothiers like Highbar Boutique, NIC + ZOE, and Ralph Lauren. Then stop at Art on Hulfish for a photography-focused look at today's art scene.
Dining at every quality restaurant near Palmer Square would take weeks. Mediterra Restaurant and Taverna is a local favorite — the seafood options and wine menu are highlights. The Alchemist and Barrister (A&B) offers excellent American pub fare.
After your meal, choose from several outstanding Princeton dessert spots. The Bent Spoon serves hand-crafted artisan ice cream flavors like lavender mascarpone and lemon-NJ peach. Chez Alice Patisserie is an airy cafe that serves Parisian desserts — try the macarons, beignets and the decadent raspberry Napoleon.
The best way to enjoy Palmer Square is to stay at Nassau Inn. The Inn's stone facade is a tribute to its history, and gives way to 188 chic guest rooms and suites. Step outside the Nassau Inn and directly onto Palmer Square for weekend activities.
Weekend Getaways Near New York City
Jersey City Waterfront (Hudson County)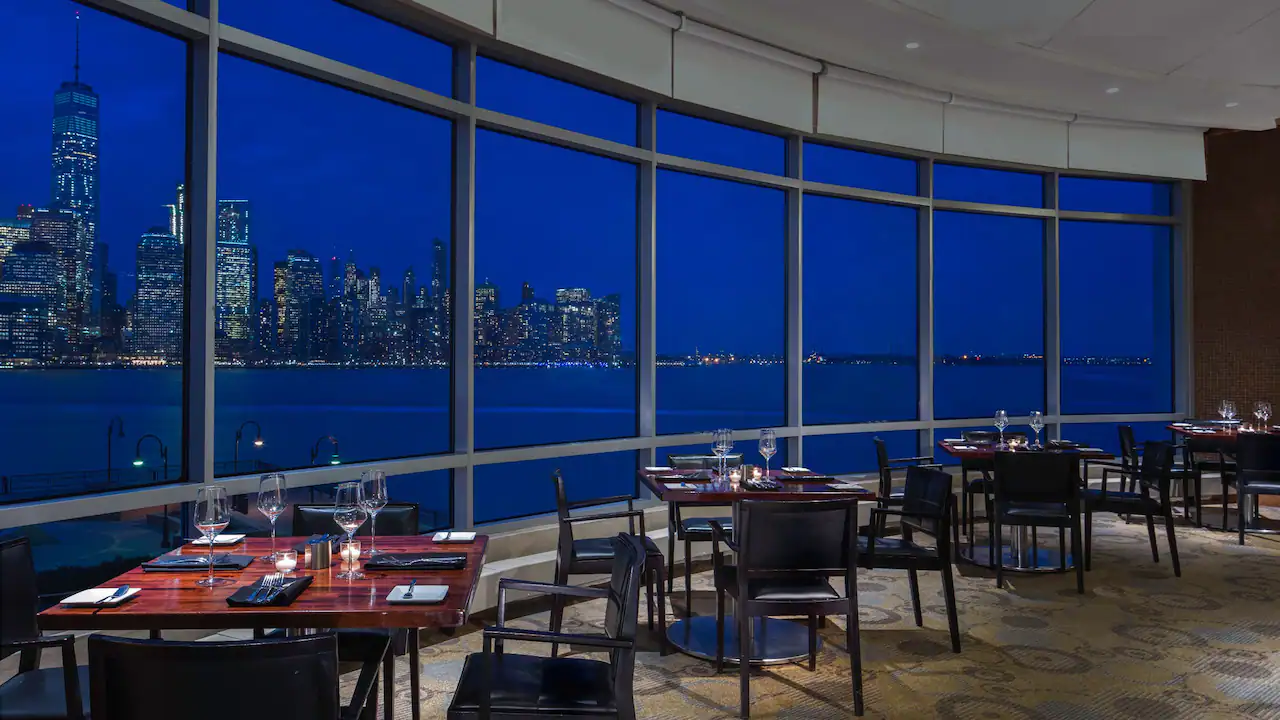 Couples don't have to "escape the city" to find romance. The Jersey City Waterfront offers plenty of exciting options for a weekend along the NJ side of the Hudson River.
Spend an afternoon at Liberty State Park for a taste of nature near the city. Museum-loving couples should stop by Liberty Science Center for its interactive exhibits and world-class Jennifer Chalsty Planetarium.
Jersey City's vintage shopping scene is vastly underrated. Discover hidden JC gems like Kanibal & Co. and Another Man's Treasure. There's also a great array of coffee shops — try Gregorys Coffee on Exchange Place or Hidden Grounds on 1st Street.
If you're visiting the Jersey City Waterfront, you must explore the Hudson River Waterfront Walkway. NYC dwellers get a great new vantage point of their city, while NJ residents can taste city life along the water.
The Hyatt Regency Jersey City blends lovely views with excellent convenience. With rooms overlooking the Hudson River and a location close to the PATH train and NYC ferries, you'll be quite happy with your choice of hotel.
Morristown Green & Historic Sites (Morris County)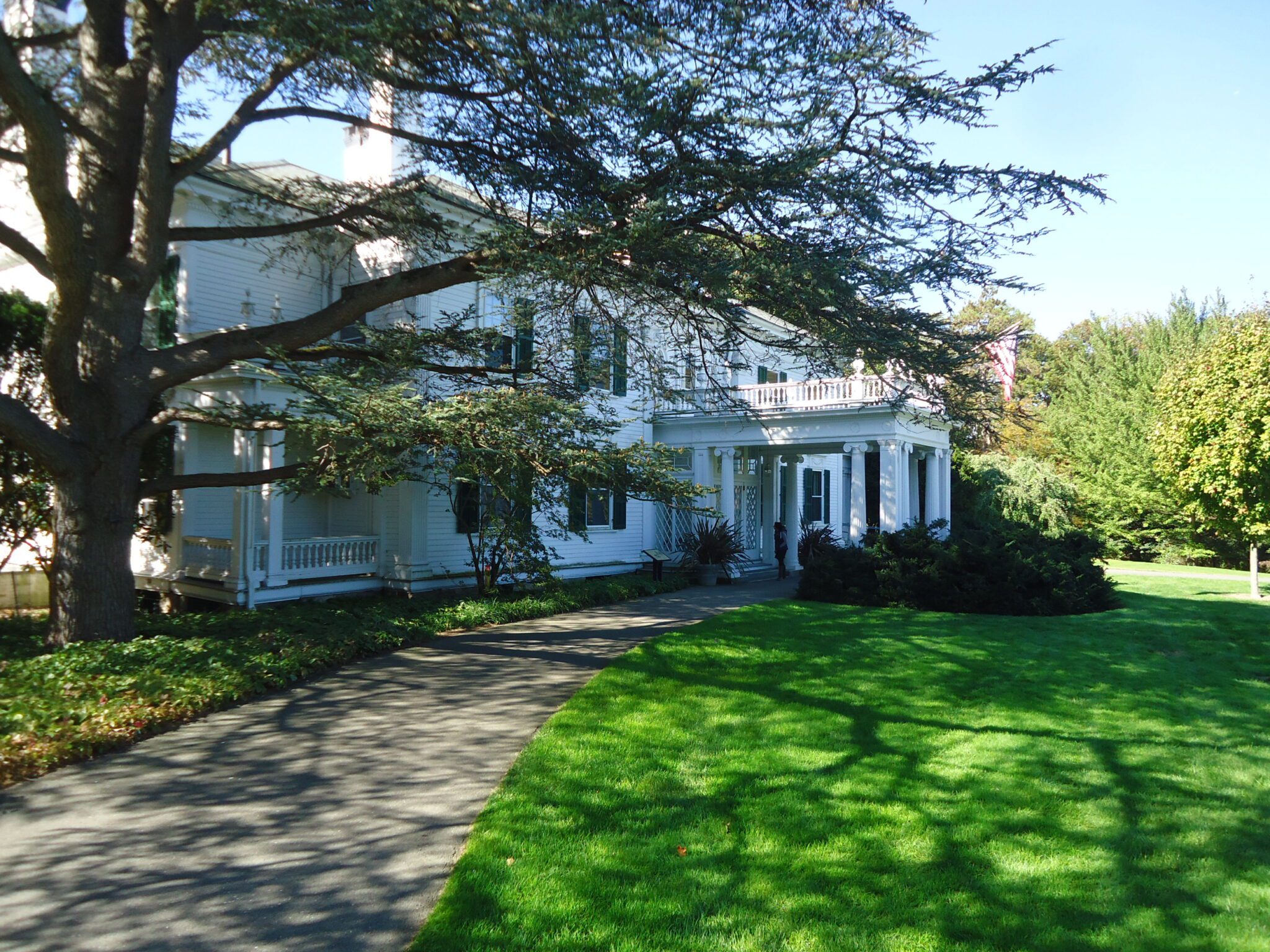 Morristown is a historic Morris County town with a refurbished downtown. The Morristown Green is a vibrant hub for romantic restaurants, busy bars and arts centers.
The Fig & Lily Garden is a Morristown restaurant with a beautiful courtyard dining area. Their menu combines Eastern Mediterranean cuisine with locally sourced New Jersey ingredients. The Committed Pig is an award-winning restaurant with tremendous food and service — smart couples call ahead for reservations.
If you like a little history, check out the Morristown National Historic Park and Jockey Hollow. You'll see original buildings where George Washington's Continental Army stayed, as well as Washington's Headquarters. Finish your sightseeing with a trip to the Morris Museum and enjoy their rotation of current exhibits and musical performances.
Morristown's a quick car ride from great shopping and scenery in Short Hills. Couples can spend a beautiful afternoon at Frelinghuysen Arboretum, a gorgeous assortment of trees and gardens that's free to visit.
The Madison Hotel is a fantastic choice for lodging that reflects modern Morristown. The updated amenities retain their historic charm, and its location on Convent Road places it near everywhere you want to explore.
Ramapo Valley Reservation and NJ Botanical Gardens (Bergen County)
The Ramapo Valley County Reservation encompasses 4,000 acres of forests, parks and camping areas. It offers kayak access to the Ramapo River, well-marked hiking trails, and catch-and-release fishing (with proper NJ license).
If you're a couple that loves outdoor winter activities, cross-country skiing is popular during the winter months. There are several gorgeous ponds to relax near during warmer months. The Reservation is less than 30 minutes from the George Washington Bridge by car.
The nearby NJ Botanical Gardens in Ringwood is one of NJ's most romantic destinations. Within 1,000 acres of woodlands lies 96 sprawling acres of garden space. There's a beautiful garden for every taste — wildflowers, hostas and rhododendrons, perennials, annuals, and the stunning lilac garden. Walk through the statues and lily-adorned fountains of the Italianate gardens.
Stay at The Castle at Skylands Manor, a boutique venue located inside the NJ Botanical Gardens. It's the perfect place to relax after a day's hiking and exploration. Enjoy one of their 21 well-appointed suites or overnight rooms.
Your Romantic Getaways in NJ Are Ready to Book
There's a beautiful weekend trip for couples everywhere you look in New Jersey. Will you enjoy a weekend by the sea, or walk some of the Garden State's stunning forests and gardens?
Are you a couple that likes the bed and breakfast lifestyle? Do you prefer a luxury hotel that lets you choose your own adventures? Or is an urban oasis your idea of decadent romance?
The true luxury of New Jersey weekend getaways is the abundance of choices. No matter how you and your partner define "romance", you'll find your perfect romantic getaways in NJ. Enjoy!