An effort to move a popular Harlem art installation to a sprawling green space in Jersey City could start within days if a fundraiser bridges a gap in the project's funding.
Earlier this month, plans were announced to potentially move the 25-foot-long "Reclining Liberty" to Jersey City. The sculpture, designed by artist Zaq Landsberg, was installed in Morningside Park in April 2021 and is a mashup of the Statue of Liberty and the reclining Buddha statues found throughout Asia.
Finished with copper paint and an oxidizing acid, the imposing statue weighs about one ton. Per New York City regulations, the statute needs to be moved from its current location "very soon" and plans are in the works to relocate the piece to a waterfront perch inside Jersey City's Liberty State Park.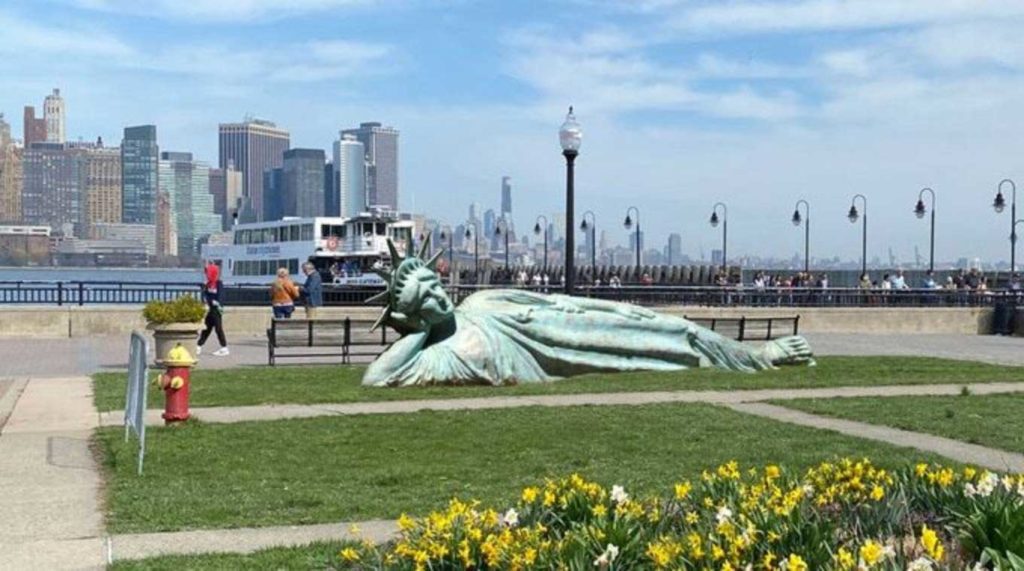 A Kickstarter campaign commenced earlier this month has proposed installing Reclining Liberty along the park's northern end between the Central Railroad Terminal building and New Jersey's 9/11 Memorial. The Exchange Place Alliance has offered to partially sponsor the project, but there is a significant gap in funding.
The campaign is hoping to raise $10,000 by the end of May, which will fund a variety of work to move the statue. Professional riggers and a crane are needed to lift Reclining Liberty from Harlem to Jersey City and the statue itself needs plaster repairs along with a fresh coat of paint and patina before the move.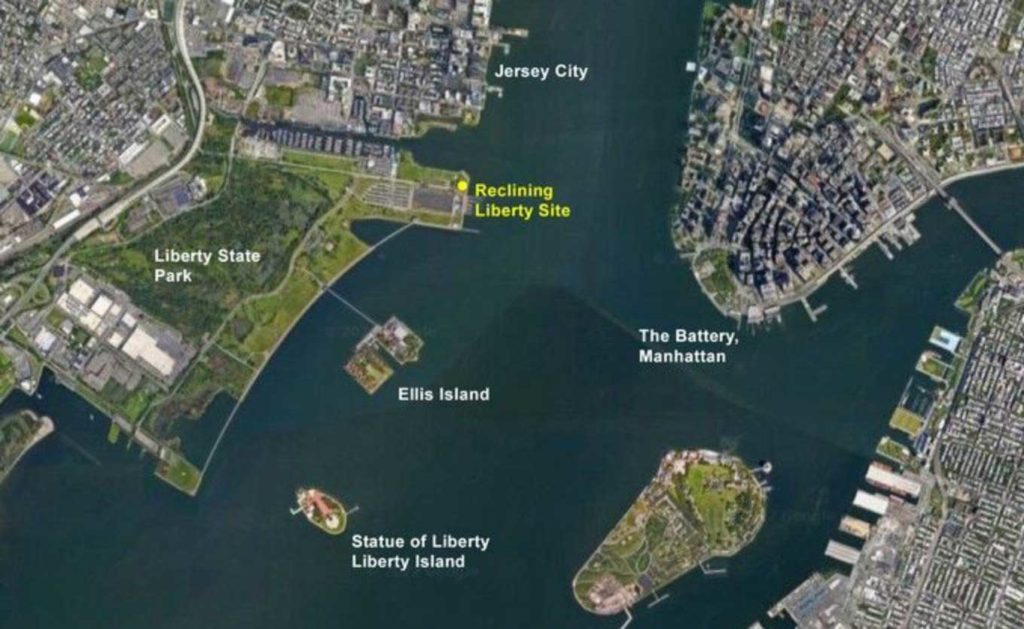 "Moving Reclining Liberty to this distinct location for the next year not only strengthens the Jersey City community, but it also gives locals a chance to view the face of Lady Liberty every time they stroll through their park," the Kickstarter campaign says. Liberty State Park already boasts the closest coastal views one can find of the Statue of Liberty without getting on a boat.
Reclining Liberty has become a bit of a landmark since being installed in Morningside Park, generating plenty of buzz from publications like Gothamist and Time Out New York. The versatile space has served as everything from a climbing gym for kids to a backdrop for theater performances and a stage for jazz musicians.
The Kickstarter campaign has already raised more than half of its goal and could relocate the statue soon if successful. Reclining Liberty could be installed in Jersey City by late May and would be on display until late April of 2023.