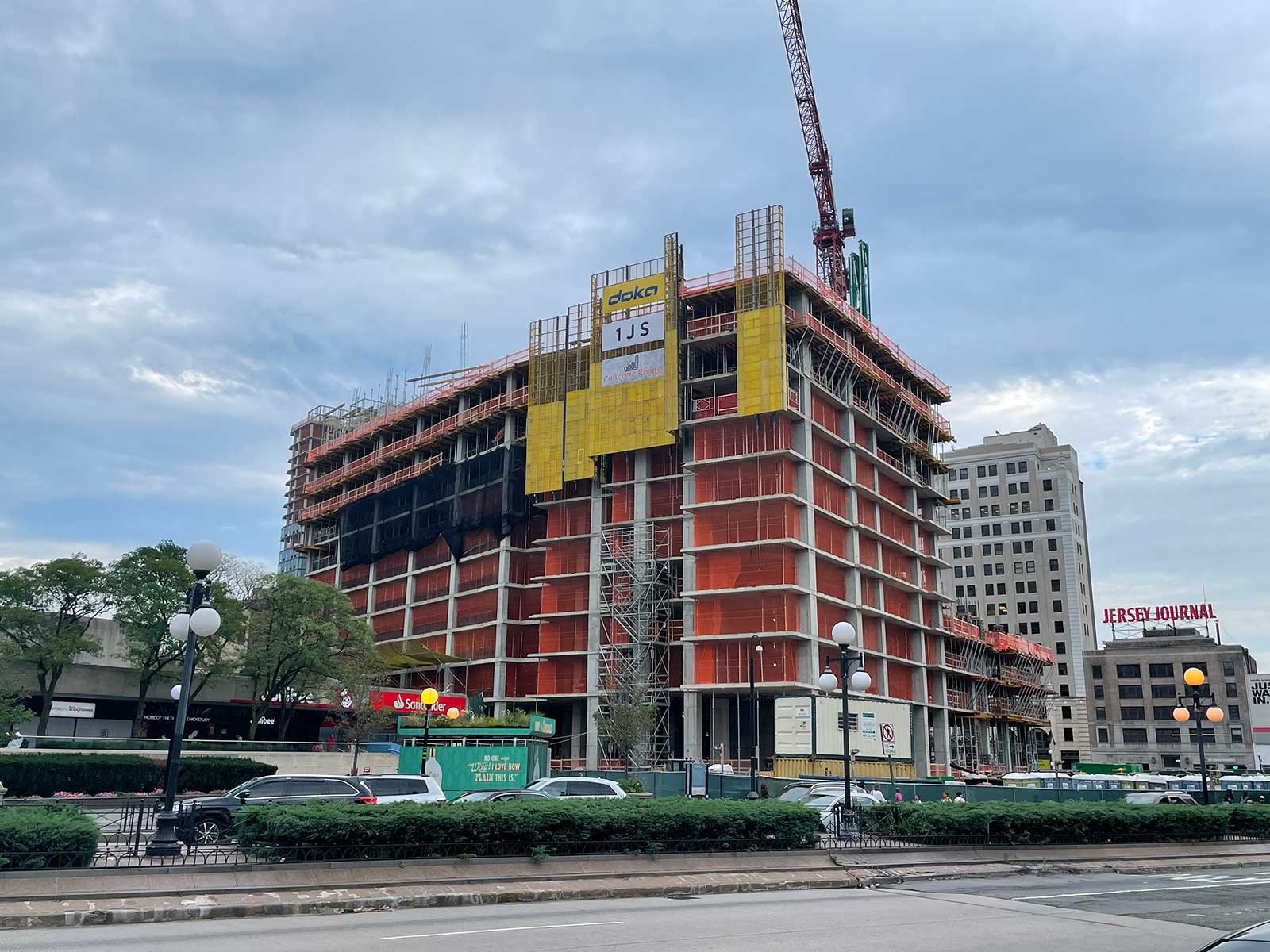 A development that took years to get off the ground is finally rising from the ashes of a long-vacant lot as a prominent project from Kushner is showing tangible signs of progress.
One Journal Square broke ground last summer to significant fanfare, and for good reason. Kushner's 1,723-unit development is set to span two million square feet and invest $1 billion into a large parcel adjacent to the neighborhood's PATH station that has sat empty since 2009.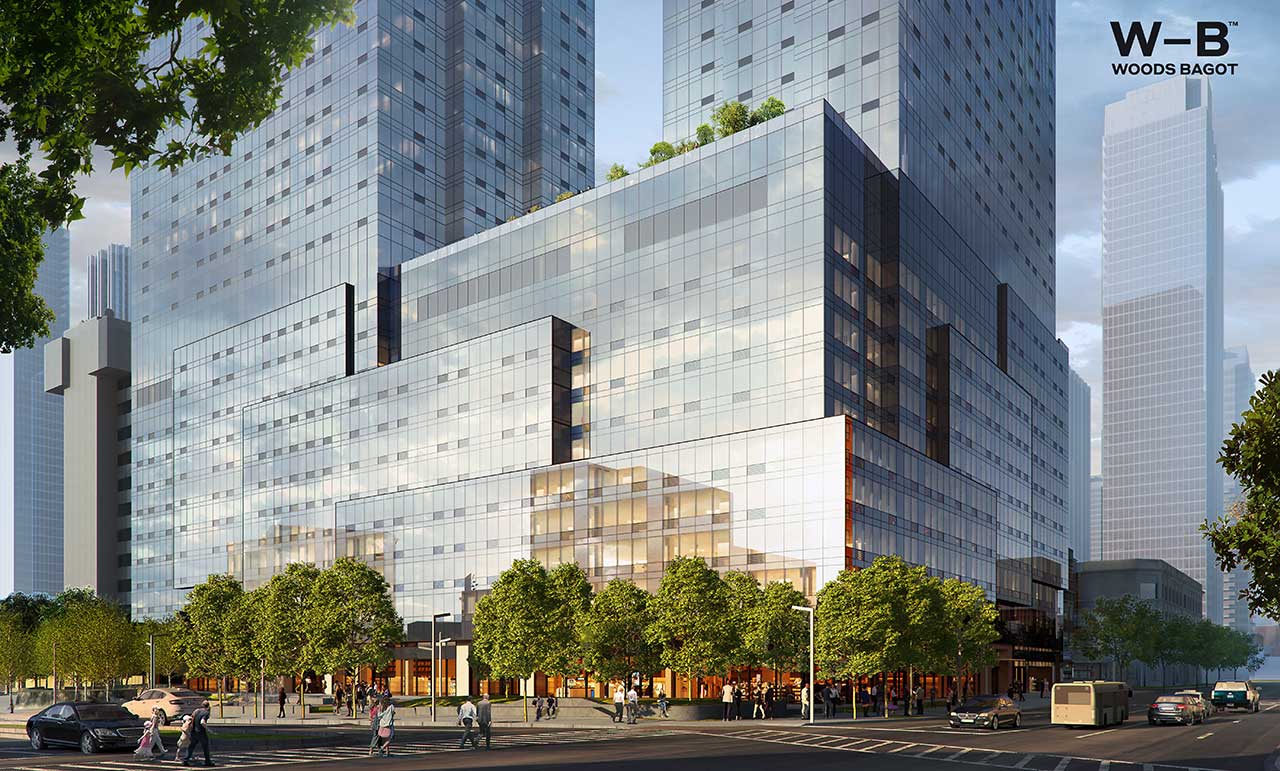 Work by AJD Construction is ongoing at the site, which proudly displays its 1JS branding. About 10 floors have built within the first tower, which will rise 710 feet at the highest point and be complimented by a second high-rise. The entirety of One Journal Square will consist of a 12-story base and twin 52-floor towers that were designed by global architectural firm Woods Bagot.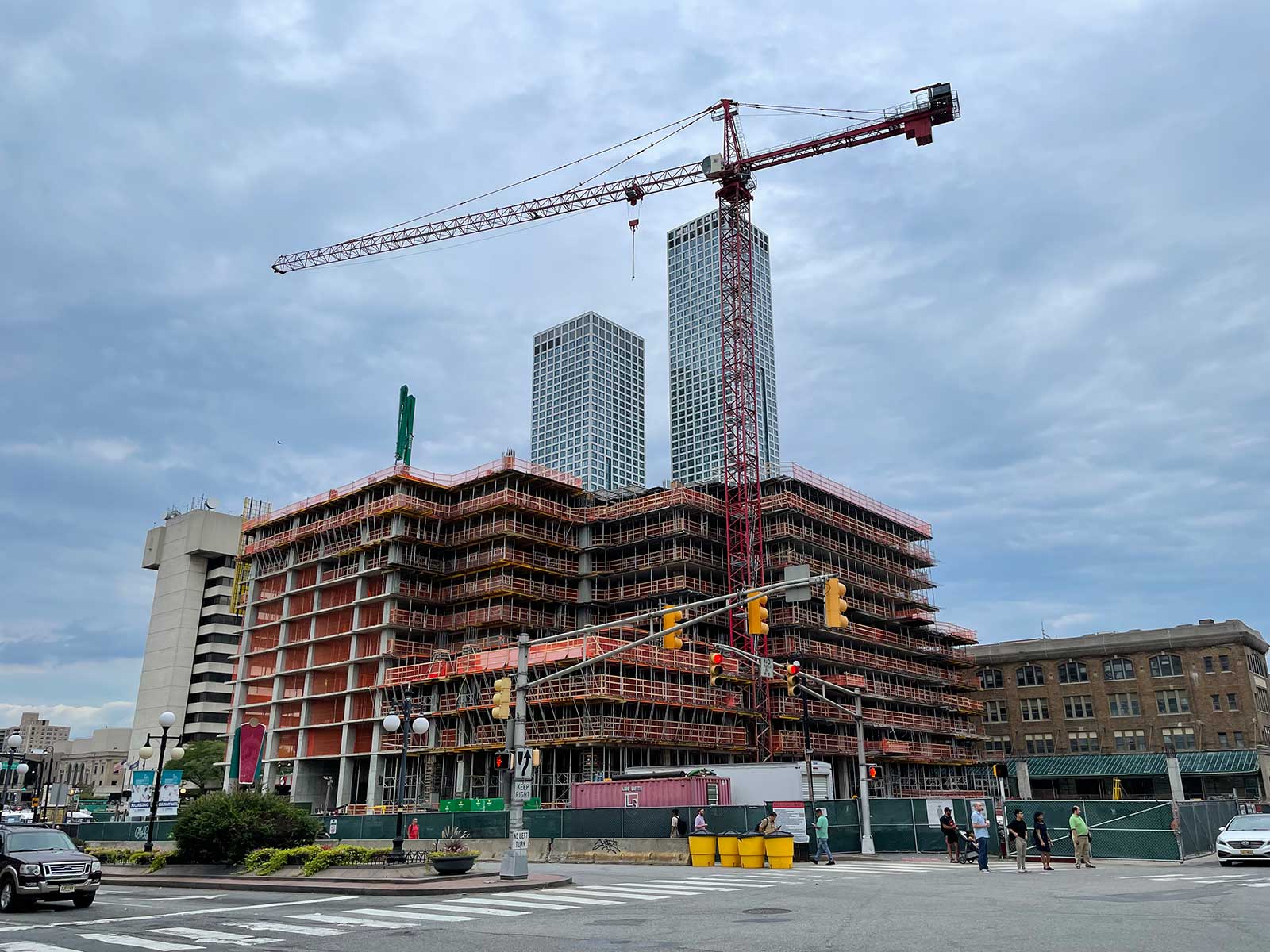 The rental apartments in the complex will break down as 493 studios, 972 one-bedrooms, 222 two-bedrooms, and 36 three-bedroom spaces. The base of One Journal Square will include 883 parking spaces plus 40,000 square feet of retail space, which will be anchored by a new Target store on the ground floor.
Future residents at One Journal Square will have access to robust amenities that include an Olympic-size indoor pool, cold plunge pool, whirlpool spa, sauna and steam rooms, a bowling alley, golf simulators, multiple lounges, co-working spaces, a chef's kitchen and a kid's club.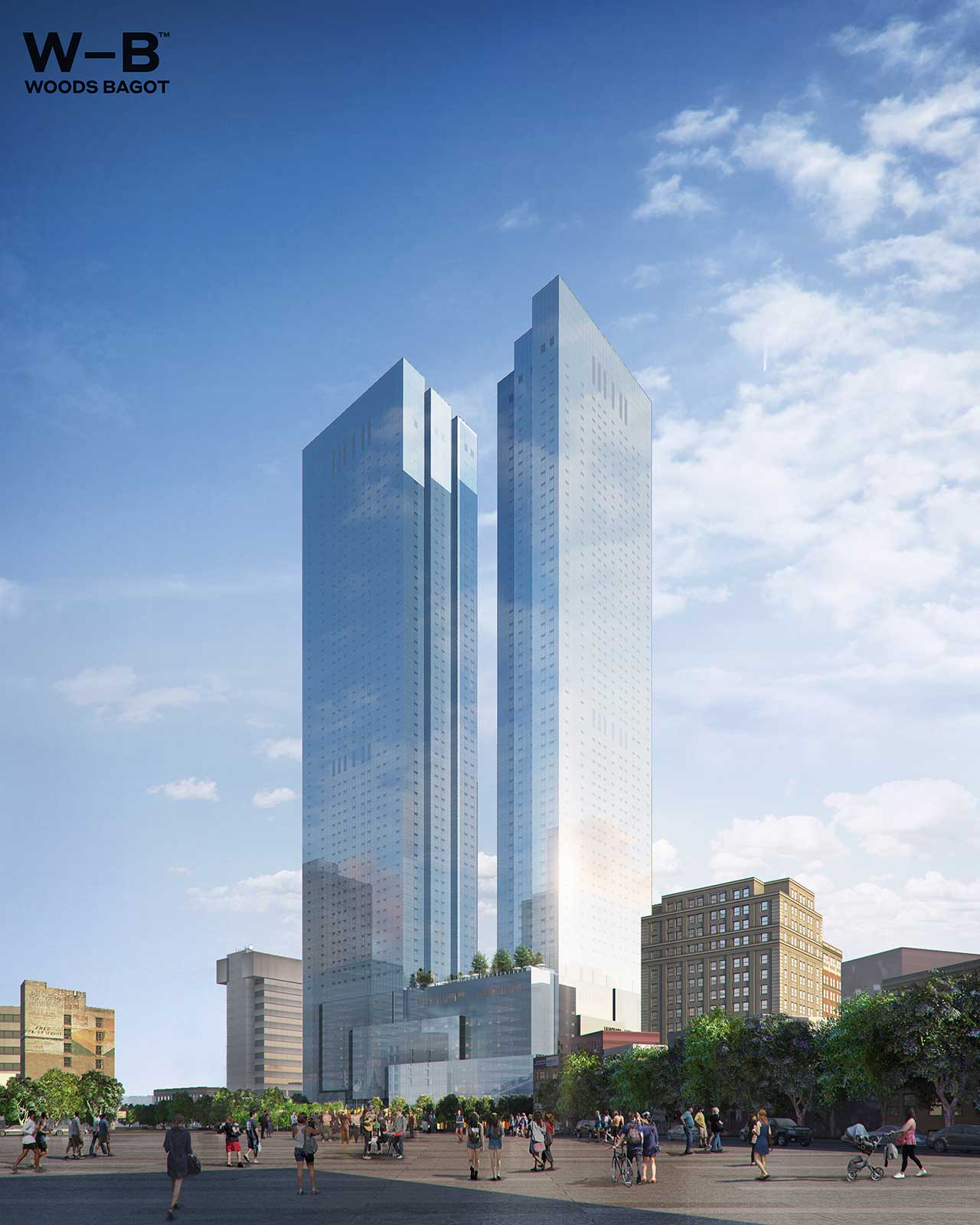 An indoor fitness center at the building will include everything from basketball courts to rock-climbing walls to squash courts, while outdoor facilities include two landscaped rooftop terraces and an outdoor pool.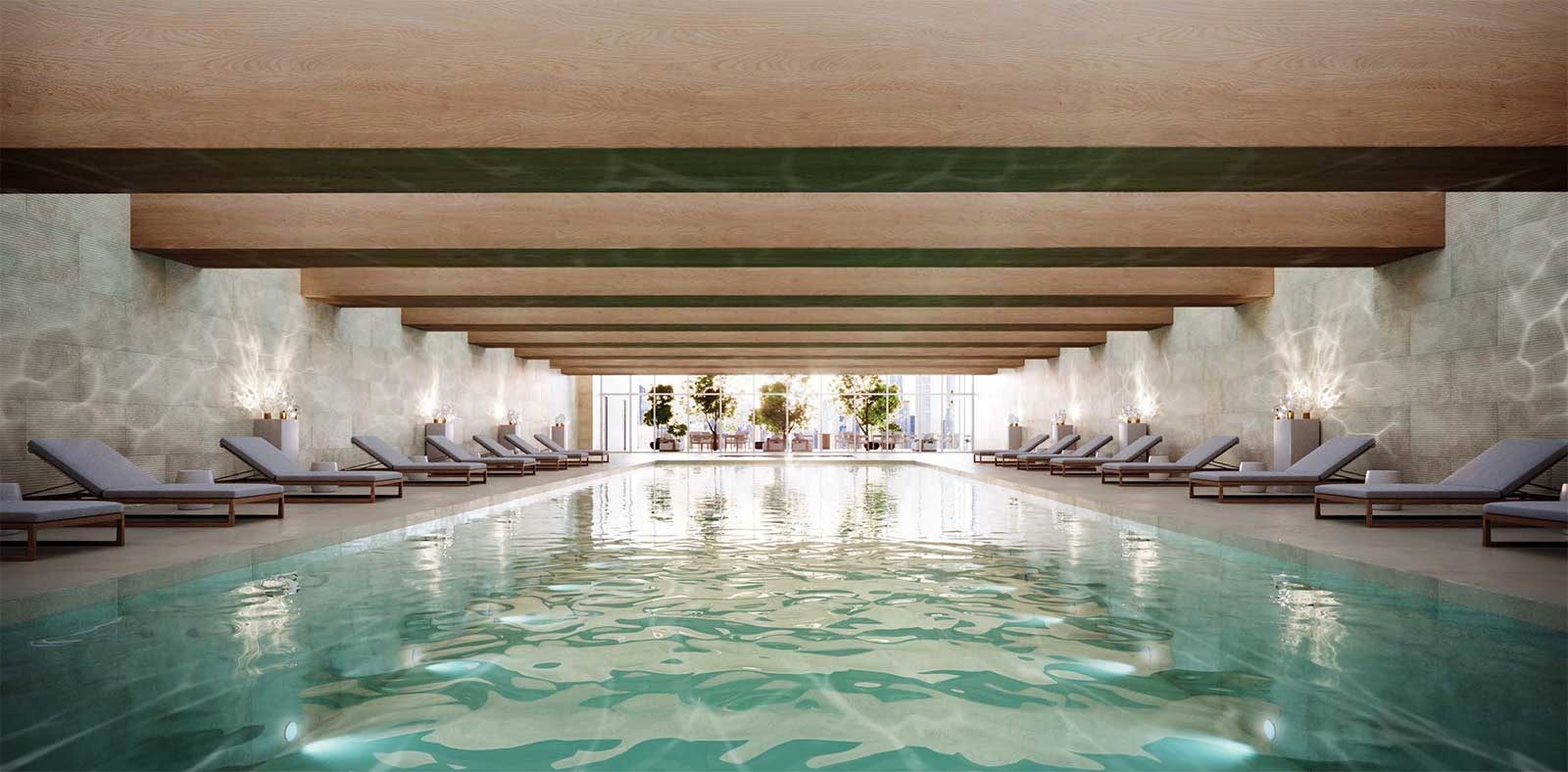 The rise of One Journal Square represents the end of an epic saga to get the property revitalized. Kushner had approvals in place to redevelop the land since 2016 but the project was essentially halted two years later after the company filed a lawsuit against Jersey City.
The complaint alleged that officials were engaging in "anti-Trump bias" by ignoring their tax abatement request, actions that allegedly stemmed from CEO Jared Kushner's role as a senior advisor to then-President Donald Trump.
Kushner's now-underway plans emerged in late 2020 following a settlement with the Jersey City Redevelopment Agency, which saw the company agree to making a $2.5 million investment in local arts initiatives as part of the deal.
One Journal Square's full buildout also includes a new public plaza that will face John F. Kennedy Boulevard. The endeavor looks to transform what is now a taxi parking lot into green space with new seating areas. The entirety of the development is expected to be completed sometime in 2026.