After years of plans, designs, false starts and a few broken hearts, the long-vacant lot at One Journal Square has both a reputable developer and an approved, supersized plan, plus another approved project across the street at an iconic building for good measure.
One Journal Square, located directly next to the Journal Square PATH station, used to be home to the Hotel on the Square building before it was demolished in 2009. There were plans presented for the site over the years that envisioned a complex called City Centre Towers, but no work was ever performed at the property and the towers never actually materialized.
KABR Group and Kushner then purchased the property in 2015 and gained approval for a 57-story, 744 unit tower late last year. But at Tuesday's Planning Board meeting, the companies were granted new approvals for a revamped proposal, one that is over double the size of the first one and seems to indicate their faith in Journal Square's continued revitalization.
Designed by Australia-based Woods Bagot, the latest One Journal Square project will now include a total of 1,725 residential units spread out over two towers, which will be built simultaneously. The first one will rise 79 stories and the other 46, both being on top of 10-story base that will include 910 parking spaces, over 88,000 square feet of retail and almost 127,00 square feet of office space.
The project's approval also includes the reconstruction of Journal Square Plaza, which has become run down and features a fountain that hasn't actually worked in years. While no renderings were available for that portion of the plan, almost anything beats a broken water fountain and should constitute a win for the community, especially if a developer pays for it.
Just across the street at 30 Journal Square, KABR and Kushner also gained approval Tuesday for plans to transform the Jersey Journal's former headquarters. The new development, designed by Morris Adjmi Architects, will construct a 72-story mixed-use building behind the existing four story one that will contain 741 residential units, 15,030 square feet of retail, 96,602 square feet of office space, and 741 space parking garage.
In addition to the new tower, the existing building at the site will be transformed into an open-air market, with the iconic Jersey Journal sign that sits atop the structure being preserved. 30 Journal Square will also have a public plaza between the market and the new tower.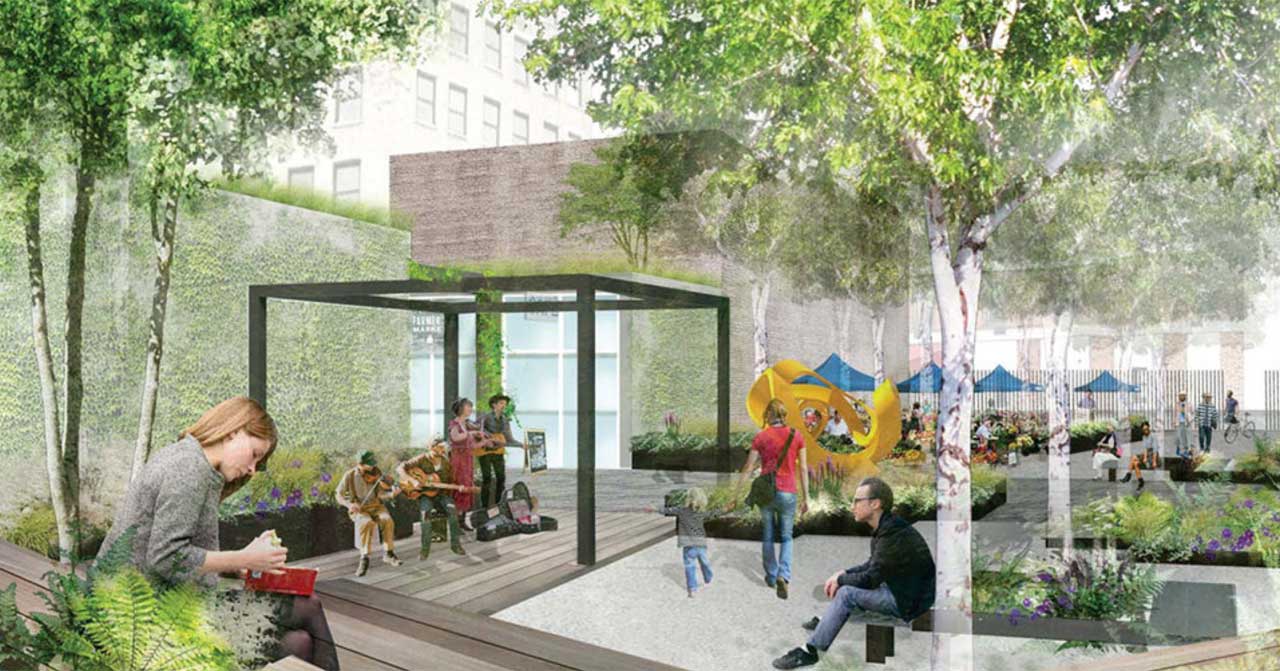 Because both projects fall within the Journal Square 2060 Redevelopment Plan, no affordable housing units will be included in either development. However, they nonetheless will provide a jolt to the area and create significant retail space to accommodate the influx of new residents the area will soon be getting.
The latest approved plans, especially the sheer volume and height of the proposals, demonstrates an almost undeniable truth. If you thought Journal Square hadn't yet arrived, you should think again. Between the three towers of Journal Squared, the two approved at One Journal Square and another one at 30 Journal Square, six towers, all over 50 stories, are currently rising in the neighborhood or will be in the near future. That pace of development is on par with parts of Downtown, and is arguably even faster.
Kushner and KABR have been betting big on Jersey City for a while, constructing projects like Trump Bay Street and Warren at Bay in Downtown. But clearly they are betting huge on Journal Square, an area of the city that has been neglected for a while, but is almost undeniably the next big spot.
Editor's Note: Kenneth Pasternak, Chairman of the KABR Group, and Laurent Morali, President of Kushner Companies, are speaking at The Jersey City Summit for Real Estate Investment this October. Attend the summit and hear their vision for Journal Square first hand.