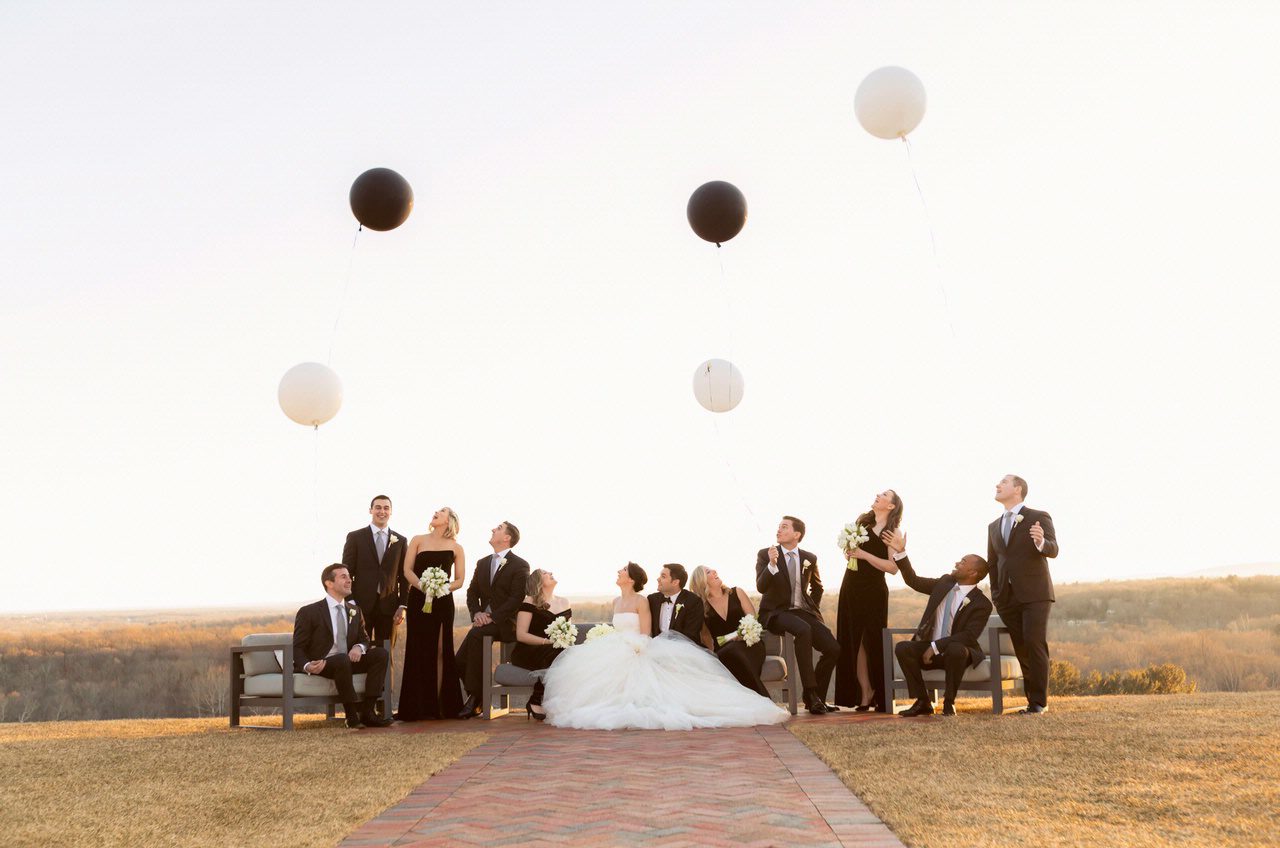 It's your wedding day — why shouldn't you demand the best? Your search for NJ wedding venues must include dazzling ballrooms, historic estates and gorgeous waterfront property.
When else do you have every excuse in the world to spoil yourself? If you don't ask for the very best from your wedding venue, when are you going to get it?
New Jersey's best wedding facilities don't just provide a beautiful ceremony and wedding reception. They understand how to deliver unforgettable moments.
A great ceremony or reception hall doesn't shy away from responsibility. Rather, its staff cherishes the chance to make each wedding the best day of someone's life. They understand true luxury isn't just about high prices and crystal chandeliers — it's about the feeling that comes with VIP treatment.
We found 20 NJ wedding venues that exceed expectations. But what made them stand out from the pack?
How We Selected NJ Wedding Venues
There are 4 main criteria that define an outstanding wedding venue:
Individuality. Each of the 20 New Jersey wedding venues on this list has unique value. Picturesque views, world-class service, one-of-a-kind offers — what does the venue do to stand apart from its competitors?
Luxury. "Luxury" doesn't just mean price point. A luxury wedding venue goes above and beyond in service and presentation. To us, a modest reception with stellar service is more luxurious than an expensive one with absent staff.
Reviews. We care less about name recognition than we do about real, recent reviews. How has the location dazzled its brides, grooms and guests lately?
Service. The best wedding event staff is invisible when not needed, and omnipresent when required. Great service is a difficult thing to achieve, and these venues provide it well.
Let's look at 20 of New Jersey's best wedding venues — 7 from North Jersey, 7 from Central Jersey and the Jersey Shore, and 6 in Southern New Jersey.
Northern New Jersey Wedding Venues
The Mansion at Mountain Lakes
The Mansion at Mountain Lakes is the ideal blend of experience and performance. The venue holds a perfect rating on The Knot and Wedding Wire and has hosted lavish Morris County weddings for decades.
The Mansion accommodates weddings of up to 350 guests apiece. It includes two private cocktail rooms, a bridal suite, and a lovely garden space for outdoor ceremonies.
The primary advantages listed by former guests include outstanding service and the venue's versatility. The staff is noted for its attention to detail and professionalism. The Mansion itself is able to accommodate various types of weddings, from formal elegance to party vibes.
90 US-46, Mountain Lakes, NJ | https://www.themansionml.com/weddings
Rock Island Lake Club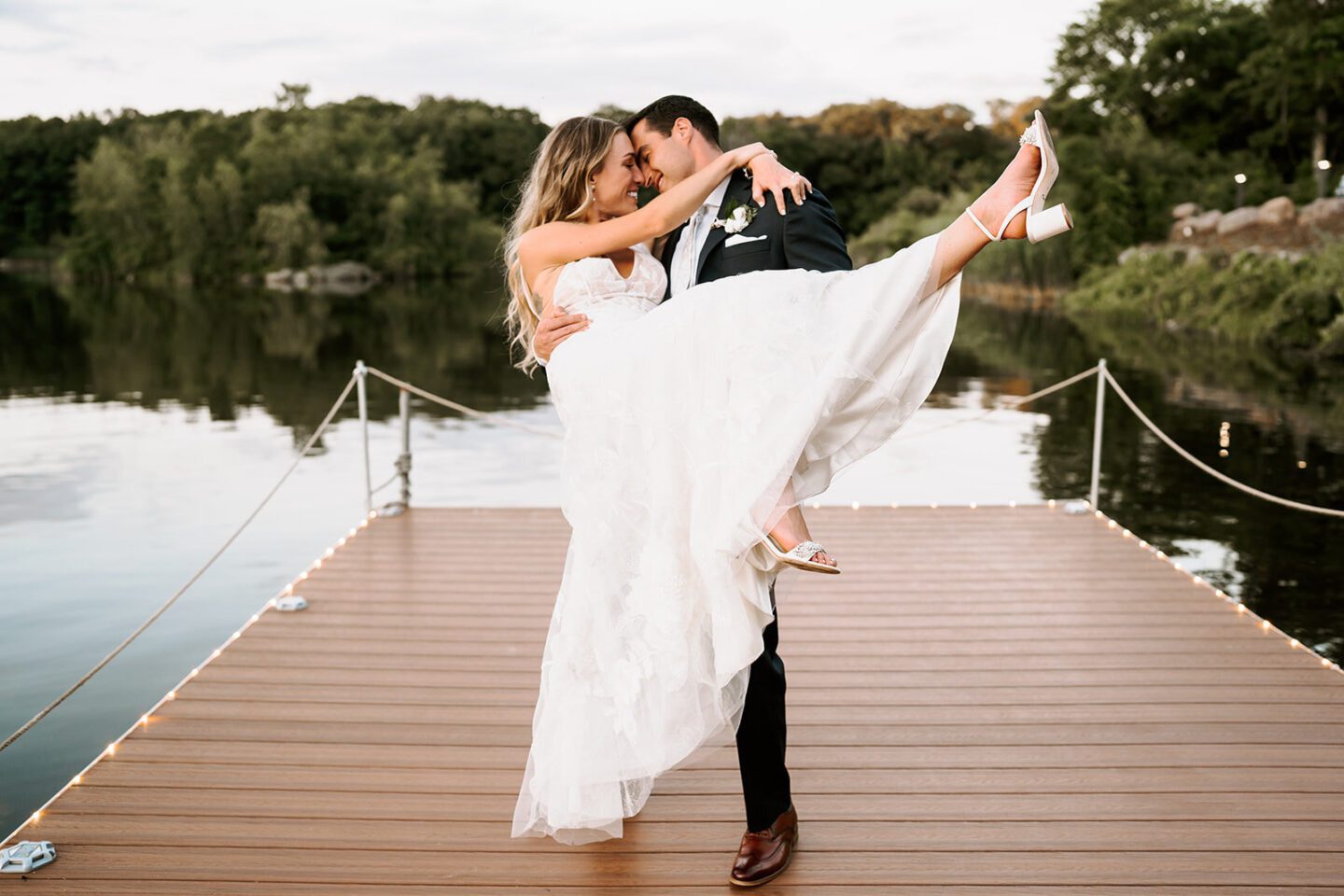 More and more NJ residents are discovering Sparta's natural beauty and evolving luxury reputation. Rock Island is an intimate, beautiful choice for couples that want a private lake wedding.
Rock Island Lake Club is a "weddings only" venue. Your wedding day won't compete with restaurant traffic, hotel guests or other patrons — it's all about you. The Club only hosts one wedding per day to ensure their staff's complete focus on your needs.
Opt for a lakeside ceremony under a cedar arch, or stay inside and enjoy the view with floor-to-ceiling windows. A recent review left a ringing endorsement — "They just know what the modern couple likes."
485 Glen Rd, Sparta Township, NJ | https://rockislandlakeclub.com/
Legacy Castle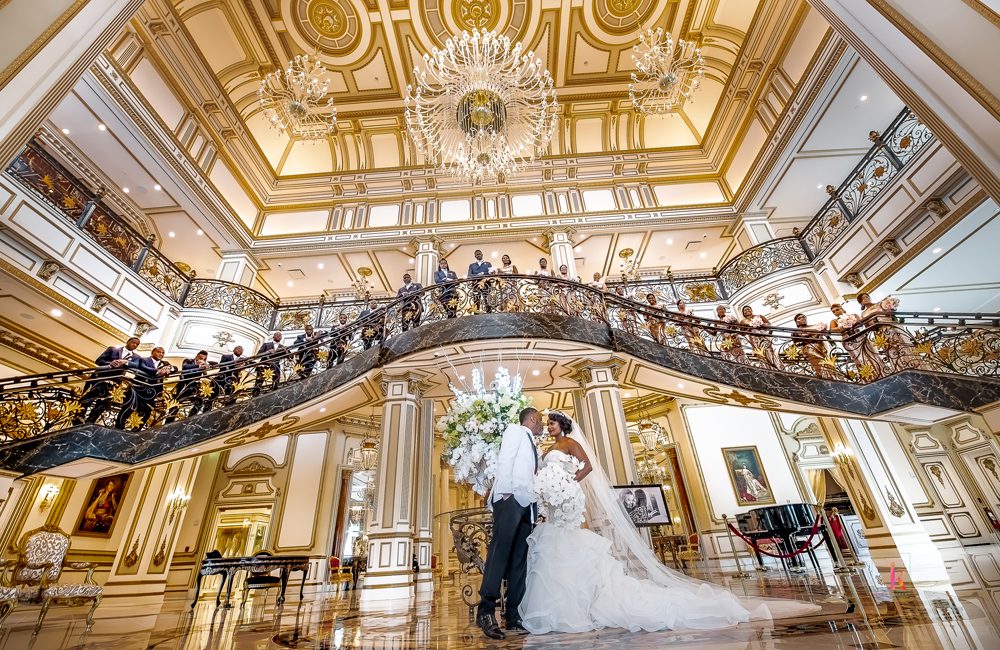 This 17-acre estate is a modern fairy tale castle. If you want to get married like royalty in grand ballroom style, Legacy Castle is a venue to consider. The entire property makes you believe you pulled off Route 23 and into a French castle estate. The 20+ foot marble fountain, acres of green space and outdoor terrace are a hint at what's waiting inside.
Legacy Castle exists for the bride who wants the full "Cinderella experience" — from the gloved doormen who open the wrought iron doors to the crystal chandeliers and winding staircases.
The venue was described by reviews as "the perfect fairytale" and "jaw droppingly beautiful". Reviewers note the cuisine and decor as highlights of their experiences.
141 NJ-23, Pompton Plains, NJ | https://thelegacycastle.com/
Hudson House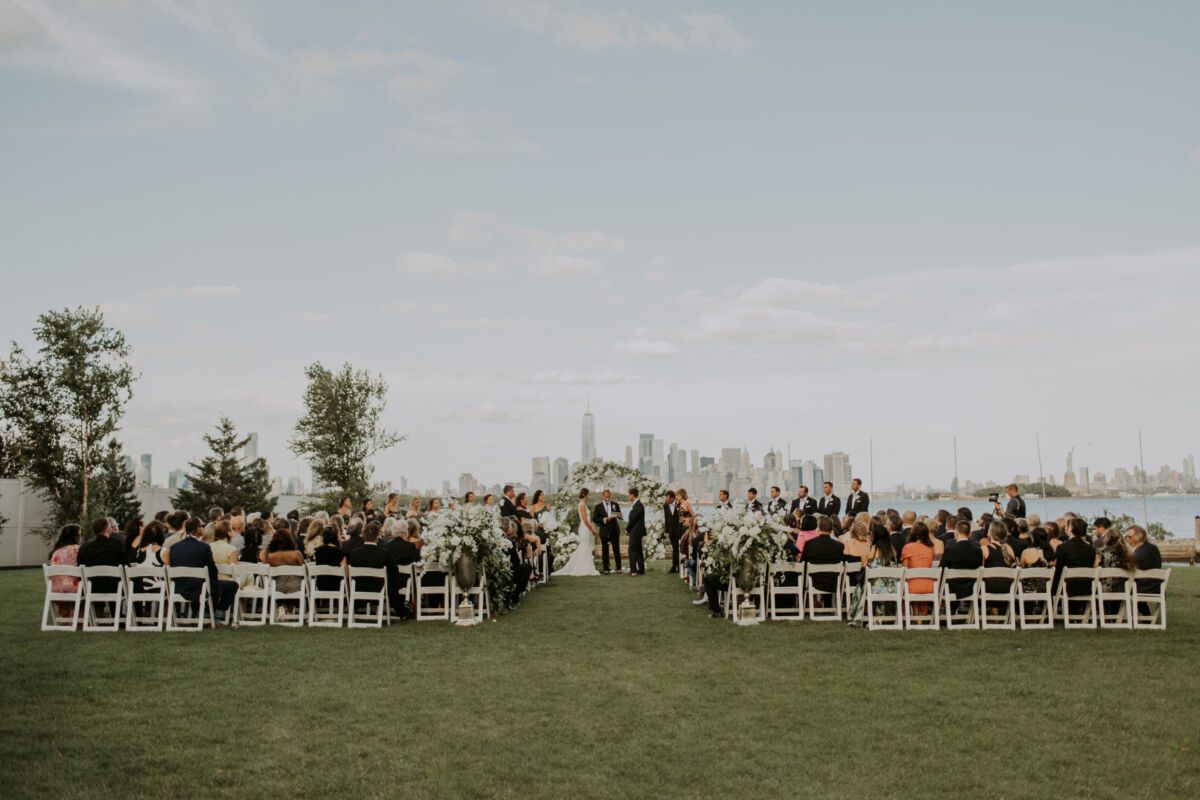 This modern venue offers unbeatable panoramic views of the New York skyline on the Hudson River. But Hudson House doesn't rest on its Port Liberte views — its five floors and 40,000+ square feet of space are built to please the most discriminating wedding parties.
Landmark Hotels lends its 20+ years of wedding hospitality experience to several North and Central Jersey venues. Hudson House stands out for its urban location and standout event spaces. The venue can serve parties up to 550 guests, who can choose from 2 grand event spaces and the Stork Club rooftop lounge.
Hudson House is also renowned for its food. Current Executive Chef Matteo Limoli brings his Italian training to the Hudson House kitchen, and guest reviews praise the cuisine available at weddings.
2 Chapel Ave, Jersey City, NJ | https://landmarkvenues.com/venues/hudson-house/
Park Savoy Estate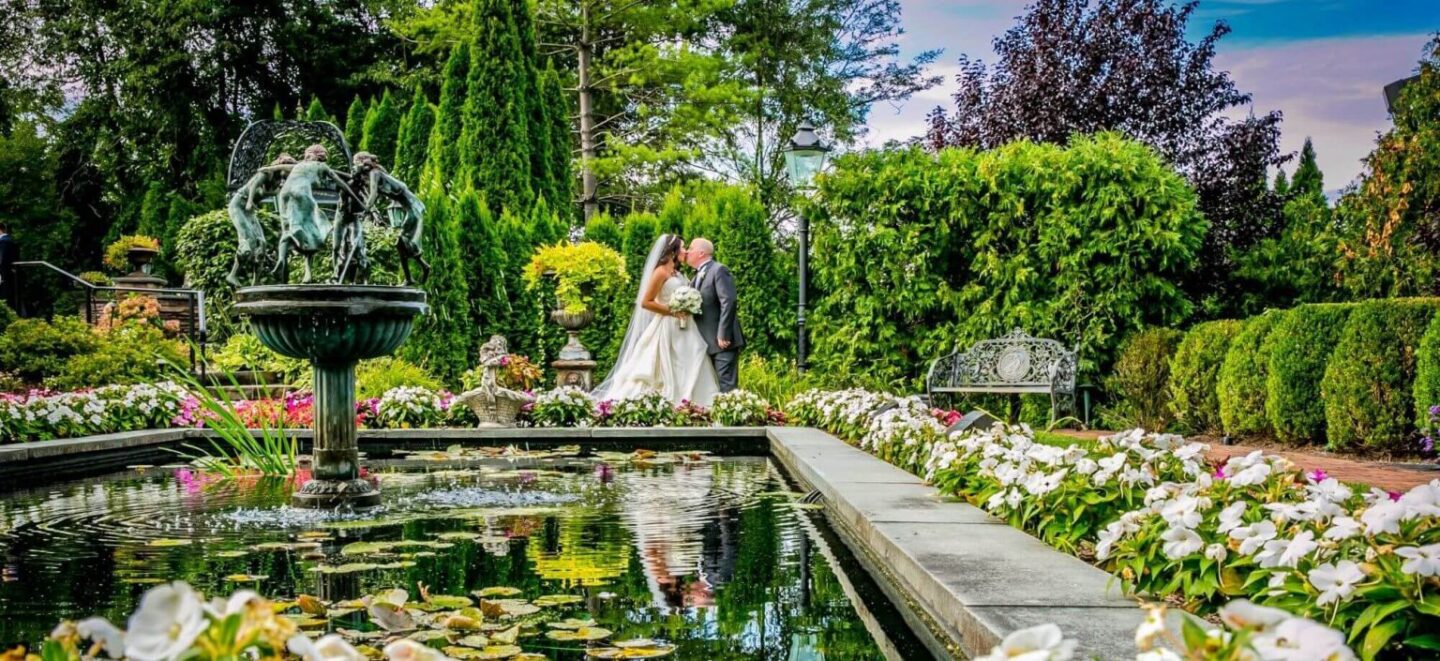 The 50-year legacy of Park Savoy Estate got a recent facelift with a multi-million dollar renovation. The result is a modernized wedding experience that retains much of its historic charm. The newly refurbished grounds offer the chance to host your ceremony indoors or outdoors in style.
Historically, the Estate's reputation for service is strong and consistent. Venue reviews indicate management is flexible, with knowledge to execute wedding traditions of various cultures and religions. Park Savoy's Maitre d's are described by patrons as detail-oriented and communicative.
236 Ridgedale Ave, Florham Park, NJ | https://www.theparksavoy.com/
The Estate at Florentine Gardens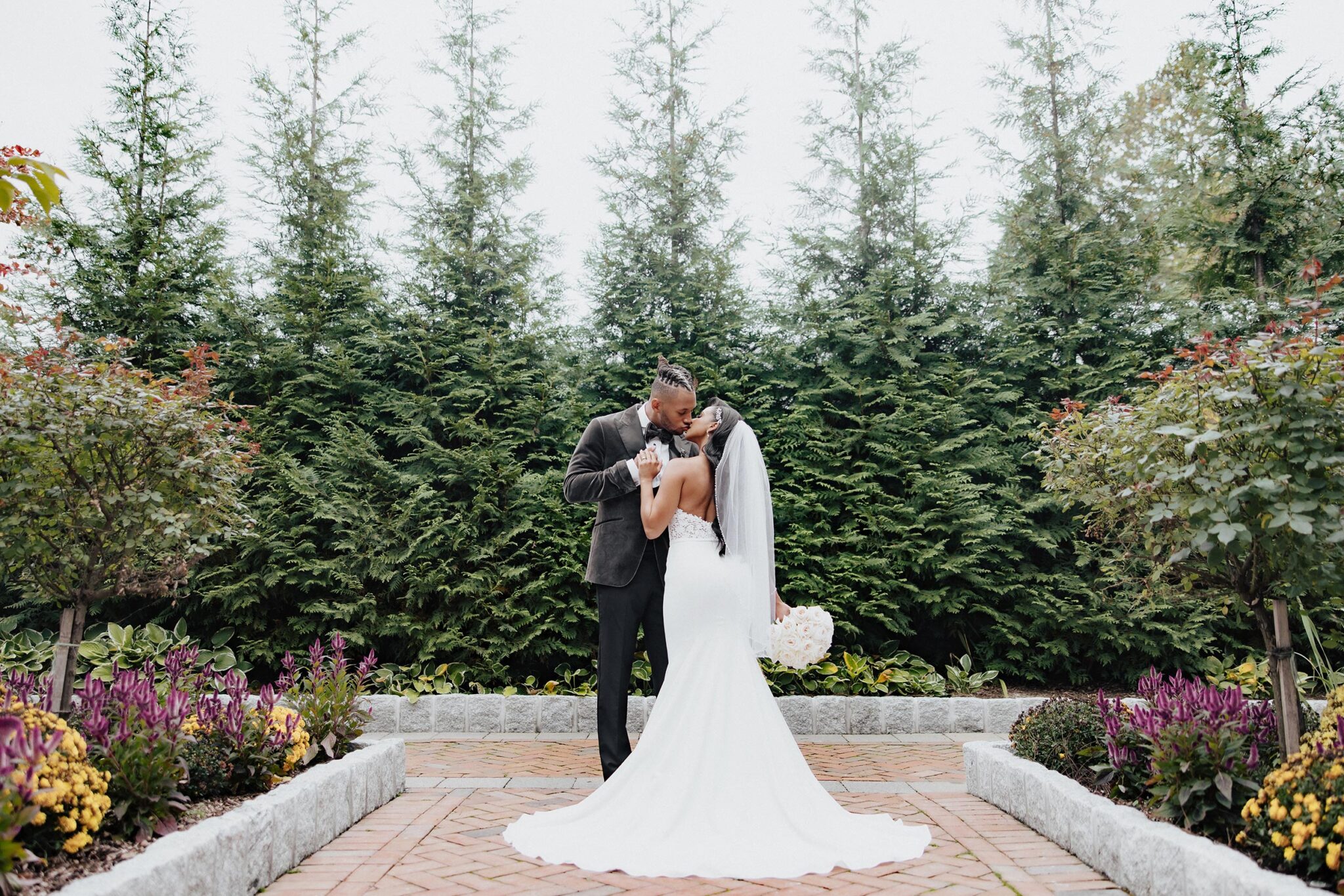 The Georgian exterior of The Estate at Florentine Gardens is a charming invitation to the show stopping garden spaces. The venue is capable of hosting a lovely indoor wedding ceremony — but if you can get married outside here, you should consider it.
The indoor cocktail hour and reception spaces are spacious and well-adorned, holding up to 350 guests. The grand foyer entrance space is a wonderful welcome to the venue, complete with winding staircase and large center table.
One standout of the Estate's staff is the existence of a Director of Entertainment & Services. It's lovely to have one central contact for music, visuals and other entertainment options.
97 Rivervale Rd, River Vale, NJ | https://florentinegardens.com/
The Mansion at Natirar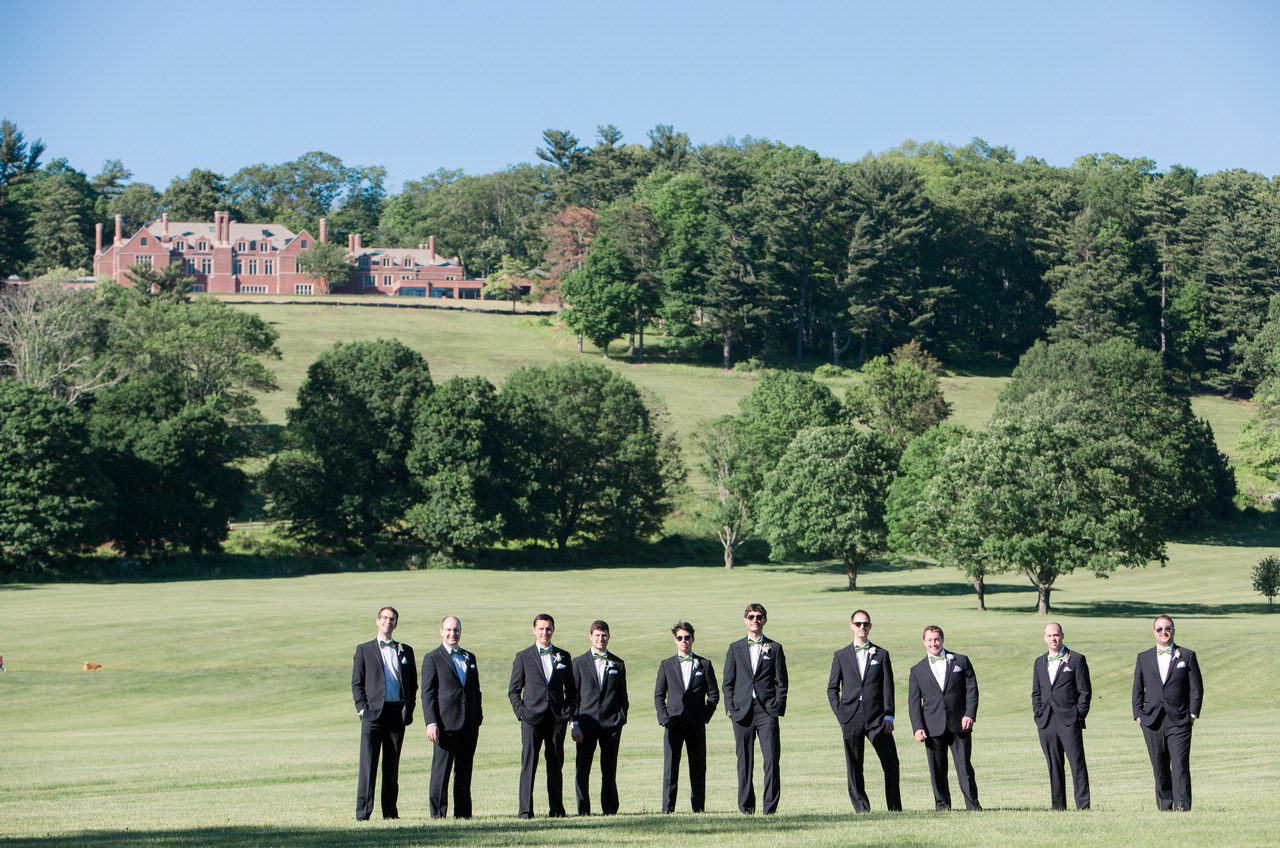 Do you dream about a wedding in a Gilded Age country mansion? Want to enjoy cocktail hour while equestrians ride horses in the valley below? Welcome to the Mansion at Natirar.
The Mansion at Natirar sits on 411 acres (!) across 3 towns. The grounds are operated by the Somerset County Park Commission to ensure their maintenance and splendor. Pendry Hotels updated the 1905 estate into an exquisite wedding venue — complete with hotel, cooking school and private club.
400 Natirar Dr, Peapack and Gladstone, NJ | http://www.natirar.com/nj_wedding_venue/
Central Jersey and Jersey Shore Wedding Venues
Clarks Landing Yacht Club
Clarks Landing Yacht Club is one of the best-reviewed wedding venues in the state. It holds 5 star ratings with Wedding Wire, The Knot and Yelp. A gorgeous seaside location is just the start — based on excellent food and service ratings, it's clear Clarks doesn't rest on location.
The addition of a glass-enclosed space for year-round wedding ceremonies was a game changer for this venue. Guests no longer see the Yacht Club as a seasonal wedding destination — the new space has a lovely view of the water. If you want to dance the night away overlooking the shore, you'll really like their reception hall.
Service is a premium at Clarks Landing. One server per ballroom table ensures outstanding attention to every guest at your reception. A recent review described the staff as "adapting to all needs, compassionate and mindful".
847 Arnold Ave, Point Pleasant, NJ | https://clarkslandingweddings.com/
Mill Lakeside Manor
Mill Lakeside Manor is an extension of the Clarks Landing family of wedding venues. The Manor evokes similar descriptions to the town in which it's located — exclusive, luxurious and charming.
This isn't a venue that throws you into sensory overload. Mill Lakeside Manor is warm, welcoming and meticulous in approach. Moments are savored and enjoyed here, and each portion of the wedding experience is well-executed.
Reviews describe this venue's all-inclusive wedding packages as fresh, bright and dreamy. Guests heap praise on the Manor's food menu, curated by a certified executive chef. "The food is out of this world," a recent review says.
1309 Ocean Rd, Spring Lake Heights, NJ | https://themilllakesidemanor.com/
The Shore Club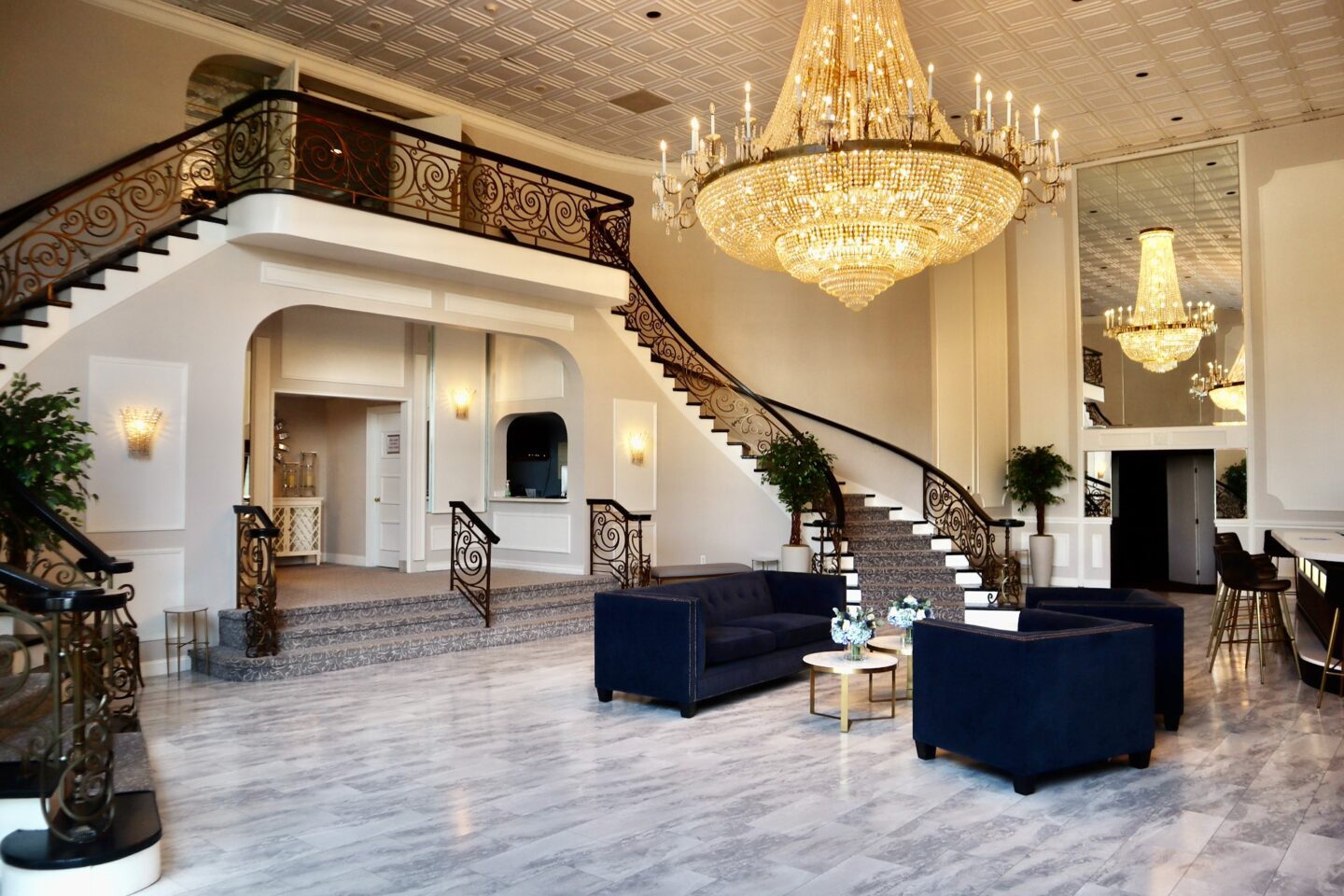 The Shore Club is another excellent Spring Lake area wedding option. The hotel on premises is rated as highly as the wedding venue itself — a great perk for guests from out of town.
If you're planning a smaller wedding, The Shore Club offers packages that start at 30 guests. It's a nice touch that isn't available at every venue of this size and quality — the facility can hold up to 350 guests.
Guests who chose The Shore Club noted the venue's openness to customized receptions. The staff was described as accommodating and patient, and the venue was called "elegant" and "lavish".
700 NJ-71, Spring Lake, NJ | https://www.theshoreclubnj.com/
Park Chateau Estate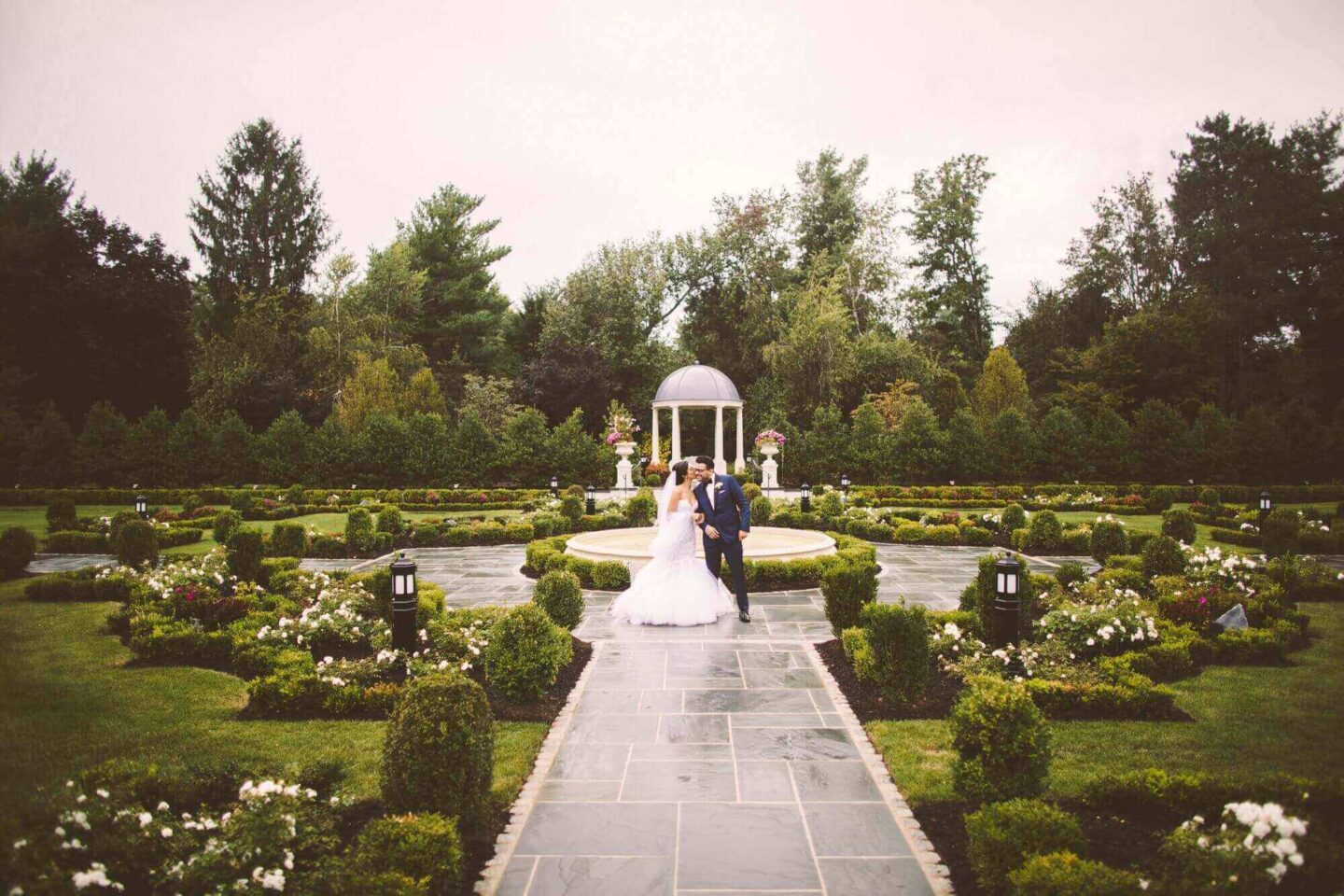 Park Chateau Estate bills itself as "a taste of elegance" on a lush 15-acre property in Middlesex County. The venue appears on many of the industry's top shortlists, including Wedding Wire's Couples Choice and Manhattan Bride's Hall of Excellence.
A sister property of Park Savoy Estate, the ownership group owns multiple properties that enhance the wedding experience. Couples can utilize Nanina's in the Park for rehearsal dinners, then book guest rooms at the Chateau Grande Hotel. Reviewers note the ease of this all-inclusive experience.
The estate and gardens themselves provide beautiful indoor and outdoor ceremony and reception experiences. Guests regularly mention the "Over the Top Menu" — a list of decadent options to take your reception to new heights. A caviar and vodka ice luge? Sounds like fun.
678 Cranbury Rd, East Brunswick, NJ | https://www.parkchateau.com/
Hamilton Manor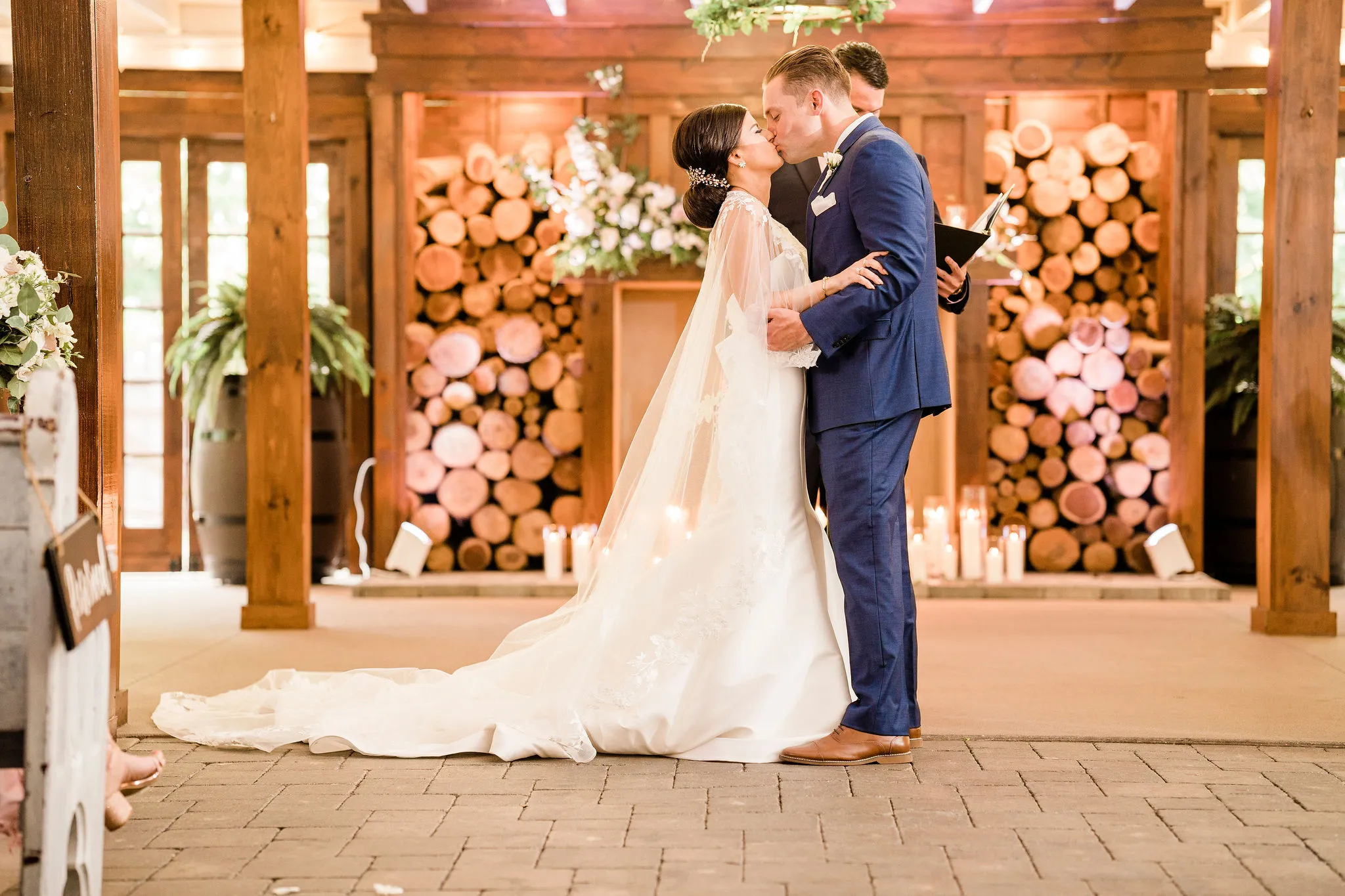 Hamilton Manor is a strong choice for couples that are looking for a rustic wedding venue in NJ. Every modern design element is tastefully paired with cozy features — check out the Rustic Barn ceremony space, complete with a fireplace surrounded by cut logs.
If your groom is jealous of decadent bridal suites, he'll like Hamilton Manor's Groom Suite. It features a pool table, arcade machines, air hockey, table games and leather couches. The Oak Room is a lovely greeting area for guests, with a stone bar, antique ceilings and a player piano.
This venue is in The Knot's Best of Weddings Hall of Fame, thanks to an array of solid reviews. The staff is described as "overly accommodating" and "customer service forward".
30 NJ-156, Hamilton Township, NJ | https://thehamiltonmanor.com/
Ryland Inn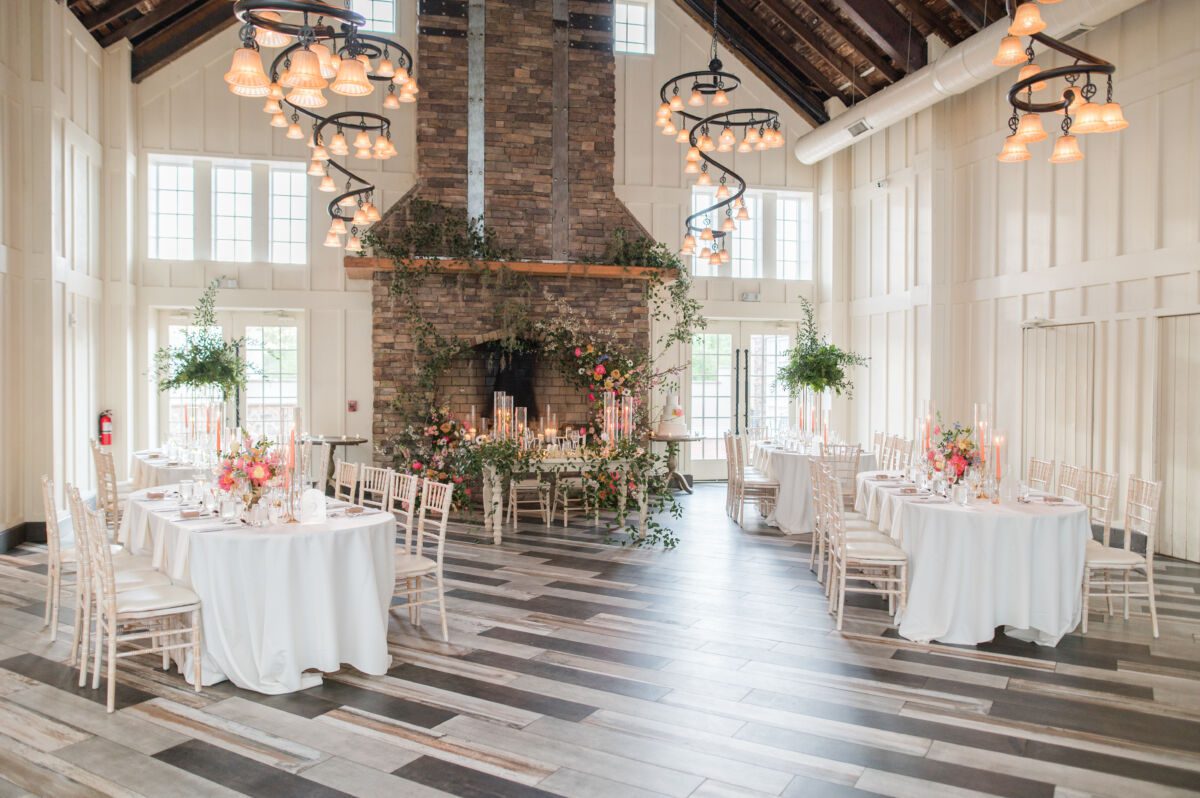 The second Landmark Venues location on this list, Ryland Inn is a historic equestrian estate that exudes class. The Inn is over 220 years old, and provides a wonderful blend of old world elegance and country chic.
The property managers know how to deliver luxury within a rustic setting. The rural surroundings are incorporated into every aesthetic choice — from the groom's cottage and bridal suites, to the refurbished 200-year-old Coach House. The executive chef's seasonal menu complements the countryside well.
Speaking of the food, Ryland Inn is widely praised by reviewers with specific food concerns and allergies. Guests note the staff's ability to provide excellent vegan and dairy-free menu options.
115 Old Hwy 28, Whitehouse Station, NJ | https://landmarkvenues.com/venues/ryland-inn
The English Manor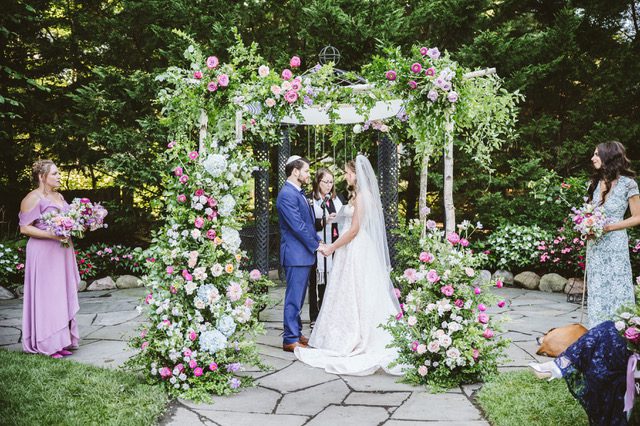 The phrase "style and comfort" is placed throughout The English Manor's website. The venue succeeds by blending concepts that seem opposite — style and comfort, trend and tradition. The Manor's ability to find great balance is its strong suit.
"The green backgrounds, colorful flowers, and beautiful barn door was everything that I was looking for," recent bride Katie says in a recent review. The outdoor scenery and ceremony space are standouts, but there are also great views available inside. The grand ballroom features floor-to-ceiling windows.
The English Manor states they operate "one wedding at a time". If you're a couple that heavily prioritizes day-of photography and a private venue, it's a contender.
1 English Ln, Ocean Township, NJ | https://theenglishmanor.com/
South Jersey Wedding Venues
The Mansion on Main Street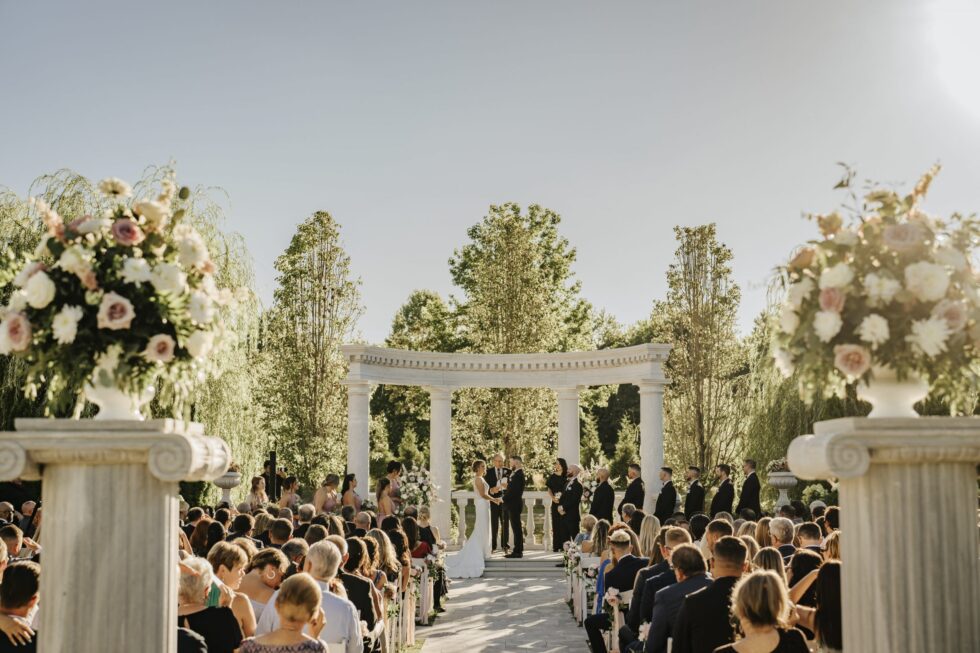 Couples that live in the Philly suburbs are right in this venue's backyard. The Mansion on Main Street sits 20 minutes outside Philadelphia and strikes a balance between chic urban interiors and country grounds.
The venue hosts up to 500 guests, so large weddings are no problem. Two dedicated ceremony spaces offer different takes on fresh white luxury design. Traditional design lovers choose The French Garden for its decadent columns and massive wedding arch. The indoor Pavilion offers transitional design features that resemble Cape May ballroom architecture.
The Mansion on Main Street is an 8-time Wedding Wire Couples' Choice Award winner. Reviewers consistently note the outstanding quality of cocktail hour food and beverages, as well as an excellent on-staff bridal attendant.
3000 Main St, Voorhees Township, NJ | https://mansiononmainstreet.com/
The Southern Mansion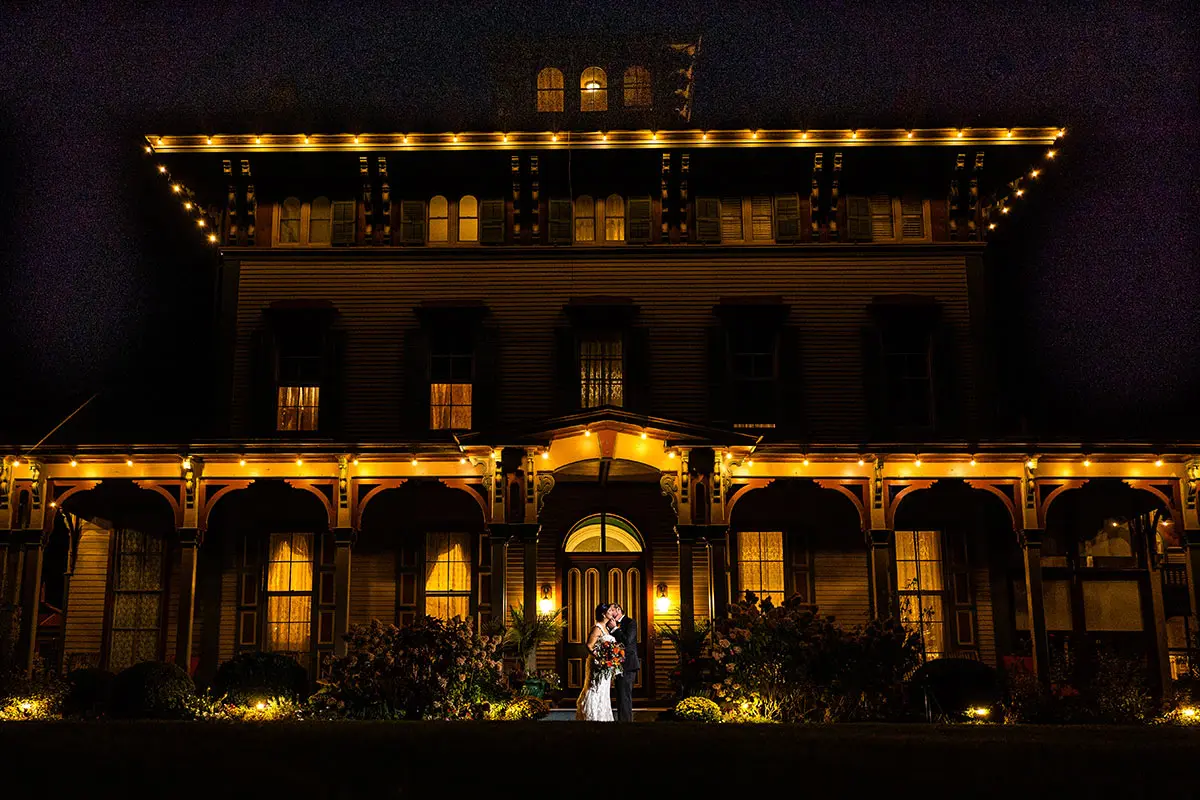 Cape May's largest bed and breakfast offers a unique wedding experience. The Southern Mansion brings Victorian style and Southern charm to its facility and services, which holds up to 150 guests.
If you desire an unconventional wedding experience to call your own, this may be your venue. It's a BYOB facility, but they will provide bartenders and bar arrangements. Their cocktail hour and food offerings are restaurant quality, with excellent seafood and raw bar options.
The Mansion's ability to host you and your guests in a seaside B&B makes it truly unique. It's a singular option for wedding parties who want to wake up in a Cape May bed & breakfast with their loved ones the next morning.
720 Washington St, Cape May, NJ | https://www.southernmansion.com/
Bonnet Island Estate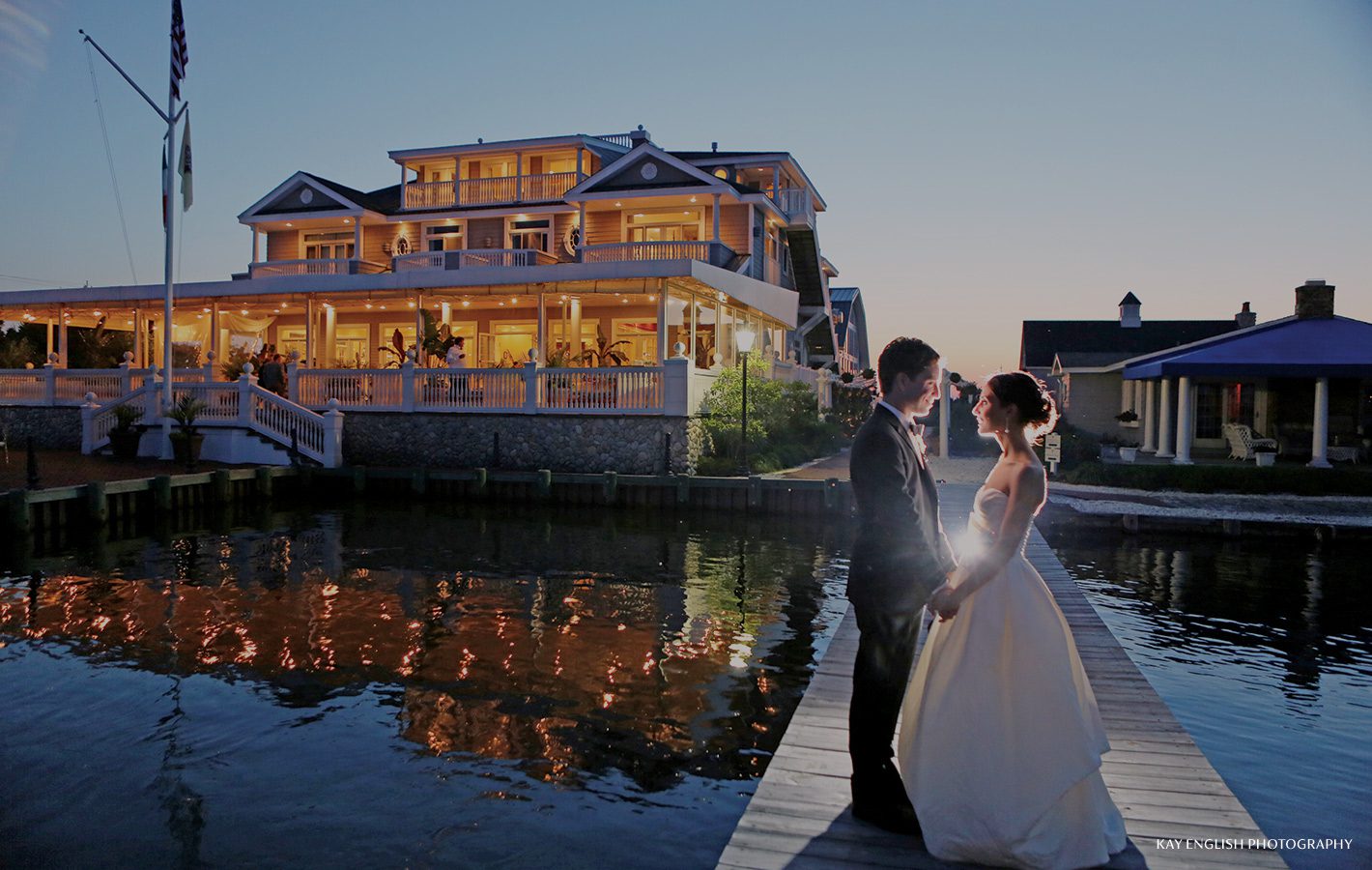 Bonnet Island Estate is a quintessential "Jersey Shore" wedding venue. It offers a waterfront wedding surrounded by the ocean, with a ceremony in a refurbished boat house.
The estate features a high-end seaside retreat aesthetic, easily noted in the bridal parlor and groom's lounge. After the boat house ceremony, guests are welcomed inside to a grand ballroom with 30-foot cathedral ceilings and waterfront views.
Bonnet Island Estate features 12 private suites with fireplaces, jacuzzis and balcony spaces. Wedding events are catered by Merri-Makers Caterers.
2380 E Bay Ave, Manahawkin, NJ | https://weddingsofdistinctionnj.com/venues/bonnet-island-estate/
Fernbrook Farms
Fernbrook Farms delivers a high-end farm experience to wedding guests. The venue centers around a 1760 Georgian Manor house on an active 230-acre farm.
"From 12 o'clock the day of your wedding day to 10 o'clock the following morning, the Inn at Fernbrook is all yours," the Fernbrook website states. This includes the 3-story Georgian Manor, its 5-room Master Suite and six other guest rooms. The venue also provides fresh seasonal menu items, some of which are fully farm-to-table.
Reviewers that sought a "historical" or "tent wedding" theme were thrilled with the results from Fernbrook Farms. Guests also noted inventive food items from the venue's farm-to-table options.
144 Bordentown Georgetown Rd, Chesterfield Township, NJ | https://www.fernbrookfarms.com/inn/weddings/
The Bradford Estate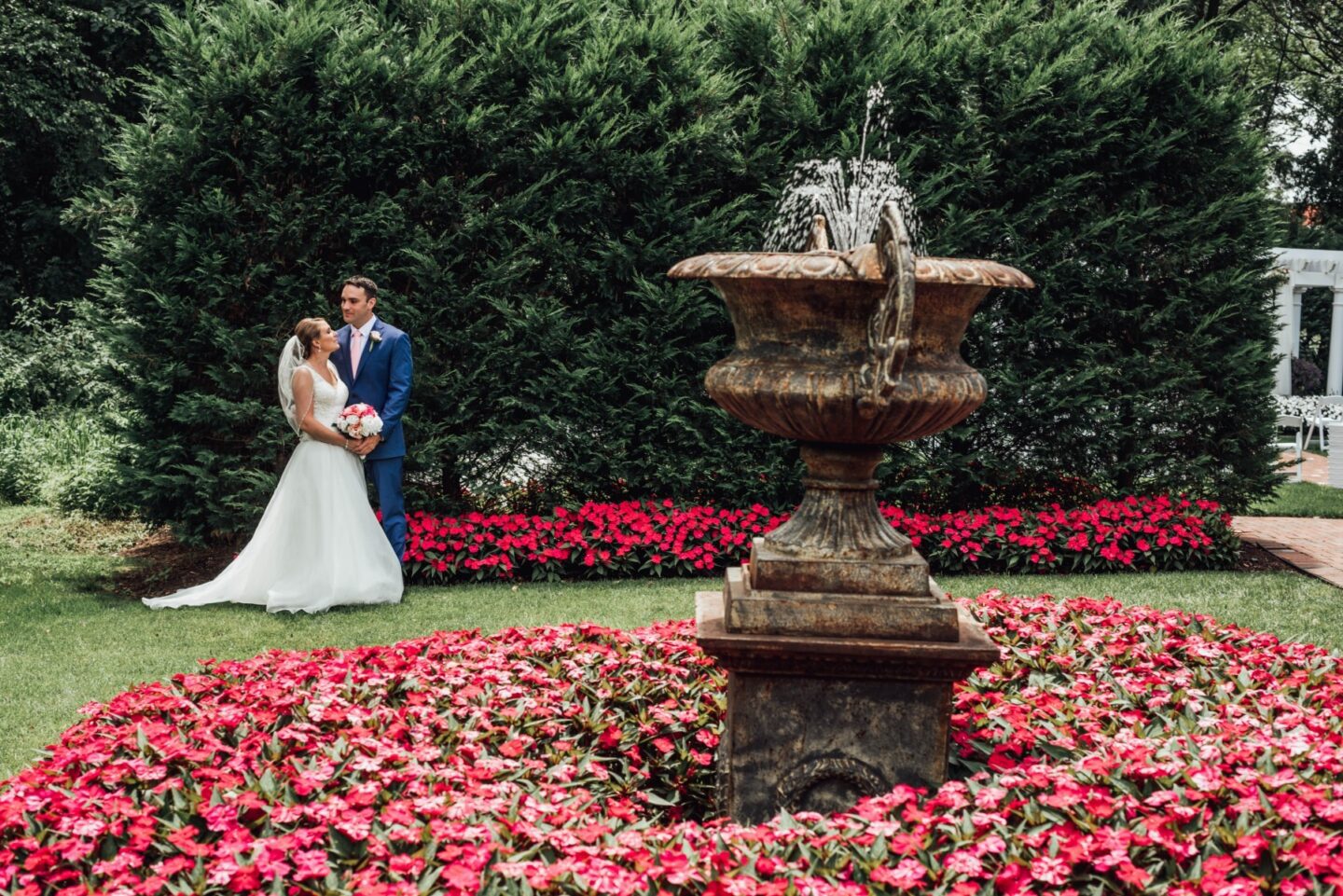 This Burlington County wedding venue is billed as "South Jersey's Best Kept Secret". Like other Clarks Landing venues, the Bradford Estate hosts just one wedding at a time. Their focus is exclusivity.
The Bradford Estate offers a diversity of views and decor throughout your wedding day. The private secluded garden ceremony is fresh and white. The cocktail lounge is sleek and modern. And the Grand Ballroom is an opulent mix of luxury elements and transitional design.
The venue boasts perfect ratings on Wedding Wire and The Knot. Reviewers praise the all-inclusive wedding package, transparency of venue pricing, and personalized service.
1910 Marne Hwy, Hainesport, NJ | https://www.thebradfordestate.com/
Brigalias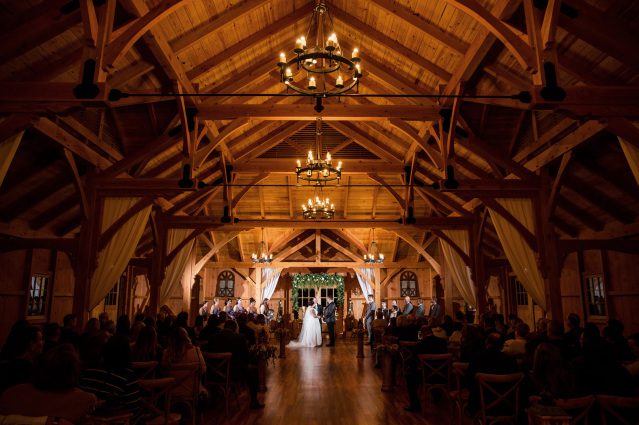 Brigalias offers excellent versatility for couples and wedding planners. Choose between the regal luxury of 2 ballrooms or the earthy charm of the new Rustic Barn for your reception. Both are available on the same property.
The venue is a full-service catering facility that can accommodate multiple weddings and events simultaneously. Each ballroom holds up to 300 guests. The Rustic Barn and open-air Covered Pavilion are available for smaller groups.
Guest reviews rave about Brigalias' catered food selections. A recent review also praised their versatility, stating the venue has "so many extras that no other facility has".
396 Williamstown Road, Sicklerville, NJ | https://www.brigalias.com/
Your New Jersey Wedding Venue Awaits
Like every aspect of your wedding, the best wedding venue depends on your personal preference.
It's okay to be particular! Do you want an outdoor ceremony? A seaside or lakeside manor? A modern hall that overlooks the New York skyline? Ask for it — New Jersey has no shortage of venues to fulfill your checklist.
Whatever NJ wedding venue you select, here's hoping it's filled with love — and one amazing party!