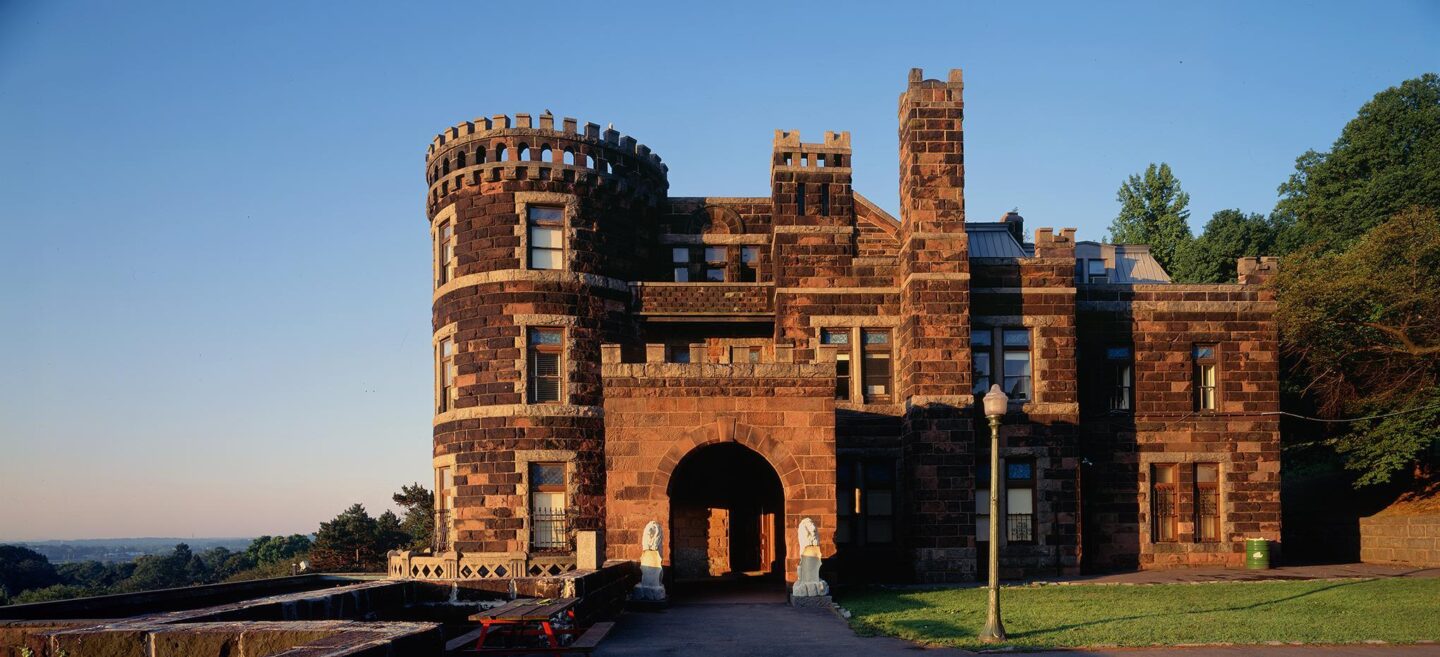 If you look carefully, the Garden State can be a place where fairy tales come alive. Between the highways, farmlands and beaches lies a series of historic mansions and modern palaces for guests to explore. These New Jersey castles are easy to find and just waiting for you to discover.
Whether you're looking for a wedding venue, guided tour or an old stone structure to explore, you're in luck. From a special events location like Skylands Manor to the medieval splendor of Kips Castle, New Jersey boasts a wide variety of castles to meet every desire.
Don't worry about visiting an old building that's fallen into disrepair. Thanks to the efforts of curators, donors and refurbishment professionals, many New Jersey castles have remained functional and beautiful.
Before we look at a diverse list of gorgeous castles you can visit today, let's look at New Jersey's rich history of castles and mansions.
Fairytales of the Past: A History of New Jersey Castles
Many of NJ's castles were built during the Gilded Age by wealthy New Yorkers. The late 19th century was a boom time for industrialists and capitalists, and it became fashionable to showcase one's wealth by constructing a country mansion for lavish parties.
Famous business people, celebrities and politicians frequented these palatial estates. Their guests included former U.S. Presidents, opera singers, art collectors, inventors and judges — some of whom bore family names that still linger in New Jersey's present day.
Although the Gilded Age faded into the 1920s, these sprawling estates remained as monuments of the era. They also became templates for modern Garden State castles that serve as wedding venues and event halls.
Merriwold Castle (aka Merriewold Castle)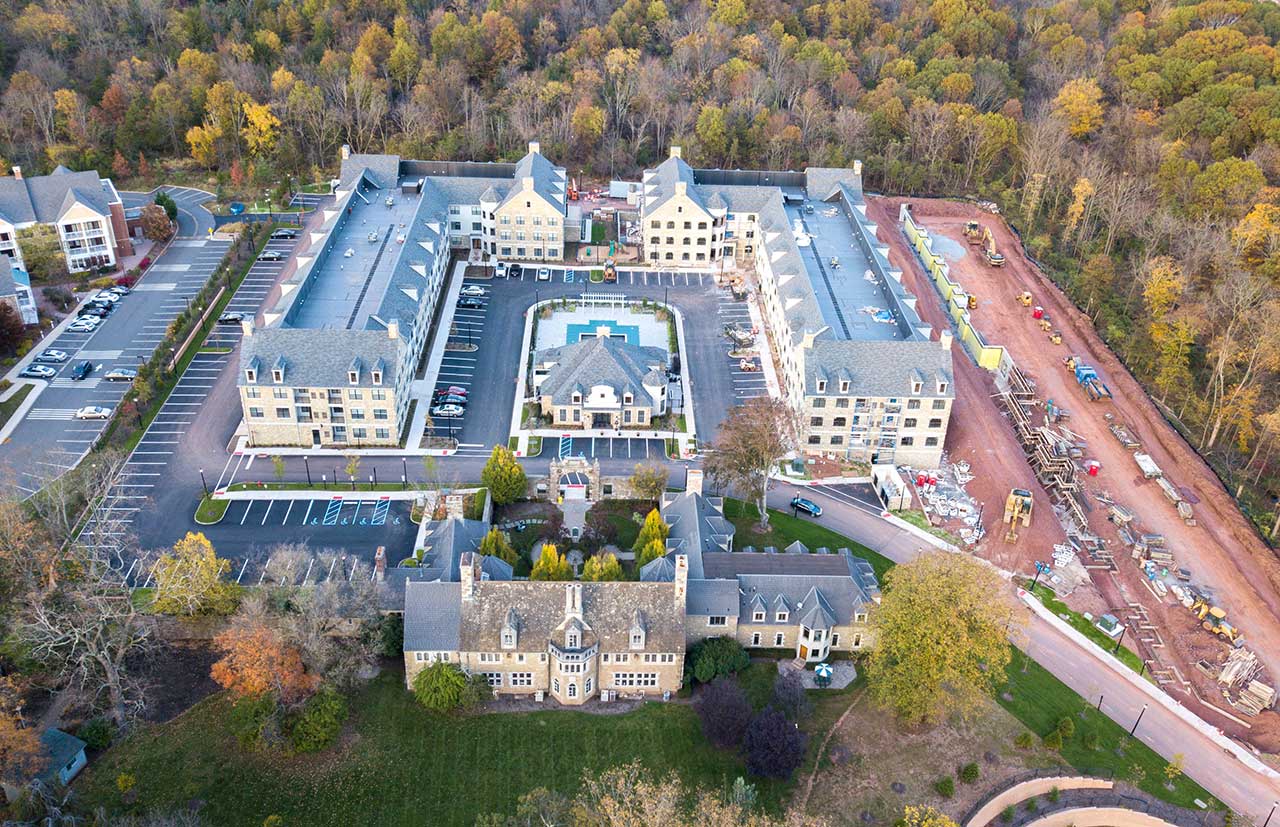 One of the state's great reminders of the Gilded Age is Merriwold (Merriewold) Castle in Highland Park. J. Seward Johnson (of Johnson & Johnson acclaim) built this three-story Elizabethan mansion just off modern-day River Road. The reported construction cost in 1926 was $350,000 — roughly $6 million in today's market.
The castle reflects Mr. Johnson's love for ocean life and classic architecture. The intimidating structure is built of limestone and sandstone with fossils embedded throughout. Imagery of whales, lobsters and marine life are included in the design.
After a tumultuous history of 20th century ownership, Merriwold was purchased by Kaplan Cos. in 1968. The company has restored much of the castle to glory, with the third floor gallery open to the public. The grounds now also feature Merriewold at Highland Park, a 17-acre group of 196 rental apartments.
Van Slyke Castle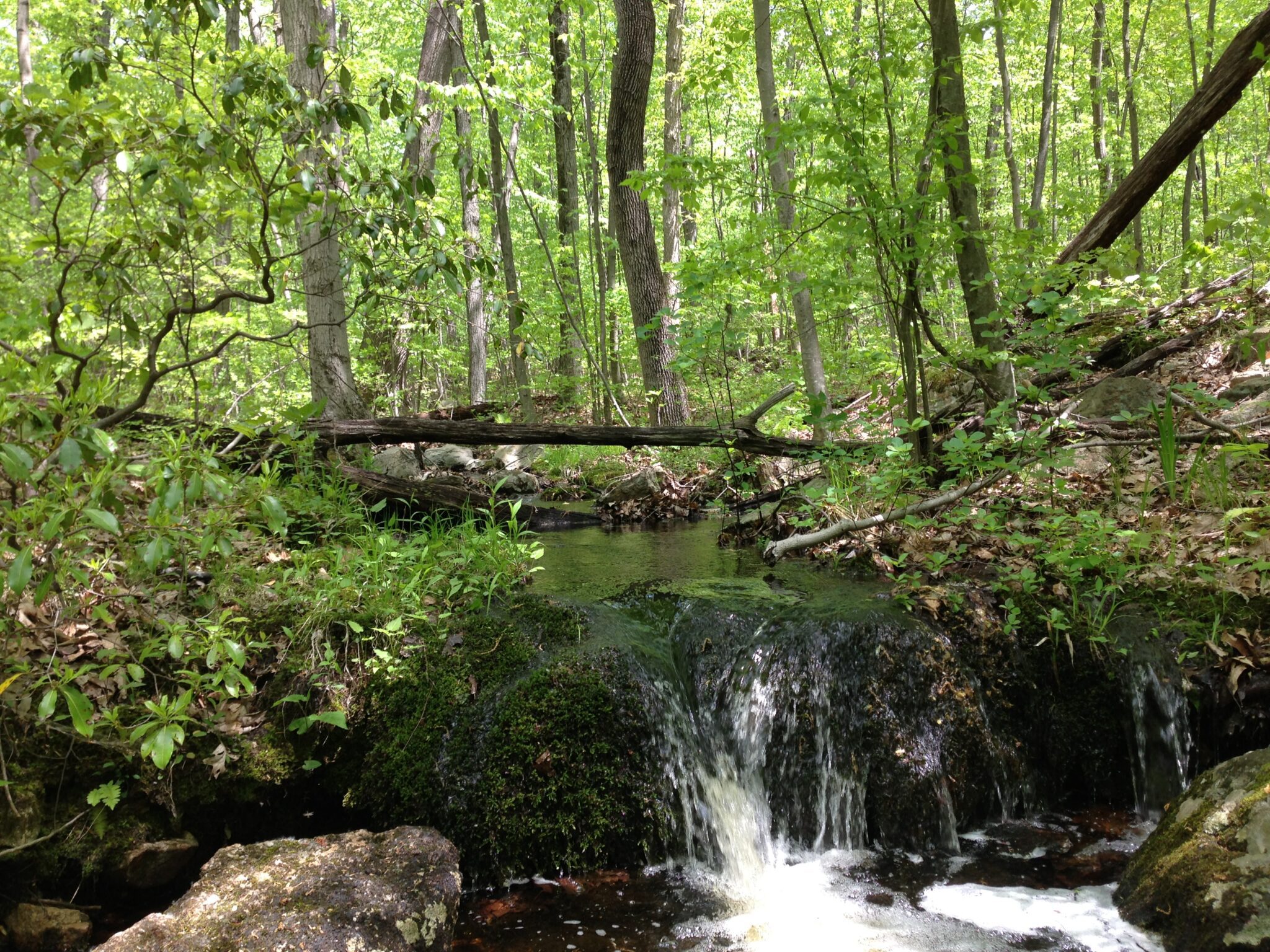 By contrast, don't expect a peek into past glory when visiting Wanaque's Van Slyke Castle. The mansion was called Foxcroft by its original owners, William and Ruth Porter. After William's abrupt death in a 1911 car crash, Ruth married Warren Van Slyke in 1913. The property was re-branded Van Slyke Castle.
Warren Van Slyke died from surgical complications in 1924. Twice widowed with no children, Ruth never remarried and died in 1940. The property was eventually abandoned in 1950, and vandals burned it to the ground in the following decade.
If you're seeking a magnificent castle today, this isn't the place to look. But if you like exploring ruins and remains of a once-prominent property, Van Slyke is a great place to visit. Make sure to obtain a thorough trail guide for Ramapo Mountain State Forest before you go.
Curated Inspiration: New Jersey Castles of Today
Today, New Jersey features a variety of historic and modern castles to visit — and even rent for private events.
Here's a curated list of some of NJ's finest castle estates and where to find them.
Alnwick Hall: The Abbey
355 Madison Avenue, Morris Township, NJ
Alnwick Hall was named in honor of Northumberland's Alnwick Castle, the building that inspired it. Constructed in the Gilded Age, Alnwick Hall was part of an illustrious group of homes in Morris County known as Millionaires' Row.
Rosaline and Edward P. Meany designed the home in 1904, which remained a private residence until 1961. From 1961 to 1984, the property was converted into Saint Mark's Lutheran Church. Nicknamed "The Abbey", the mansion was repurposed for office space for much of the last 4 decades.
Today, The Abbey serves as a retail space. Restoration Hardware began adapting the space for showroom use in 2021 — the latest in a small batch of Millionaires' Row homes which survived due to adaptive reuse. Shoppers will be able to admire both the furniture and the history of this North Jersey castle.
https://www.morristwp.com/213/Alnwick-Hall
Iviswold Castle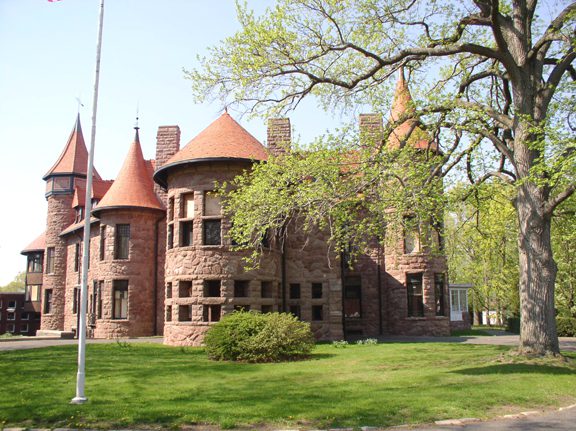 231 Montross Ave, Rutherford, NJ
Built in the 1860s, Iviswold Castle is one of New Jersey's most historic structures. This late 19th century castle is synonymous with higher education in Bergen County — it's been a focal point of two university campuses from the 1970s through the present.
The building began as a two-story home, but its second owner had larger aspirations. David Brinkerhoff Ivison transformed his new home into Iviswold, a three-story mansion with 25 rooms and a carriage porch. Ivison added the castle's signature turrets and a music room adorned with gorgeous stained glass windows.
Today, Iviswold looms large over the campus of Felician University. The historic venue is utilized for meetings, receptions and dinners. It also houses many of Felician's administrative offices, as well as the campus's chapel for weekly mass. Iviswold Castle was added to the National Register of Historic Places in 2004 as a national historic landmark.
https://felician.edu/about-felician-university/facilities-and-resources/
Kips Castle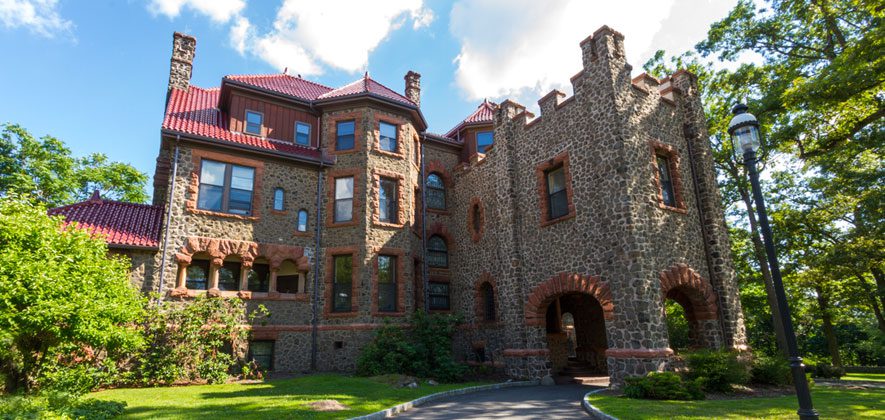 22 Crestmont Road, Verona, NJ
If you love medieval castle design, Kip's Castle Park is a must-see destination. Kips Castle is a sprawling 9,000 foot mansion on eleven acres of land in two North Jersey towns — Verona and Montclair. Its spectacular views of the New York skyline and controversial history make it a unique place to visit.
The castle was built in 1905 by Frederic Kip. The building itself consists of 30 rooms, vaulted ceilings and lavish fireplaces. A two-story, 6,000 square foot carriage house also exists on the ground.
Kips Castle was a private residence from 1905 until 1980, when a controversial group transformed the estate into a cult compound. Thankfully, the castle was purchased away in 1985. Since then, the castle has been restored to much of its original glory. It was sold to the Essex County Parks System in 2006.
The lower level of the estate is open for self-guided tours, and the grounds may be rented for weddings, photography sessions, and approved private events.
https://essexcountyparks.org/parks/kips-castle-park
Lambert Castle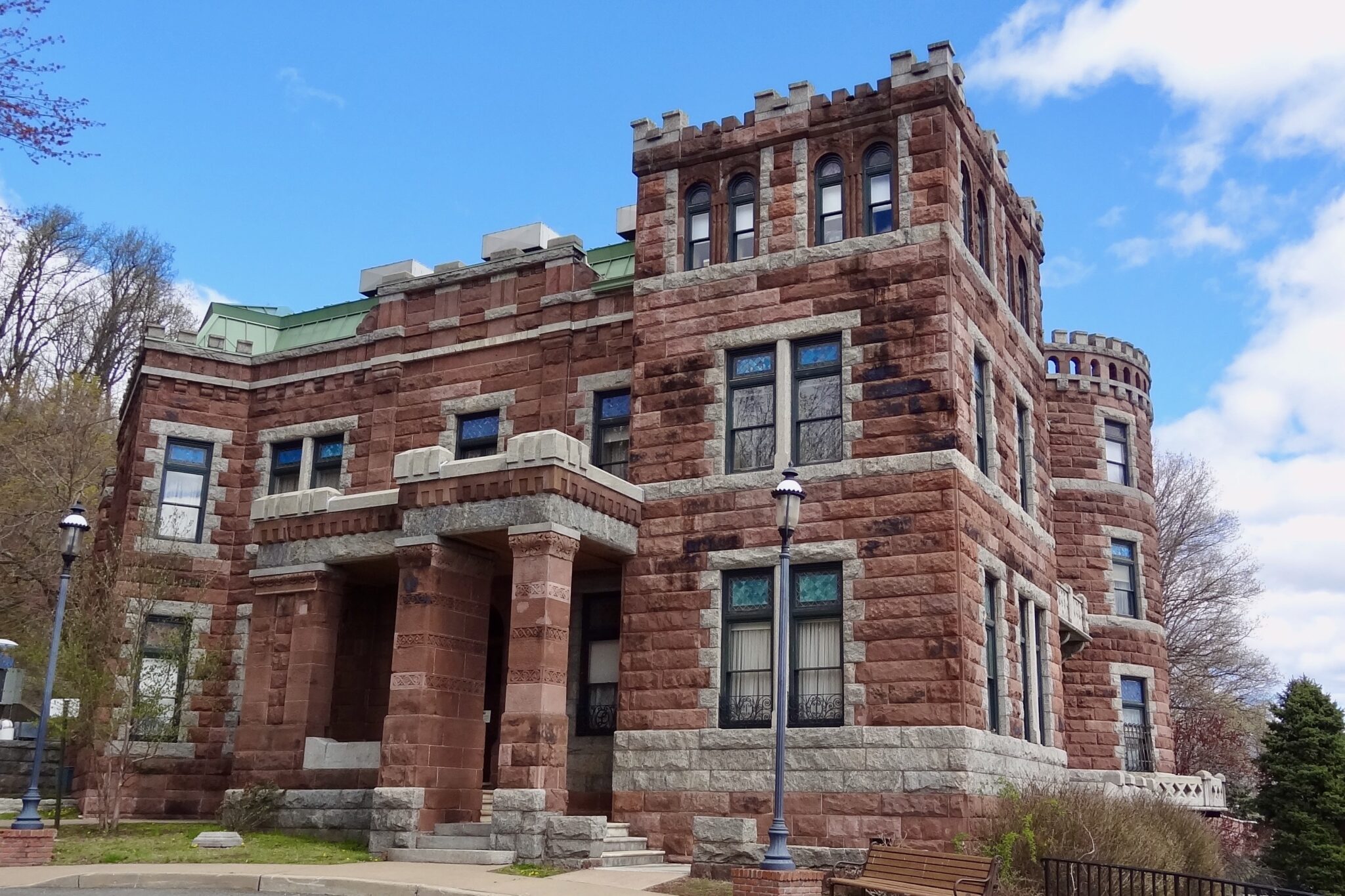 3 Valley Road, Paterson, NJ
Catholina Lambert built his castle on Garret Mountain in 1892-1893. Originally named "Belle Vista", the estate was a masterwork of its time. Its renowned art gallery, summer home and 70-foot observation tower were visited by many notable figures of the time, including President William McKinley.
After Lambert's financial decline and death in 1923, the estate passed to his son Walter. Walter sold it to the City of Paterson in 1925, who briefly used it as a hospital to treat tuberculosis. In 1928, Lambert Castle and its grounds were adopted into the Garret Mountain Reservation by the Passaic County Park Commission.
The architectural achievement and varied history of Lambert Castle earned it National Historic Landmark designation in 1976. Today, the castle serves as a museum and library — as of this writing, the grounds are temporarily closed for repairs. Visit the official website for details on its reopening.
https://lambertcastle.org/castle/
Legacy Castle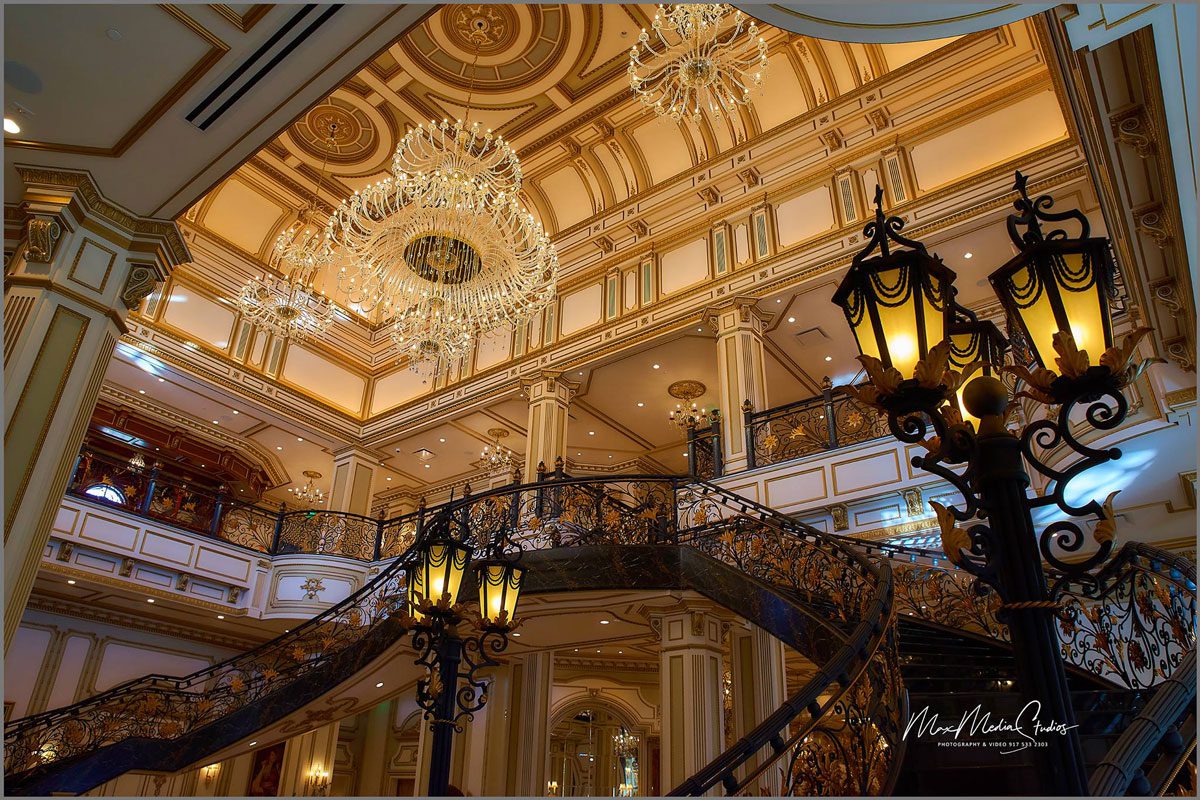 141 Route 23 South, Pompton Plains, NJ
If your idea of the perfect castle is a modern structure ideal for elegant weddings and special events, visit The Legacy Castle in Pompton Plains. This dramatic estate is primarily a wedding venue, and can hold up to 1,200 people within its spacious layout. Unlike historic castles on the list, this is a modern showcase for lavish parties.
Construction began on the Legacy Castle in 1998, with inspiration drawn from Gilded Age mansions and 19th century castles. The 17 acre grounds boast freshwater lake views and a 21-foot granite fountain and manicured garden within its center courtyard.
The interior space features five unique halls that hold anywhere from 125 to 1,200 guests. Its interior features a 15 foot granite fountain, luxury tile, art pieces and a pair of statement winding staircases. A look up to the ornate ceilings reveals magnificent chandelier pieces and recessed ceiling design.
The Make-a-Wish Castle
1384 Perrineville Road, Monroe Township, NJ
The Make-a-Wish Castle is easily the most inspirational and unique place on our list. Known as The Wishing Place, this castle is the stuff fairytales are made of.
"This castle, and its three spires, now serve as beacons of the hope, strength, and joy that brings our mission to life for children who face life-threatening illnesses," explained Tom Weatherall, President and CEO of Make-a-Wish. "They know Make-A-Wish is here for them."
The Wishing Place provides a magical place to live out royal fantasies. The Pond of Hope, expansive floor maze and manicured garden courtyard promote exploration. The Marino Stage exists for special performances and gatherings. Dedicated space for Wish Children includes an inspiration room, wishing room, Inspiration Grove and a teen lounge.
https://wish.org/nj/samuel-josephine-plumeri-wishing-place
Natirar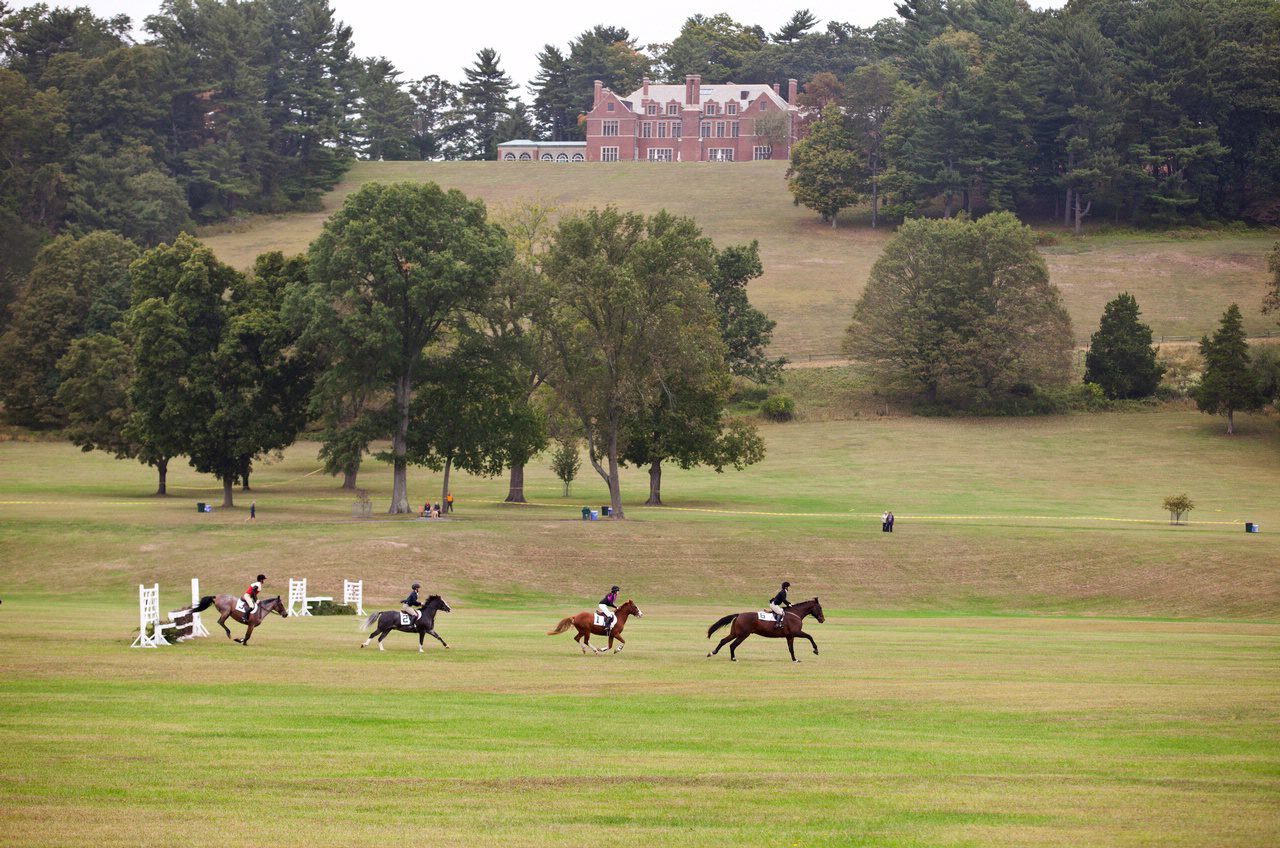 2 Main Street, Peapack, NJ
A sprawling 411-acre property that spans three NJ towns, Natirar's grounds are operated by the Somerset County Park Commission. Nestled in the natural woodlands of Peapack-Gladstone, Far Hills and Bedminster, the property is a journey through rolling hills and historic farm houses.
The former estate of Kate Macy Ladd and Walter Graeme Ladd was built in 1905. It was in fashion for the wealthy New York elite of that era to purchase "country mansions" in New Jersey and Connecticut. The Ladds named their home Natirar — simply "Raritan" spelled backwards.
Today, the Mansion at Natirar is a popular wedding and catering destination. The mansion also features a cooking school and the private Club at Natirar. Pendry Hotels has taken grasp of much of the Natirar property, offering private residences with access to a spa, Natirar Farms and Ninety Acres restaurant.
Grounds: https://www.somersetcountyparks.org/natirar
Mansion & Event Reservations: http://www.natirar.com/
Skylands Manor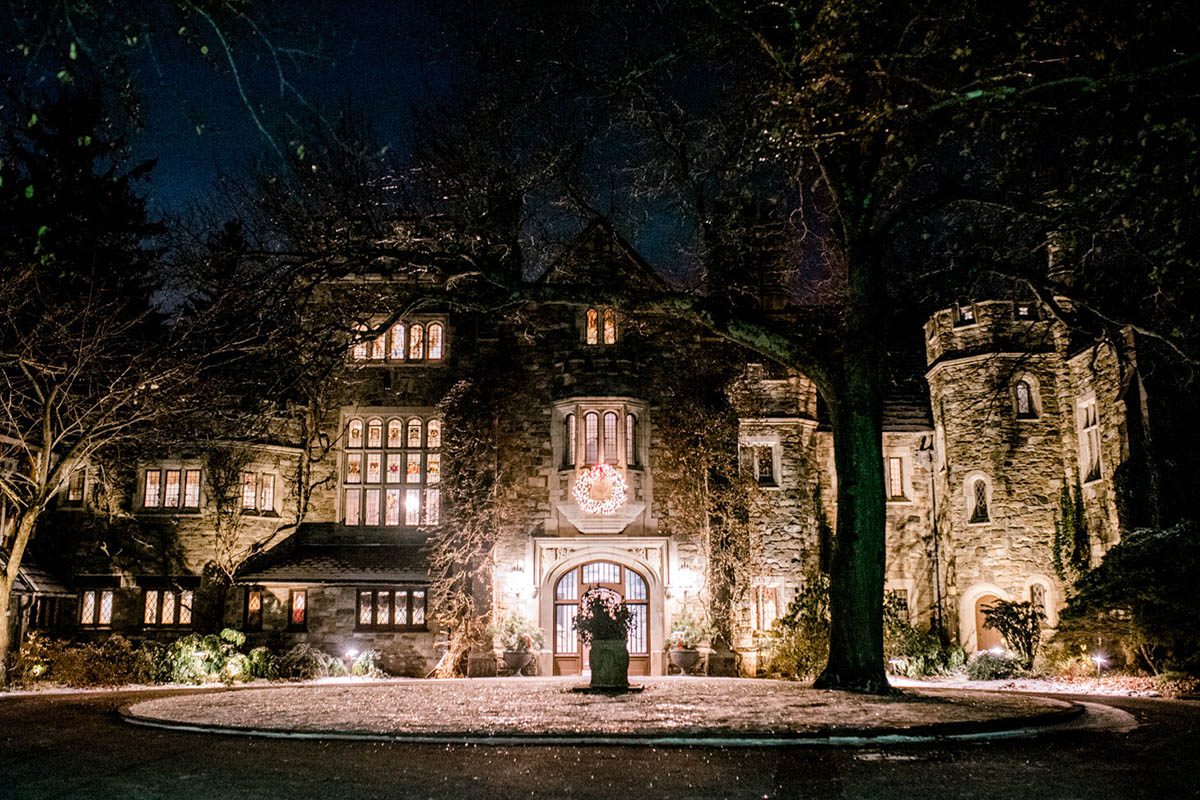 5 Morris Road, Ringwood, NJ
Skylands Manor was built in the tradition of 17th century English Jacobean architecture. The estate began as a landscape architecture statement under the guidance of Francis Lynde Stetson. The Manor was constructed in the late 1920s and features 44 rooms and a renowned collection of antique stained glass medallions.
The Skylands Historic Site is operated by the New Jersey Department of Environmental Protection. The site includes the beautiful New Jersey Botanical Gardens, a must-see site for NJ nature lovers. It features 12 unique garden experiences, including moraine rock gardens, annual and perennial collections, and the beautiful Octagonal Garden surrounding an ornate pool and fountain.
The State of New Jersey leases the Manor to Frungillo Caterers for weddings and special overnight stays. The Skylands Grounds are open from 8 a.m. to 6 p.m., and guided tours of the Manor's ground floor do exist on select Sundays. Please note the limited availability of these guided tours and call ahead for information. Tours are $10 for adults, with discounts for seniors and children aged 6-18. Children under 6 are free.
Castle & New Jersey Botanical Gardens: https://www.njbg.org/skylands-manor/
Weddings & Events: https://www.frungillo.com/venues/skylands-manor
Plan an Event in New Jersey's Castles and Mansions
Whether you prefer a modern showstopper or historic estate, New Jersey castles are varied and generally accessible. It's wise to book reservations in advance for modern castle weddings and special events. And be sure to call ahead to historic castle sites to ensure their availability and readiness for tours.
An abundance of castles are here to be enjoyed in the Garden State. Choose the one that suits your style, and create the fairy tale adventure you've always wanted.