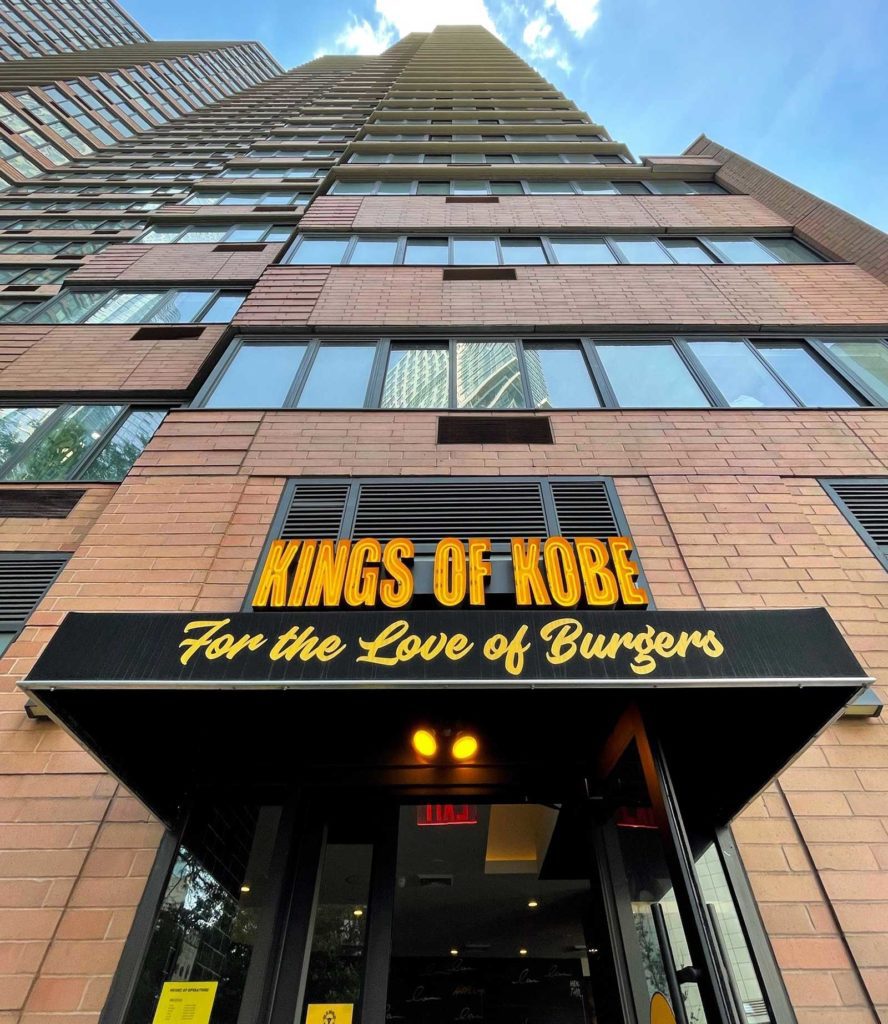 Kings of Kobe, a Hell's Kitchen spot known for their American Wagyu burgers, hot dogs, and sandwiches is reportedly opening their second location at space near one of Jersey City's busiest transit hubs.
Kings of Kobe have operated a New York City brick-and-mortar restaurant since 2017 and are slated to take over the former Zinburger space on the ground floor of the Newport Centre Mall. The restaurant was founded by Etai Cinader, who also launched Pounds & Ounces over a decade ago on 18th Street in Manhattan's Chelsea neighborhood.
Cinader initially launched Kings of Kobe as a pop-up back in 2015, specializing in gourmet American wagyu hot dogs enrobed in brioche buns and topped with innovative condiment combinations. The company's current restaurant at 650 West 42nd Street sports some stellar Yelp! reviews and has expanded their offerings quite extensively from their pop-day days.
The menu at Kings of Kobe includes starters like street corn, chipotle cheese fries, or a "waffle dog," the restaurant's version of corn dog but with a waffle batter. Burgers are one of the restaurant's big stars with options like a Reuben-style burger or a "better than Caesar" variety that features burrata cheese, arugula, and stone fruit relish.
All their meat-based patties feature American wagyu beef, as do their hot dog options. Kings of Kobe's "Frydom fighter" is a fried hot dog variety that comes bacon-wrapped with crispy onions, while their Golden Pineapple variety is topped with sauerkraut, pineapple relish, and smoked gouda.
The restaurant also offers steak plates and select other sandwiches including an Alaskan salmon burger, double-decker grilled cheese, a beyond burger option, or their "Empire Steak" take on a cheesesteak. Kings of Kobe's Manhattan location also serves milkshakes alongside cocktails, wine, and beer while offering a happy hour Monday through Friday from 3 p.m. to 7 p.m. with $5 beers and mixed drinks.
It is unclear if the libations portion of the programing will be coming to the Jersey City outpost. The former Zinburger did have a liquor license registered to the property that is currently owned by an affiliate of Simon Property Group, but it has yet to be transferred. An inquiry Jersey Digs placed to Kings of Kobe seeking further details has not yet been answered.
Simon Property Group, the company that owns and manages the Newport Centre Mall, has indicated the restaurant's impending arrival on their website but did not clarify when Kings of Kobe's Jersey City location could be up and running.