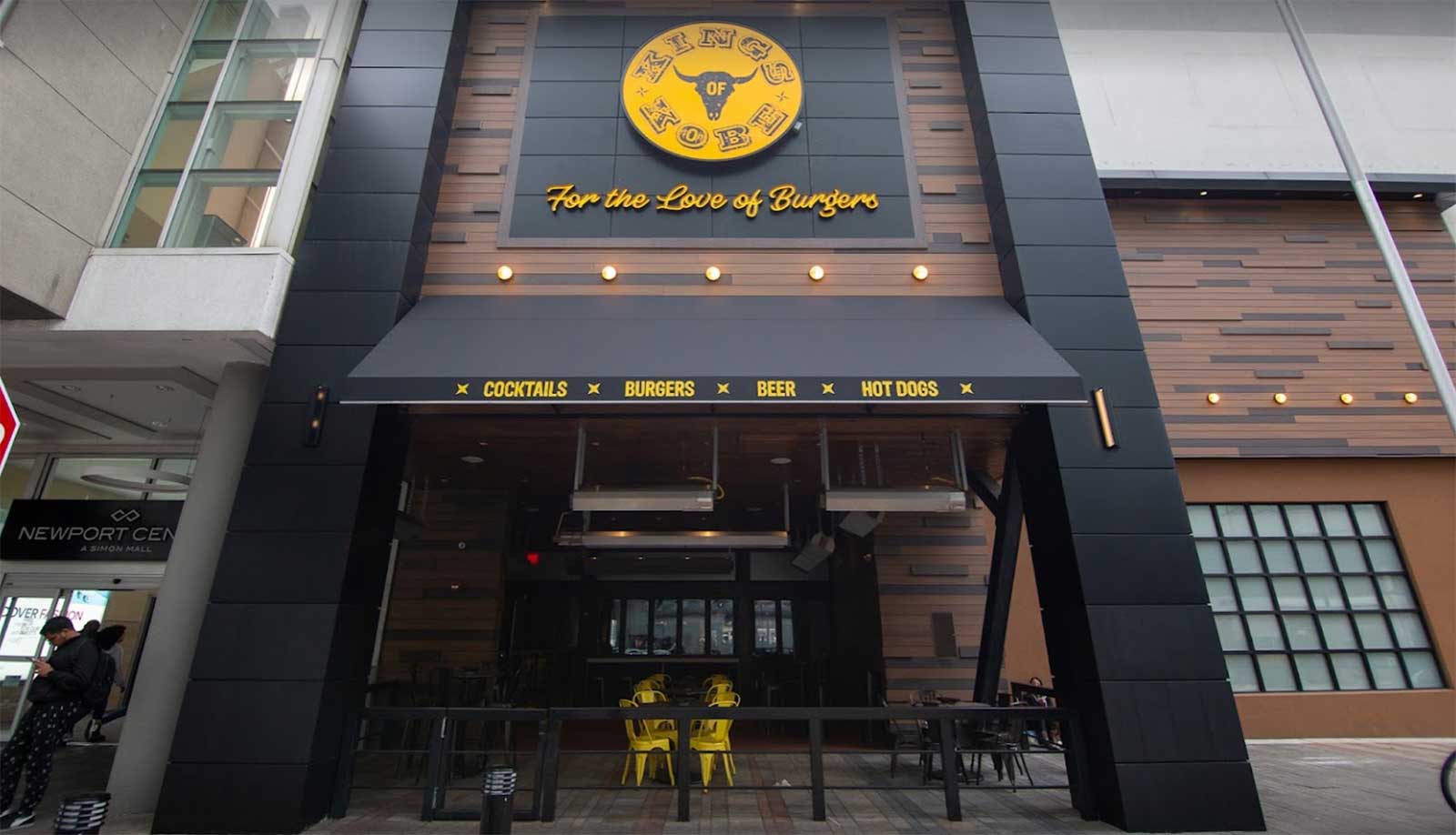 A Hell's Kitchen spot that specializes in gourmet wagyu burgers has officially crossed on the Hudson River as Kings of Kobe have launched their second outpost in Jersey City's Newport neighborhood.
Jersey Digs broke the news about the imminent arrival of Kings of Kobe back in April and they started serving customers on October 5th. The restaurant is situated on the ground floor of the Newport Centre Mall inside the former Zinburger spot.
Kings of Kobe was founded in 2015 by Etai Cinader, who also launched Pounds & Ounces over a decade ago on 18th Street in Manhattan's Chelsea neighborhood. Cinader initially launched Kings of Kobe as a pop-up focusing on American wagyu hot dogs enrobed in brioche buns and topped with innovative condiment combinations.
A brick-and-mortar in on 9th Avenue followed two years later, and Kings of Kobe's towering burger creations created quite the stir. The new Jersey City menu spotlights 13 signature burgers and six premium hot dogs alongside starters like street corn or chipotle cheese fries.
Signature burgers at Kings of Kobe including the Queen's Rule, which combines crispy prosciutto, pepper jack, sweet chili relish, and pickled jalapeño mayo. The Oh My Frita! is topped with chorizo crisps, housemade potato sticks, sofrito sauce, aged cheddar, and a runny egg, while other varieties include a Reuben-style burger.
Non-burger creations include the King's Classic hot dog with sauerkraut and sautéed onions or the Hot Chicken on the Ritz, which features Ritz-cracker-breaded chicken, chili sauce, avocado ranch, pickles, and watermelon radish all pressed between an airy brioche.
The drinks menu at Kings of Kobe consists of a plethora of milkshakes alongside boozy libations, select wines, and several beers on tap. The Jersey City restaurant boasts a 230-seat dining room plus an island bar area for 30 patrons in addition to a heated 40-seat outdoor dining area. The interior includes works by NYC graffiti artist Hektad.
Kings of Kobe is now open seven days a week with hours of operation spanning 4 p.m. to 9 p.m. Sunday through Thursday, with an extra hour of service until 10 p.m. on Fridays and Saturdays.