Among the nonprofits that focus on the visual arts or theater, Jersey City's 18-year-old Art House Productions has made a name for itself by promoting all aspects of the local arts community — running plays, a comedy festival, all-day arts fests, markets, exhibits, fundraisers, and even the occasional singles gathering to help local creatives break out of isolation. They also find ways to make the arts accessible to every group, including promoting events for artists with disabilities.
With a full-time executive director, an office in the Cast Iron Lofts (known for the giant David Bowie mural), and a future space in 2021 at 184 Morgan Street, the group intends to find new ways to promote the arts citywide.
"One of the most exciting things is that we're multi-arts," said current Executive Director Meredith Burns in a recent interview. "There's not really an art form we don't cover. We have a visual arts gallery that hosts 10 to 12 exhibitions per year. We feature local artists, New Jersey artists, international artists. We have a 99-seat black box theater where we feature theater, comedy, dance, and music."
The group developed in late 2001 after poets organized an open mic event to process the September 11 tragedy. The events became monthly and grew into a more formal group under founder Christine Goodman.
The group began hosting exhibits, fundraisers, and plays, and became incorporated in 2007. That year, they received the key to the city and an official proclamation for "outstanding contributions."
That was also the year that the Silverman development group, known for building residential communities in town, donated space to the organization in the Hamilton Park area. "They build neighborhoods," Burns said, "and the arts are important to any growing community."
Art House is currently headquartered in the Cast Iron Lofts on 17th Street, in the growing "SoHo West" section (South of Hoboken, west of New York City), but they'll move to their new permanent space downtown in October 2021.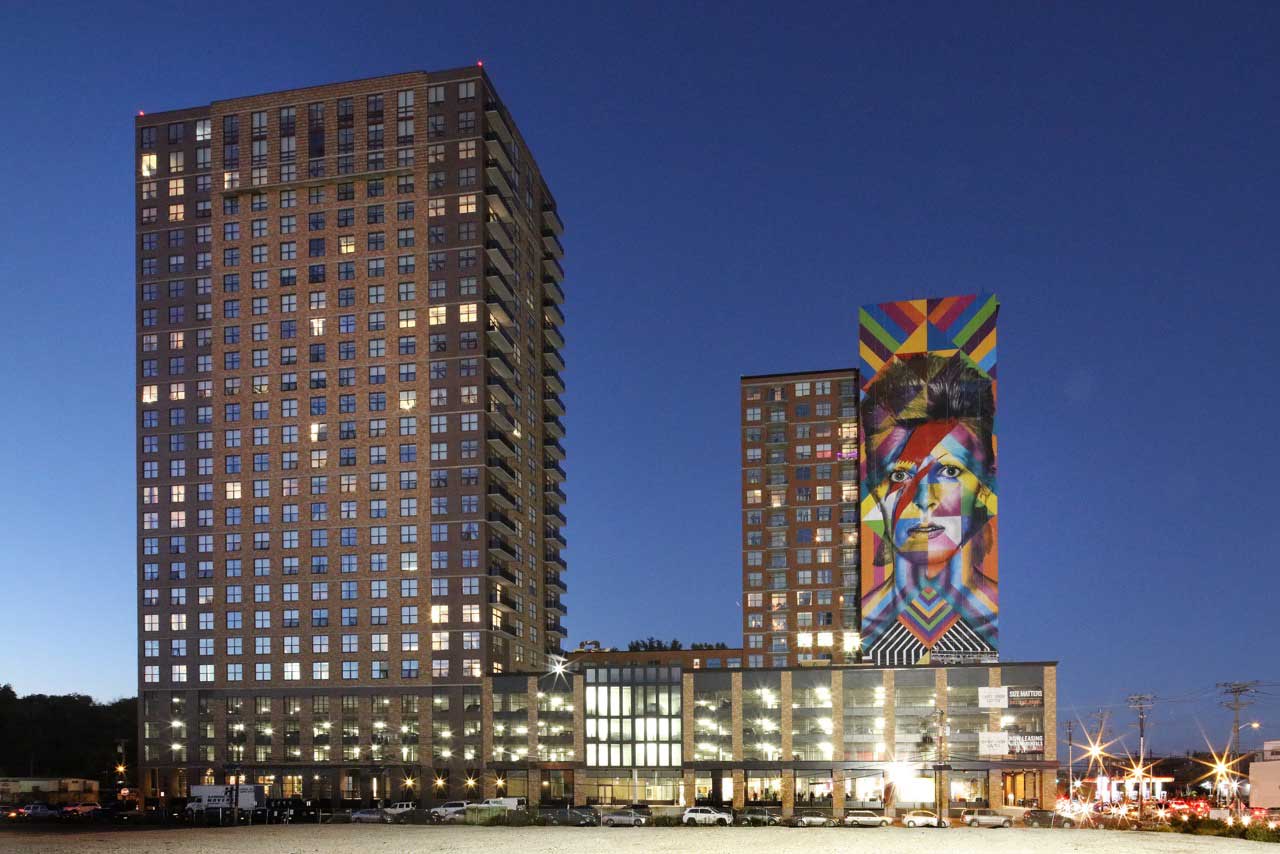 "I think everyone who lives in Jersey City recognizes that, while we live next to the arts capital of the world, if we don't keep the arts alive here, keep artists engaged here, I don't know what the future of this city will look like," Burns said. "A bedroom community for Wall Street?"
Burns took over as executive director two years ago after Goodman became the city's director of cultural affairs. Burns had lived part-time in Jersey City as a youth, as her parents were divorced and her father moved back to the city where he'd grown up. She said that both of her parents, a firefighter and a nurse, "loved the arts and theater. Every Saturday they'd look at the Star-Ledger to figure out what was playing, or we'd get in a car and go see a play somewhere." Her father Jack "liked older, sophisticated dark Irish plays," she said.
After Burns graduated from SUNY Purchase, she returned to Jersey City and began teaching at a school in Brooklyn. But she was also involved with Art House's theatrical productions.
Now she's excited to be at the helm. She said she wants more people to know about the organization's events, and for people to feel included in — rather than intimidated by — the arts.
"Our events have a super welcoming vibe," she said. "I don't want people to think they won't understand [an exhibit]. I'm a blue-collar girl in the arts; that's how I kind of view this. I'm sympathetic to those who feel shut out of the arts world. They shouldn't think that because they didn't study it, they don't know it. It's not this impenetrable thing. I work really hard to not present that vibe. You don't have to like everything you see. The important thing is showing up and engaging, and maybe it affects you."
Burns ticked off a list of upcoming events. The group's major fundraiser, the Snow Ball, is slated for January. Some guests arrive in elaborate costumes, while others dress up or down. "It's kind of Jersey City's Met Gala," she said.
They organize "JC Fridays" for each season, in which artists exhibit their works throughout the city. One aspect of the event, Access JC Fridays, encourages participants to present work from artists with disabilities and to make their space accessible.
There's also a production of "A Christmas Carol" coming up that's "not your grandmother's 'Christmas Carol,' " Burns said. "It's a multimedia production. It incorporates the film version. It's pretty cool."
The group is also working on an "Anti-Valentine's Day" event in February to help connect people, she said.
She said she understands that not everyone can prioritize the arts, considering the tenor of what's on the news every day, but it may help people come together or cope.
"Right now, in a world that seems like it's so lacking in humanity," she said, "the arts do a great job of helping people find a connection. Galleries are gathering spaces. They create community."
Burns is trying to spread the word each day.
"Every single week a new person will walk into the space and say, 'I cannot believe this is here,' " she said. " 'This is the coolest space I've ever been to.' I love that and I also hate that. How do we let more people know?"
To find out more, see arthouseproductions.org.