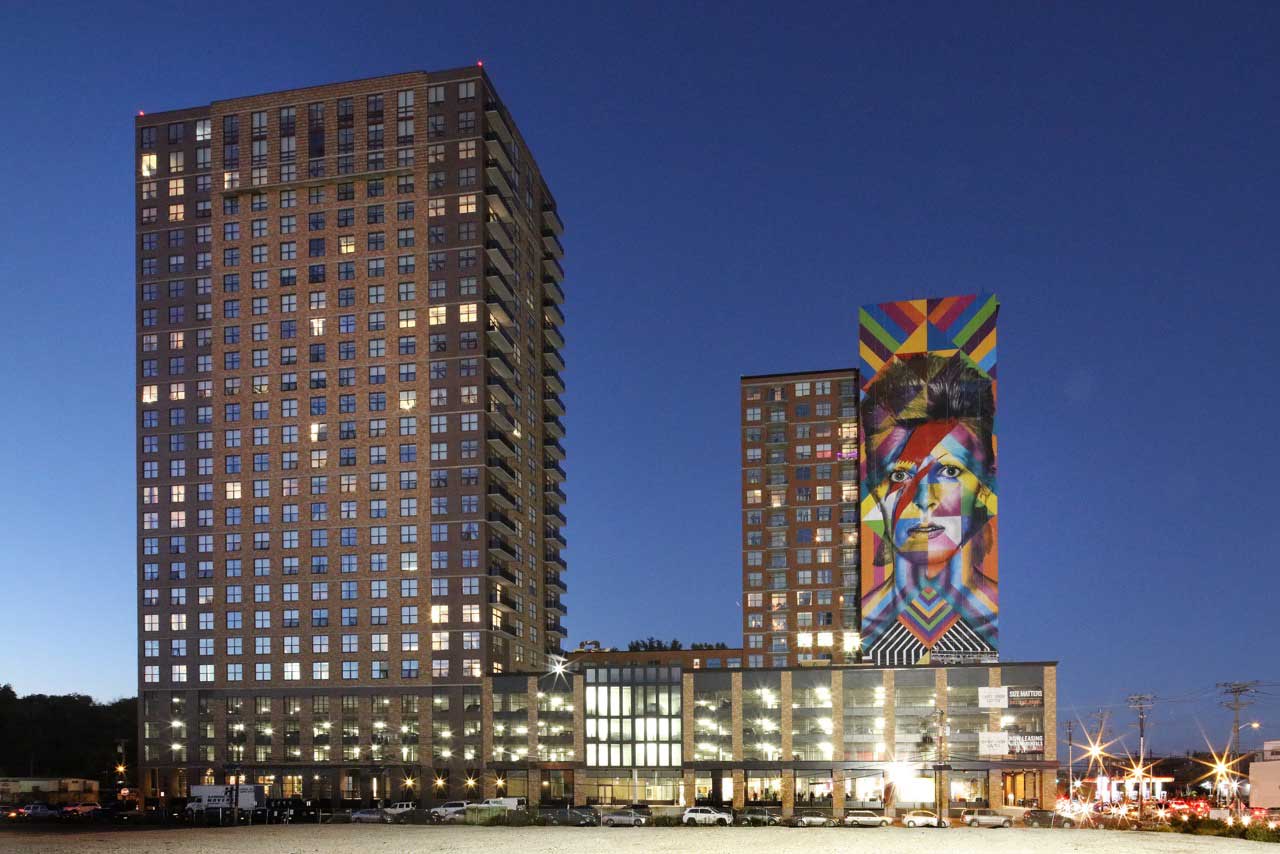 In another win for its Mural Arts Program, Jersey City is now home to the latest installment in a series of portrait murals by world-renowned street artist Eduardo Kobra.
Measuring 180 feet tall, Kobra's tallest to date, the mural depicts pop icon David Bowie. Why Bowie? Many of Kobra's murals are historical figures that represent peace and acceptance. He's painted similar murals of Gandhi, Abraham Lincoln, Bob Dylan, Nelson Mandela, and John Lennon, all utilizing bright colors and bold lines. An ongoing theme in his work is respect for cultural differences and love for others. Bowie is a shining example of this philosophy.
Gracing the side of Cast Iron Lofts, at 837 Jersey Avenue, the new mural is unmistakable to the thousands of people who pass through Jersey City on the way to Manhattan daily. It stands as a beacon to Jersey City's burgeoning art and culture scene.
"It's great to see that Jersey City has embraced street art through its mural program and I'm very happy to be a part of it." said Kobra.
This mural is the latest addition to Jersey City's successful Mural Arts Program. Since its launch in 2013, the program has transformed Jersey City into an outdoor gallery featuring works by world-renowned talent as well as local street artists.
"Jersey City has one of the most diverse and expansive mural arts programs in the country and we couldn't be more excited to welcome Kobra to contribute to the artistic landscape of our city," said Mayor Fulop. "His work is recognized around the world and his Jersey City mural is not only our largest to date but also an iconic image that will draw people here to visit the mural and our entire collection of outdoor art."
At an unveiling event last Friday, Kobra, recalled his early days as an artist in Brazil. At 12 years old, he drew inspiration from the underground street art scene in NYC. Now 28 years later, he's the one inspiring young artists, both in New York City and around the world.