Editor's Note: This is part five of an ongoing interview series with Jersey City's nine city councilpeople. Jersey Digs has invited all city council members to participate in the Q&A about their outlooks on topics ranging from development and crime to transportation and the tax revaluation for their respective wards. Q&A sessions were conducted by Joanna Arcieri, Huma Moid, and Darrell Simmons; the interviews have been edited and condensed for clarity and length.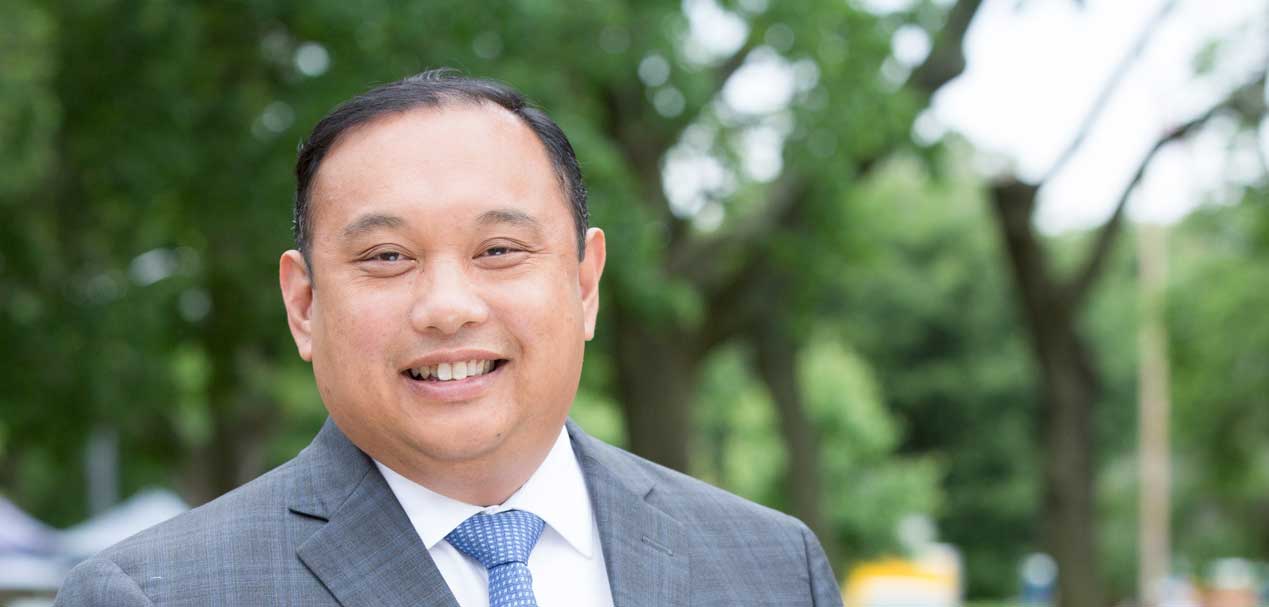 Council President Rolando Lavarro, who previously discussed the state of development in Jersey City with Jersey Digs last year, is the longest-serving member of the city council. The first Asian American to serve on the city council, Lavarro was elected as councilman-at-large following a special election in 2011. This past November, Lavarro was elected for a second full term, and in this interview, he speaks at length on the challenges and demands of governing in an expansive city as well as policy goals and expectations for his next four years in office. 
Jersey Digs: Now that you've been in this position for six years, what do you want to focus on for your next term?
Rolando Lavarro: We want to continue to progress here in Jersey City. The great economic development that we're seeing here in Jersey City and we've made improvements on all the fronts in Jersey City — quality of life, education, recreation, public safety, so forth. I think the goal here is to continue that but also to refine things and improve upon it. Going back four years ago, we talked about making Jersey City the best mid-size city in the entire country. So there's been a lot of great things that happened, we want to make sure that beyond me and anyone else who ends up sitting in this seat at some point.
We all ran on this idea that we'd stay in our current positions for two terms and no more than that. So for me, the next four years are really an opportunity to finish the job in many ways. Then additionally beyond that, some of the challenges that we didn't see four years ago that we see now, which is affordability here in Jersey City and that's a high priority for me. So quality affordable housing, inclusionary zoning throughout Jersey City, and better kind of enforcement around rent control and housing conditions in general.
On the public safety front, I think we made a lot of progress there, but there are certainly areas in our communities in Jersey City that are still afflicted by serious, violent crime. It's my intention to roll up my sleeves the next four years and get into the communities. I'm going to figure out what's going on in specific neighborhoods that are really tough areas.
JD: You say you want to see inclusionary zoning, what are the plans to make that happen?
RL: My intention is to establish a council committee comprised of affordable housing advocates as well as developers, elected officials, tax professionals, and housing professionals. Then sit down and work through a real policy on this. They did it in Newark and other municipalities have done it throughout the nation. For us, I think it's a question of figuring out what works here in Jersey City now and in the future, and developing the policy that creates affordable housing but also gives the flexibility to deal with market conditions.
JD: And this would be citywide, not just downtown?
RL: This would be more inclusionary zoning and putting it into the redevelopment plans and zoning. I'd really like to test the numbers and figure out what number is working in what areas of the city, whether it's 20 percent or more or less. It's something I'd like to work out with other councilmembers and the administration on this.
JD: The city has a little more leverage than they put forth with giving out tax abatements and there can be more community givebacks. A recent example is a public elementary school at 25 Columbus. Do you see furthering that trend?
RL: I definitely think so. One thing that I've requested is to quantify the value of community givebacks so that's fair across the board. I would say that you're seeing a lot more development, which is reflective of the market and where we're at and when things are going to go in the right direction. There's a lot more development without abatements at all and not just in downtown. A lot of development downtown now, whether it be the Boys & Girls Club site or the Cast Iron Lofts site — no tax abatements related to that. So it's definitely profitable stand-alone. I think maybe inclusionary zoning there gets us further on the affordable housing front because they're not going to be looking for abatements and incentives there.
But you're also seeing in other parts of the city where we broke ground at a site on Fairmount and Summit Avenue. It's one of those challenged areas where you would say an abatement would be necessary, and they're building [without] abatements and giving community givebacks as well on top of it, which they negotiated with the community group [Bergen Communities United], not the city itself. To the credit of the community group, they got those community benefits from them with very little leverage. We're evolving quickly and we have to be experimental with these things. We will know more after the reval as well how much the market cools or heats up.
JD: Speaking of the reval, how do you go about balancing the different reactions citywide?
RL: I'm a councilor-at-large, so I'm responsible to everyone, and downtown residents are upset by the results of this. I don't know if there's any easy answer there at all. Councilman Solomon is very aggressively tackling it right now in trying to get information out. The administration did a pretty good job at the outset with a lot of community forums and things like that with how the process was going to unfold. At this stage, where people are getting their assessments and now they're looking at how they're going to appeal that process and what their options are. So we just have to be as informative and show an urgency in addressing folks' needs because it's an urgent matter for a lot of folks who are dealing with it. I'm sympathetic either way so we have to kind of urgently deal with it. I'll provide whatever assistance we can provide, whether it's more information about the appeal process, whether it's senior freeze programs, tax deductions, finding creative solutions to support people.
JD: Councilman Solomon has talked about looking into a progressive reval where every five years you reassess 20% of the properties. What are your thoughts on something like that?
RL: I'm open to anything like that. Whatever is legally permissible.
JD: What are your thoughts on how a new Master Plan should impact the growth of the city?
RL: It's necessary and timely. In terms of the overall growth and development of the city, we are having these challenges with the current growth of the city, and so I think a new master plan will bring stability to a lot of homeowners who may feel again the pressures of gentrification. They'll be able to kind of have a better sense of their zoning and what may come in the future. Right now — and we see it in redevelopment areas — developers coming in looking to amend a redevelopment plan and have these conflicts with residents who are fearful of being pushed out. Hopefully, we can establish the kind of plan for the city going forward that's inclusive to everyone.
JD: A big topic is always transportation. The city is fairly limited in what can be done, but do you have any ideas as to how to mitigate the city's transportation issues? 
RL: We are limited as far as public transportation. We don't have control or leverage over that. But we have a new governor so it's my hope to work more closely with him and to be able to increase service.
As disdainful as I am of this current administration in D.C., I'm looking with interest at their infrastructure plans and seeing what the possibilities are for Jersey City in that regard.
A lot of these different projects across the state impact Jersey City whether it be Route 139, the Pulaski Skyway, they're making progress on that. Hopefully, when those things are completed, we'll see some of our traffic congestion issues alleviated.
Then there's pedestrian safety and bike infrastructure. We're making a lot of headway on that and I'm looking forward to the master plan on that coming forward and investing in the infrastructure there. I think we're making pretty good progress on that front. But I think there's more we could do on the enforcement side again. Safe Streets has been advocating for that. That was an issue during the election and I made certain commitments to see significant reductions in car accidents, pedestrian safety issues, fatalities, and making our streets safer for pedestrians all across the city. I think you'll see this administration and myself as a council member trying to move that the next four years.
[Editor's Note: On Feb. 9, Mayor Fulop signed an executive order adopting the Vision Zero initiative.]
JD: During the election, you talked about the "Cop on a Block" program as a creative solution towards reducing crime. Can you speak more about how you see that working?
RL: So the one thing I can say that I can take no credit for but I think it's going to make a huge impact is the new [Police] Chief Mike Kelly. I think he'll do a very good job as the chief and there were some really great candidates there but he's definitely proven himself over his career. I think you'll see a more engaged police department or police officer getting more engaged in the neighborhoods with the people on street. I live in Greenville so I've noticed the uptick in a police presence. Not so much that there's more police out there but their visibility is definitely amplified.
I talked about this Cop on the Block program and started making some progress and working with the Jersey City Redevelopment Agency. So the city maintains through the JCRA an abandoned properties list and so if a property is listed on that list, then the Jersey City Redevelopment Agency can exercise eminent domain and take those properties and rehab them. So we've been working with private developers who we have designated as partners to move these properties back as productive taxpaying properties. So one of the things I discussed with them as well as the mayor is the idea of a Cop on the Block which is kind of more expanding into kind of more just workforce housing, whether it be police officers, firefighters, teachers. But for me an emphasis that we get police officers in high-crime neighborhoods.
There are neighborhoods and areas where there are persistent crime and public safety issues. It goes beyond just policing. So we do things with the schools, after-school programs, and recreation programs. We're looking at the reentry programs, jobs programs. We want to be to get more laser focused on it and follow through instead of just putting a program out there. For myself, at least in this next year, my intention is spending some time on a regular basis to be there and just make sure that those [job, recreation, health] resources are there, that they're there regularly and actually making an impact in some way and then figuring out how that outlives me.
JD: The No-Knock Ordinance was passed last year. 109 households [as of January 2018] have signed on to the registry, but there are still reports of aggressive tactics being used to purchase homes, and it's not limited to the Hasidim community. What are the next steps that need to be taken to make sure that people aren't being taken advantage of?
RL:  Admittedly there were some next steps. The goal was to get the information out to the community, and not just share the information so that people can register but so that people will have a sense that the government and city is on their side. So the engagement part, being out in the community, to make people aware of the registry. Then additionally, we had the same group of folks who put together this registry, a group of pastors and community members as well as members of the Hasidic community — we talked about doing some educational programming particularly for homeowners as well as if they did want to sell their properties, education on how to get the best value for the properties. So we had those conversations and admittedly, it kind of trailed off as the election got closer. It's definitely something we should pick back up. There was an idea to have a robust kind of education and outreach plan there to do that and to fund it.