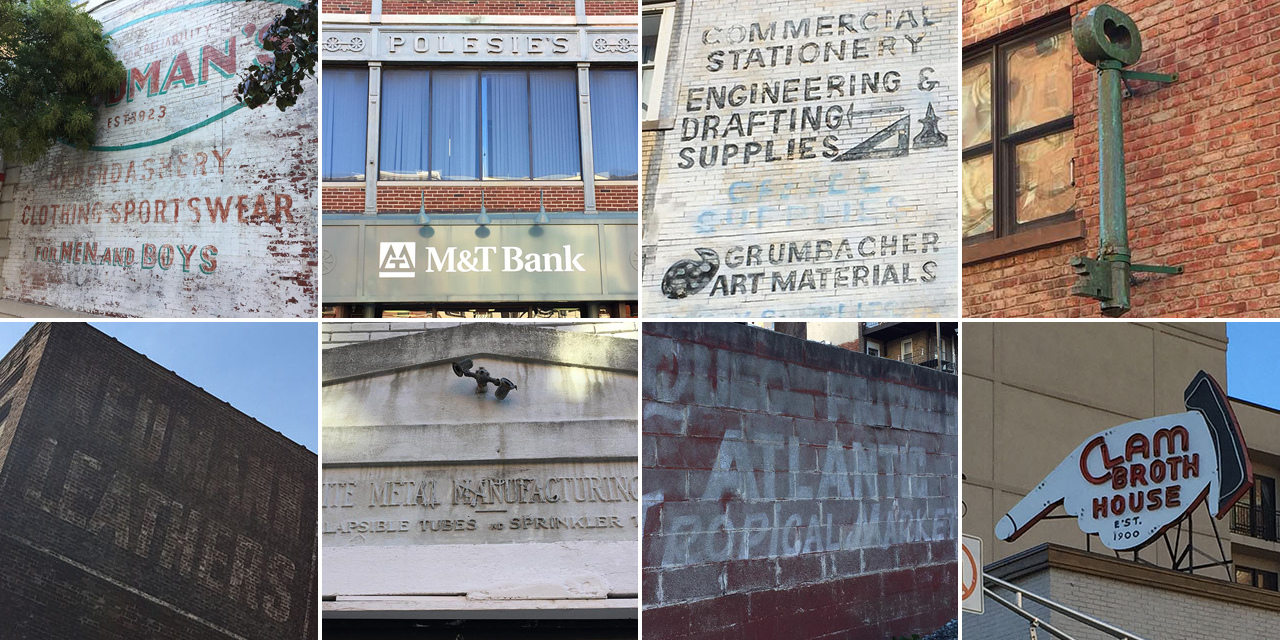 Following our profiles of ghost signs in Newark, Trenton, and Jersey City, we at Jersey Digs naturally had to turn our attention to Hoboken. While much smaller geographically than the others, a lot of ghost signs are crammed into the Mile Square City. Some, like the sign for the famous Clam Broth House, are apparent to most, but here are a few others that might not be as obvious.
Goodman's
One of the more prominent ghost signs is at 100 Washington Street, where Goodman's opened its doors in 1923. The store was owned by Benjamin Goodman, who was part of a small, but thriving, Jewish community that was well-represented among the shopkeepers along First Street at the time.
Not to be confused with a furniture store in McGinley Square, Hoboken's version of Goodman's was a haberdashery, a European term meaning a men's outfitter.
Goodman sold dress pants, suits, belts, walking caps, and work clothes out of the store and managed the business until 1990, when he sold the property that now houses a real estate office. Besides the ghost sign along the First Street side of the property, the store's original tiling adorns the sidewalk outside the building's main entrance.
Polesie's
Further uptown, another ghost sign can be found at 1028-1030 Washington Street. This one reads Polesie's, which was the moniker of a dry goods store that opened in 1898. Founded by recent Polish immigrant Max Polesie, the store sold products like textiles, ready-to-wear clothing, and personal hygiene items. The building has gone through many tenants since and is now home to a bank.
Grumbacher Art Materials
One company that still exists today doesn't have a presence in Hoboken anymore, but nonetheless left a legacy. Grumbacher Art Materials was started by Max Grumbacher in 1905 and had humble beginnings. Grumbacher handmade his first paint brushes at his kitchen table in New York City.
By the 1960s, Grumbacher had grown his company into an art materials empire offering artists nearly every supply imaginable. West of the Hudson River, Grumbacher's paints and supplies were sold out of a storefront at 400 Washington Street. Today, the Grumbacher brand is owned by Chartpak.
"The Key House"
Not every ghost sign is an obvious one. Sandwiched between Willow Avenue and Clinton Street lies Willow Terrace, two side-by-side cobblestone roads filled with row houses that were constructed in 1885 by the Stevens family for use as workers' housing.
For decades, there was a locksmith at 63 Willow Terrace, and his residence was above the storefront. To let locals know he was there, he put a "trade sign" outside the building, in this case, a giant copper key. The property was expanded and renovated in the 1990s, with the key intact, by Robert Foster, the current director of the Hoboken Historical Museum.
Neumann Leathers
Hoboken's industrial history has left the city littered with several former manufacturing facilities, and one of the largest is at 300 Observer Highway. Raphael Neumann started a leather company in 1863, and the oldest four-story section of the current complex was built around that time.
The taller and newer portion was constructed in 1919, and the collection of buildings was used to produce and tan leather the company sold for over a century. An artist and light industrial community has called the complex home since the 1980s, although the original signs at the property are still extant.
White Metal Manufacturing Company
Another ghost sign at 1022 Grand Street further showcases the city's industrial roots. The White Metal Manufacturing Company was founded in 1919 by Charles A. Fulle, a New York businessman. The corporation was once a leader in the production of collapsible metal tubing, which relates to tubes used for dispensing toothpaste, shaving cream, and plastic materials.
The company also patented various improvements to machines that manufactured collapsible tubes, and their Hoboken property housed their smelting and refining departments, plus a rolling mill. The property currently houses artists with light industrial use.
Atlantic Tropical Market
Perhaps the most endangered ghost sign in Hoboken can be found in a parking lot at 729 Clinton Street. A wholesale fruit company called Atlantic Tropical Market operated out of a warehouse facility across the street for many years, and a ghost sign on a wall that reads "parqueo privado" (private parking) is still there.
The company vacated the property in 2015 to make way for the WonderLofts renovation project that's currently underway. A six-unit affordable housing building is slated for the property, meaning the wall and sign might not be around for much longer.