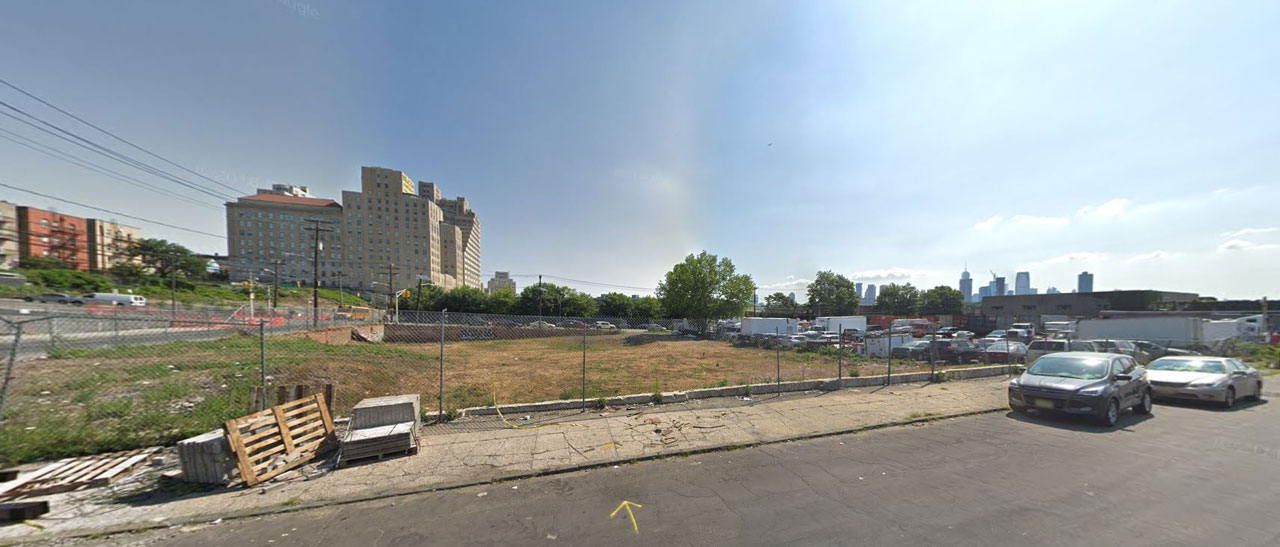 Could a few Jersey City blocks that have been largely industrial for decades have a residential presence in the forthcoming years?
With The Beacon and Bergen Hill to the west, Bergen-Lafayette to the south, the Booker T. Washington public housing complex and Downtown Jersey City to the east, and the Montgomery Gardens site to the north, the industrial area that is surrounded by Grand Street, State Street, Cornelison Avenue, Bright Street, Fremont Street, Colden Street, and Prior Street has become an island of sorts. There are no houses, apartment buildings, or luxury condominiums within these blocks. Instead, today, one will find warehouses, wholesale suppliers, trucking companies, a school bus contractor, a car wash, and auto repair businesses.
However, while currently most people in this area only work there, a new proposal for one property that recently became vacant could cause plenty of people to live there as well. 550 Johnston Avenue, an empty lot that is owned by the Jersey City Redevelopment Agency (JCRA) and surrounded by fencing, is where a company is planning to construct a six-story building. Located in the shadow of the former Jersey City Medical Center and the Lower Manhattan skyline at the corner of Cornelison Avenue, the tract used to contain a small one-story industrial building with a ghost sign reading "Tabriz" on it until the structure was torn down over the last few years.
Now, JCRA records show that the proposed development on the premises could include 70 residential units, with 29 parking spaces provided on the ground floor. The agency's Board of Commissioners voted unanimously during their meeting on April 16 to designate a company calling itself 550 Johnston Avenue, LLC as the redeveloper of the property, which sits within the Beacon Redevelopment Area. All of the units inside would be "market rate," according to the board's resolution, meaning that none of the units are likely to be designated as "affordable." 550 Johnston Avenue, LLC is expected to negotiate a redevelopment agreement with the JCRA by August 14.
With no renderings or additional information about 550 Johnston Avenue, LLC in the resolution, it is not clear who exactly is currently behind the development firm. However, documents from a 2015 JCRA meeting described the company as an affiliate of Stamford, Connecticut-based Building and Land Technology, which has also developed at The Beacon. Filings from the New Jersey Division of Revenue and Enterprise Services show that 550 Johnston Avenue, LLC was registered out of Jersey City as a foreign limited liability company in 2015, while a similarly named firm called 550 Johnston Ave JC, LLC was incorporated in Jersey City in October 2018.
Jersey City has a history in recent years of industrial areas being converted into new residential, retail, or office uses. In addition to places like Newport and Exchange Place along the Hudson River waterfront, previously industrial tracts in Bergen-Lafayette near existing homes and the Liberty State Park light rail stop along with the neighborhood north of the Holland Tunnel's Boyle Plaza and south of the Hoboken city limits are seeing plenty of new construction. Some developers have even decided to refer to the latter area as "SoHo West" in marketing materials.
Related: