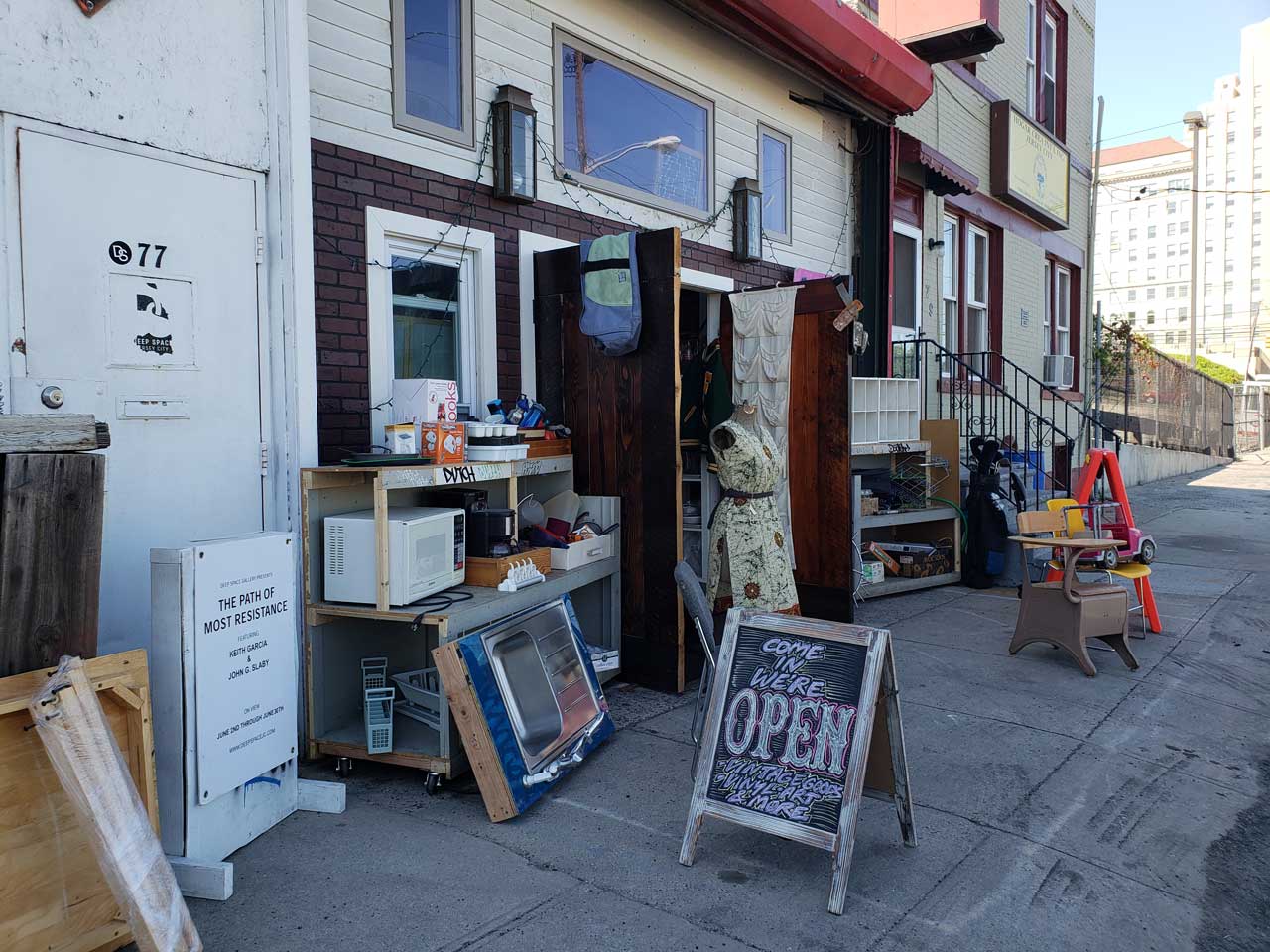 Sitting in the shadow of The Beacon, built into the side of Bergen Hill, 77 Cornelison Avenue is one in a line of attached commercial buildings that could be overlooked, but if you're paying attention to the streetscape of art in Jersey City, Deep Space Gallery is on the map.
It's especially hard to miss when the garage door is up, vintage paraphernalia spills onto the sidewalk, and cool music mixes with the jingle of glass from the recycling plant across the street. Opened two years ago, Deep Space is a serious two-room gallery and the ever-evolving vision of artist Keith VanPelt and partner Jenna Geiger, connecting people with art one show at a time.
Keith studied formally at duCret School of Art in Plainfield, New Jersey, and is a trained painter, stained glass artist, and muralist with strong roots in graffiti and street art. Many of the artists featured in monthly exhibitions are from that world, and the art nods to the traditional while also pushing forward.
Jenna has lived many lives — nurse, medical anthropology Ph.D. candidate defending botanicals and herbs, doula — and in her current incarnation has converted art side projects into a full-time occupation. And the implications of her work as a doula are not lost in this curated setting. She still puts those skills to work as an organizer and creative problem solver who coaches and champions artists, helping them to realize their vision.
As much as Deep Space is a gateway gallery, providing accessible art at an affordable price point, for (often first-time) art buyers, it is also an invitation for artists to take their art and themselves seriously. Keith and Jenna not only have an eye and trust their taste but are also supporters of both insider (formally trained) and outsider (not formally trained) artists, and they house it all under one roof, enabling those worlds to collide. "We like to show a good mix," said Jenna. "We're always looking for something with an edge, a strong aesthetic, but not necessarily quirky or kitschy."
The narrow stairway up to the gallery definitely belies the professional second level space. Crossing a kind of sunroom with a view across the rooftop to One World Trade Center leads to the Deep Space office and reception area which also doubles as additional wall space to showcase some of their favorite work.
Beyond the office is the proper gallery — two white-walled rooms, one offering natural light, and rough hardwood floors. A split solo show dubbed "The Path of Most Resistance" had just closed and small round red stickers, indicating which pieces were sold, dotted both rooms and were the only visual disturbance. Keith and Jenna keep titles and other pertinent information confined to the price list, letting only the art command the space and inform the viewers. And it is truly a white glove experience for the artists.
While all of this is happening upstairs, The Hive is happening downstairs, and Jenna loves it when people come for the art show and discover the garage whose walls are part gallery overflow and part art primer and where antiques, vintage clothing, vinyl, and funky collectibles fill the space from front to back, floor to ceiling. The Hive does not have regular hours, but if the garage door is open, they're open. Workshops have been a part of the programming and will probably continue and The Hive also functions as a flexible meeting space, an incubator for the community.
Keith and Jenna have called on all their skills to bring Deep Space Gallery into existence. Beyond building a place for art literally with their own hands, they have also taken their ethos on the road to major industry events like Superfine! during New York Art Week, further establishing Jersey City as a legitimate art scene across the river.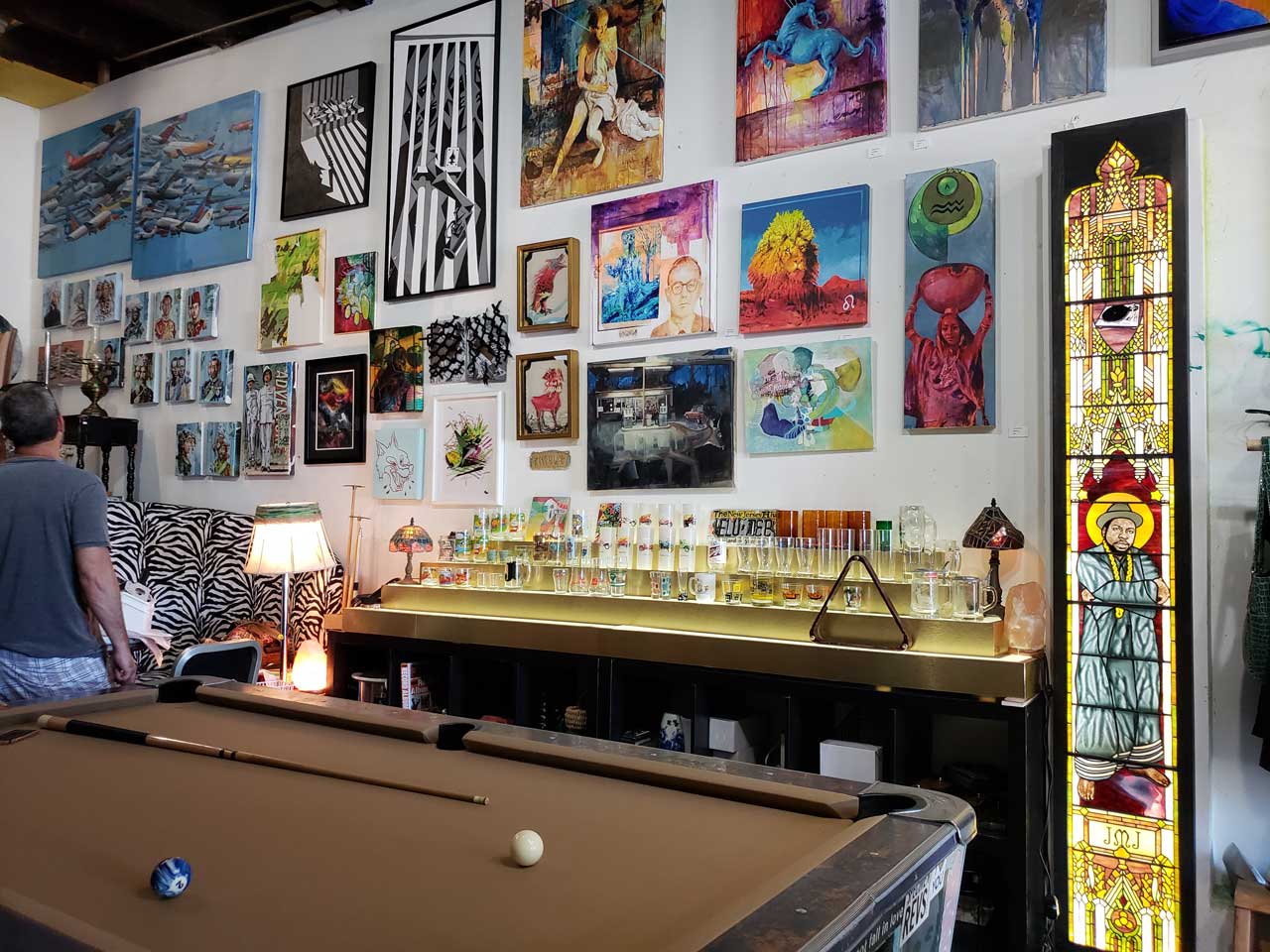 The name Deep Space is a nod to Keith's graffiti crew as well as to the physical location of the building, burrowed into the side of a hill. They have a big vision and continue to elevate and formalize the gallery, making something that wasn't there before, which is exactly how they think about and why they love art.
Currently on view is "The Mothership," an eight-woman show, presenting a variety of mediums, materials, styles, and techniques. The closing reception is this Thursday, August 2, from 6-11 p.m. Don't miss it!