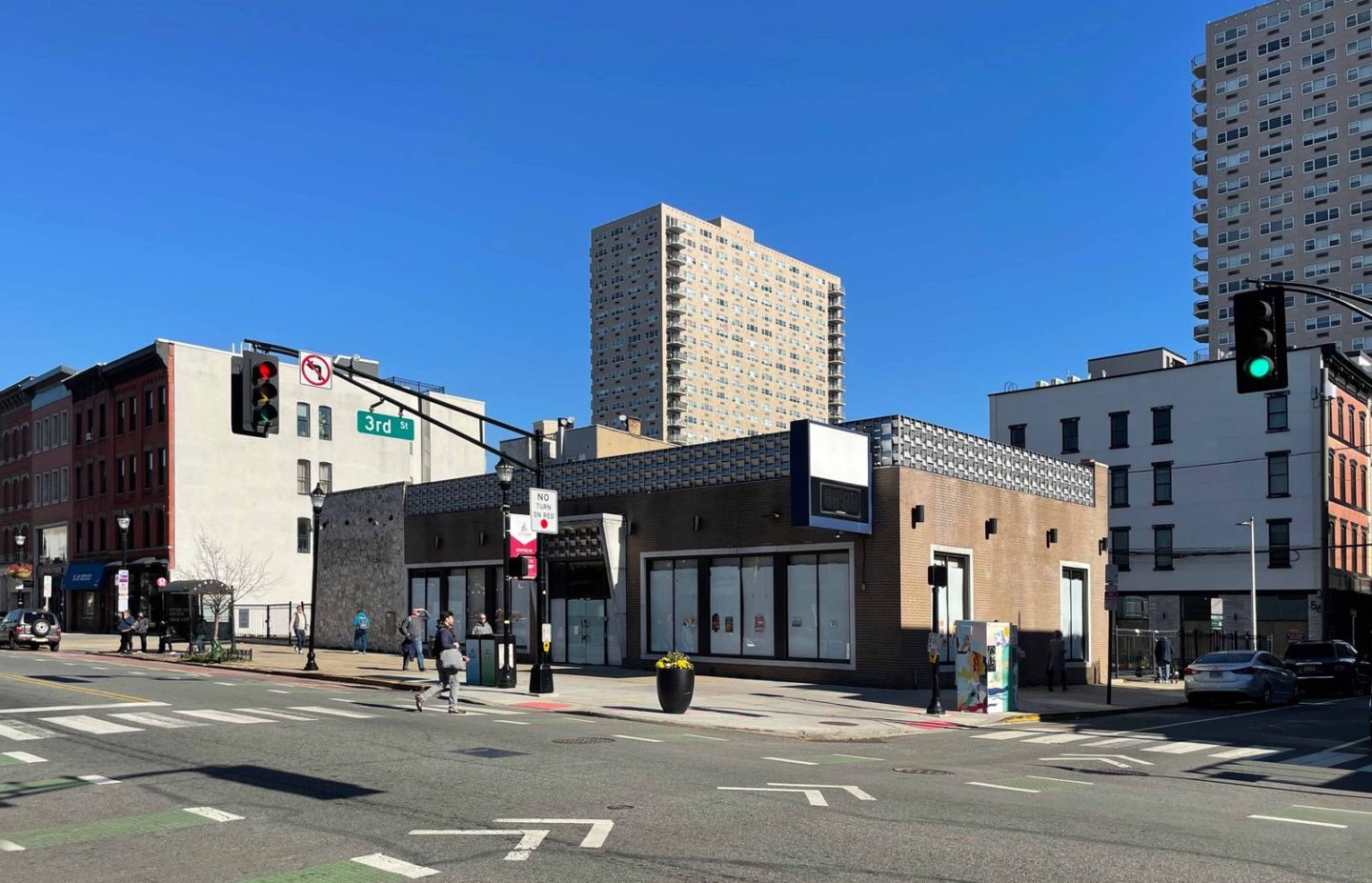 A prominent Hoboken corner could soon be home to a new complex that looks to blend into the area's historic nature while adding more retail space to the city's main drag.
An application has been filed to significantly overhaul several adjoining lots at 301-311 Washington Street. The parcels, situated within the Central Business & Washington Street Historic District, are currently owned by Bethesda-based Federal Realty Investment Trust.
The properties sport a surface parking lot and a shuttered Capital One branch plus a drive-thru window. The current building was constructed during the 1970s and sports an overhanging awning with a digital clock that could be considered an unofficial landmark on the corner of 3rd Street.
The revamp being sought at the land has been drawn up by local firm Nastasi Architects, and looks to demolish everything at the site in favor of a new five-story mixed-use development. The development has been designed to resemble six separate buildings despite being one connected complex as part of an effort to blend into Washington Street's aesthetic of smaller rowhouses and brownstones.
The exterior of the structure would utilize brick in keeping with the neighborhood plus some white stone components on the first floor. The elevator building would sport a residential lobby to be entered along 3rd Street, while 10,340 square feet of retail would front the Washington Street side of the property.
The development of the property would also see a revitalization along the frontage of Court Street, a cobblestone alley-style road. The project includes garages with room for four cars plus a rear common courtyard, with the east-facing section of the building set to utilize exterior gray brick and rise only three floors.
An application made to the city's Historic Preservation Committee (HPC) does not specify an exact unit count within the building, but the development's fifth floor would be set back a bit to allow for outdoor spaces for the penthouse apartments. The project also includes a residential roof terrace plus a green roof system.
A report from the New Jersey Department of Environmental Protection recommends that the current building be classified as a "non-contributing resource" to the historic district, as it "was not constructed within the Hoboken Historic District's Period of Significance" spanning from 1838 until 1967.
The HPC will be discussing the proposal during their December 19 meeting, which will be held virtually on Zoom at 6:30 p.m. and can be joined at this link or by using the Webinar ID 874 4838 0220.
Regardless of what the HPC decides, further approvals will be needed from Hoboken's planning board before any work begins at the site. The corner is already home to construction work, as a vertical expansion at the former Arthur's Tavern property began earlier this year.