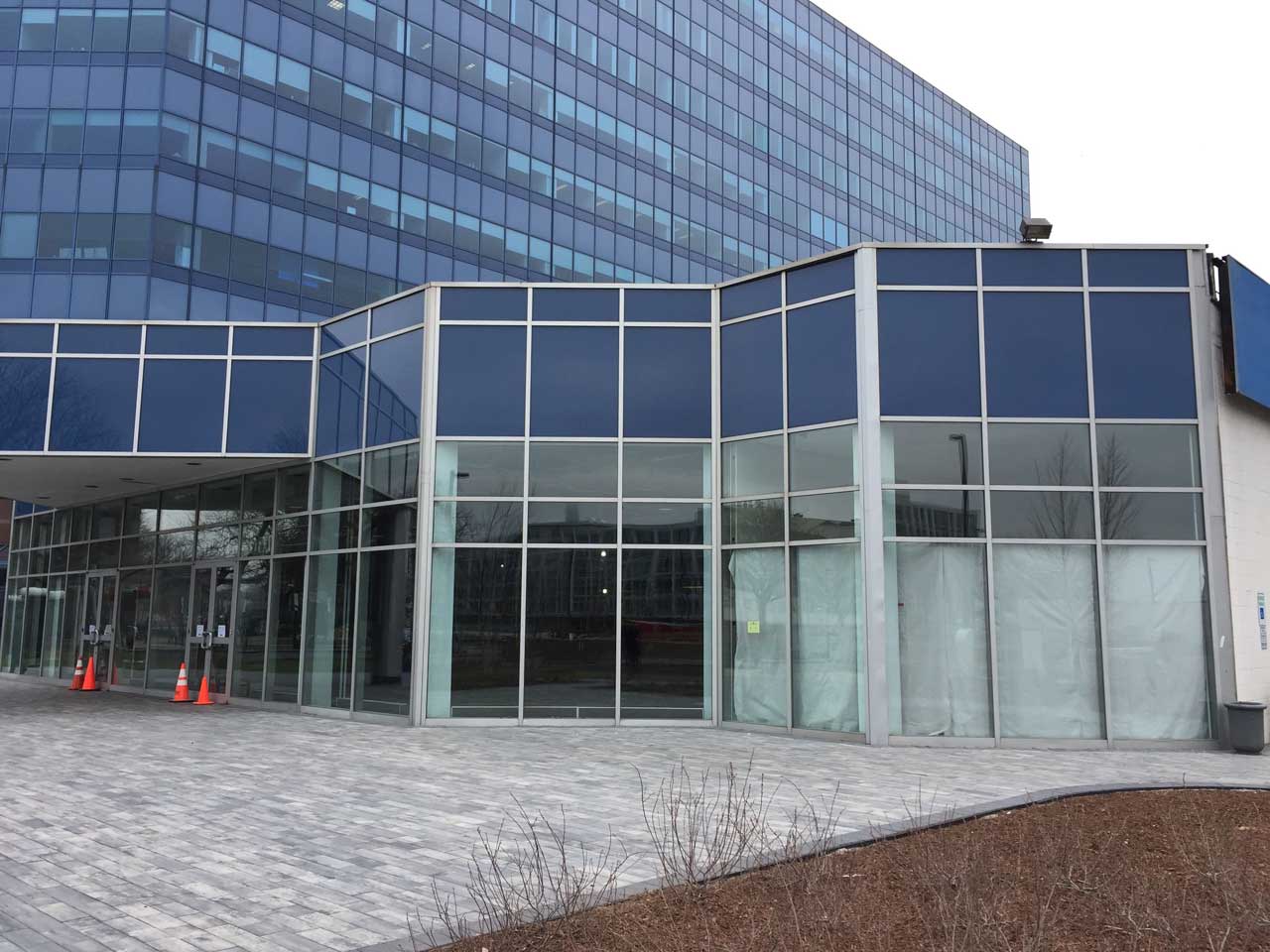 A continued revamp of Hartz Mountain's Lincoln Harbor complex will indeed include a new outpost of an upscale sports bar, as a small chain of suburban restaurants has officially started construction of their newest location.
We reported earlier this year that Blu Alehouse could be coming to Weehawken and that report was confirmed when construction permits listing the business were posted in mid-March at 1200 Harbor Boulevard. The restaurant will be occupying the building's northern storefront and will be their fourth location, as they have existing outposts in Woodbridge and Riverdale and an upcoming spot at the Palisades Center in West Nyack, New York.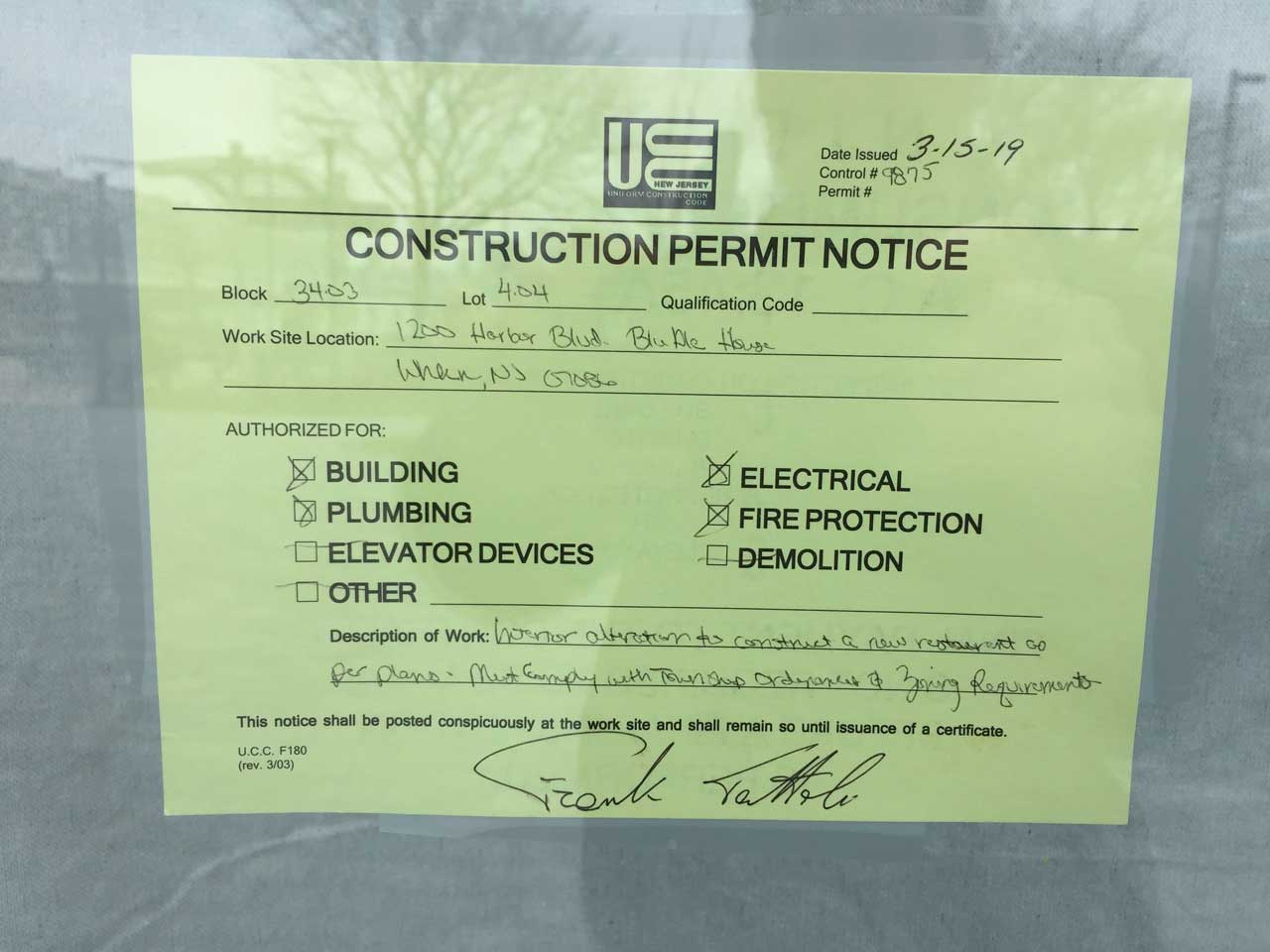 Blu Alehouse dubs themselves new American dining and features a menu that changes seasonally. Appetizers at the restaurant range from traditional bar fare like wings, fried mozzarella, and nachos to healthier options like avocado eggrolls, hummus, and salad choices.
Entrees include a bit of everything, from seafood paella to scallops Rockefeller to a braised short rib. Besides the big plates, Blu Alehouse serves a variety of burgers including French onion sliders, a vegan burger, and a Maine burger topped with lobster, asparagus, and hollandaise sauce. Sandwiches like a short rib mac and cheese, pot pie, or shrimp po' boy round out Blu Alehouse's food, plus the restaurant features a separate gluten-free menu.
Drinks at Blu Alehouse include martini, margarita, mojito, and sangria varieties, and their Woodbridge outpost features an extensive selection of beers on tap. They range from mainstream Miller and Coors to micro-brews from around the Garden State including Brix City, Three 3's, Czig Meister, Jughandle, Bolero Snort, and Jersey City's own Departed Soles.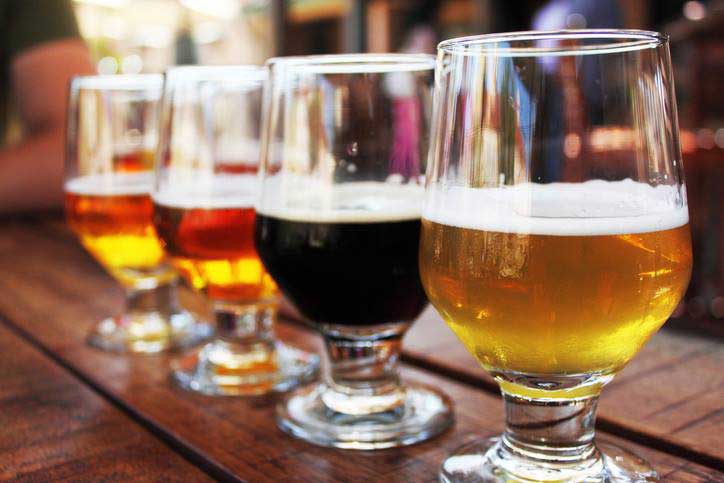 Blu Alehouse's arrival comes during a significant expansion of the Lincoln Harbor complex. 586 units of new housing dubbed Hamilton Cove are under construction, while 227 more rental units at 1500 Harbor Boulevard are now leasing. The imminent arrival of a Whole Foods in a new building directly next to Blu Alehouse is set, and there's an additional 2,970-square-foot restaurant space still available at the 1200 Harbor Boulevard property.
Blu Alehouse has again not responded to our inquiry as to when the Weehawken outpost could open.