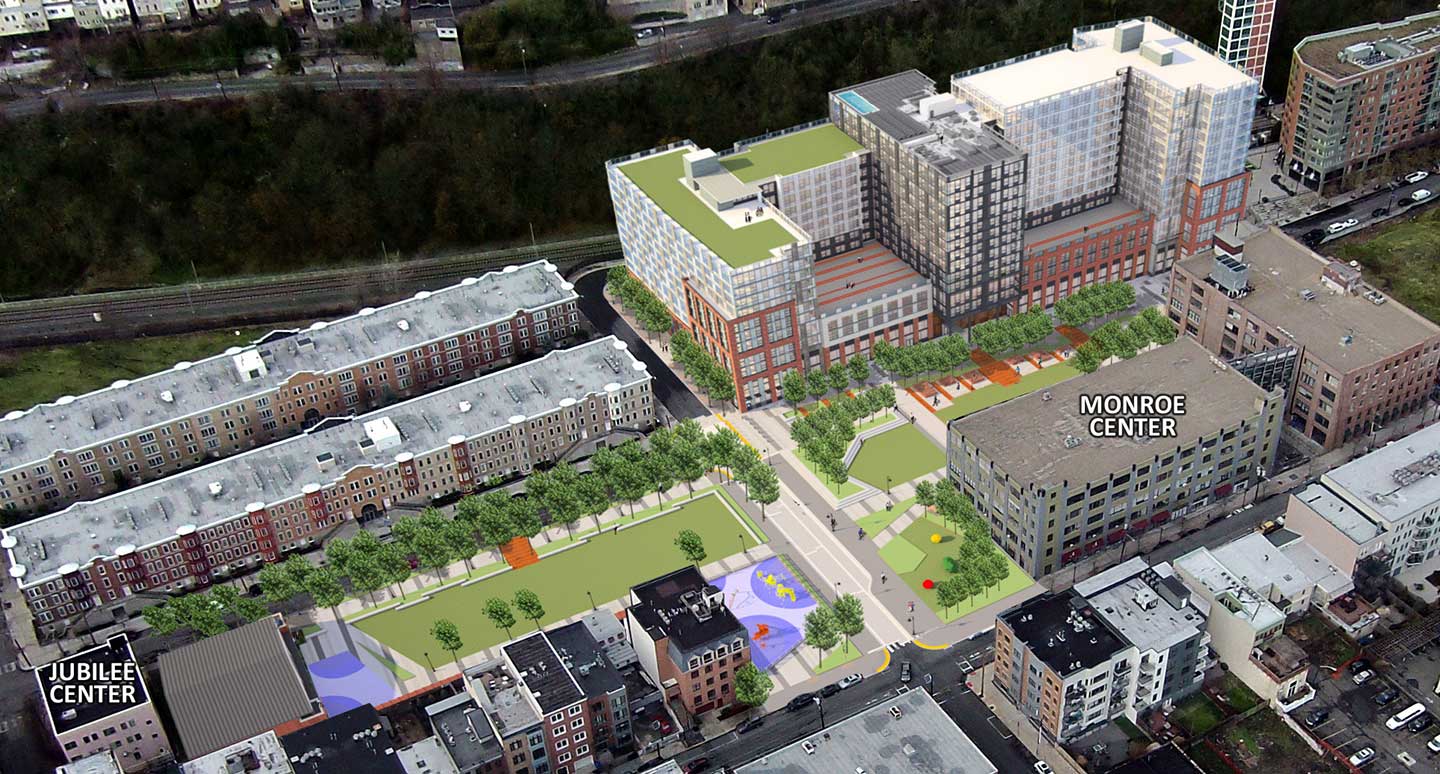 Next week, Hoboken's city council is set to vote on a redevelopment agreement that will potentially create a new destination for the city's west side, one that supporters say will balance new development with community amenities, parks, and flood protection.
The agreement centers on two properties; one is a parking lot behind the Monroe Center and one is a nearby vacant lot at 7th and Jackson Streets known as the "Pino site," formerly home to the city's towing operations. Developer Bijou Properties has been negotiating with the city about what to do with the land as far back as 2013 and recently hammered out the final details at a special Council session on June 20th.
The final redevelopment plan calls for Bijou to remediate the Pino site into a new 1-acre public park that will feature an open grass area, public seating, a children's play area and a 6,835 square foot public gym on part of the property. Additionally, another 1-acre public plaza across the street designed to accommodate vendors and seasonal markets will be built behind the Monroe Center that will have seating, a passive lawn area, and restrooms.
Both of these new facilities will be able to store more than 250,000 gallons of rainwater underground in detention systems as part of an effort to help address flooding issues in the area. The infrastructure will be similar to what the city is including in the Southwest Park currently under construction. 7th Street will also have Belgian block restored on its roadway between Jackson and Monroe Streets, all paid for by the developer.
But these amenities do come at a cost, as the proposed agreement will allow Bijou to construct a 14-story, mixed use residential building on the Monroe Center's parking lot that includes 424 residential units, a parking garage and between 23,700 and 33,000 square feet of retail space. The potential building will be two stories higher than a previously approved project, but will contain 42 affordable housing units where the old project didn't include any.
The plan also consolidates already approved housing units at the Pino site into the new building, instead using that land to create open space and community amenities. The parks and community benefits would get built first before the residential portion is constructed under the agreement.
As part of the deal, Bijou is also seeking a 30-year PILOT (or Payment in Lieu of Taxes) agreement from the city. Under the PILOT, the city's tax coffers would benefit from developing the land, but the county and Hoboken's schools would stand to lose some revenue.
The key question on any plan of this nature is very simple: will it pass? The plan was negotiated by the City Council's Development Subcommittee, which Council members David Mello, Jim Doyle and Michael Russo all sit on. Assuming they all vote yes, the project would need just two of a remaining six votes from other council members to pass.
If the current city council's track record is any indicator, the plan is likely to be approved. After many years of polarizing votes on everything from one traffic light to a major flood pump project, this year's council seems like it could break out into Kumbaya at any moment, with every vote being unanimous or nearly so since new members were sworn in back in January.
Hoboken mayor Dawn Zimmer also supports the plan. "This project is a tremendous opportunity to add much-needed open space, improve our flood resiliency, create a new indoor recreation facility and expand affordable housing," she said in a statement. "The choice we have to make is not whether we want development or no development — it is whether we want development with community givebacks or development that covers nearly every last square foot of land."
The public can voice their opinion on the proposal and find out if the plan passes at the Council's next meeting on Wednesday, July 6th.
[gmap height="250px"]720 Monroe St, Hoboken, NJ 07030[/gmap]
720 Monroe St, Hoboken, NJ 07030