Hoboken's city council took what should be their final step towards creating a new park near the city's southwest border last week, indicating that the end might finally be near for a project that has traveled down a long and winding road.
Last Wednesday, a unanimous vote awarded a $4.9 million contract towards the construction of Southwest Park, a one-acre green space at the intersection of Jackson Street and Paterson Avenue. The park, designed by New York-based Starr Whitehouse, will feature a dog run, passive green space, shade trees, play features for children and a pop-up market zone to host special events.
The park looks not only to provide recreational space for Hoboken's growing population but also to double as a way to combat flooding in an area that was hit hard by Hurricane Sandy. Southwest Park will feature an underground water retention chamber that will be able to hold 200,000 gallons of water during a rainstorm, diverting it away from the city's century-old combined sewer system.
The property the park will sit on, currently used for private parking, was first acquired by the city in October 2013 after a lengthy eminent domain process. The city tried to acquire the land for about $3 million, but the former property owner, Manhattan-based Ponte Properties, argued in court that the land was appraised at over $10 million.
In the end, a judge ruled that the property was valued at $4.5 million last year. Following last week's council approval, Hillsborough-based Flanagan's Contracting Group will oversee the build-out of the park, which the city claims will open in June 2017. No groundbreaking date has been announced.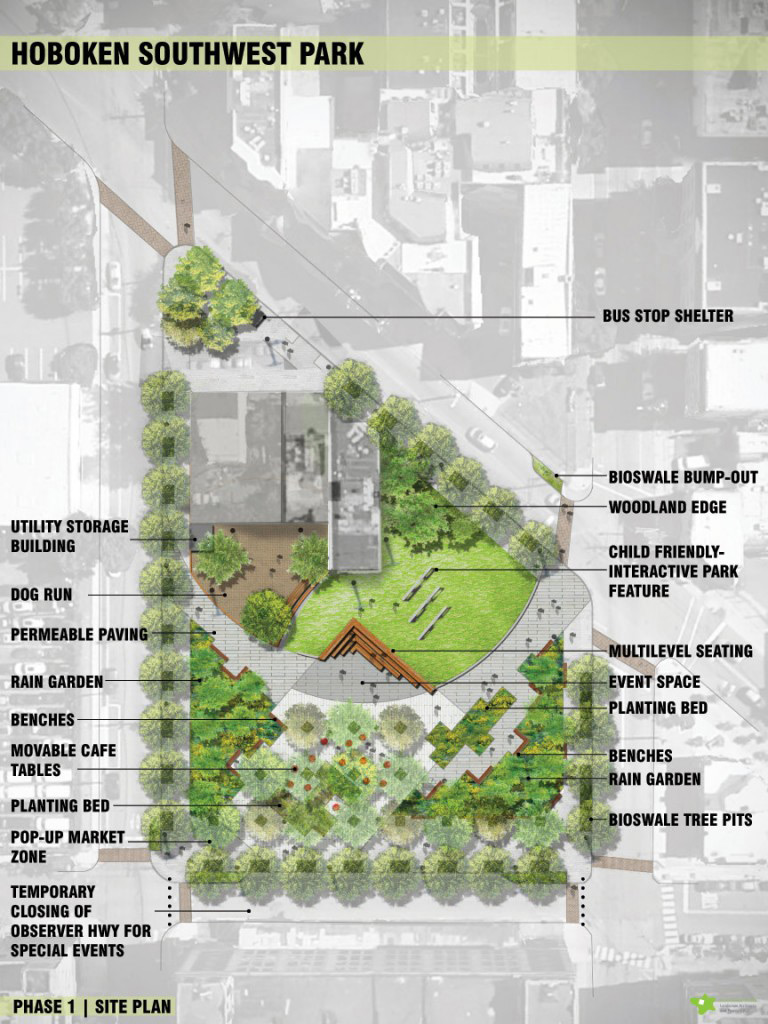 Some residents of Hoboken's 4th ward, where the park will be built, have criticized many sets of local officials over the years on account of the area's lack of open space. An organization called the Southwest Parks Coalition, who have publicly advocated for a six-acre park in the neighborhood, popped-up in 2007 for that very reason.
A quick glance at where parks in Hoboken have been built over the last two decades demonstrates the disparity. Since the 1990s, Pier A, Pier C, Sinatra Park, Shipyard Park, Harborside Park, Maxwell Place Park and 1600 Park have all been completed on Hoboken's east side, several on the waterfront. A few smaller "pocket" parks on the west side like Madison Street Park have been renovated or constructed during the same time period, but open space west of Adams Street is still extremely scarce.
While new condominiums are being built nearby and Jack's Cabin added some life to the local dining scene in 2014, greenery in what locals sometimes dub Hoboken's "forgotten ward" probably hasn't kept pace. The area surrounding the Southwest Park site drives this point home, as a sizable chunk of the neighborhood consists of surface parking lots, most of which are not open to the public.
The city appears to want to change that, as the mayor's office has publicly made moves to negotiate with Academy Bus about acquiring nearby land for a potential future expansion of Southwest Park, although initial conversations appear to have gone poorly and some fear another long battle, potentially of the legal variety, looms ahead.
[gmap height="250px"]55 Paterson Ave, Hoboken, NJ 07030[/gmap]
55 Paterson Ave, Hoboken, NJ 07030