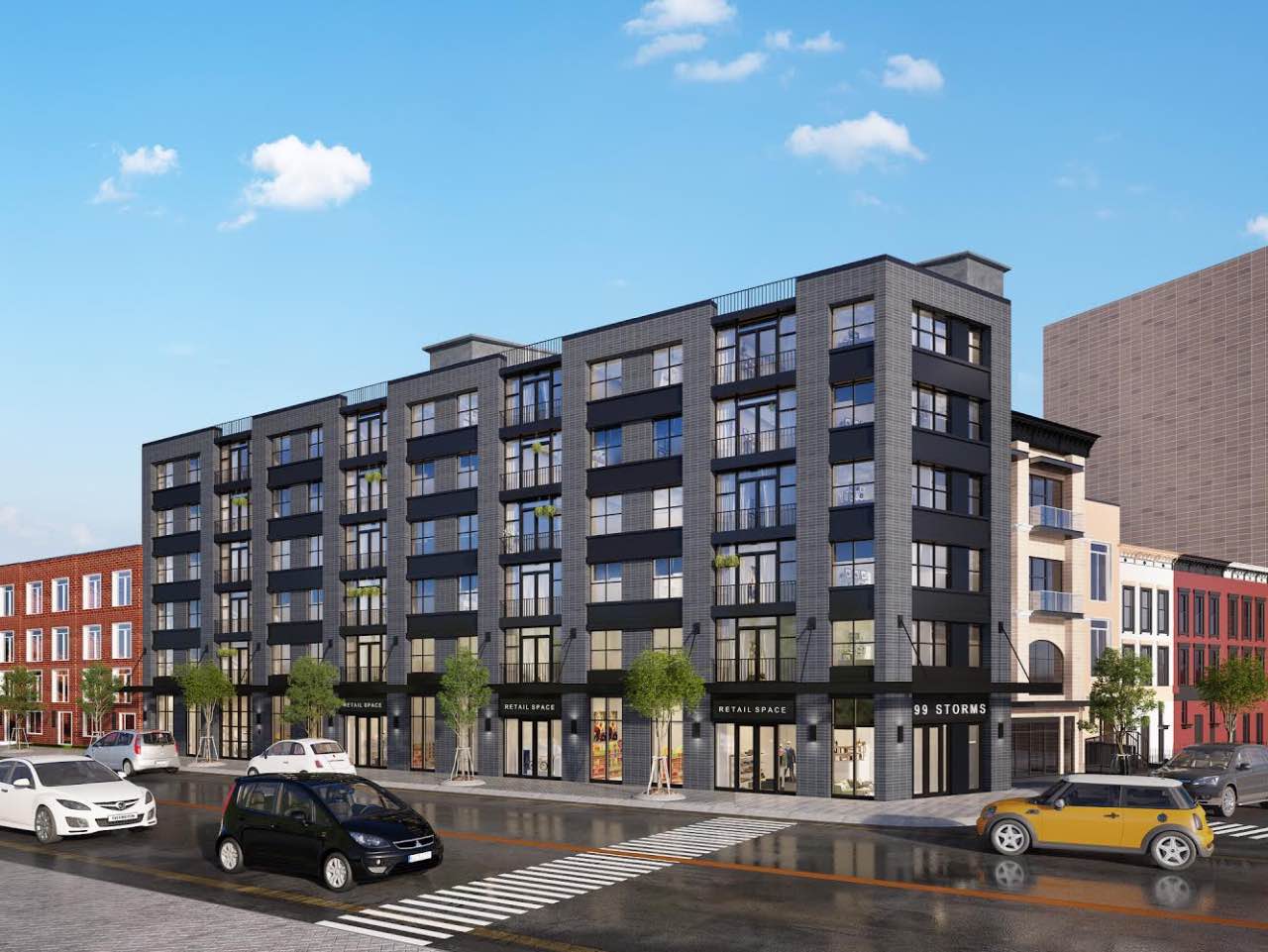 A developer is looking to construct a new building in a Jersey City neighborhood that has already seen multiple development proposals over the last two years.
99 Storms, LLC has plans to build a six-story complex at the corner of Storms and Monticello Avenues in McGinley Square. A public notice shows that the company has filed an application with the Jersey City Planning Board for Preliminary and Final Site Plan approval in order to construct the development at 99 Storms Avenue and neighboring 253 Monticello Avenue. The board is scheduled to hear the application, which includes requests for variances such as exceeding the maximum number of stories and not providing enough parking, during its meeting on Tuesday, July 23, at 5:30 p.m.
If the project is approved and constructed in the way that is currently proposed, the building would not only include 50 apartments but also ground-floor retail space. Five parking spaces for car-sharing vehicles would be provided on the premises, according to the notice. Other details regarding the project, such as the proposed pricing of the units and what amenities would be provided for residents, have not yet been released.
City tax records show that ownership of the 8,892-square-foot site is split between 253 Monticello, LLC and the developer, Storms 99, LLC. Both companies are registered out of their respective addresses, making the owners of the firms unclear. The properties in question each contain a house.
A Facebook listing mentioned that a community meeting regarding a development on the premises was scheduled to be held in March at a nearby church. However, the listing and an associated rendering described plans for an eight-story building with 67 units. The current rendering, above, now has six stories.
Other recent development proposals in this vicinity have included the 199-unit Monticello Triangle complex, the 35-unit plan for 78 Storms Avenue, and an adaptive reuse of an existing building at 108 Storms Avenue.
Note to readers: The dates that applications are scheduled to be heard by the Jersey City Planning Board and other commissions are subject to change.
Related: