With so much development underway in Jersey City, it's hard to keep track of it all. In our new Construction Updates series, we'll visit all the new projects to bring you updates on the progress of each.
80 Columbus and 90 Columbus
80 Columbus is the hotel portion of the Columbus Towers complex. Work on the hotel commenced immediately following the completion of the first tower, 70 Columbus. The new structure adjoins the first tower and straddles the PATH station entrance at Marin Blvd and Christopher Columbus Drive.
The hotel structure is topped out at its full height of 12 stories. Most of the windows are installed. Installation of its aluminum panel sheathing is underway.
Immediately next to 80 Columbus, work is underway for the second tower of the complex which will be called 90 Columbus. Excavation work and pilings started going in a few months ago with a few more left to go. It appears they're about ready to begin work on the foundation. Since this tower is the last piece to fill in the lot, they've also closed down Steuben Street to allow space for construction vehicles and materials loading.
—
Provost Square Phase Two
Just a block away, Toll Brothers is hard at work prepping for the next stage of the Provost Square project. Since demolishing the J. Leo Cooke Warehouse last November, crews have been readying the site for construction. First clearing the demolition debris and now site prep. Like 90 Columbus, pilings are currently being driven in. It looks like foundation work should begin any day now.
Considering both 90 Columbus and Provost Square are at about the same stage, it seems both towers will rise together just as The Morgan and 70 Columbus did.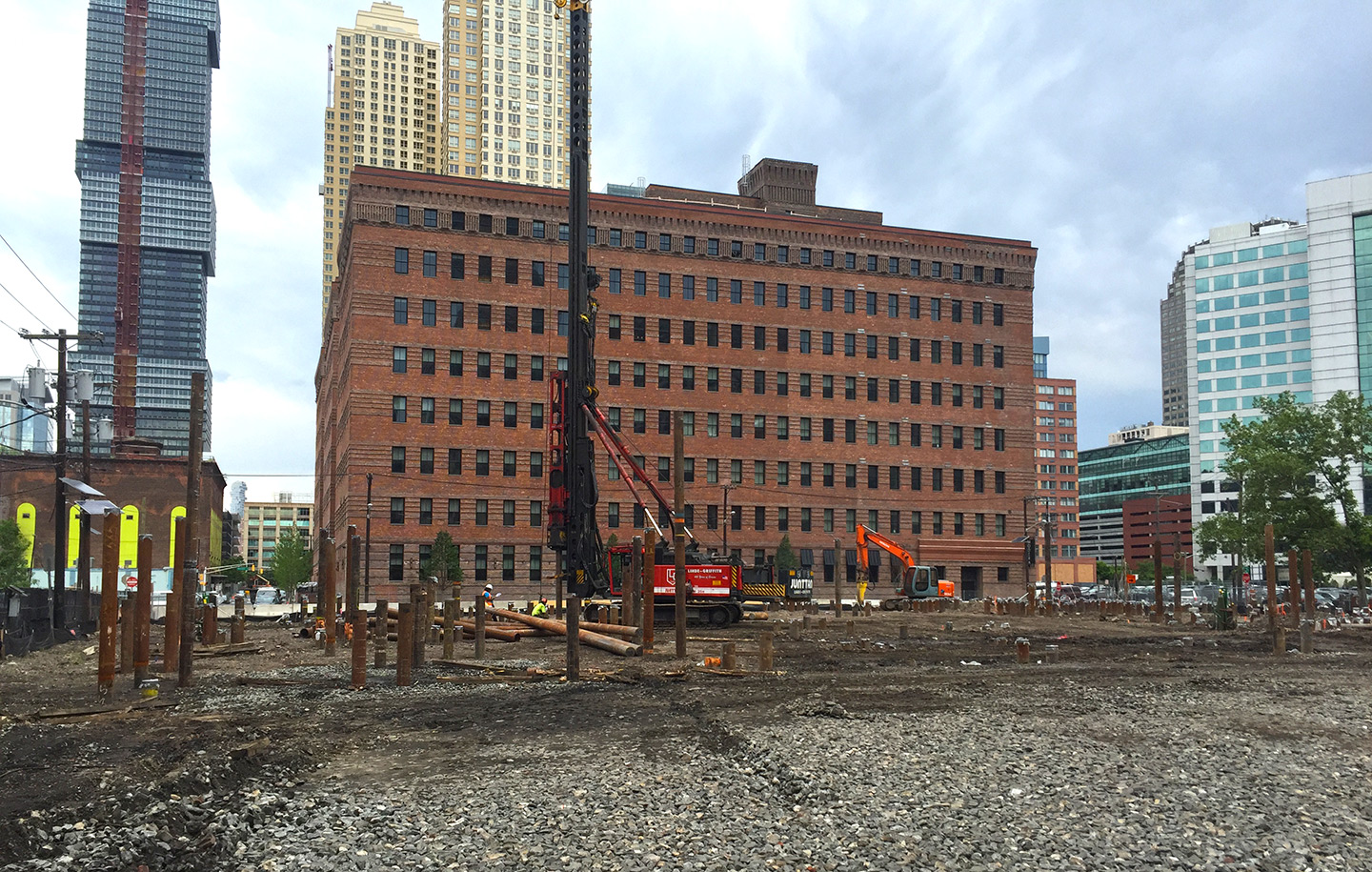 —
Hudson Exchange West
Lastly, over at the Metro Plaza complex, Forest City is full steam ahead with VYV, the first tower of the new Hudson Exchange West project. On the site of the former Pep Boys store, a tower has shot out of the ground. Currently, construction is up to floor 20 of its 35 stories.
This first tower made headlines when ground broke as it was the first 80/20 project in Jersey City in three decades. That means 20% of the units will be classified as affordable. The building is planned as rentals.