With so much development happening in Jersey City, it's hard to keep track of it all. In our new Construction Updates series, we'll visit all the new projects and bring you updates on the progress of each.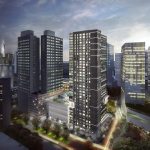 Yesterday, Mayor Fulop and Forest City held a "Foundations of Progress" ceremony to kick off construction on the first 80/20 affordable housing project in...
Finally, a more urban friendly project is coming to the Metro Plaza that is currently home to Shoprite, BJ's and Pepboys. As Terrence McDonald...