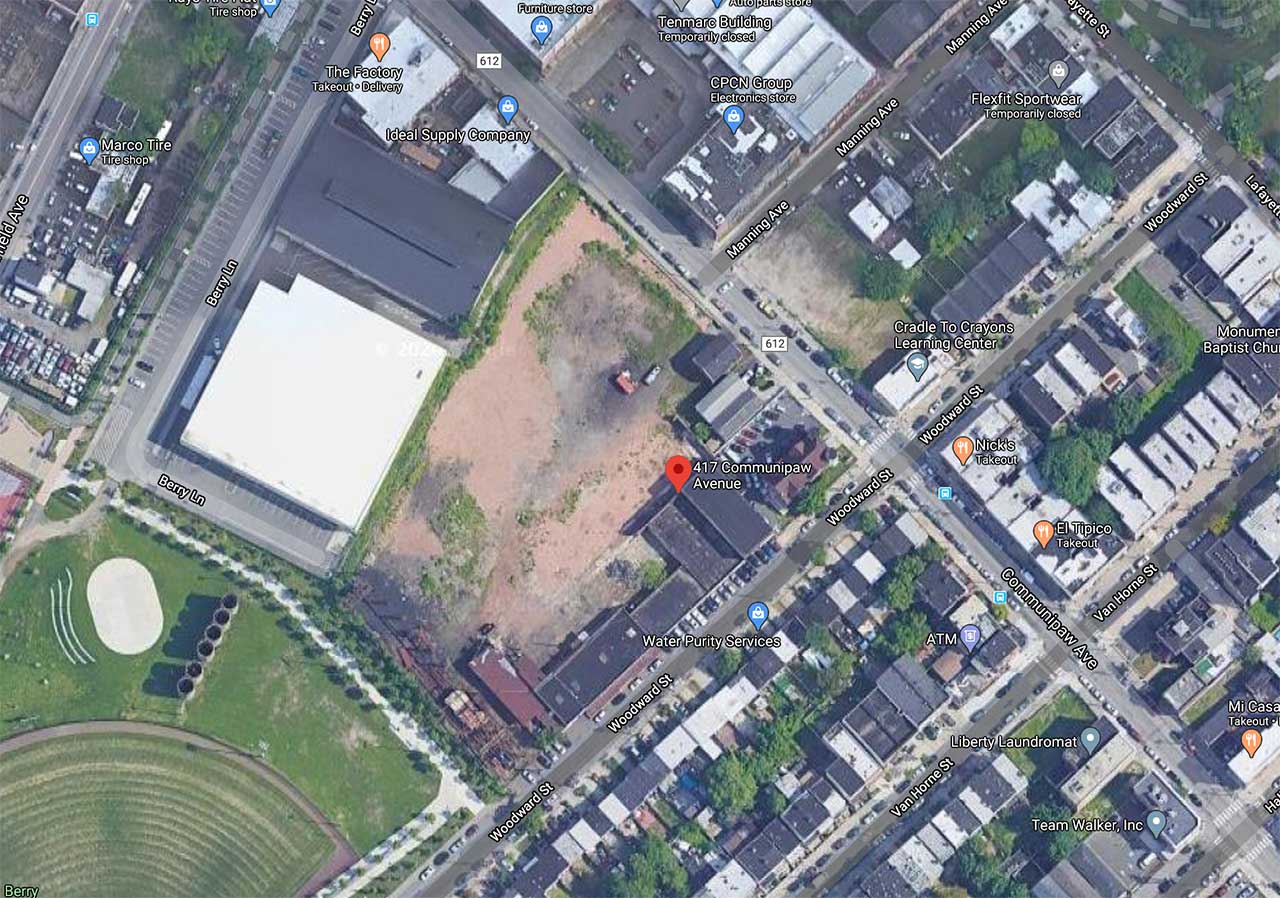 An upcoming community meeting will discuss a proposal that looks to transform a large swath of land in Bergen-Lafayette into a residential development that includes new green space, a school, and various other benefits for the neighborhood.
North Bergen-based Skyline Development Group is looking to revitalize 3.3-acres of property they own at 417 Communipaw Avenue. The parcels, which back up to Berry Lane Park, fall within the Morris Canal Redevelopment Plan and were once home to a company called Steel Technologies.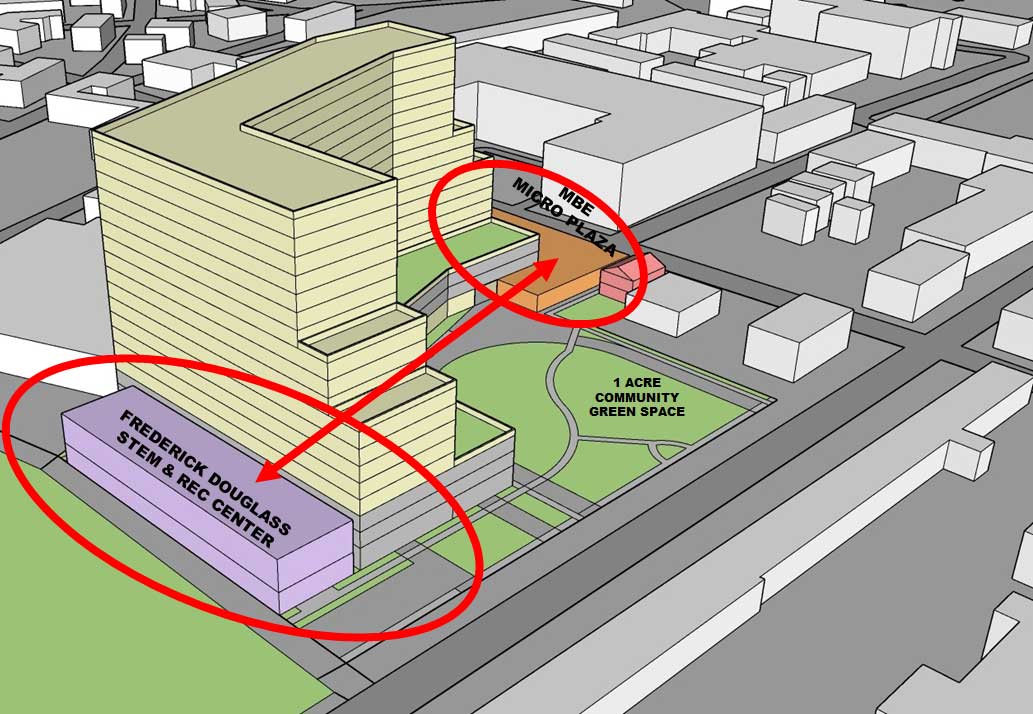 The company's plans would construct a 361-unit residential building along the property's western border that tops out at 17 stories, sports a tiered design, and includes 18 affordable housing units. The eastern portion of the land that runs down Woodward Street would get a new one-acre green space.
The rest of the public amenities in the proposal are the result of a survey conducted by Sable, an online platform that looks to amplify the voices of Jersey City civic leaders. Almost 250 residents of Ward F responded to the survey and nearly 82% felt the need for both youth recreational centers and affordable housing were top preferences in terms of community givebacks from developers.
Working from those results, Skyline is including a first-of-its-kind public STEM and recreation center in their proposal. The two-story facility, tentatively called the Frederick Douglass STEM-Recreation Center, would include 22,000-square feet of space consisting of state-of-the-art classrooms, computer labs, and space for music, art, and dance studios.
The fitness area of the building is set to include a rock-climbing wall, elliptical and weight rooms, a sauna and a spacious concession area. The facility, which will be deed to the city upon completion, is expected to cost about $5.5 million and will be entirely funded by the developer.
"I am very proud of this unprecedented community reinvestment package we negotiated for Ward F and the entire city," said Ward F Councilman Jermaine Robinson. "The overall project will help revitalize Ward F at no cost to Jersey City taxpayers and this community giveback is a game-changer for Ward F."
The development as proposed also includes a Minority Business Enterprise Success Incubator and Micro Plaza, which will offer eight affordable commercial working spaces for minority-owned businesses and two market-rate commercial spaces. The proposal would create 40 public parking spaces and build a park pathway to Berry Lane Park.
"I am proud that a development I am initiating in Jersey City will positively impact local entrepreneurs and the youth for current and future generations to come," says Skyline Development CEO Louis Mont. "Giving back to the residents represents our commitment to the revitalization of Jersey City and the Frederick Douglass STEM-Recreation Center is an important and much-needed asset for the neighborhood and the whole of Jersey City."
The entire mixed-used space is being developed without any tax abatement request and would require approval from the City Council and planning board before moving forward. Many local leaders have thus far publicly praised the project, which is supported by the Jersey City Black Caucus.
"This is a big win for our community," said Jerry Walker, Freeholder-District 3, Hudson County Board of Chosen Freeholders. "I look forward to local residents being able to enjoy the additional green space, increased property values, and especially the STEM Recreation Center this development brings."
Jersey City Council President Joyce Watterman was equally enthusiastic. "Providing our kids and their families with a STEM Recreation Center is what good government is really about," she said. "When we invest in our children, we are actually creating a positive future for our communities."
A spokesperson for Skyline Development says that if all goes according to plan, they hope to start work on the project in the spring of 2021. Those wishing to learn more about the proposal can attend a virtual meeting that's being held later tonight by Ward F Councilman Jermaine Robinson. The development will be discussed on Zoom at this link from 6:30 p.m. to 8:30 p.m.
Related: