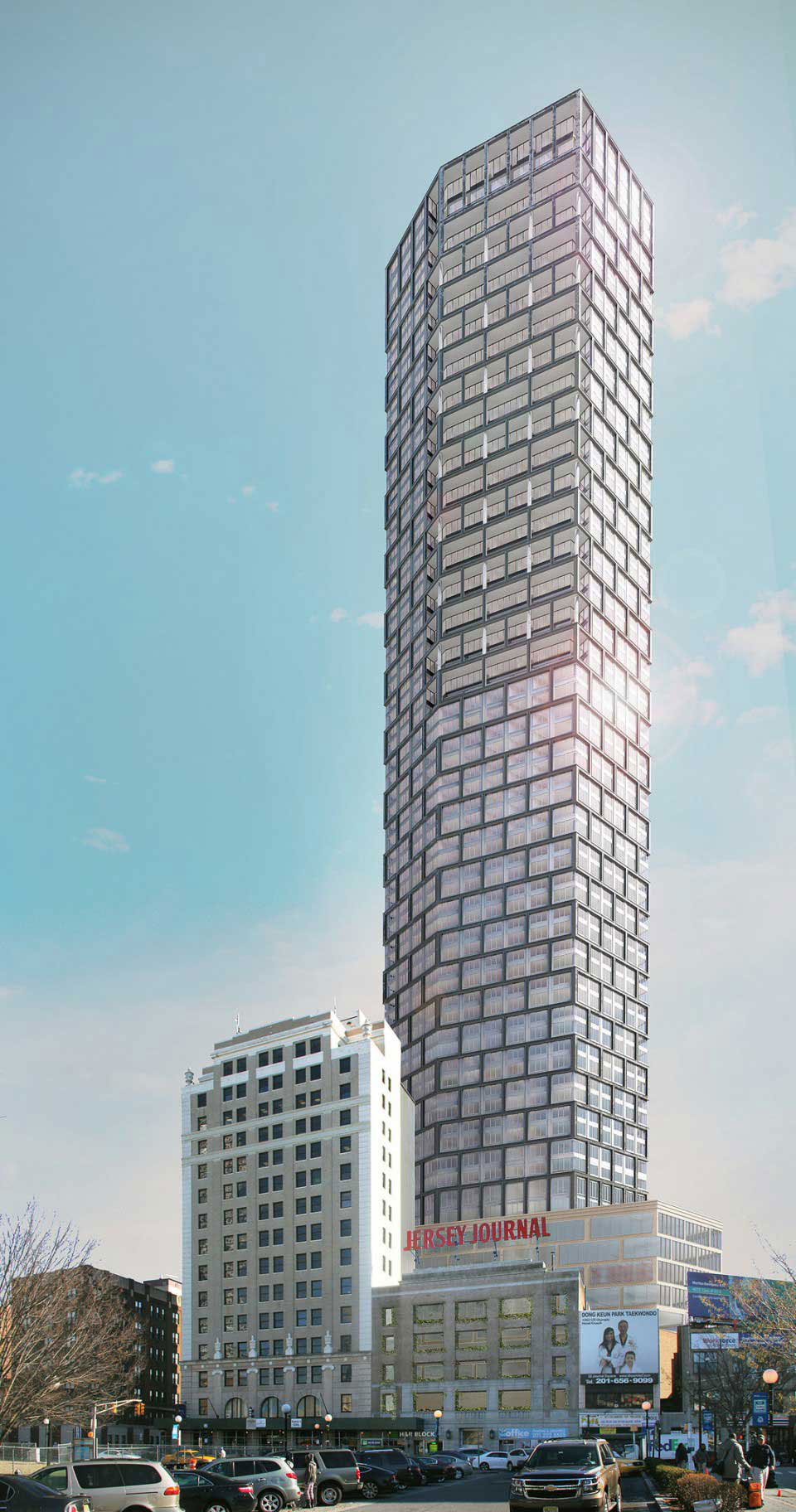 One of the most prominent real estate projects from Kushner Companies is still in the pipeline but a letter to Jersey City officials indicates that construction on the development won't be starting anytime soon.
During their November 15 meeting, Jersey City's planning board granted a five-year extension for approvals at the 30 Journal Square property. The most recent version of the development was greenlit in late 2019, and the board's extension will make the approvals valid through January 2027.
Set to rise behind the historic Jersey Journal property just across from the neighborhood's PATH station, Kushner's development calls for a 68-story tower that tops out at 718 feet. Office space planned in an initial proposal has been scrapped, but the anticipated building will still include 15,107 square feet of ground floor retail space.
Designed by Morris Adjmi Architects, the development is set to incorporate 372 parking spaces in a garage structure. A total of 745 apartments will be included in the tower, breaking down as 140 studios, 374 one-bedrooms, 202 two-bedrooms, and 29 three-bedrooms. No affordable housing is required per local regulations, and none is included.
Kushner Companies is also set to construct a new 12,000-square-foot public plaza between the future market that is part of their 26 Journal Square property and the forthcoming tower. The development has made little news since gaining approval and it appears another high-profile project from Kushner is the reason.
A letter to the city from attorneys representing Kushner noted that a timeline for 30 Journal Square has "not yet been agreed to" with the Jersey City Redevelopment Agency. The correspondence also indicated that 30 Journal Square would only begin construction after the completion of Kushner's One Journal Square project, which finally broke ground in June following years of delays.
One Journal Square, across the street from 30 Journal Square, will add two towers and 1,723 units to the neighborhood while bringing a Target to the ground floor. It's unclear how long it will take to build both phases of One Journal Square, but it will unquestionably take several years and will leave 30 Journal Square's development sidelined at least in the short term.