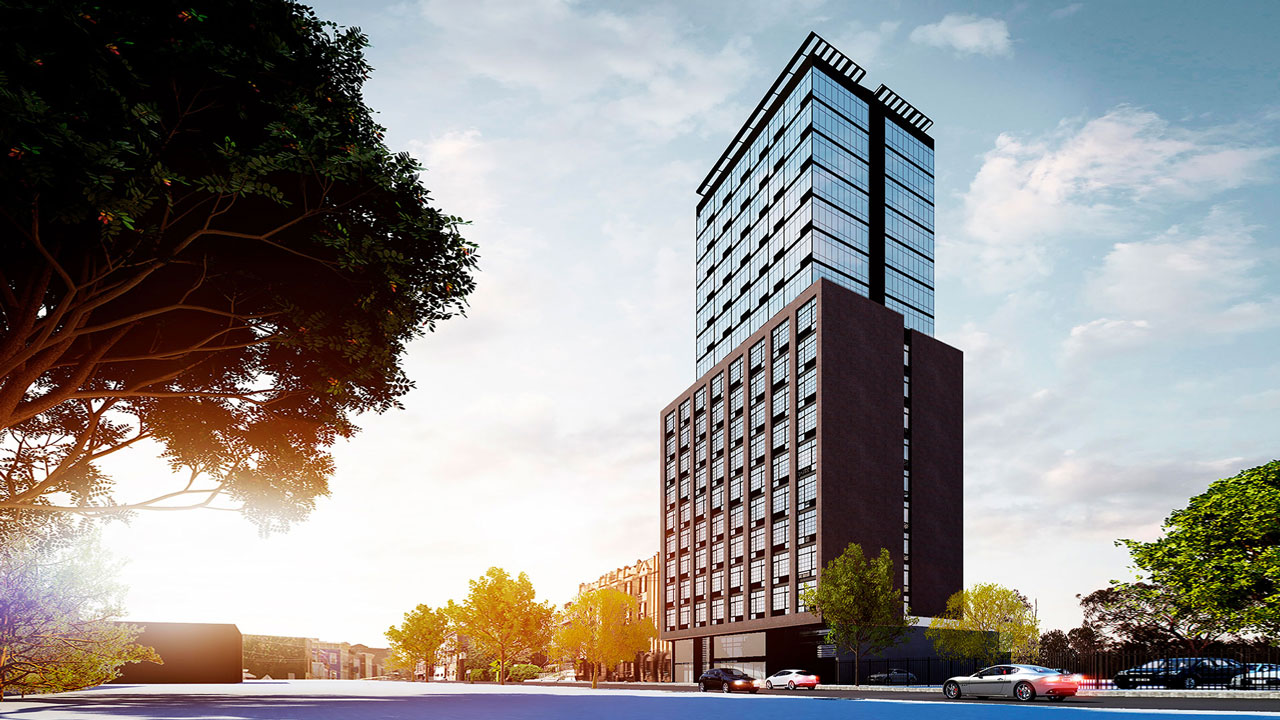 While Jersey City's Journal Square has been served by rapid transit rail service for well over a century, the last few years, in particular, have seen countless development proposals for properties within walking distance of the neighborhood's PATH station. New buildings have been proposed for all sorts of properties in the community, ranging from residential lots to vacant tracts to existing commercial structures. Now, another proposed development that could tower over this area if ultimately constructed is up for approvals.
The latest plan involves 407-409 and 413 Summit Avenue, two neighboring lots that are located between Sip Avenue and Newkirk Street. The site, which contains a garage that has long been used by a vehicle rental business called Econo-Car, was recently acquired in June for $750,000 from a Livingston family. The new owner, 413 Summit Holding, LLC, is registered out of the same Lower Manhattan office as Titanium Realty Group, a company responsible for several other residential development plans in Jersey City.
Under the developer's proposal, the existing building on the premises would be torn down and replaced with an 18-story building, according to a public notice that was issued late last month. The building is slated to bring 148 residential units to the Journal Square 2060 Redevelopment Plan Area along with 4,865 square feet of retail space on the ground floor. It is expected that most residents of the project would rely on public transportation since an underground parking area is only set to include 16 spaces, though bicycle parking would be available as well.
Renderings and site plans of the development that were posted by Uforma, a firm based out of the same address as Titanium Realty Group, indicate that there would be studios, one-bedroom units, and two-bedroom units, along with a rooftop terrace and amenity space with a bar area.
Meanwhile, a company called LJJ Funds circulated a listing for possible investors for this project earlier this year that mentioned that LJJ had "partnered with Titanium Realty Group to launch a single asset Opportunity Zone Fund, located in the gentrifying area of Journal Square." The listing described 413 Summit as a $48 million development that could be completed by March 2021.
413 Summit Holding, LLC needs to receive Preliminary and Final Major Site Plan approval from the Jersey City Planning Board in order to advance the development in its current form. As of when the notice was issued, the board was scheduled to hear the application during its meeting this Tuesday, August 13, at 5:30 p.m.
Note to readers: The dates that applications are scheduled to be heard by the Jersey City Planning Board and other commissions are subject to change.
Related: