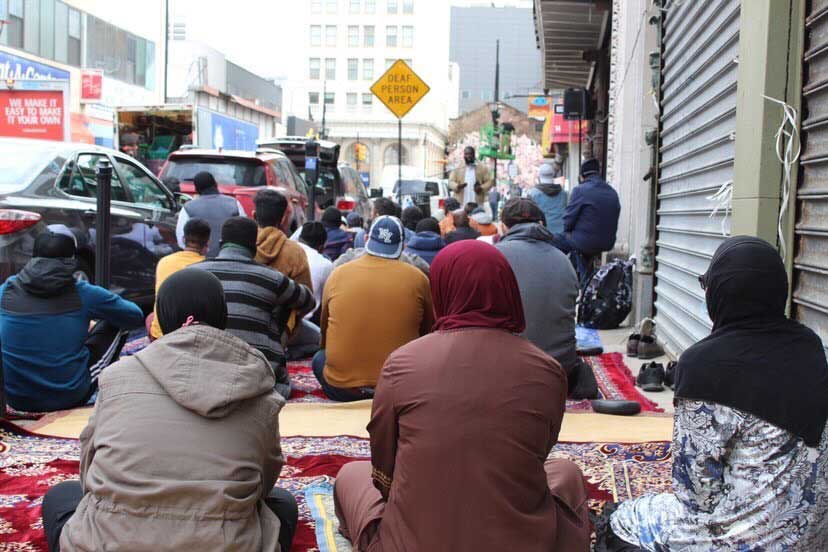 Prayer rugs were spread out on sidewalks. Spilling into the street was a crowd gathered for the pre-fast iftar meal. These are sacred rites of Ramadan, and for the displaced members of the Branford Masjid in Newark, these traditions wouldn't be broken simply because they have no house of worship.
"We will be praying during the month of Ramadan right where you stand," said Bashir Ali from Friends of Branford Masjid, a community group comprised of mosque members. "The building might not be open, but Allah has declared the earth his masjid."
The Branford Masjid has been locked for the past four months. The Islamic Society of Essex County's board of trustees allegedly sold the 11-story Chamber of Commerce building, where the mosque was located, to Paramount Assets without notifying the congregation. The so-called mother of the mosque, Khalilah Shabazz, who has prayed there for decades, filed a lawsuit against the board, claiming the sale violated bylaws. A court date is set for May after the holy month ends.
Considered the first mosque in the Four Corners district, it dates back to 1982, when a Saudi philanthropist, Ali Habeeb Maghrabi, donated the century-old Chamber of Commerce building to Newark's Muslim community. Community is the operative word. The board's legal strategy has been to question whether the community that prays at the mosque are bonafide members that "adhere to its principles" as the New Jersey statute requires. If the judge agrees that the mosque-goers are not members, Shabazz will lose legal standing to continue with the lawsuit.
Out of court, the persistence of this displaced congregation, which has protested throughout the winter, is inspiring a grassroots movement in Newark that is bigger than one mosque or one court case. Their cry for justice has been answered by other congregations and churches.
"We are here to let the world know that when we stand together across racial lines, across religious lines, to fight for what's right, then right will be done," said William Hicks, pastor at Whole Life World Changing Church in Newark.
In the meantime, the board has opened a new mosque only two blocks away at 9-13 Hill Street, bought with funds from the sale of the Chamber of Commerce building. The former building, they claim, was bleeding money due to runaway repairs, which resulted in a lack of tenants to occupy floors unused by the mosque. A small group of prayer-goers has begun to worship there invited by the promise of social services and doctors offices.
"We were facing closure," Attia Sweillam, chairwoman of the ISEC board of trustees. "There would be no more community services or prayer hall, if we continued in Branford."
The members of the Branford Masjid, however, have stood their ground. A spray-painted message has appeared on the door of the sealed mosque. Those words have become a rallying cry.
This Will Always Be a Masjid.
"We will pray with what Allah has given us — this concrete," Ali said. "We don't need to have an open door."