Home
Tags
The Branford Masjid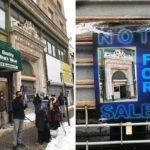 In the eyes of many Newarkers, this battle was really one of gentrification - outsiders teaming up with wealthy developers to prey on a vulnerable Black community.
Mistrust still pervades the congregation and the court battle with ISEC board members is ongoing.
The controversial sale of the building to Paramount Assets last year pitted the Islamic Society of Essex County (ISEC) board of trustees against prayer goers.
The Branford Masjid in Newark was allegedly sold to Paramount Assets without notifying the congregation.
Mosque-goers in downtown Newark are caught in a messy legal battle with its board of trustees who allegedly tried to sell their historic house of worship in a backroom deal.