Home
Tags
Newport Redevelopment Plan
Tag: Newport Redevelopment Plan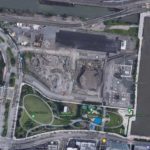 The developer has submitted plans to construct a trio of mixed-use buildings in downtown Jersey City.
The developer's latest Jersey City high-rise includes ground-floor retail space plus a parking garage.
Condo owners at the nearby Mandalay on the Hudson are claiming the 1,998-unit proposal would enrich developers "at the expense of residents' safety and quality of life."
The company is looking to extend a roadway into an eight-acre Newport pier while building a mixed-use project featuring 1,998 units, parking, retail, and public open space.
Following months of debate, the city's planning board has signed off on a modified application to bring a walkway, art plaza, seating areas, and more to a pier along the Hudson River.
The developer is looking to build a 391-unit high-rise near the Hudson River that would include two retail spaces, rise 33 floors, and overlook Newport Green Park.