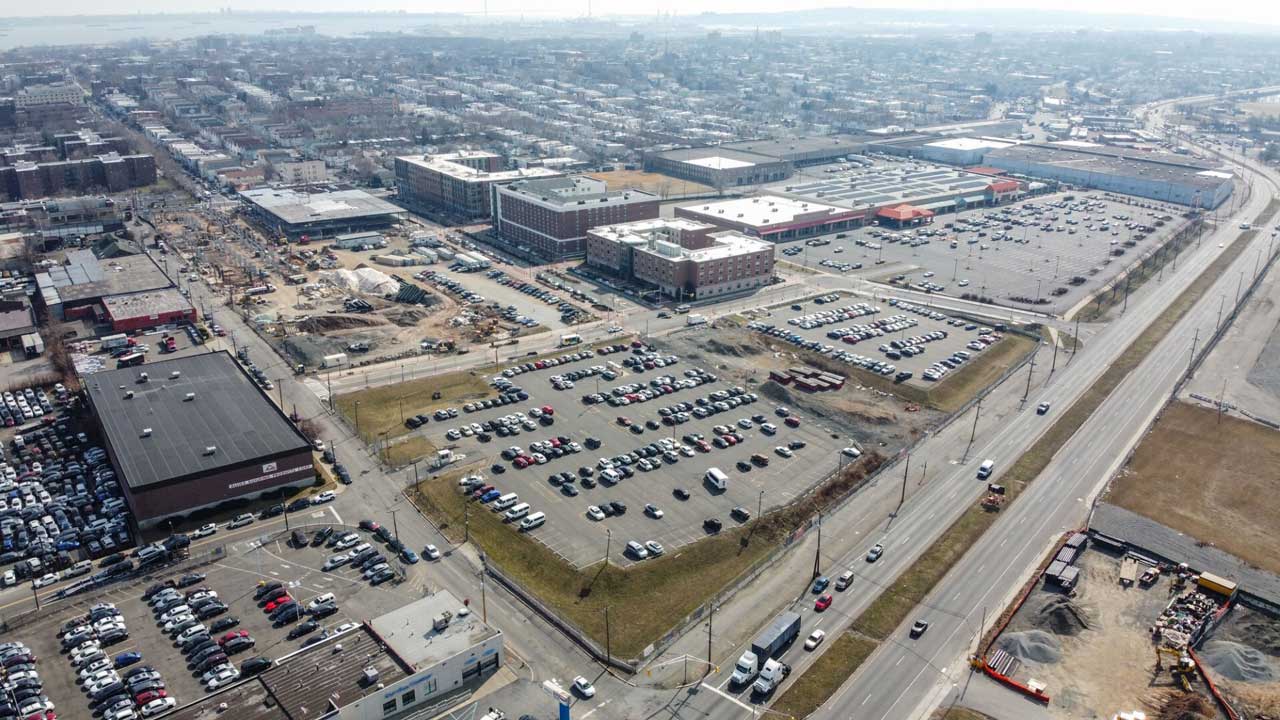 Plans to build a supermarket that would fill a void in a Jersey City neighborhood will soon be revived following the vertical expansion and redesign of the project.
Per Real Estate NJ, Mahwah-based Crossroads Companies planned to break ground on a ShopRite development back in spring 2020. The endeavor, in partnership with The Hampshire Companies, was looking to bring a roughly 73,000-square-foot store to a property at University Place and Route 440.
While the supermarket had planned to open during 2021, the project appeared to be a casualty of COVID-19. Construction at the parcel never commenced amid the pandemic and the site still sits dormant, causing speculation that the deal collapsed.
Jersey Digs can now report that the ShopRite project is indeed still in the works and additional development is planned for the site. A modified application for the property, technically listed as 42 Hernandez Way, was submitted by NJCU last month.
The proposal calls for a six-story building rising just over 74 feet, a four-floor expansion from the original plan. While the first two floors would still consist of a ShopRite supermarket plus offices for the business, the remaining four stories would be set aside for self-storage use. The development would include ground-level parking plus an exterior lot with space for a total of 261 cars.
The ShopRite is one component of the master-planned, eight-building University Place project looking to expand and revitalize the NJCU campus. The new proposal for the latest component was designed by Princeton-based Studio Hillier, who also designed NJCU's upcoming Performing Arts Center facility.
Updated renderings of the project have not been made available and an inquiry Jersey Digs placed to Crossroads Companies regarding the changes has not been answered. The planning board has not yet scheduled a date to hear the new application, which is subject to a Section 31 "courtesy review" despite conforming to the area's master redevelopment plan.
While Crossroad Companies has not released images of the new project, the company's website says that completion of the ShopRite component at NJCU is anticipated during 2023.