One of the largest public developments in the Garden State is starting to come together after years of planning and a new website has been launched to keep locals informed as the work progresses.
Back in February, we were the first news outlet to reveal renderings for the upcoming Frank J. Guarini Justice Complex in Jersey City. The $345 million plan started making headway in late 2018 when several parcels along Newark Avenue were cleared.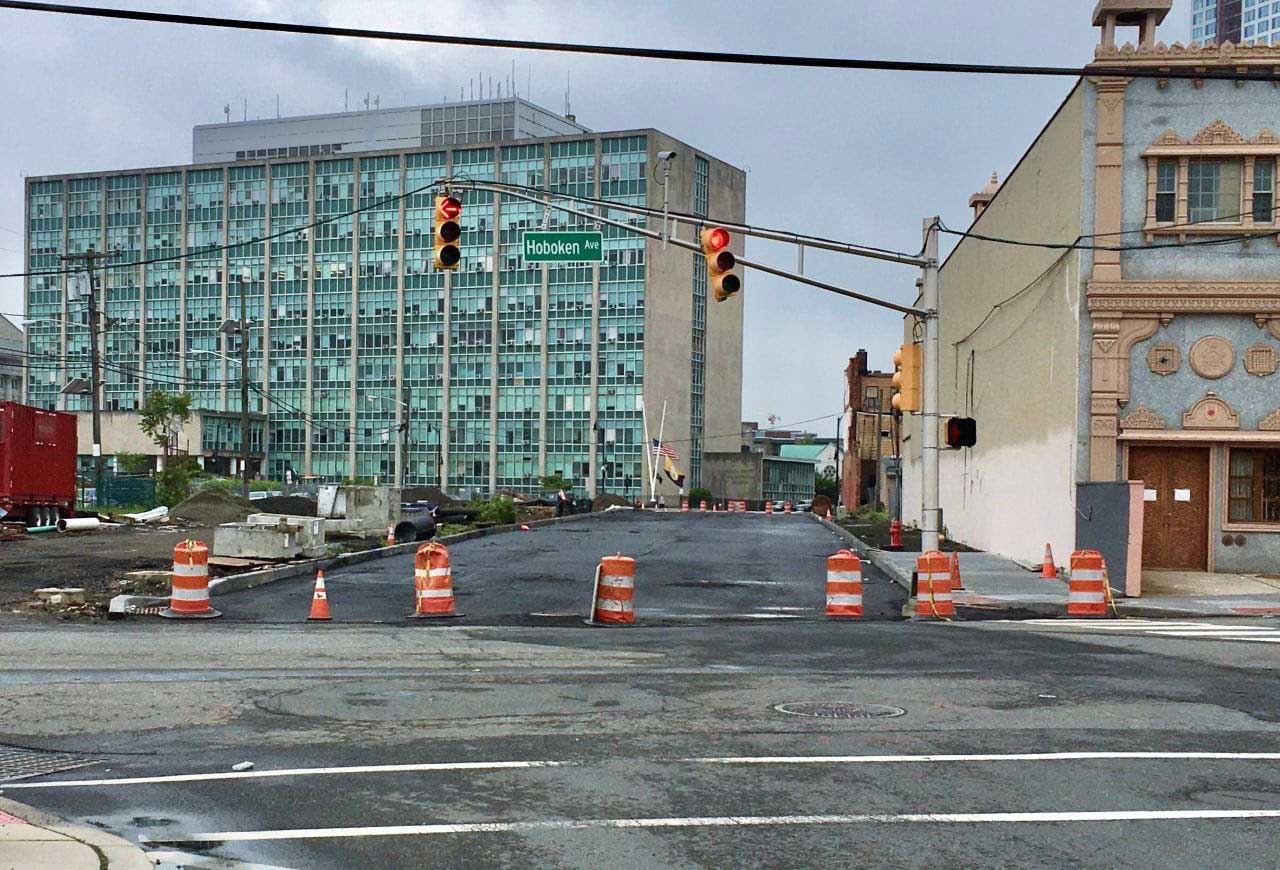 Per our reporting, Hudson County's Board of Chosen Freeholders took a major step towards reconfiguring the roadways by passing a resolution awarding a $2.6 million contract to Garfield-based Zuccaro Incorporated. The work is part of the project's first phase and is bringing a new two-way Central Avenue extension that relocated utilities, paved the roadway, and built a new sidewalk along the north side of Newark Avenue between Central and Oakland avenues.
A new traffic signal is slated to be installed soon at the corner of Newark Avenue and Central Avenue. In addition, work has begun to widen Oakland Avenue into a two-way street. Proper construction of the new courthouse, which will replace the current Administration Building at 595 Newark Avenue, is slated to begin in 2020.
New York City-based Rafael Viñoly Architects drew up the master plan for the Frank J. Guarini Justice Complex, which will rise five stories and include a 459-space parking garage built into the design. The LEED Silver building will include a 75-seat public food court, a self-help law library, a children's play area, training spaces, 24 courtrooms, jury assembly spaces, various offices, and the Sheriff's Department.
Phase two of the project will see a renovation to the existing Brennan Courthouse. The work includes revamping space on the ground floor for Civil Division administrative use and overhauling 9,600 square feet on the third floor into two new courtrooms and judge's chambers.
The project's third phase consists of the new courthouse, which the Hudson County Improvement Authority aims to have completed by 2023. After the new complex is finished, the fourth and final phase will see the county turn over control of 595 Newark Avenue to Jersey City, who will then pay for the demolition and removal of the existing Administration Building and construct a three-acre park sometime in 2024.
A new website outlining further details of the project and a timeline can be found here and those interested can sign-up for a newsletter that will include regular construction updates.
Related: