Newark's Harriet Tubman monument, commissioned by Mayor Ras Baraka, is meant to address systemic racism and hoist more images of Black women into the public sphere. But the current flawed proposal is on a course to repeat the same mistake it was meant to repair.
In a city that once had a slave market at its busiest intersection, there are places in Newark that are haunted, not by symbols, but by real-life human misery. The park nearest to this former auction house is Military Park, an infamous lynching ground in the 19th century. In a 2019 exhibition, "A Call to Peace", Rutgers University-Newark Professor Salamishah Tillet and Monument Lab's Paul Farber helped initiate a conversation about the appropriateness of a public square that honors war, especially in a city whose river is poisoned from its time as a chemical weapon manufacturer. I can't think of a better way to sanctify the history of this park than with a Tubman monument, especially since Tillet's discovery that the sculptor of the "Wars of America" monument, Gutzon Borglum, was affiliated with the KKK.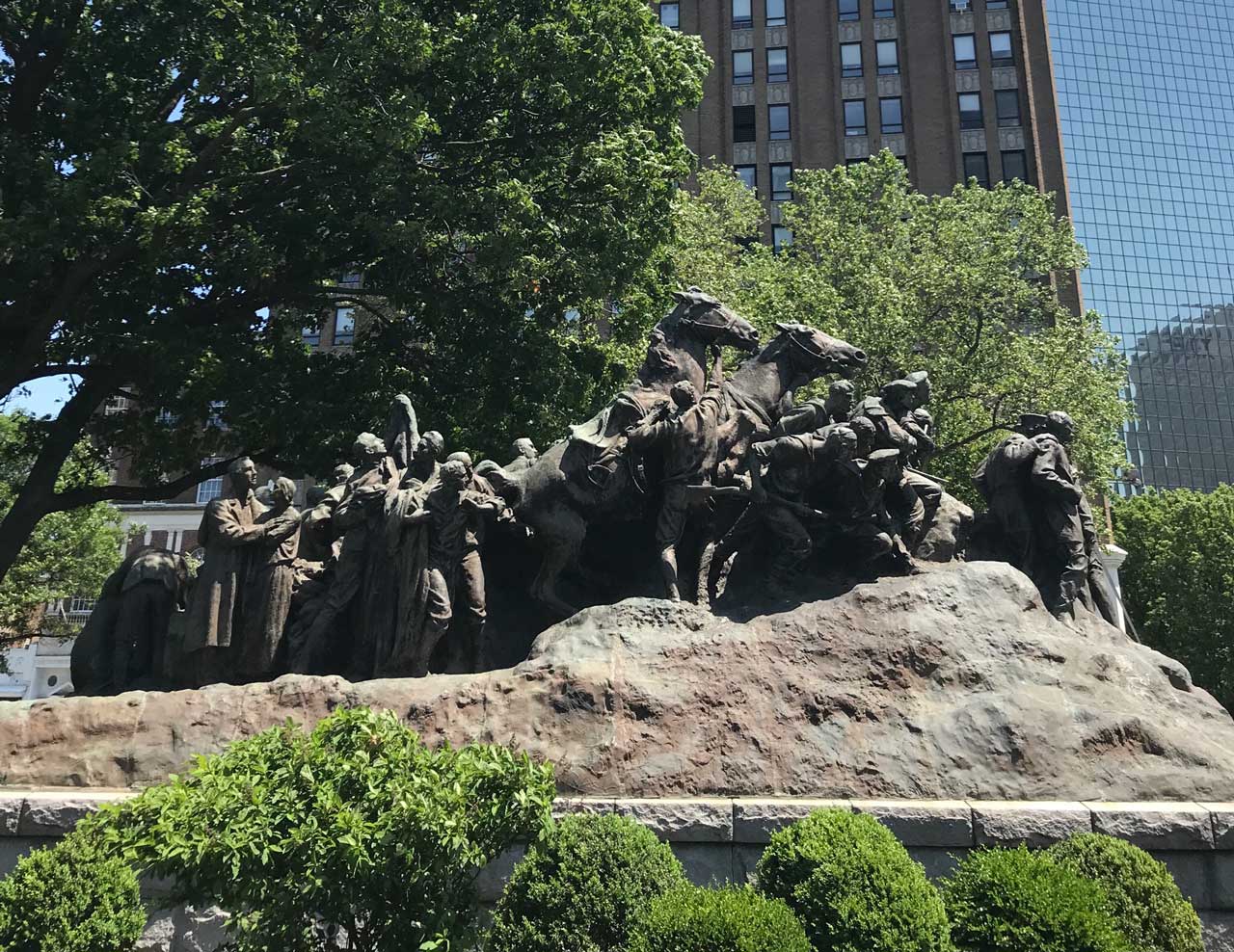 Mayor Baraka's choice to instead put the monument a bit farther north in Washington Park, in the exact place where a statue of Christopher Columbus used to be, seems to embody a spirit of revenge, rather than reparation.
Mayor Baraka's decision did come with fair warning, though. Removing racist monuments, and replacing them with effigies of Black women, is a strategy the mayor spelled out in his prescient poem "What We Want," published a year before the summer of George Floyd's murder. 
Italian-Americans must shoulder some blame for not taking the mayor at his word. On the day the mayor ordered the Columbus statue to be removed, historian Michael Immerso told me, "Italians needed Columbus a century ago, they don't need him now." Rather than replace the statue with another Italian-American, too many of us dug our heels into the ground.
We must also be aware of the residual pain from the riots in 1967. As Ron Porambo famously wrote in "No Cause for Indictment," there were actually two riots in Newark — the first was a rebellion of fed-up Black people, the other was the police in "retribution." Prominent Italian-Americans — namely Mayor Hugh J. Addonizio and Police Director Dominick Spina — were in a position to help Newarkers find justice for the murder of innocents by police. The cover-up has never been atoned for.
Newark's artist community should also use this occasion to reflect on the nature of public places. On the night the Columbus statue was torn down, City Hall organized a private viewing party at Washington Park. I don't believe any disrespect was intended, but the optics of a late-night rally to tear down a gift immigrants gave to their new homeland are not good. The mural on Treat Place that Tillet later created of the incident, posing an 8-year-old girl in front of a statue that originally symbolized the gratitude of ancestors, was salt in the wound, as were the Instagram posts from city residents with hashtags like #FuckYourForeFathers. 
Local art institutions should also learn from the mistakes Italian-Americans made and stop praising cruel men in public. An obituary for Earl Simmons, known as DMX — whose fantasies of raping a 14-year-old girl and torturing gay men (including sodomy with a broomstick) are enshrined in his discography — appeared on the social media feeds of the New Jersey Performing Arts Center and an elected member of the school board.
I keep hearing that we are living in an awakened society. If Newark is sincere about creating public spaces that are free from symbols of cruelty, it should continue this work with thorough housekeeping of its government, school board, and arts institutions. But let's not dig our heels into the ground like antiquated statues.