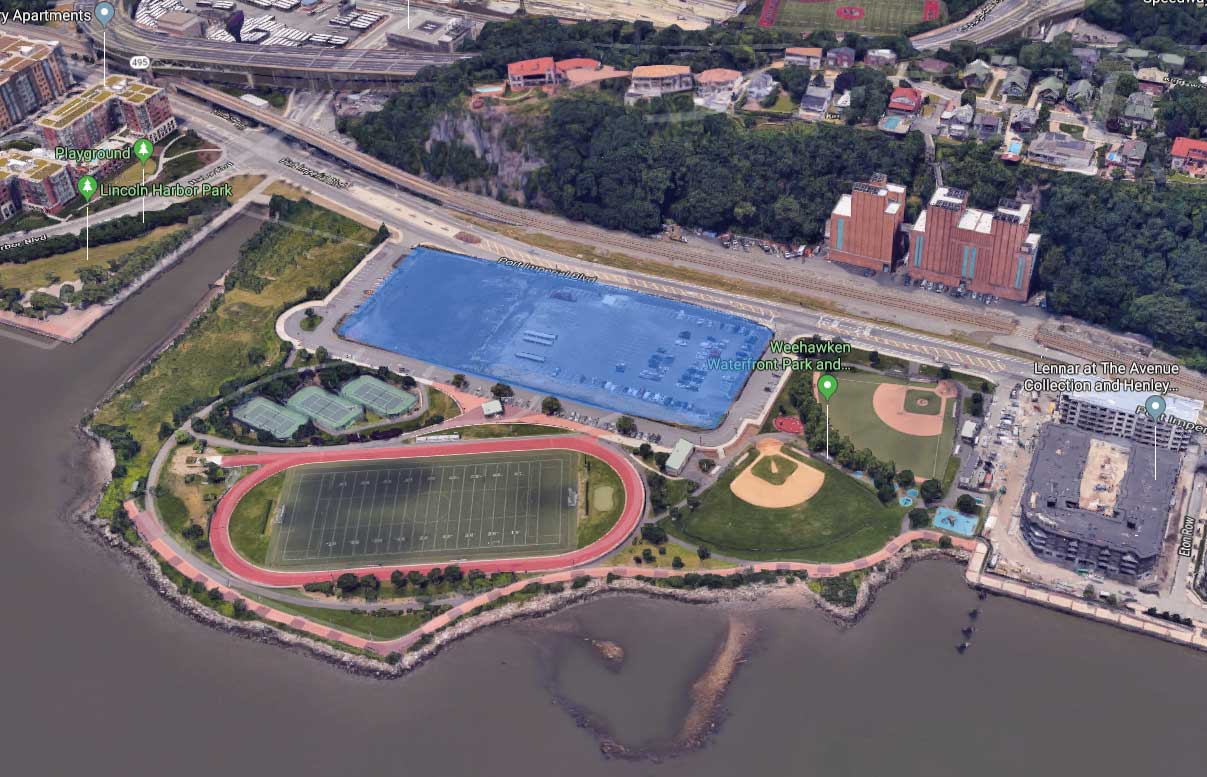 New information has been released about a proposal to bring a building with 302 units to an undeveloped property between Port Imperial Boulevard and Weehawken Waterfront Park.
The 4.75-acre project, which Jersey Digs exclusively reported on back in June, would be developed by Port Imperial Park Urban Renewal, LLC, a firm that is registered out of the offices of Mack-Cali's Roseland Residential Trust. Documents obtained from the Township of Weehawken through a public records request show that the project is being referred to as the "Park Apartments" and that the building itself is expected to consist of between eight and 10 stories. Roughly 415 construction jobs and 15 permanent positions are reportedly envisioned.
Inside the development, there are slated to be 32 studios, 142 one-bedroom units, 104 two-bedroom apartments, and 24 units with three bedrooms, according to the project's resolution of approval. Lessard Design's project site plan submission, which included renderings of the development, mentioned that some units will also include balconies.
No "affordable housing" will be provided on the premises, with the resolution stating that despite a zoning requirement that at least 20 percent of the units be designated as "affordable," the Weehawken Planning Board will allow the development to make a "monetary contribution…in lieu of constructing any affordable dwelling units."
In addition to the residential component, the project is set to include an outdoor pool, a fitness center, and a rooftop, along with a parking garage with 307 spaces. The garage, which would be connected to the Park Apartments through a glass pedestrian bridge, is expected to include roughly 80 spaces for members of the general public. An outdoor parking lot by the premises is also set to be expanded to include 73 additional spaces for the Township while a new loop road is planned as well.
The Weehawken Planning Board's decision to approve Port Imperial Park Urban Renewal, LLC's application was memorialized in September.
Plus, over the summer, an ordinance was adopted that authorized the execution of a financial agreement between the developer and the Township. The agreement in question will allow the $133 million project to receive a tax abatement for 25 years, with the developer instead providing payments in lieu of taxes. The ordinance claimed in part that few schoolchildren are expected to reside inside and that this agreement "will benefit the Township and its inhabitants by furthering the redevelopment of the redevelopment area, which has been an unproductive and vacant property for many years."
The Park Apartments project is one of several new Hudson County development proposals by Mack-Cali to surface recently. For instance, we reported last week that the company is planning to construct a 68-story tower at Harborside in Jersey City while plans for an 804-unit project at Jersey City's 107 Morgan Street were revealed over the summer.
Related: