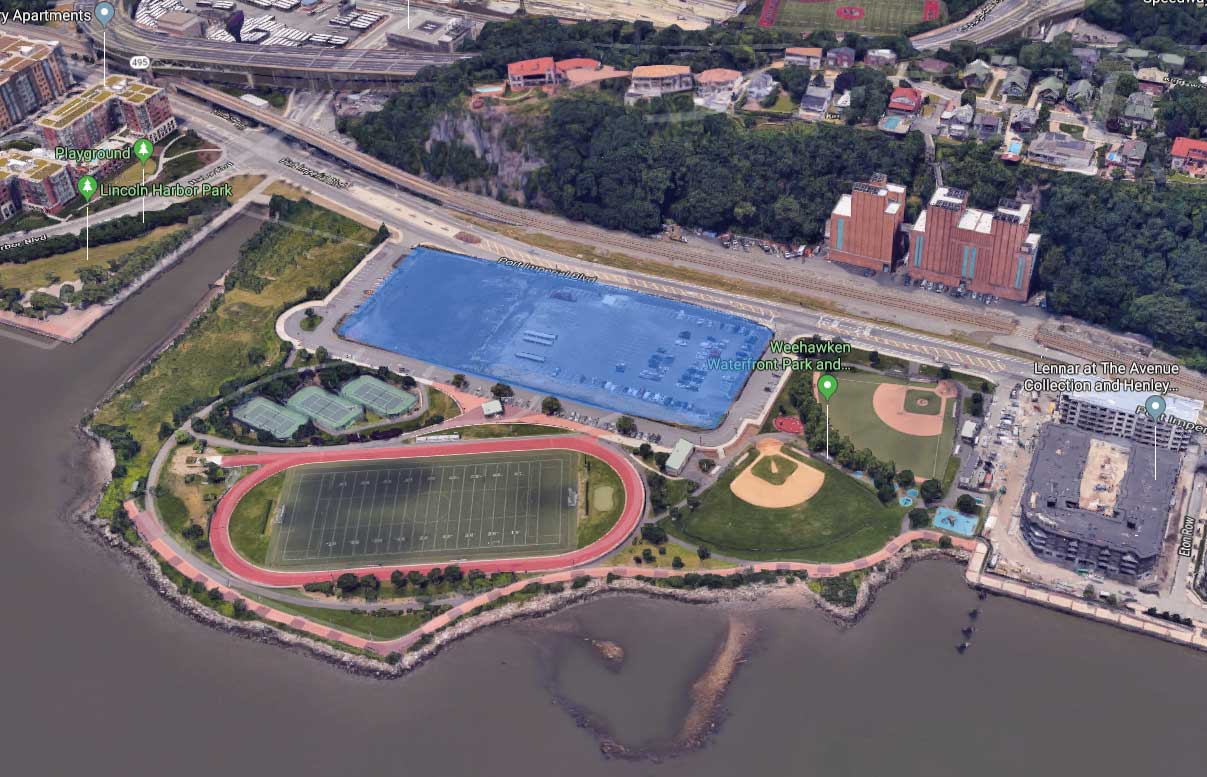 The waterfront in Weehawken, West New York, Guttenberg, North Bergen, and Edgewater has already changed drastically over the last few decades, with thousands of condominiums and apartments built in a flood-prone former industrial area overlooking the Manhattan skyline. However, more developments continue to be proposed along or near the Hudson River in Hudson and southern Bergen Counties. Now, another major project is being planned in Weehawken.
Port Imperial Park Urban Renewal, LLC, which state records show was established in Jersey City in 2016, is looking to construct a residential complex in the township. The proposed building is expected to include 302 units along with a parking garage, according to a legal notice, with the garage and the new building connected to each other by a pedestrian bridge. In addition to parking for the residential units, the garage is also slated to include 210 public parking spaces that would be provided to Weehawken's municipal government.
The notice does not include a street address of where the building could be constructed, and the location, Lot 1.01 of Block 36.05, does not appear in New Jersey's state property tax database. Meanwhile, Hudson County tax records classify the 4.75-acre site as a development parcel and state that it is located at the rear of Kingswood Road. However, it appears that the site in question is actually the large undeveloped tract between Port Imperial Boulevard and Weehawken Waterfront Park, since the notice mentions that the development will be surrounded by Waterfront Park Drive.
The premises are situated just under a half-mile north of Lincoln Harbor. The Hudson County tax records, along with NJ Parcels data, list the owner of the property as of last year as Park Parcel at Port Imperial, LLC, a firm that is registered out of the same Parsippany address as Mack-Cali's Roseland Residential Trust.
Part of the existing site has contained a surface parking lot in recent years that has been used by the Township of Weehawken and the Weehawken Board of Education to park vehicles. Port Imperial Park Urban Renewal, LLC is seeking to subdivide the premises and transfer the title of the surface parking lot along with Waterfront Park Drive to the municipal government, according to the notice.
The developer has applied to the Weehawken Planning Board for Preliminary and Final Site Plan approval, along with a variance that would allow for the building to be taller than 50 feet, in order to move the project forward. Subdivision approval and variances related to the complex's loading zone and parking spaces are also being sought. A hearing has been scheduled for Tuesday, June 18 at 7:30pm at the Weehawken Municipal Building.
Note to readers. The dates that applications are scheduled to be heard by the Weehawken Planning Board and other commissions are subject to change.
Related: