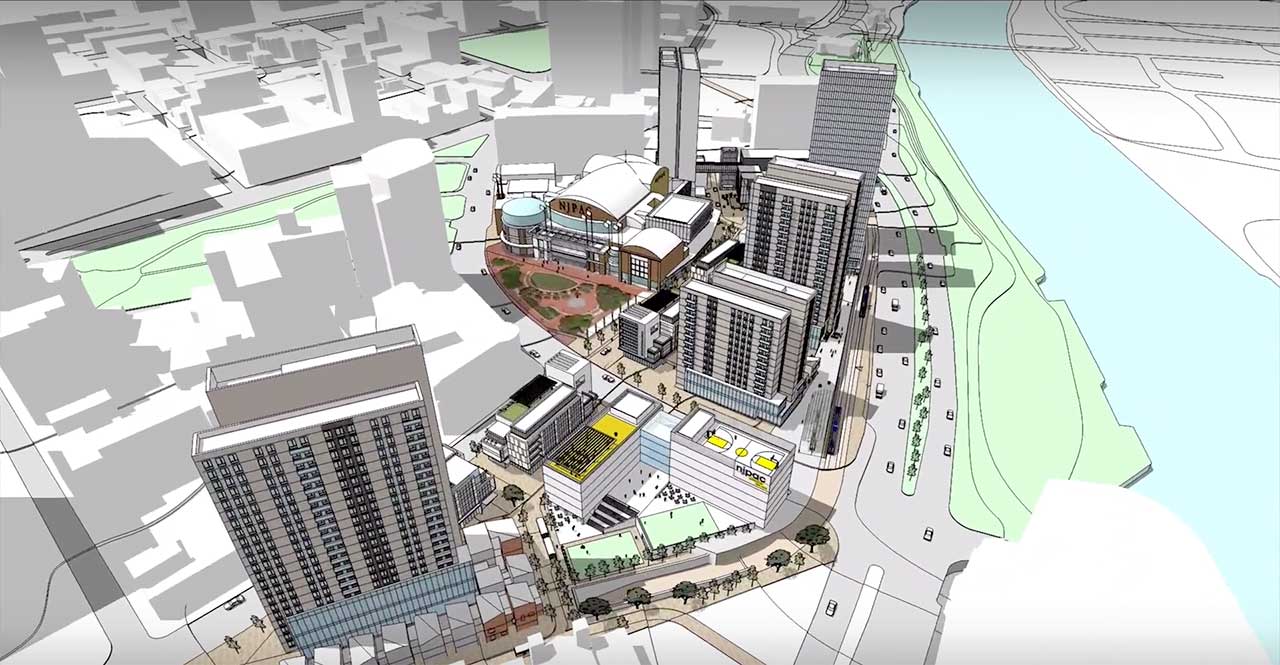 Less than a year after the ribbon was cut on the 22-story One Theater Square building in Downtown Newark, one of the main drivers of the project has released new information about its vision to construct an even larger development in the neighborhood.
The New Jersey Performing Arts Center (NJPAC) has announced plans to extend Mulberry Street north to Rector Street and have this new block become the focus of a 6.1-acre development initiative. A new page on NJPAC's website, "What's Next for Newark?," features a rendering of this proposal from Manhattan-based rePLACE Urban Studio and mentions that if the project comes to fruition, it would be "an open, welcoming 'public realm' where the arts and artists can come outside and reach people on the street."
Currently, the site of a parking lot, the Mulberry Street extension would be lined with two five-story or six-story mixed-use buildings that would include apartments atop restaurants and "cultural assets." Meanwhile, according to NJPAC, a high-rise development with apartments and retail space is in the works closer to Center Street while 24 townhouses are envisioned as well.
A final part of the property would reportedly be left open to make room for an "entertainment property" that "could be anything from a museum to a food hall or a screening room, so long as it complements the Arts Center and brings a greater variety of recreational options to downtown."
rePlace Urban Studio's own website contains additional information about the proposal and mentions that the ownership of the land is expected to be transferred from the State of New Jersey to NJPAC. The firm's website features an undated video with several additional renderings highlighting development near the Newark Light Rail tracks. It also references a vision for an NJPAC Cultural District "that includes performing art space, galleries, retail, hotel, centralized parking, fitness amenity, and over 1000 residential apartments."
Plans by NJPAC to redevelop its surrounding acreage date back years, but the arts venue has increasingly been in the public eye for development projects ever since construction wrapped up on One Theater Square.
In October 2018, NJPAC announced that it had hired Tim Lizura, the former President and CEO of the New Jersey Economic Development Authority, as its Senior Vice President of Real Estate and Capital Projects. Plus, in April of this year, the proposed Cooperman Family Education and Community Center was revealed. The facility, also known as The Coop, is expected to be constructed on Center Street over the next few years.
Then, in May, Newark's Chief Development Officer, Carmelo Garcia, said that NJPAC was "working on a master plan and we're excited to see what that's going to unveil." The President and CEO of the Newark Alliance, Aisha Glover, also told Jersey Digs at the time that NJPAC released a Request for Proposals (RFP) in order to find a developer for the six-acre property.
"The visioning for that site is pretty amazing and it will really help extend Mulberry Commons and activate a lot of the underdeveloped space and parking lots on that end," said Glover, who confirmed that a residential component was in the works. When asked about the RFP over the summer, a spokesperson for NJPAC said that "it's still early in the process."
The new page on NJPAC's website does not include a timeline for the latest proposed projects, nor is there any mention of how the proposed apartments would be priced. It does state, however, that this is "an ambitious plan, but the Newark real estate market has incredible momentum right now."
Related: