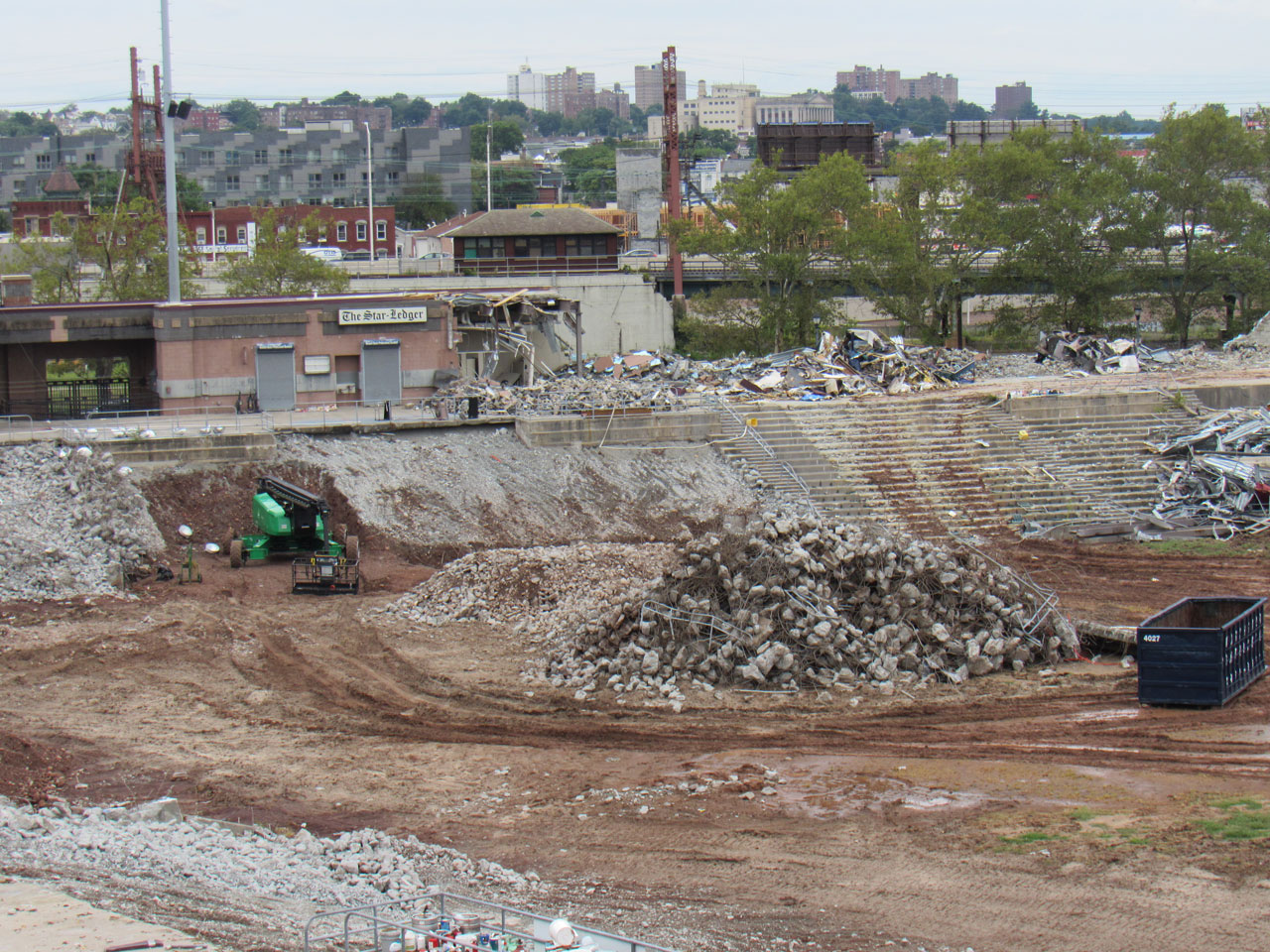 The second-to-last station on the Newark Light Rail's Broad Street Extension service might soon need a new name.
The Riverfront Stadium stop has been known as such since it opened back in 2006 in front of what was then the home of the Newark Bears, the New Jersey Institute of Technology Highlanders, and the Rutgers-Newark Scarlet Raiders. But the days of baseball fans coming to the corner of Broad and Division Streets to see a game are long gone. Now, with plans in store for a massive new complex called Riverfront Square, the Newark Bears and Eagles Riverfront Stadium will soon be a thing of the past as well.
Demolition crews have spent the last three weeks tearing down parts of the two-decade-old stadium, including one of the former ticket counters and most of the seating areas. Much of the facade of the stadium's front entrance was still standing when Jersey Digs stopped by on Friday, but a view of the site from atop the neighboring Essex County-owned parking garage reveals that the property has already become only a shadow of its former self.
Located across from the Newark Broad Street station, the premises were previously owned by the county government but were sold in recent years to Lotus Equity Group. The Manhattan-based developer is expected to turn the site of the former stadium along with a nearby vacant property that was once home to the Lincoln Motel into offices, a hotel, retail space, apartments, a public piazza, and more.
Jersey Digs obtained a redevelopment agreement for Riverfront Square late last year that mentioned that the project would be completed in seven phases, the first of which would include between 700 and 750 apartments along with 30,000 to 50,000 square feet of retail space and a possible performance venue.

Related: