While Downtown has gotten all the attention as Newark's hub of commercial redevelopment, University Heights has quietly become one of the city's hottest up-and-coming residential neighborhoods.
Springfield Avenue has been a particularly active hub for development – a welcome change for a thoroughfare that for much too long wore the scars of the 1967 Newark Riots/Rebellion. Vacant lots, many of them city-owned, blighted the landscape for decades. But like the first springs of new growth after a forest fire, so too is University Heights rising from the ashes.
At the heart of this neighborhood is Tucker Development's Springfield Avenue Marketplace, which has become a commercial and retail hub for area residents. Located at the corner of Jones and Springfield, the 11-acre, $94 million complex is the largest new mixed-use development in Newark. Its anchor, a ShopRite supermarket, is a welcome addition to what had previously been a food desert. Springfield Avenue Marketplace also includes 125,000 sq. ft. of retail, as well as 24 Jones, the area's first market-rate apartment complex in many years. Residents can also enjoy first-run films at Cityplex 12, a movie theater owned by NBA legend Shaquille O'Neal.
Other exciting mixed-use projects currently in planning or underway include:
457 Springfield, the former site of the Laurel Garden Sports Arena, where 30 apartments will sit atop 15,000 sq. ft. of retail and commercial space in a three-story building,
269-273 Springfield, with 77 apartments above retail space on four floors, and
521 Springfield, where the non-profit Randy Foye Foundation will share a footprint with 122 apartments.
University Heights isn't just for students anymore, although it's certainly convenient for those attending Rutgers, Seton Hall Law, the New Jersey Institute of Technology. The 24 Jones apartments are an example of the neighborhood's appealing new style, offering 152 modern residences with rents starting at $1,550.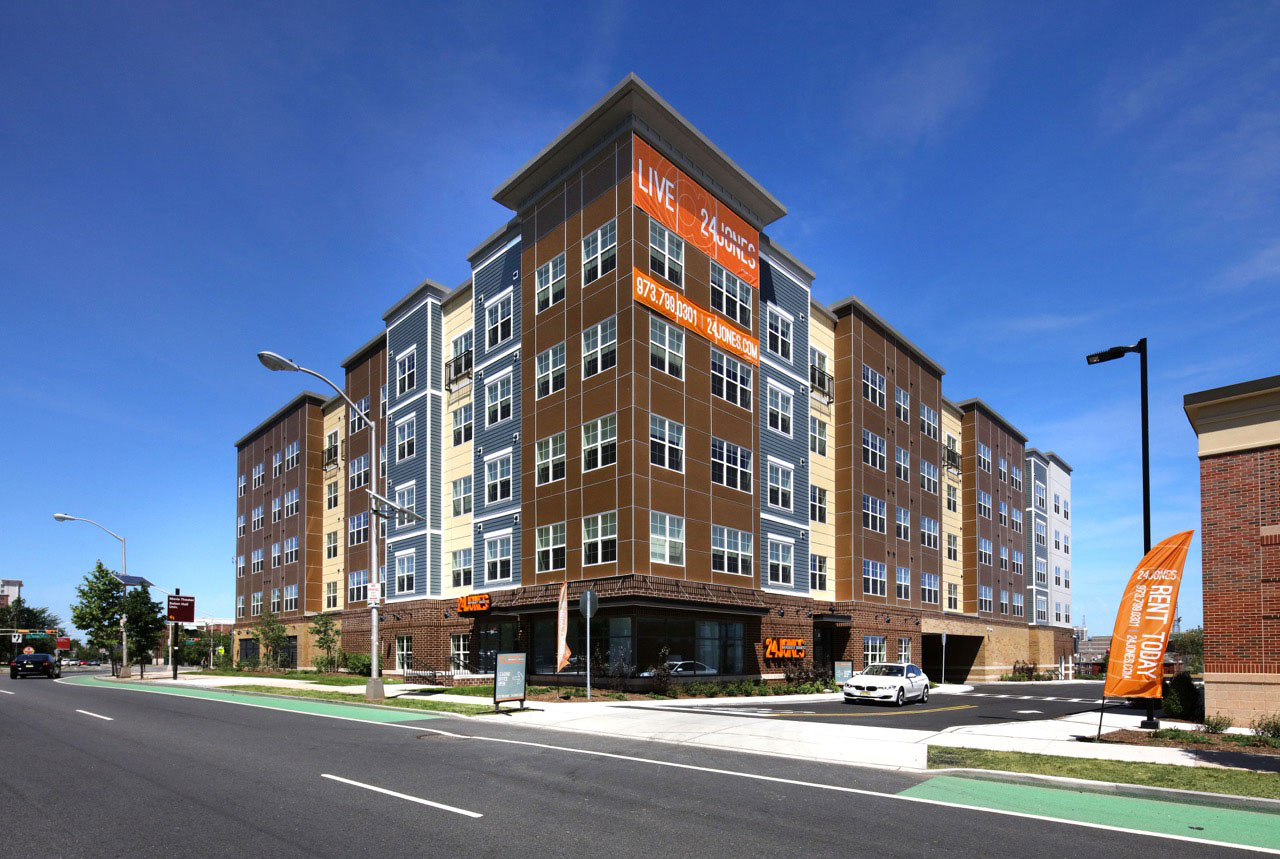 24 Jones, which has recently reached 80% leasing capacity, caters to young professionals with studio, one-, and two-bedroom apartments in a location convenient to Newark Penn Station, NJ Transit bus and train lines, the light rail, and the New Jersey Turnpike.
Amenities include a 24-hour concierge, state-of-the-art fitness center, a residents' lounge, bike storage, covered parking, and numerous common areas equipped with flat-screen TVs.