For any city to truly experience a balanced revitalization, significant property owners need to be willing to make investments. For too long, Newark's Downtown was pockmarked with vacant relics of the city's heyday, but a few local developers have been turning that narrative around in recent years.
The Berger Organization, a privately-owned real estate management company, has had a presence in Newark since purchasing their first property, a Holiday Inn, all the way back in 1976. The company, which owns several office buildings and hotels in the city, is one of Downtown Newark's more prominent stakeholders and has revived historic structures in the city like the Robert Treat Center and the Military Park Building.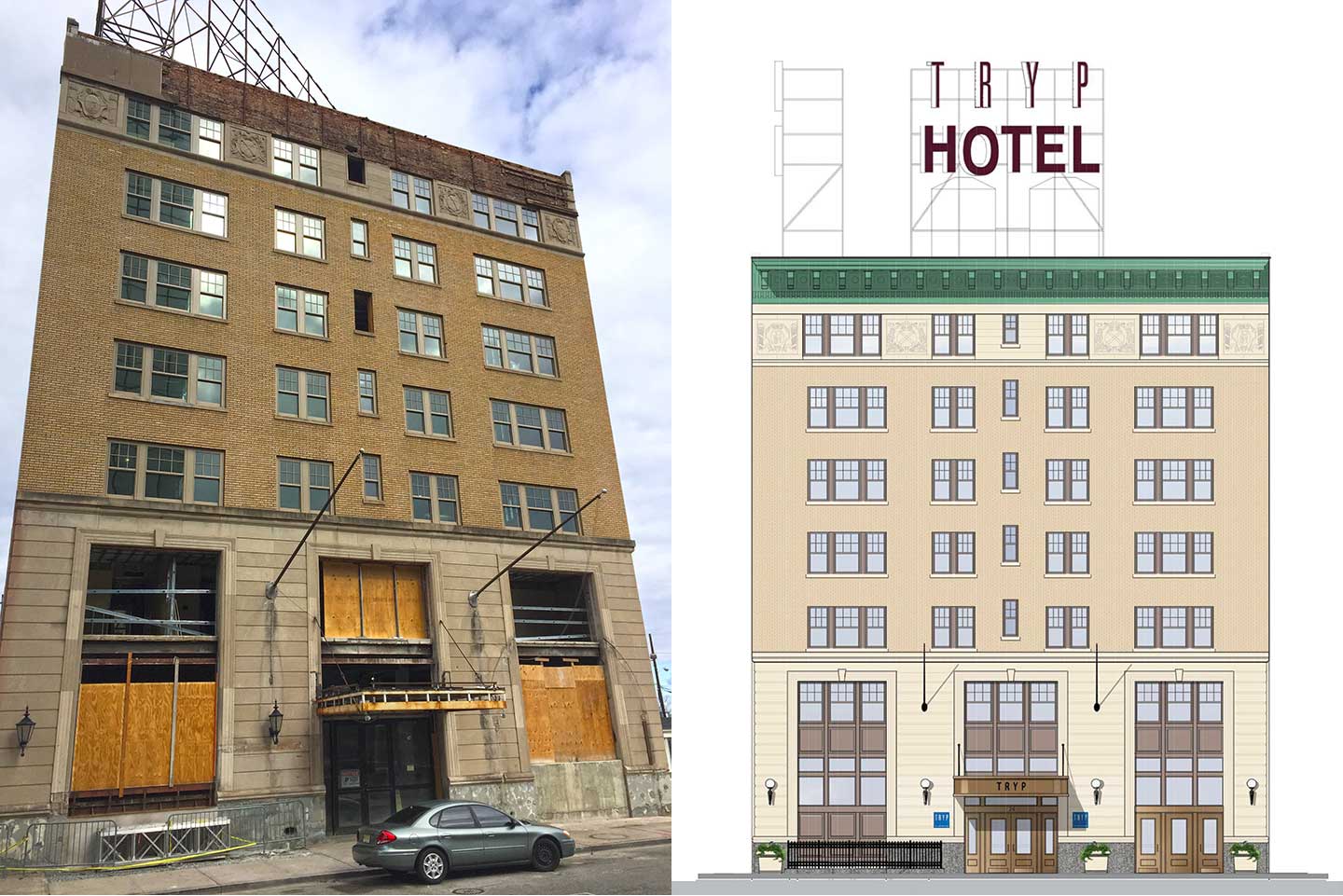 Their latest project, a TRYP By Wyndham Hotel, is in many ways symbolic of Newark's comeback. Located at 24 Park Street right across from PSE&G's headquarters, the seven-story property was once known as the Carlton Hotel and had a reputation that was, shall we say, less than stellar. But Berger is hard at work reimagining the building into a 101-room property under Wyndham's TRYP brand, which caters to business and leisure travelers.
The TRYP By Wyndham project will also feature a small restaurant, a fitness center and a few multi-purpose rooms that can be used for small meetings. CEO Miles Berger told Jersey Digs that the development is about 70% completed and is scheduled to open on July 1st next year.
Berger says that hotels in Newark have expanded dramatically in the last three to five years, partially due to NYC overflow. He cites improvements to Military Park and Prudential's Headquarters as helping to draw travelers from all over the world to Newark's Downtown.
"You hear every language in the world spoken when visiting the guest lounge at our Robert Treat Hotel," Berger says.
The next project Berger has in the pipeline will mark the company's first foray into residential housing. Berger has prepared preliminary plans for the vacant Griffith Building, a 15-story property built in 1927 that was home to the Griffith Piano Company. The building, directly next to the Hahne & Co restoration, will include about 55 units.
The Griffith project will also adaptively reuse a two-story recital hall that's part of the building, which was once used to showcase the company's pianos to prospective buyers. According to Berger, that facility will be converted into either an auditorium or some kind of co-working space. The company hopes to present plans to the city's boards in March next year.
The company isn't totally transitioning away from office space, however. Berger just recently purchased a 33,000 square foot property at 560 Broad Street that they are currently seeking a tenant for. Berger says the Newark office market and occupancy rates have improved "dramatically" in the last three years and thinks market is "seeing its' best activity in a decade."
"Offices Downtown are being filled by everything from international tenants from Europe to IT companies from New York City. I've never seen that in the last 25 years," he says.
Berger also cites Dranoff's One Theater Square as further evidence Newark is shedding some of the stagnation that occurred following the recession. He sees that development as an "anchor" for the neighborhood, which is located near many of his company's projects. "It will be Newark's premier rental building when it opens," he says.
With several other projects like Teachers Village wrapping up and the residential conversion of New Jersey Bell Tower soon to commence, Newark's historic center seems to be finding a work, live and play balance that Berger Org is looking forward to adding to.